Zebulon Montgomery Pike Trail to Red River, Arkansas Journey 1806 — 1807
Day 22: September 5th, 2004 Dodge City (Boot Hill Museum)
I have breakfast at the Dodge House, which is not too far away from my motel in western direction. The breakfast is exactly as it should be. Indeed, the restaurant is part of a motel. But even if you are not a motel guest, you can have breakfast there. Due to the weekend, there is also the possibility to have an All–You–Can–Eat Buffet. But I still prefer to have breakfast from the menu.
Then I drive on to Downtown. All in all I plan to spend the whole day here and to also visit the Boot Hill Museum with the shooting. But first I have to find this place. On my first try I miss the exit. When I am almost leaving the city, I look for a decent spot to turn around. Suddenly it happens, when I hit my brakes: The pedal falls almost half through! That doesn't look promising…
I hurry up to drive on an area, where currently no one is around, to take a look at what has happened. After a little bit of searching around I realize that some fluid is running down my right rear tire. That looks like brake fluid, because it is running out of the brake drum. That means, that I am now running on two brakes only. And today of all days is Sunday and tomorrow is Labor Day! This does not look like I will have a chance to find a mechanic now…
But with this broken brakes I don't want to drive long distances. So I drive back in direction of Downtown again. When I am getting closer to the city center I see a Sinclair gas station, which seems to have their garage also open. I drive on the property and ask, if they can help me with my problem. Unfortunately not today, because today they are only doing tires. But tomorrow his mechanic is back and then they can start working on my truck.
Just to be sure, I ask again. All in all tomorrow is Labor Day. But he confirms, that they are able to solve my problem tomorrow. There are also no issues in getting spare parts. Seems like it could have been worse. I shall be there tomorrow morning by half past eight–— that means, I have to get up early tomorrow. But better this way, than having broken brakes…
I leave my truck on a public parking area not far from the gas station, because I am already at the east side of Downtown. The remaining distance can be easily made by foot and there is no need to abuse my little truck further…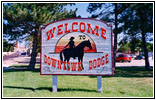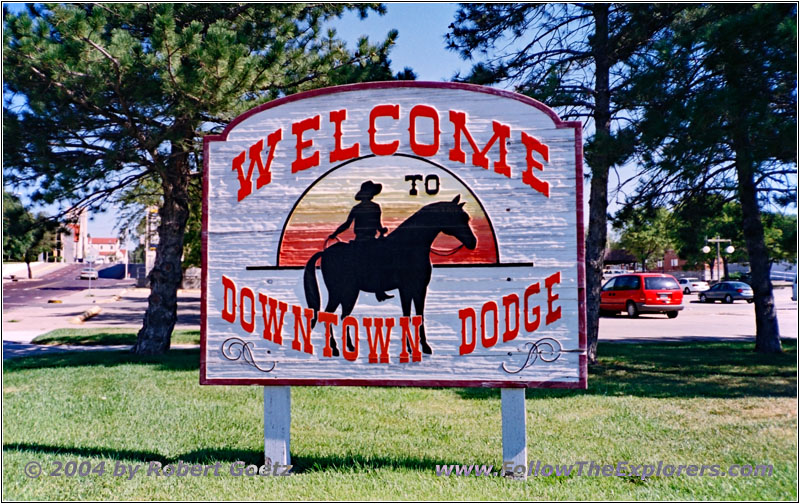 Sign Downtown Dodge City, KS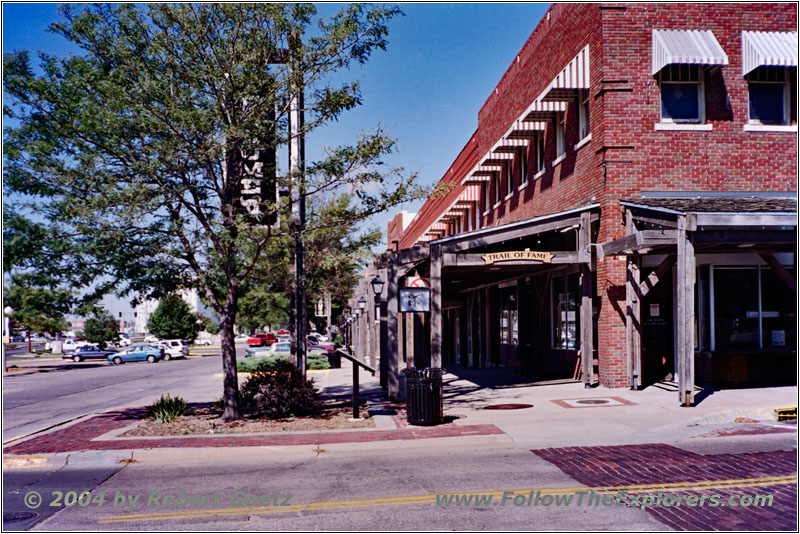 Downtown Dodge City, KS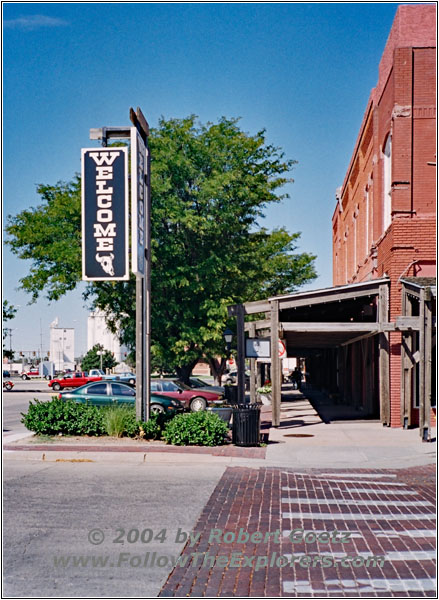 Downtown Dodge City, KS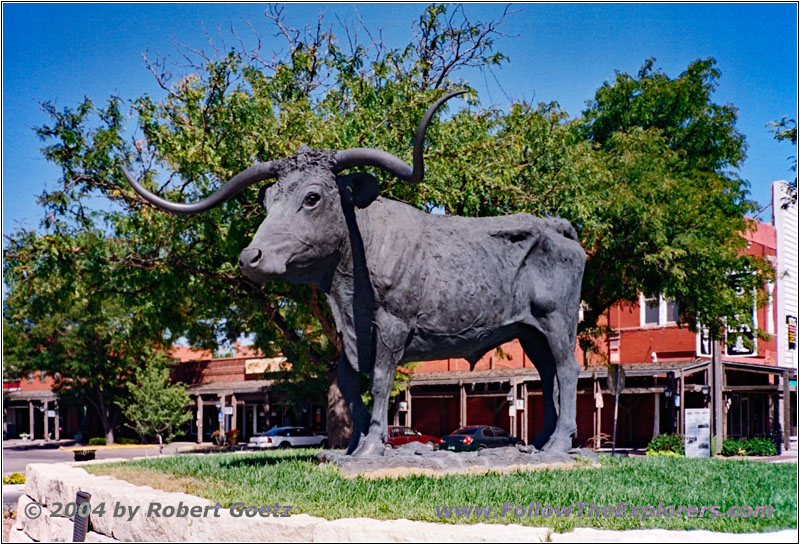 Downtown Dodge City, KS


Downtown Dodge City, KS
First there is a Downtown sign. Then I walk under the old style porches along the little stores in direction of the Boot Hill Museum, the main attraction. On my way I see the names of all important western people written in the concrete, almost like in Hollywood. Beside Wyatt Earp with his guys there are also the people from the movie.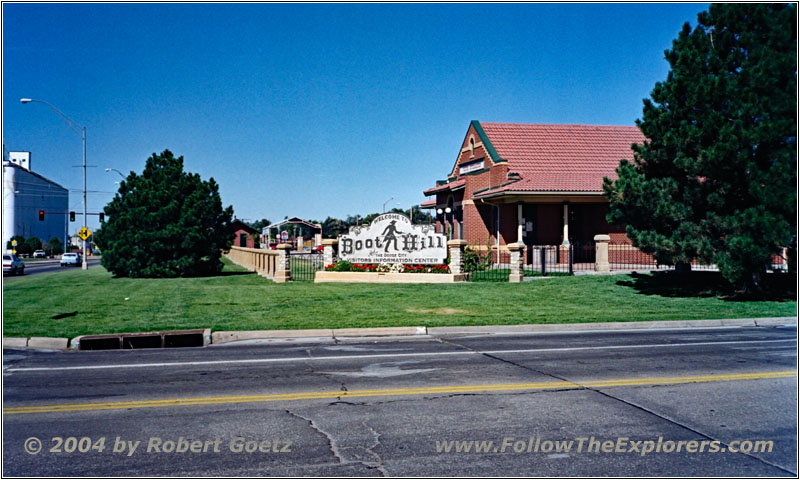 Boot Hill Museum, Dodge City, KS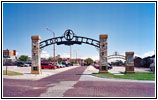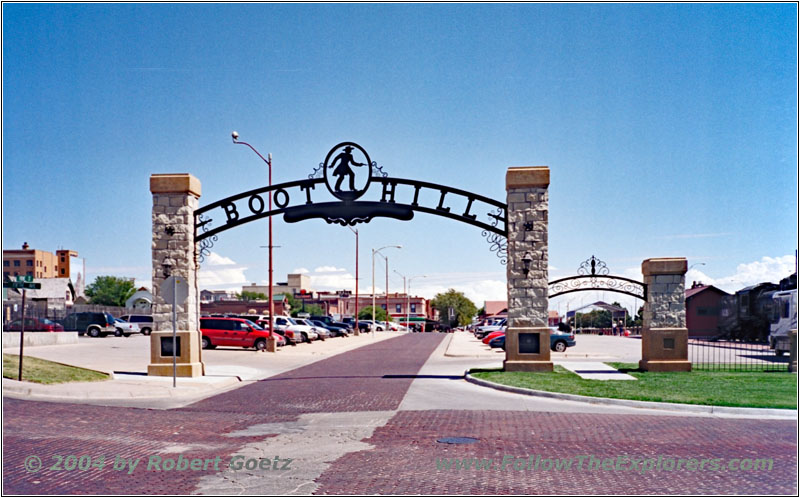 Boot Hill Museum, Dodge City, KS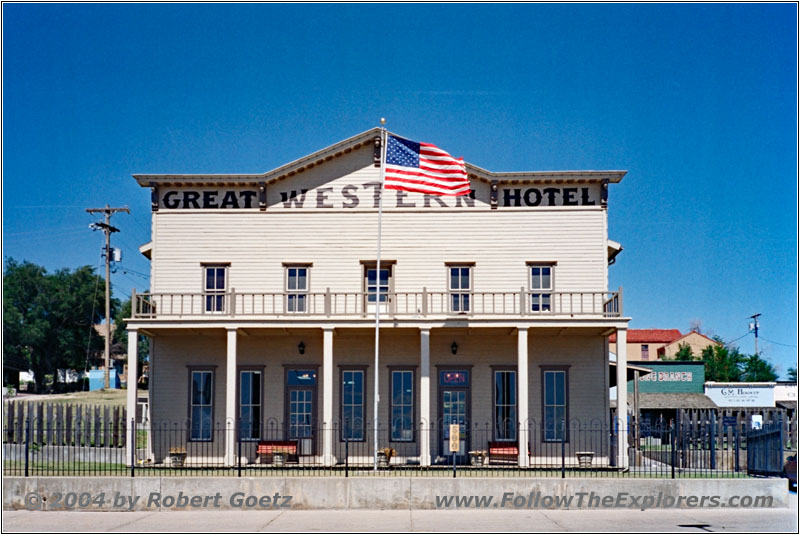 Boot Hill Museum, Dodge City, KS
In front of the museum is also a visitor center, which I visit first. There they tell me, that the Highnoon Shooting will start soon. Therefore I plan my other visits in a way, that I will be there on time. The museum entry is through the old city hotel, which is now set up as gift shop and entrance hall. Through this building you reach the outside again, where the old historic road with all shops and building has been rebuilt. This is the exact look now of the old times.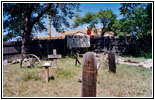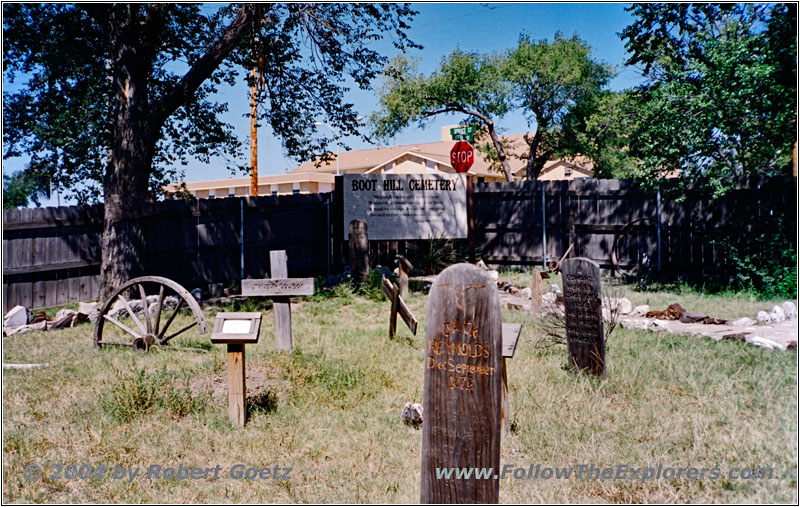 Boot Hill Museum, Dodge City, KS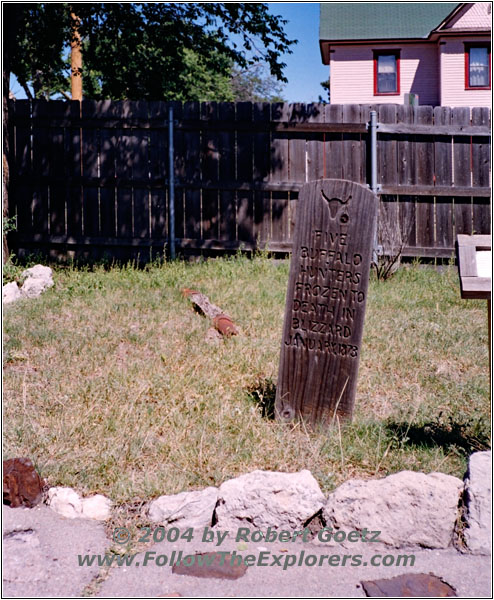 Boot Hill Museum, Dodge City, KS
The shooting is about three Cowboys, who don't want to hand over their guns. These reenactments is something the American people are really good in. After this very great shooting I walk over to the Boot Hill, as recommended by the Visitor Center. There the people have been buried with their boots — that's why the hill got this name. But there are usually only the poor people buried. The reach people are buried in the next city on a much nicer cemetery.
Today all the graveyards are restored with a brief note of the ones, who are buried there. Among others, there are also three buffalo hunters buried, which have been caught in a Blizzard. As additional highlight there is also the hanging tree to see together with the ropes, where they have been hanging people back then. In front of all the graves is another interesting exhibition, which tells you a lot about the history of this time. Also the big buffalo herds, which once roamed the prairie, are presented impressive with a big sub woofer.


Boot Hill Museum, Dodge City, KS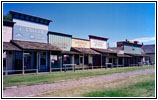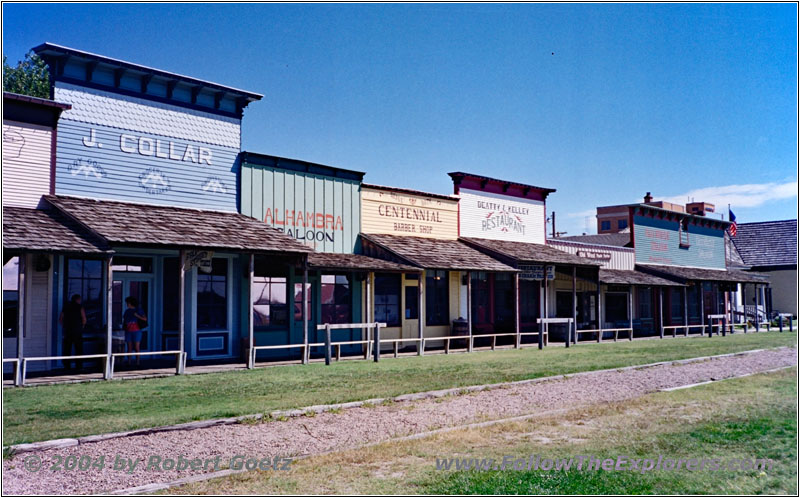 Boot Hill Museum, Dodge City, KS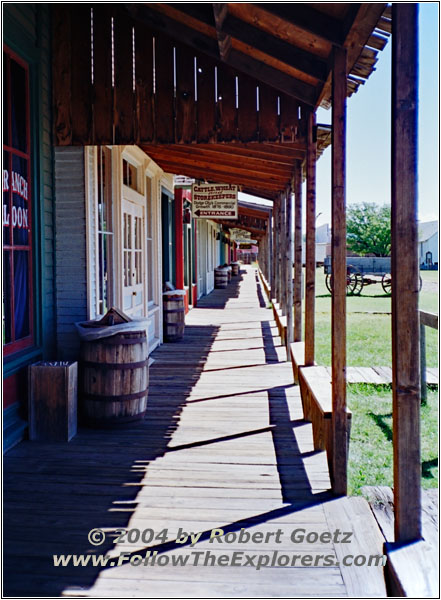 Boot Hill Museum, Dodge City, KS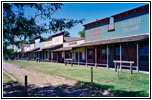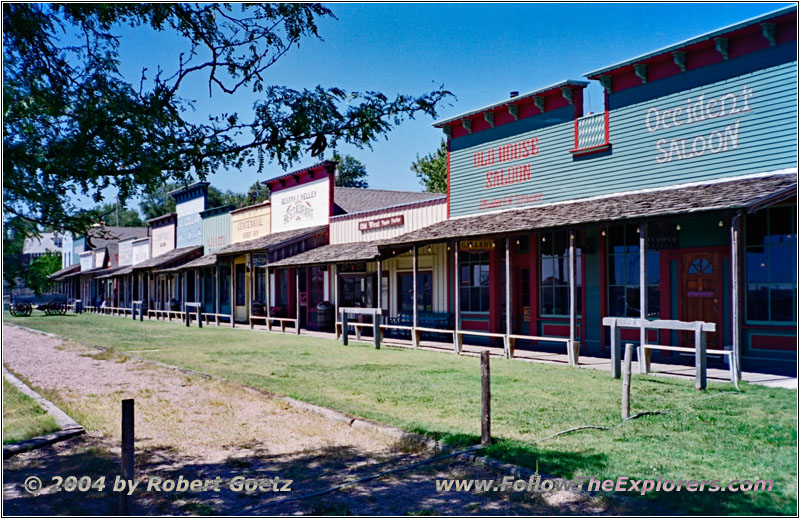 Boot Hill Museum, Dodge City, KS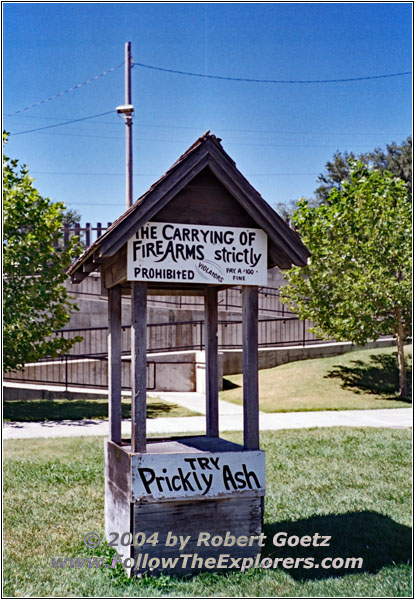 Boot Hill Museum, Dodge City, KS
On my way back to the gift shop, I take a look at the small jail. Then I walk along the buildings, which have been the background in the shooting before. Also there is everything set up like in the old times. And the saloon has been rebuilt to be a restaurant. The other areas are only for viewing. But everything from coroner to blacksmith can be found here.
Another specialty is the wanted poster, which you can get here with your own name and in (almost) original printing tradition. The text is already pre–printed. Only the name will be set in the old traditional way with single letters and then covered by a special ink. However you have to pay another $1.50, but therefore I receive a great presentation for my camera.

Boot Hill Museum, Dodge City, KS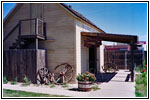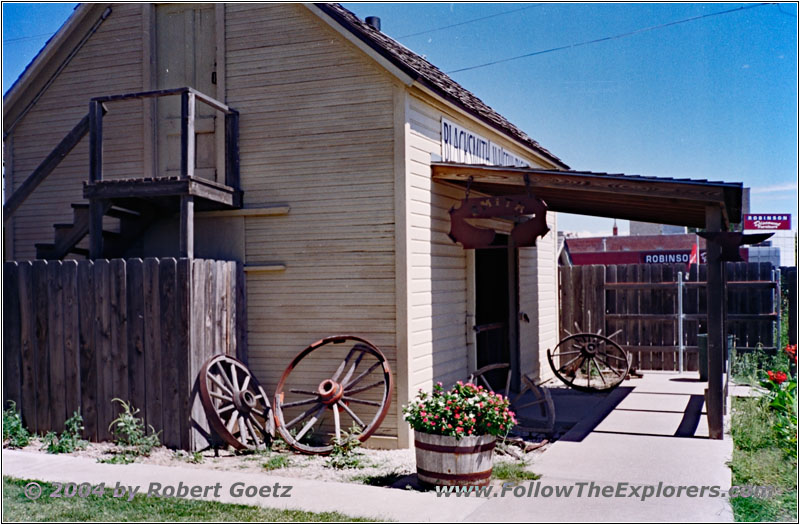 Boot Hill Museum, Dodge City, KS


Boot Hill Museum, Dodge City, KS
Then I walk on through the roads and take a look at the old restored buildings. After I have seen everything I walk back to the gift shop to watch the introduction movie. As I was short in time to see the shooting, when I arrived, I had no chance to watch it earlier. I even arrive almost at the beginning of the endless running movie. And at the moment no one else is in the room.
But after a couple of minutes the room fills up. Again and again other guests arrive. An elderly couple is completely hit by the darkness and can see nothing. He can soon find the bench to sit down. But his wife is afraid to move, because she has problems with her movement in general and is afraid to fall to the ground. Her husband tries to give her instructions on how to find the bench for almost one minute. Eventually I stand up and help them–— as usual, all the other peoples were just watching. After the movie, the couple gives me a warm thank you for helping them.
Next stop in my plan is the wax museum directly across the street. I also spend more than an hour there, because it is allowed to video tape and I try to capture them all. They are made so perfectly, that you almost think, they are watching you. At the end is the inside of an old school house to see with all the old books and scriptures.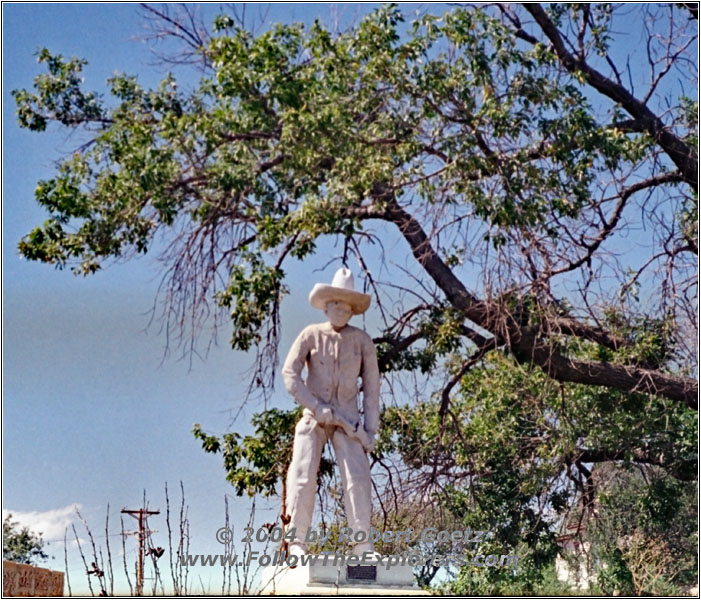 Dodge City, KS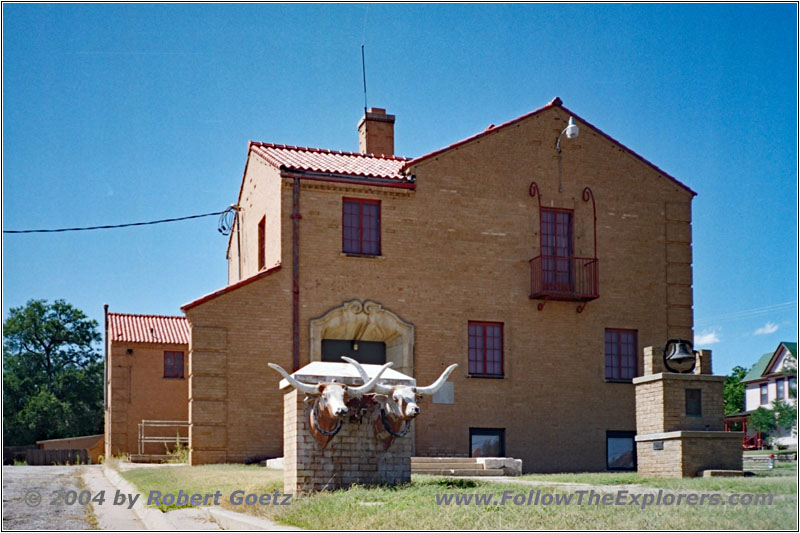 Dodge City, KS
I chat a while with an employee, then I walk on through the "regular" Downtown of Dodge City. I arrive at the old ammunition depot, where they have mounted two cattle heads in bronze to remember the old big cattle treks. There is also the statue of an old cowboy who once said: "On the ashes of my campfire this city is built"

Dodge City, KS


Dodge City, KS
I walk down the rest of Downtown until I reach my car again around half past four. In the meantime, one chamber of my brake system is now completely empty. I pack my stuff together and drive carefully back to my motel. There I check my video taping first, before I feed my GPS. Around seven I leave to drive over to Casey's.
After the steak was so great yesterday, I give it another try today. But this time I have no luck: The restaurant is closed today. But with my broken car I don't want to drive far. At that point I remember, that there was an Applebee's in Downtown.
I drive over to that place and they are open. However it is already pretty full. But nevertheless, I receive a table without waiting. Again I have one of my beloved chicken breast variations. Around 8pm I pay and drive back to my motel. There I go to bed very early and set the alarm clock to not sleep in for my garage appointment. Hopefully I will be able to find a place for breakfast this early on a Labor Day…
Sights
Downtown Dodge City
Boot Hill Museum (Fee $8, Wanted Poster $1.50)
Gunfighter's Wax Museum (Fee)
General
Breakfast: Dodge House, Dodge City
Dinner: Applebee's, Dodge City
Motel: Super 8, Dodge City
Distance: 19 miles