Zebulon Montgomery Pike Trail to Red River, Arkansas Journey 1806 — 1807
Day 23: September 6th, 2004 Dodge City — Lamar
Around a quarter past seven I am checking out at my motel. Unfortunately they are not able to tell me at the motel, if the Dodge House is already open at that time of day. If not, they recommend to go to one of the waffle houses, like the one next door. I say thank you and drive off. Indeed, the Dodge House is already open and even my server from yesterday recognizes me. She also gives me the same table as yesterday and also remembers, that I had coffee for breakfast. Also today, breakfast and service is great. Around eight I pay and leave the restaurant.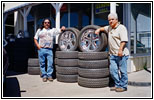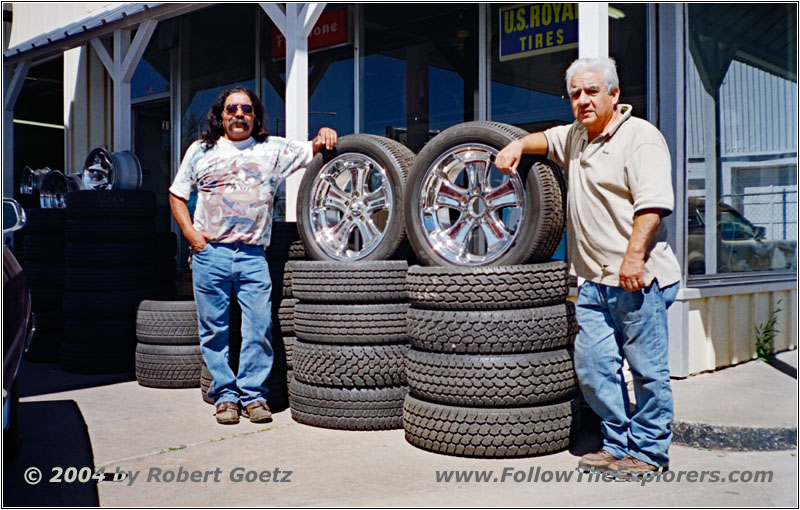 Pangie and Roger, Sinclair Gas Station, Downtown Dodge City, KS
I arrive at the gas station around a quarter past eight. Also my mechanic is already there. I ask him, if it would be okay for him, if I video tape him, while he is working on my truck. That's not a problem for Roger, the owner, and Pangie, the mechanic. But the work turns out to be bigger than expected. As everything is pretty much rusted, the brake lines broke when he tried to loosen it from the brake cylinder. So he also has to find a replacement for this.
Lucky me, the spare parts shop has both, the brake cylinder and the brake lines. After for hours of hard work, he is able to finish the work. In the meantime, Roger took care of a family, who arrived with a flat tire. But what has really amazed me is, that no one has left the car, while they have started to lift the van — quite the contrary: When the tire was removed, one of the daughters left the car and pulled a coke from the machine. Then she reentered the van again at the rear. If I would have changed the tire, I would have asked everyone to leave the car…
While Pangie was working on my brakes, I had a lot of time to chat with him. He is already working here for 33 years — this was his first job! All his siblings are scattered over the US and live in California, Arizona and Wichita, Kansas. He is the only one, who lives here since he was born. Roger is the owner of the garage and gas station. When we have finished everything, I make a picture of them both and promise to honor them for their help on my web page. Unfortunately they have no internet and are therefore not able to see the picture of them…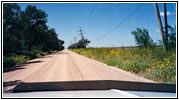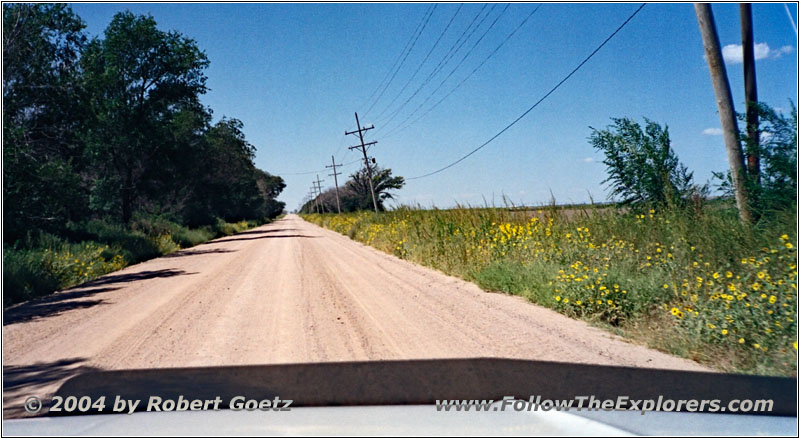 P Rd, KS
Now I first need some gas and then I drive on Highway 283 south out of Dodge City. Just past the city, I drive again on some backroads to the west along the river banks as close as possible. But the first backroad, which I plan to drive, is again blocked. So I have to stay on pavement a little bit longer, until I have gravel under my tires again.
At Cimarron I take Highway 400 until I reach Ingalls. From there I follow the railroads first and then the river until I arrive at Pierceville. There I cross the river and drive along the railroad on gravel roads up to Garden City.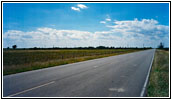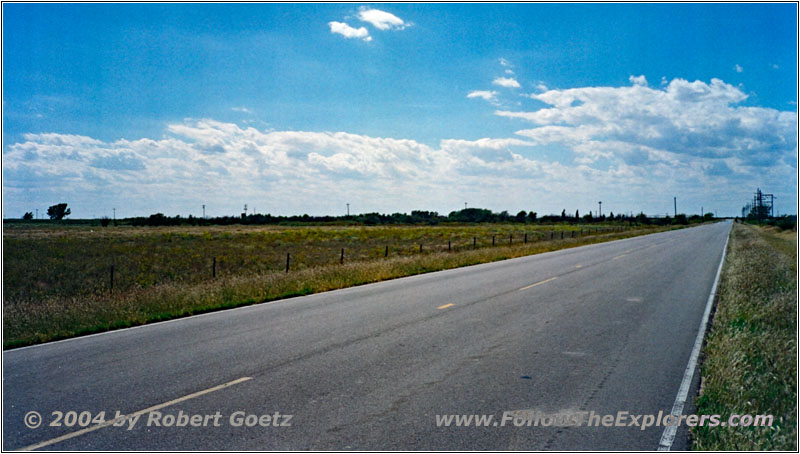 W River Rd, KS
There I have to drive some detours until I am back on my planned route. After several attempts, I have to get back to the highway again and again until I reach my original route at Holcomb. On the paved River Road I follow the south banks of the Arkansas to the west.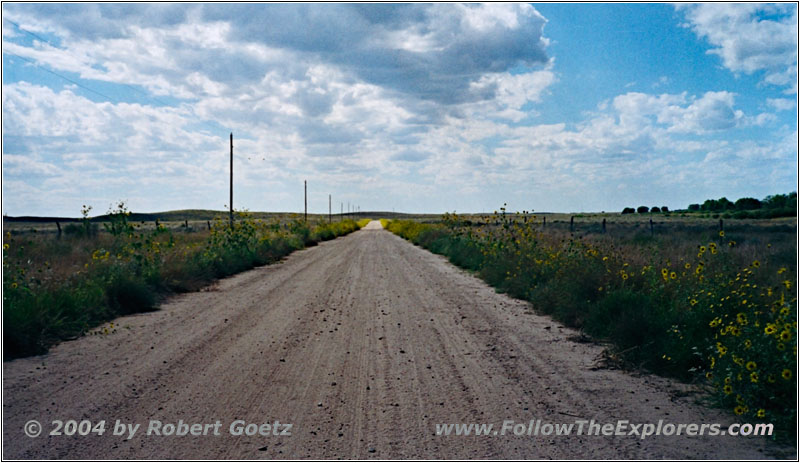 River Rd, KS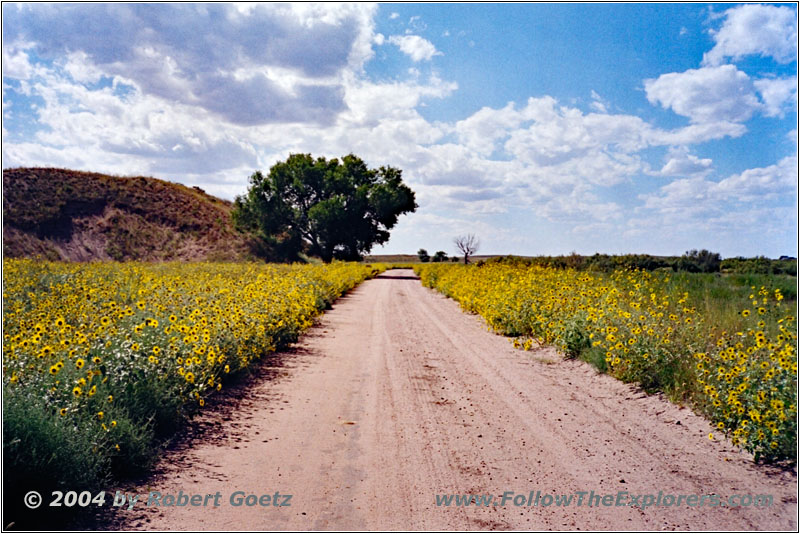 River Rd, KS
At Lakin I take again some gravel roads until I reach the South River Road. But this one is one of the real bad gravel roads, a real washboard road. Therefore I can only drive slowly. At Kendall I have a good road again, until I turn onto another gravel road.
Finally I reach some portion of a road, which reminds me of the backroads in Montana with the open ranges. The only difference is, that everything is way more sandy here. South of Syracuse I cross Highway 27 and continue on gravel until I reach Coolidge.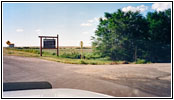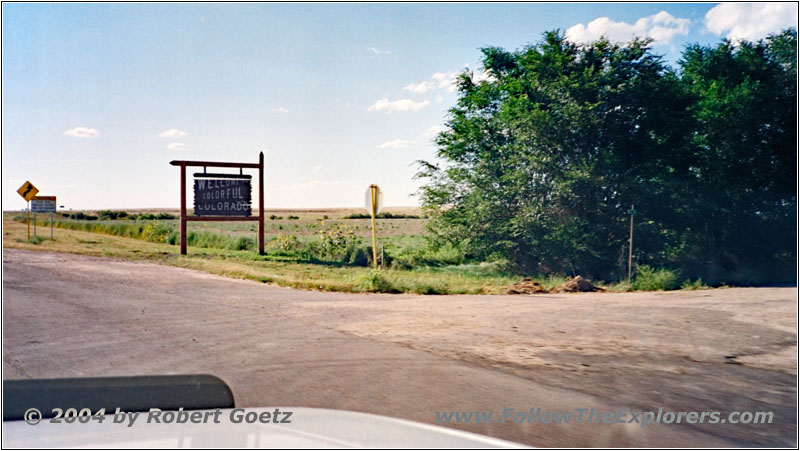 Highway 385, State Line KS and CO
There I cross the Arkansas River and reach Highway 400. On that highway I leave the state of Kansas and arrive at Colorado. At the same time I also gained an hour, because I have entered Mountain Time. I also try to get on some backroads here. But the dashed line in my map only shows where once the Santa Fe Trail was going. Today everything is on private property and there are not even trails to spot.
I follow on other backroads the river banks up to Highway 385 in the north. Then I take Highway 196 West up until I reach Highway 287 South. This one takes me to my destination of today, the Super 8 in Lamar. I check in at around 6pm.
Then I check the first portion of my video taping of today. Around 7pm I leave to search for a nice restaurant. I receive a recommendation and a way description from the motel reception. But unfortunately the recommended restaurant is closed. This leaves me now with the Hickory House across the street. This is one of the typical trucker restaurants, with simple, but good and plenty of food. As I have now only to cross the street and there is no need to drive, I exceptionally order a beer today. However, my server has never heard of a Samuel Adams. But she offers the Amber Bock as alternative, which also sounds good.
Because I have had no alcohol for quite some time, I already feel the two beers. Around 8pm I pay and walk back to my motel. There I start a conversation with Jim, the reception guy. He is also reading a lot about history.
When he realizes, that I am following the Zebulon Montgomery Pike Trail, he tells me, that I have to visit the city First View. There is a historical marker, where Pike has seen for the first time this mountain, which later should bear his name. But when he shows me on a map, where this city is, I really have to disappoint him: Pike was definitely never at this spot. To proof this, I let him read the according entry in Pikes diaries.
After reading this, he confirms, that I am right. He was also always wondering, what Pike has done 30 miles away from the Arkansas River. Usually the early explorers always followed some rivers. We then chat for a while about all kind of stuff. He is living in this motel and take turns with the owner, where he always takes the night shift.
Around half past eleven I have to finish our nice conversation. All in all I have to go through the rest of my video taping of today. I hand him over one of my business cards. Let's see, if he will ever send me a message. I go to my room and watch the rest of my video taping. When I am eventually in bed, it is already 1am. Now I have even two short nights in a row…
General
Breakfast: Dodge House, Dodge City
Dinner: Hickory House, Lamar
Motel: Super 8, Lamar
Distance: 196 miles