Zebulon Montgomery Pike Trail to Red River, Arkansas Journey 1806 — 1807
Day 31: September 14th, 2004 Buena Vista — Cañon City
Breakfast is again at Jans. This time, payment works out much better than yesterday evening. Therefore I am then shocked at the gas station: The 87 octane gas is $2.11 per gallon around here! That is an absolute record high so far…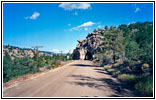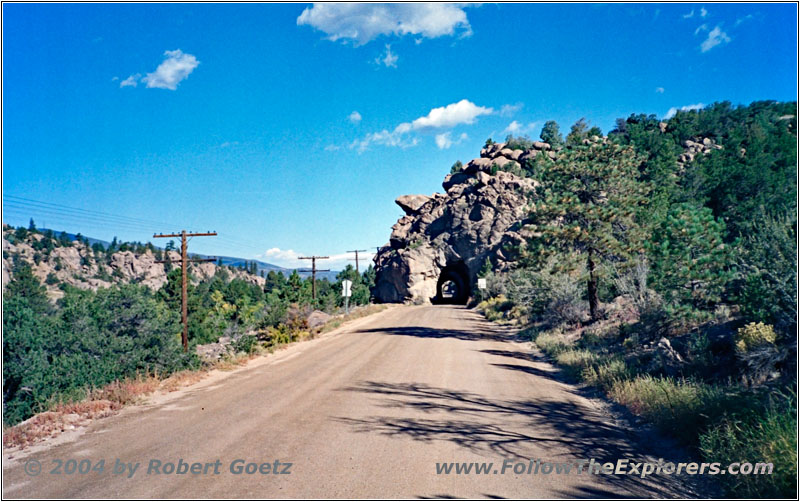 Rd 371, Midland Tunnels, CO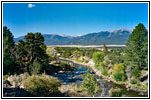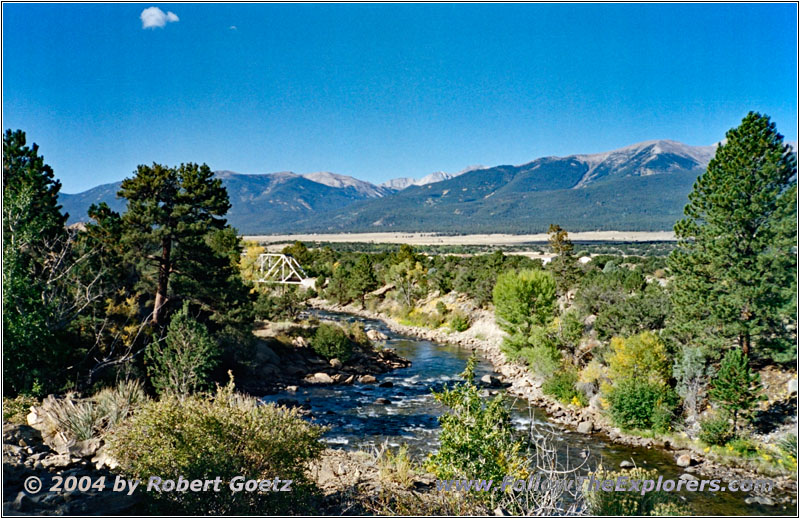 Rd 371, Arkansas River, CO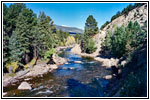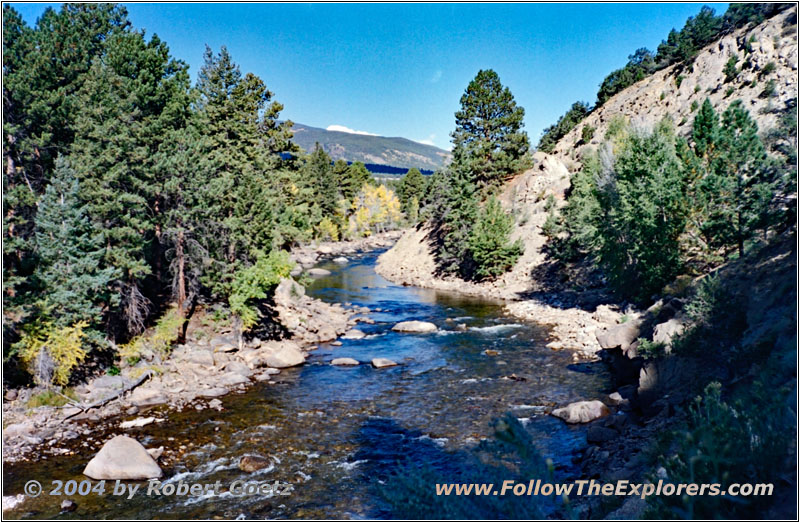 Rd 371, Arkansas River, CO
I try to find my way out of Buena Vista on Rd 371. After briefly loosing my way, I eventually find the correct road. And this one is really great. It runs all the way along the Arkansas River on gravel roads. Also here are some of these "rustic" tunnels to drive through. And I do many stop overs to take pictures of the river.
Way too early the backroad ends and I am back on Highway 24.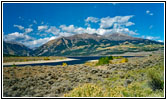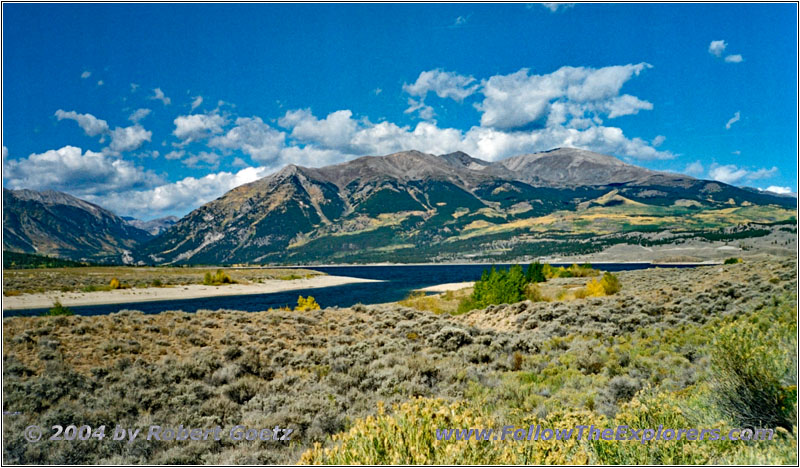 Highway 82, Mt. Elbert, CO
On this highway I continue to the exit of Highway 82. On this one I continue to Twin Lakes. This was also the point, where Pike gave up to follow the river. He assumed that he is already near the sources of the Red River. But he could not have been more wrong. He was already back at the Arkansas River!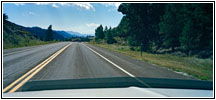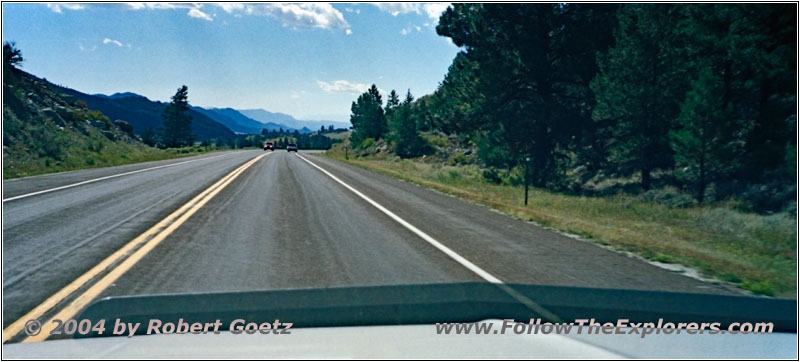 Highway 24, CO
I drive back to Buena Vista on Highway 24.
Just past the city, Highway 285 starts. Then I continue on Highway 291.
If you like paved roads, this is a fantastic route. You have great views. But due to all the traffic, it is impossible to drive slow or to stop for video taping or taking pictures.
At Salida I reach the big Highway 50, which I follow for several miles.
Then I continue on Rd 7 and 45 at Wellsville.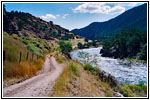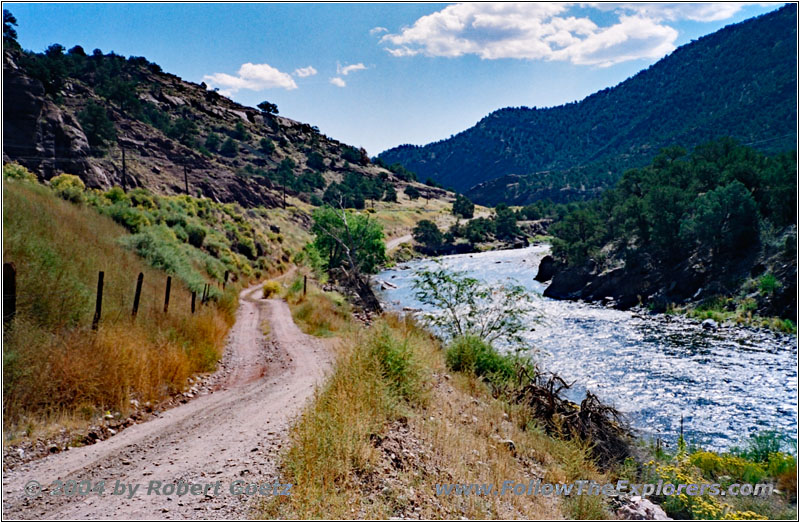 Rd 45, Arkansas River, CO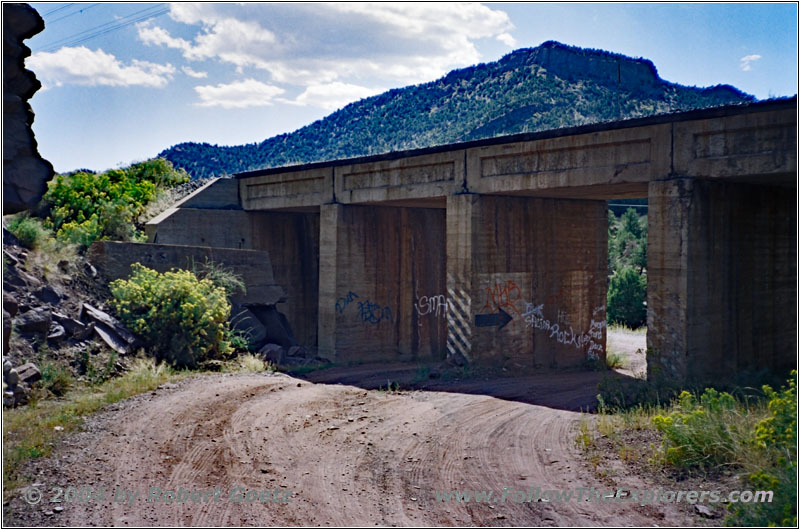 Rd 45, Railway Bridge, CO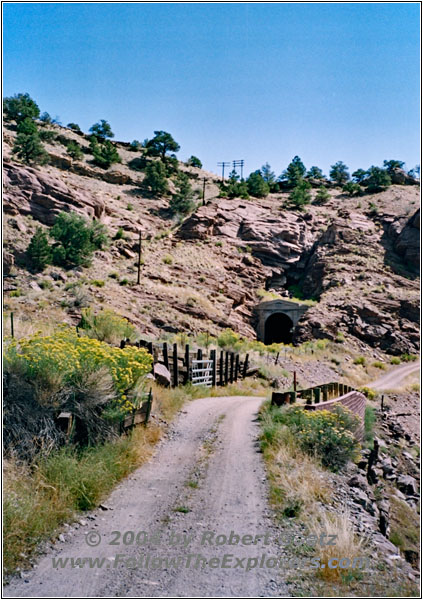 Rd 45, CO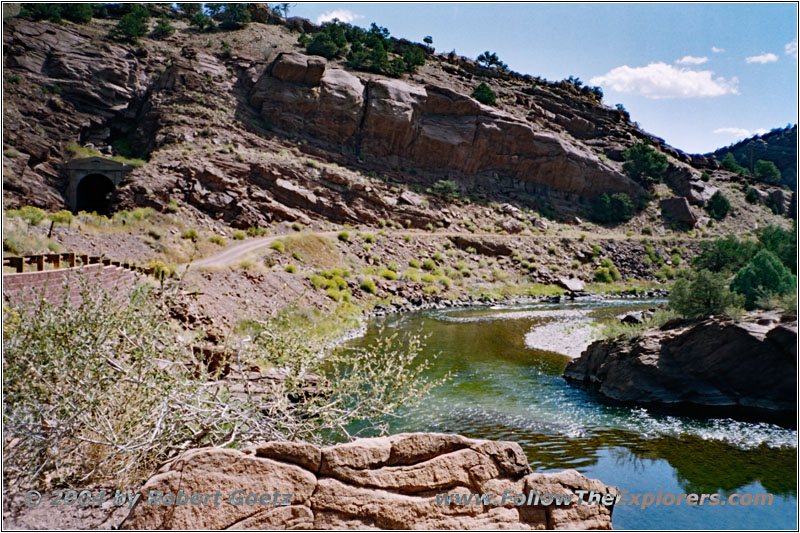 Rd 45, CO
The small gravel road first runs under the railroad to the other side. Then you are directly at the river banks. The road is a small one lane gravel road, which is in real bad conditions in some places — exactly what I am looking for!
At one spot, where the road is getting wider, an SUV approaches me. I am amazed, that someone with such a new car is driving on such a bad road. Then I continue.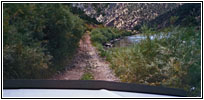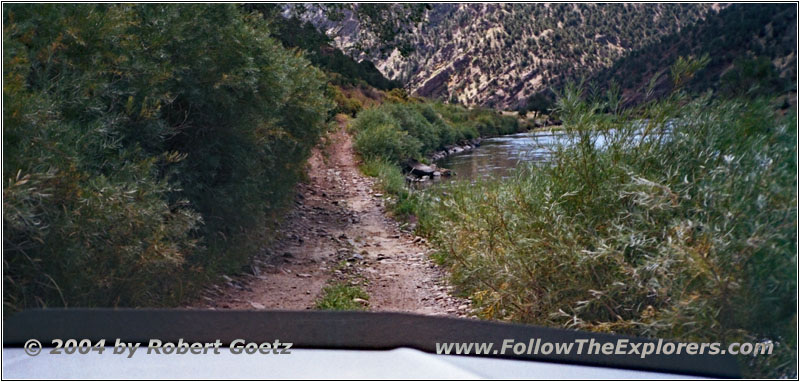 Rd 45, Arkansas River, CO
Suddenly the road lowers and is almost on the same level as the river for a short distance. If the water would have been slightly higher, I would have to drive through the river already!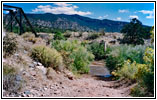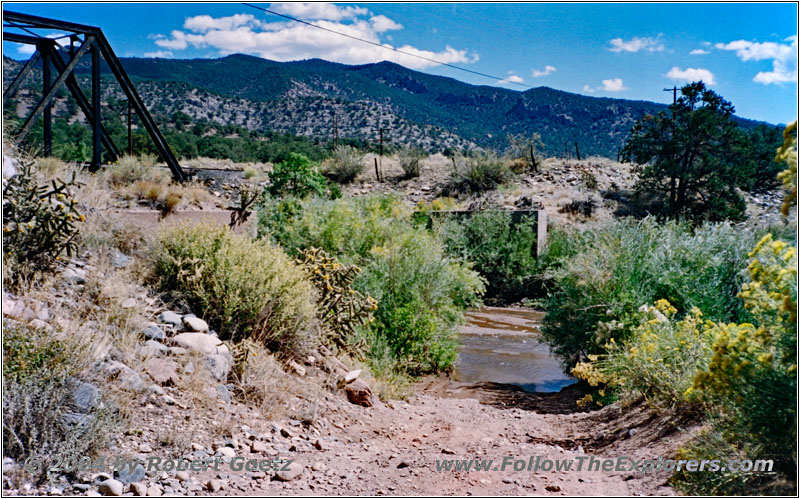 Rd 45, Badger Creek, CO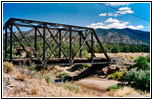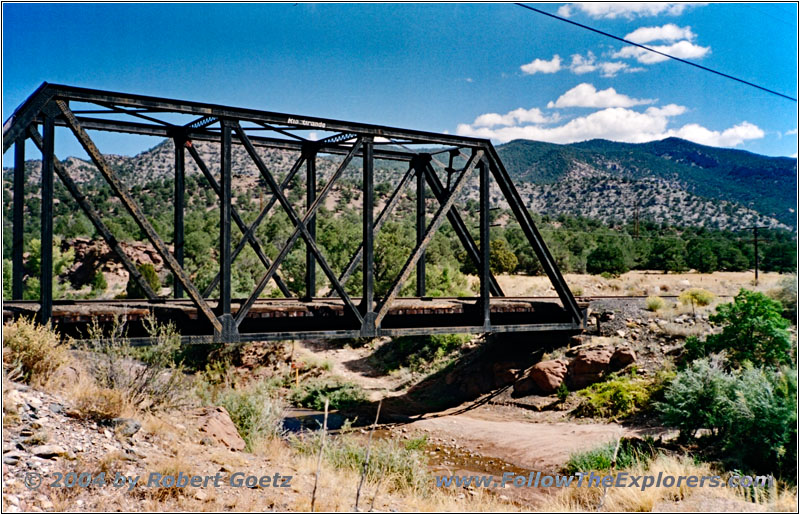 Rd 45, Badger Creek, CO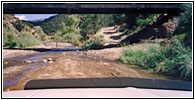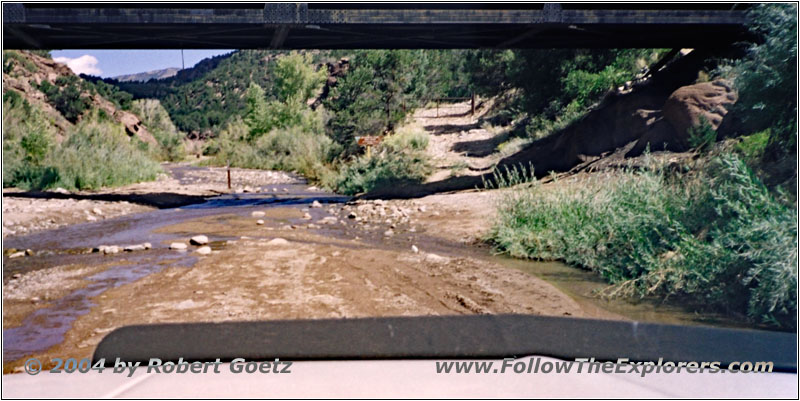 Rd 45, Badger Creek, CO
But the water level is pretty low. So I must proceed slowly, but at least I am able to proceed. Then I reach a location, where once again a bridge is out. I exit my car and check the area. After a little bit of searching around I find a possibility to get around this spot. You just have to drive closer to the river and drive down a steep entrance into Badger Creek, a contributing river to the Arkansas River. Then you drive in the river bed upstream to the exit on the other side of Badger Creek. This works out really well, because Badger Creek has almost no water. It's only about wet sand and some water. Then I am able to continue on my small one lane gravel road.
Also from there you have great views of the Arkansas River. On roads like this I could drive for hours. But after a while, I also reach paved roads again.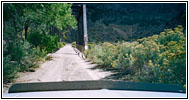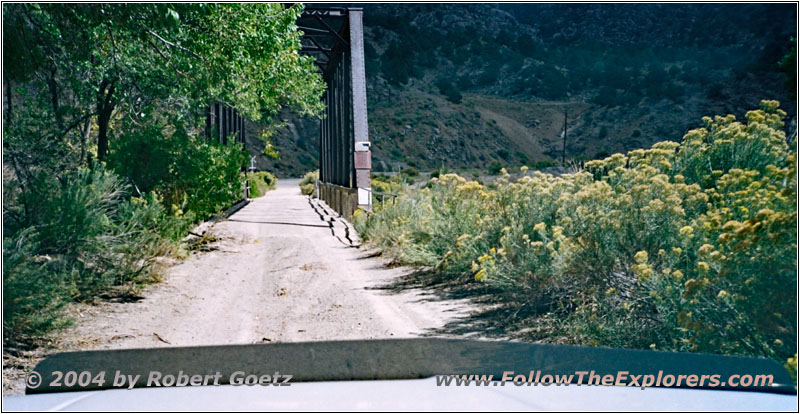 Arkansas River, CO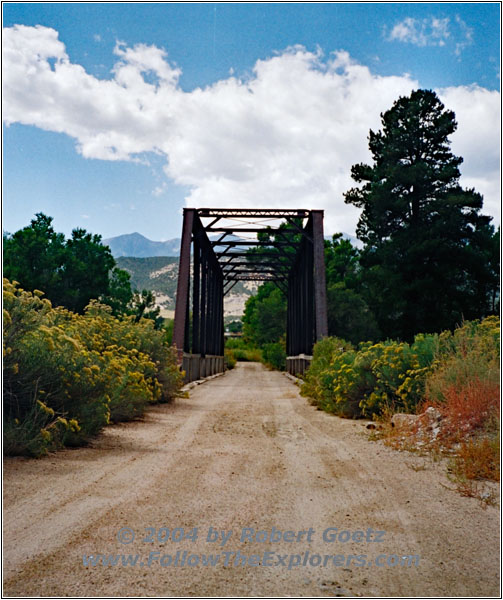 Bridge Arkansas River, CO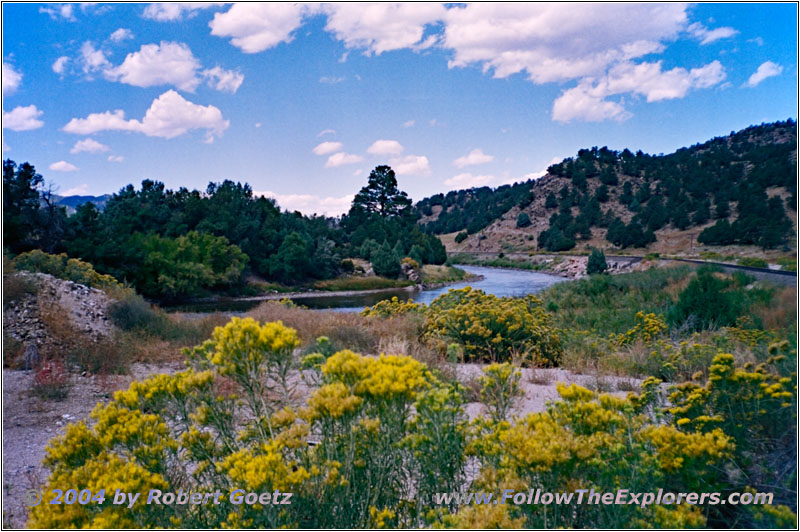 Arkansas River, CO
I take another try in the area of Coaldale, where a rotten bridge takes you over the Arkansas River. But there is no way to proceed on the other side. It also seems, that there was no train on the rails for a long period of time, because the rails are completely filled up with sand. Due to being away from any major route, I use the opportunity for a lunch break. I have an apple and then drive back over the bridge.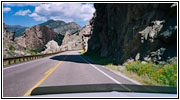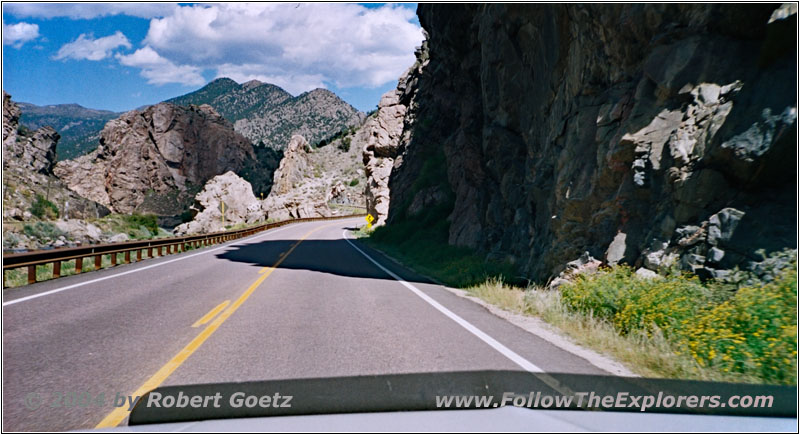 Highway 50, CO
Now it's going way too fast on Highway 50 along the Arkansas River to Cañon City. If someone likes paved roads, this stretch will also be one of the top sights — but I wish to be back on Rd 45 from before.
Around a quarter past one I am back at the Super 8 motel. The Indian guy, who checked me in last time, even remembers me and gives me the same room than before. But when entering the amount he made a mistake and enters $553…
He immediately corrects his mistake. But when seeing my credit card bill back home, I had to realize, that I still have to pay this 1% fee for out of country transactions. Unfortunately I was not thinking of that in this moment to get any credit voucher for this. Instead I am happy and put my stuff into the room. As I am still very early in time, I decide to look for the place, where Pike once build a blockhouse for his comrades. These guys were not able to proceed further because of frozen feet.
Unfortunately, the Indian guy at the reception is not able to help me here. But he recommends to go to the Chamber of Commerce. I give it a try, but they are not able to help me. Instead they recommend going to the local library. There they show me the way to their historical archive. The two ladies are super excited to have someone from Germany here searching for something. They ask me to put my name in their form. There they collect, who has ever searched here for something. They are now absolutely proud of having someone from out of country in their documents!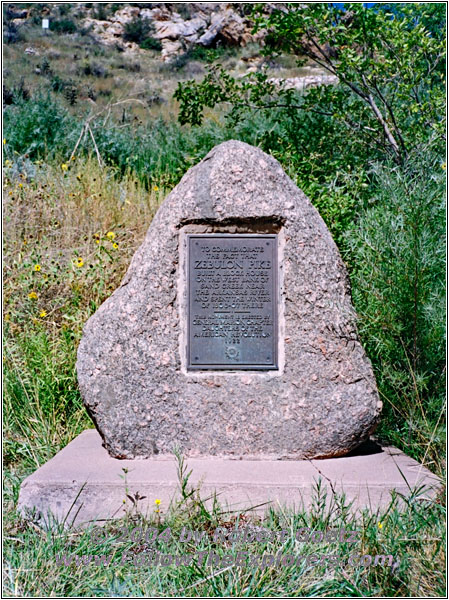 Pike Blockhouse Marker, Cañon City, CO
Indeed this place is a true treasure. They collected all sorts of documents and with the help of a way description I am able to find this historic place. But the historical marker is almost invisible, as the two ladies already told me. First I even passed it without noticing. But on my way back I see this little and almost overgrown rock in the curve of Highway 50. There is also no real access road — instead you must even drive up a boardwalk to reach this spot. All in all you are also directly next to the local prison. It almost looks like Pike is not really valued in this area…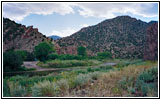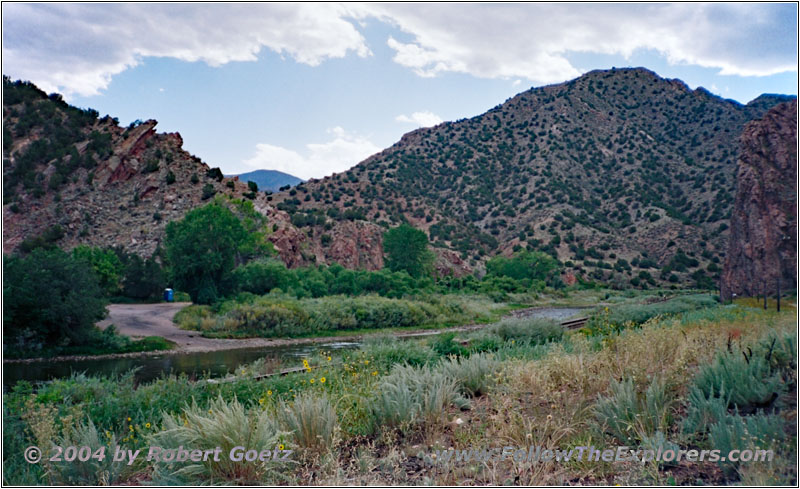 Pike Blockhouse, Cañon City, CO
Then I drive over to the Tunnel Drive Road to reach the real location of the blockhouse. The exact location will most likely never be figured out. Therefore I just drive to the end of this road. There I meet a fisherman, where I have the chance for a brief chat. Then I take some pictures and video from the inlet to the Arkansas River. Then I drive back to Highway 50.
On this highway I drive back to my motel. As I am still good in time, I try to find a Radio Shack. My CB antenna mount is now completely gone and I hope, they will have some spare parts. When he sees my antenna, he almost throws his hands up — they definitely don't have this one. But after taking a quick look at the antenna he realizes, that it is possible to unscrew the lower mount and to turn it around. This way, it holds up again — awkward, awkward for me. That is something I could have figured out by myself…
As I still have plenty of time, I quickly buy another phone card. My last one is almost empty and the next Sunday for my usual weekly call back home, will surely approach soon…
Then I drive back to my motel and check the video taping of today. Afterwards I feed my GPS with new coordinates. Just past seven I drive over to the Wild West again. And also this time the steak is outstanding. Only the air condition is set up a bit too cold for me.
Around eight I pay and drive back to my motel. After watching a bit TV I go to bed early. Ultimately tomorrow will be the most interesting day of my whole journey: Driving over a 4WD pass, the Medano Pass!
General
Breakfast: Jans, Buena Vista
Dinner: Wild West, Cañon City
Motel: Super 8, Cañon City
Distance: 163 miles