Zebulon Montgomery Pike Trail to Red River, Arkansas Journey 1806 — 1807
Day 30: September 13th, 2004 Cañon City — Buena Vista
Just vis–à–vis of my motel is a Village Inn, where I have breakfast. Before that I check out at the motel as usual, but leave my car parked at the motel parking lot. The breakfast is okay, but my server is not as friendly as at the last Village Inn I have been. I have the impression, that people here in Colorado are not as friendly as in the other states — sometimes it feels like being in Germany…
Next I drive over to the gas station. Just before 9am I hit the road to reach the Shelf Road. On my way I pass a Wal–Mart, where I buy two additional double packages of film. This year I completely underestimated my demand of film rolls! As my water supplies are also running low, I buy some drinking water — but I still take care of the water source. Again only the water bottles with the drinking nozzle are filled by the spring in Canada.
Then I continue to the Rd 168 exit to reach the Shelf Road. But a road construction blocks my way and prohibits me from following my planned route. After a little bit of searching around I find a way around. Field Ave takes me back to my original planned route.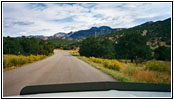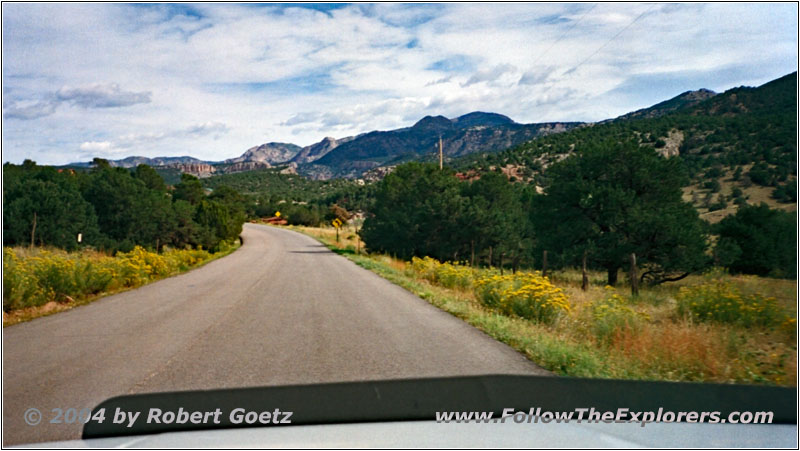 Rd 9, CO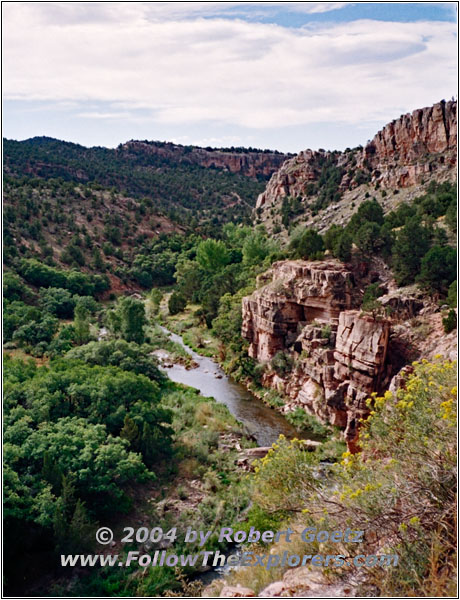 Rd 9, Fourmile Creek, CO
But after a couple of miles on Rd 9 a "Road Closed" sign stops me. It seems like something has happened with the road due to the heavy rain the last couple of weeks. After thinking for a while I decide to take the chances and drive past the closure sign on the Shelf Road. Maybe I am lucky and I am able to proceed with my 4WD.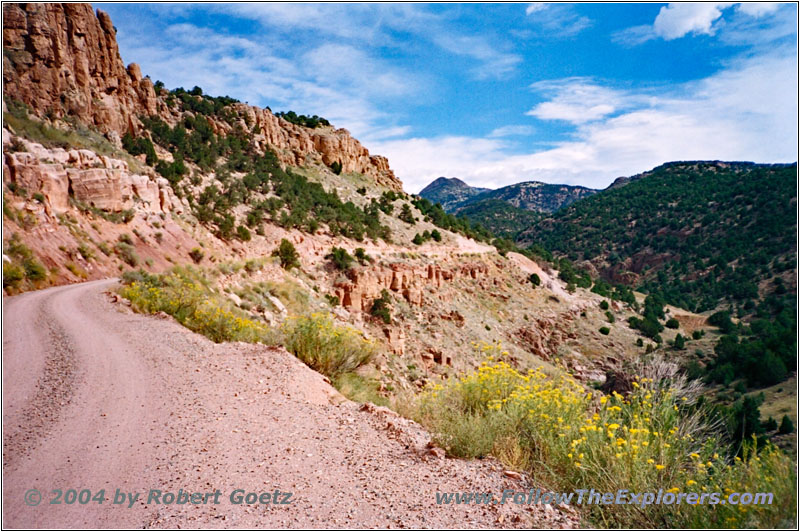 Shelf Rd, CO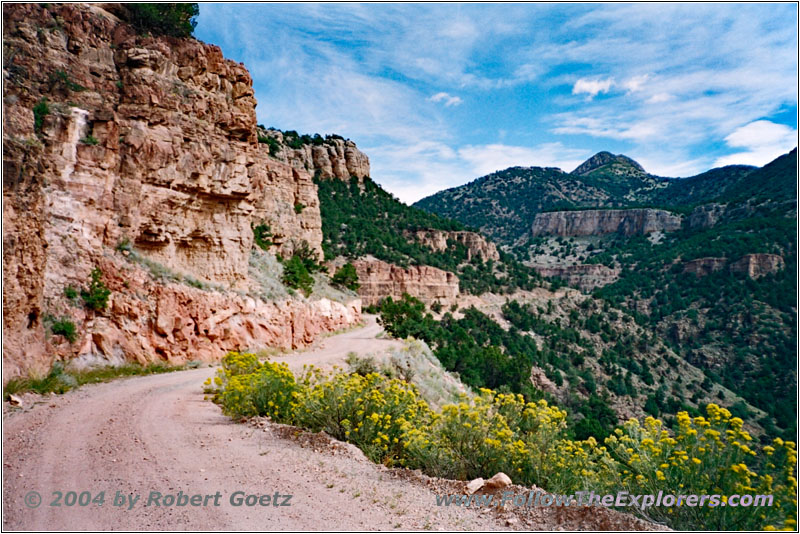 Shelf Rd, CO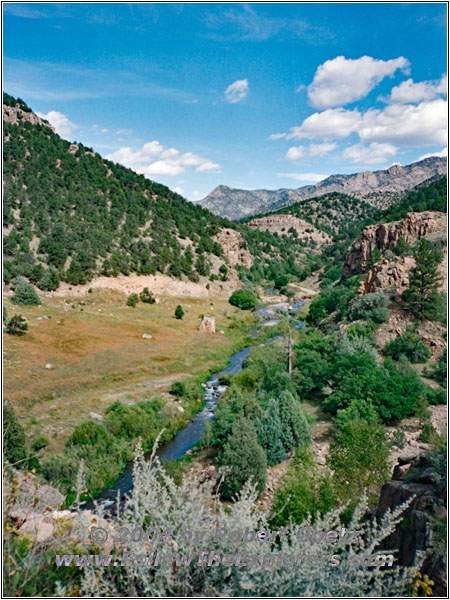 Shelf Rd, Fourmile Creek, CO
The road is in real good condition. And because of the road closure I have now plenty of time for video taping and taking pictures without worrying about the traffic. After I have already completed two thirds of the distance I reach the point, where I have to cross Fourmile Creek. Now I realize, why this road is closed: The little bridge, which takes you over the creek, is completely gone.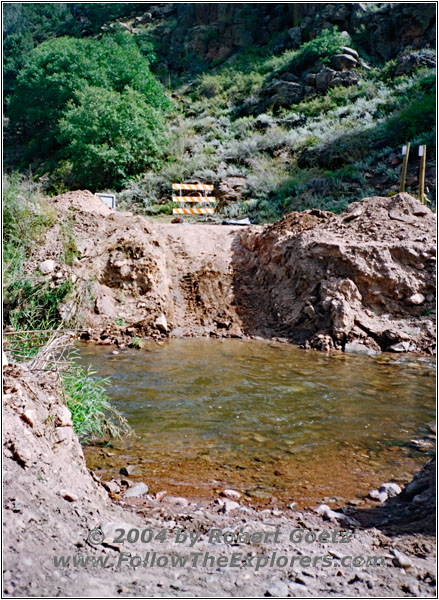 Shelf Rd, Bridge Out, Fourmile Creek, CO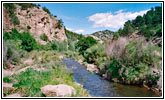 Shelf Rd, Fourmile Creek, CO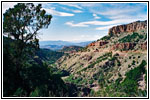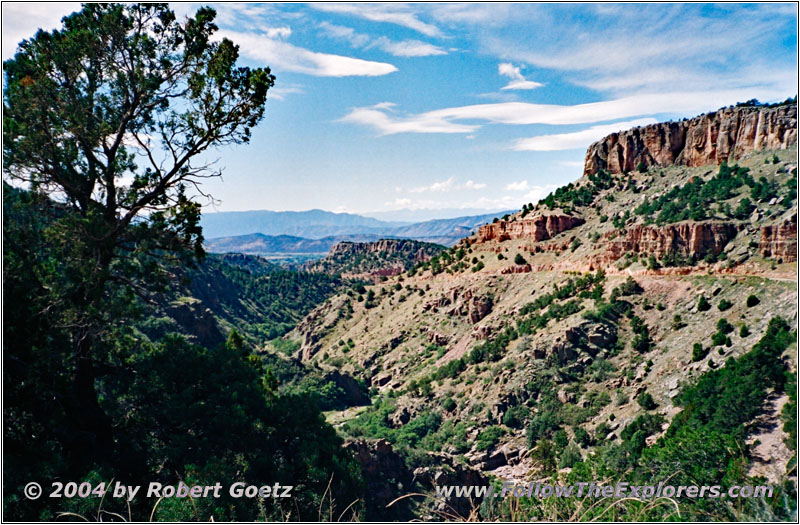 Shelf Rd, Fourmile Creek, CO
I take a closer look at this spot. The creek is not very wide. But the river entrance and exit is extremely steep. Additionally it looks like there are pretty big rocks laying in the river bed. It also looks pretty deep, so that I am getting afraid of water entering the engine when driving into the river bed. Together with the bad soil the risks are getting too high for me and I decide to turn around.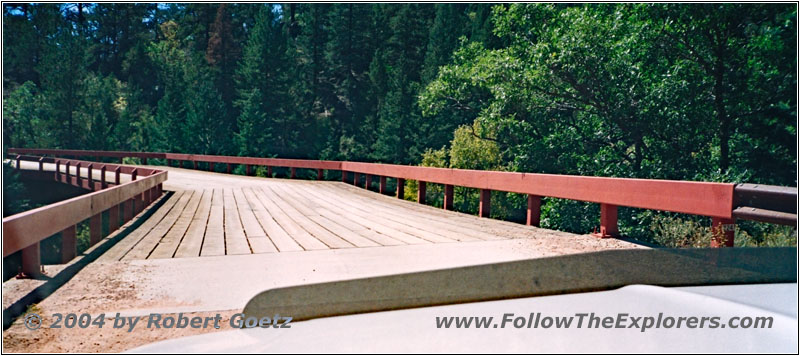 Phantom Canyon Road, CO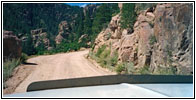 Phantom Canyon Road, CO
I must drive all the way back to Highway 50 and then take again Phantom Canyon Road to the north. There is no other way around. Today is already way less traffic. However I didn't planned to drive this road two times. But I have no other choice.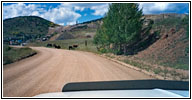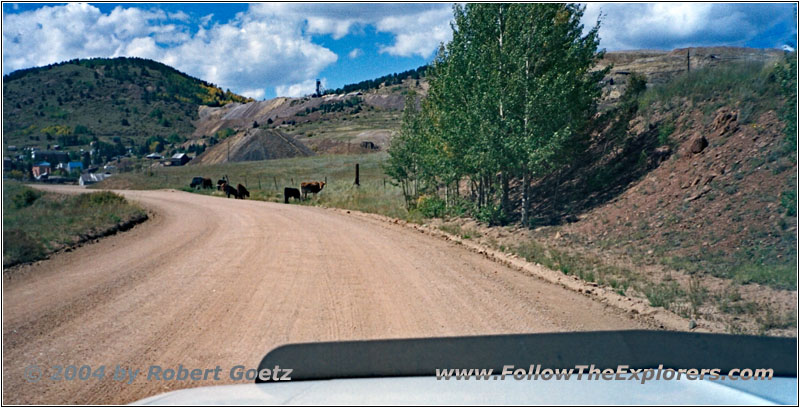 Rd 86, Victor, CO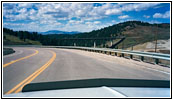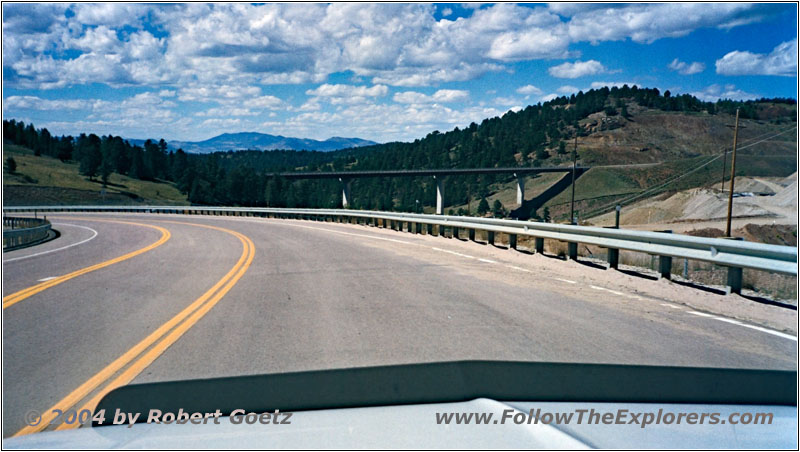 Highway 67, CO
Finally I am back on pavement again. When continuing on Highway 67 in direction of Cripple Creek I pass the exit to Shelf Road. There is also a road closure sign set up. If I would have already watched out for this yesterday, I could have saved the detour. But this way I had the chance to see a bit of the Shelf Road, which I even liked more than the Phantom Canyon Road.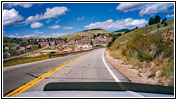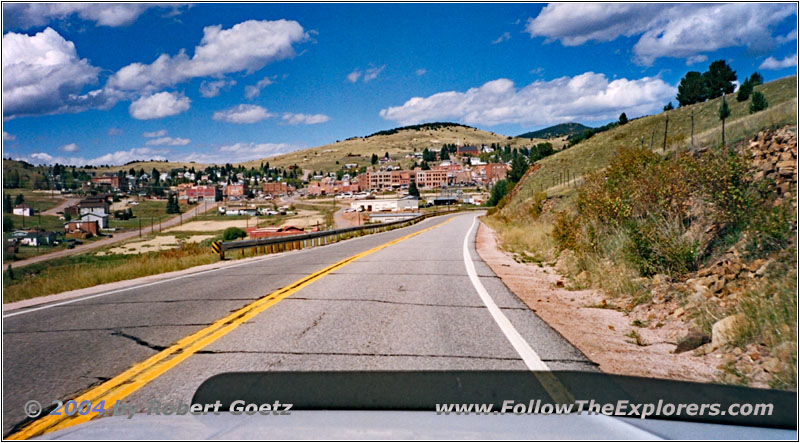 Highway 67, Cripple Creek, CO
Again I reach Cripple Creek. But I immediately leave the city on Rd 1 in northwestern direction up to the exit of Rd 11.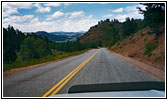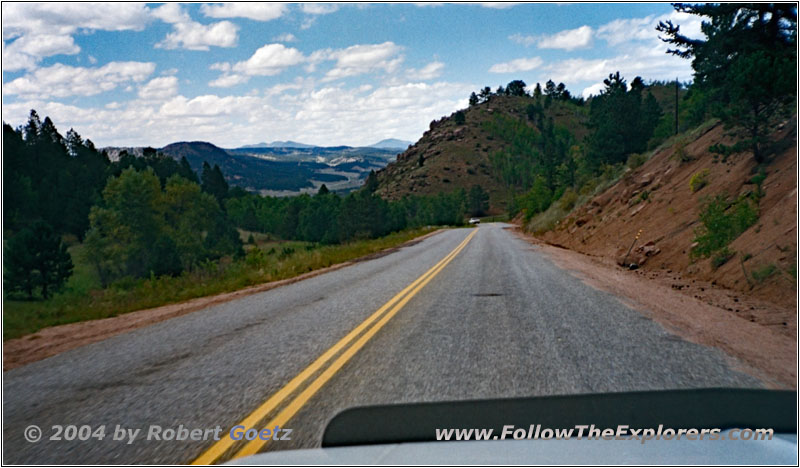 Rd 1, CO
These roads are all paved and I make good miles here. Also the landscape is gorgeous again.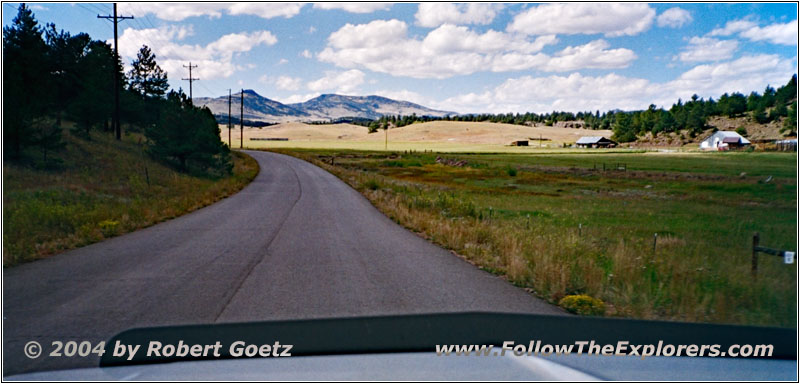 Rd 102, CO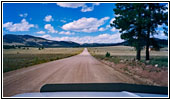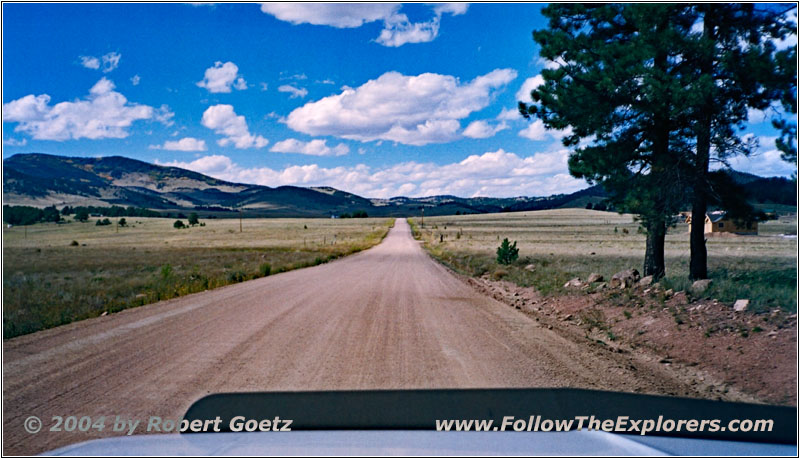 Rd 71, CO
Then I continue on gravel roads and the old problems are coming back to me: One of my backroads ends again at private property and I must drive a pretty big detour. The road takes me along the edges of Pike National Forest and finally on my planned route through the forest.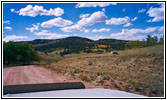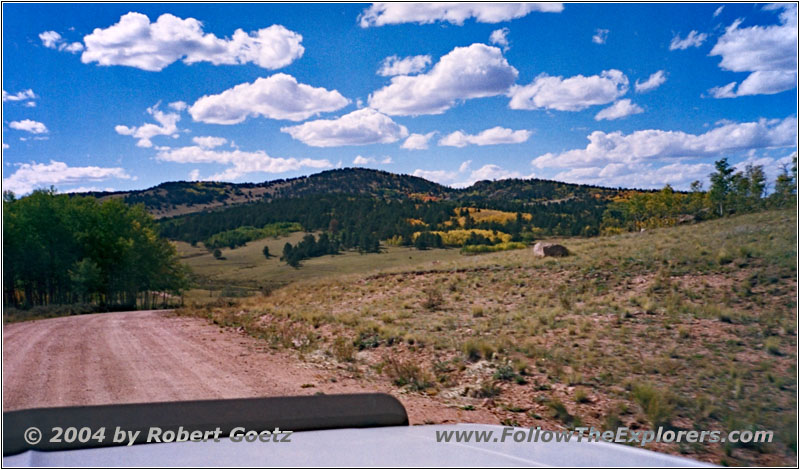 Rd 100, CO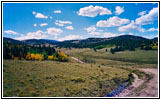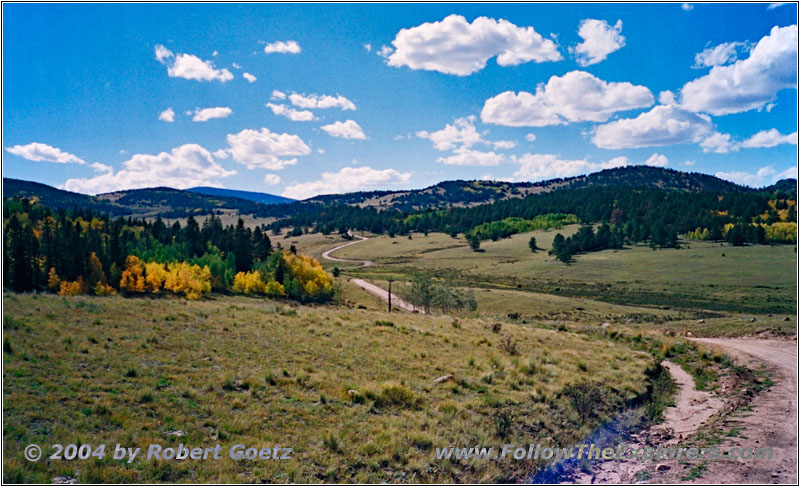 Rd 100, CO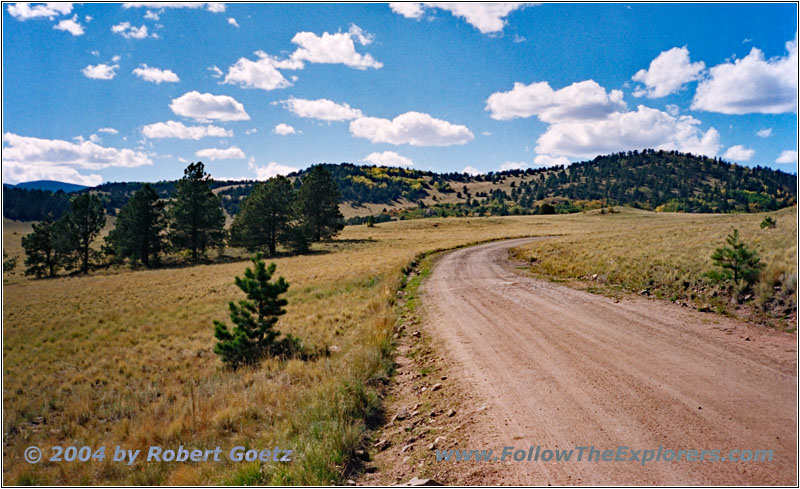 Rd 100, CO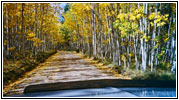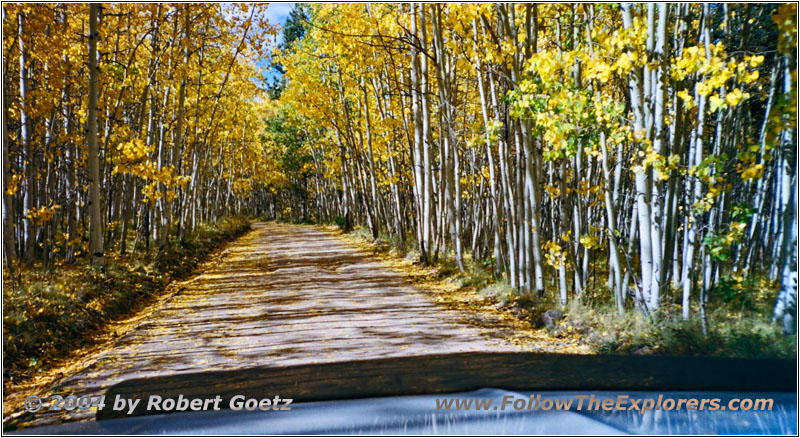 Rd 100, CO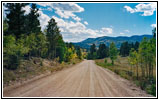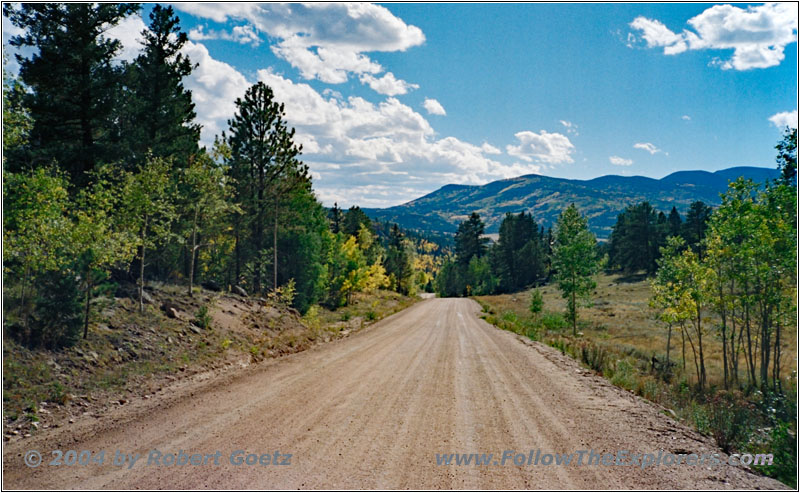 Rd 98, CO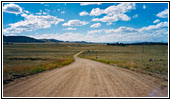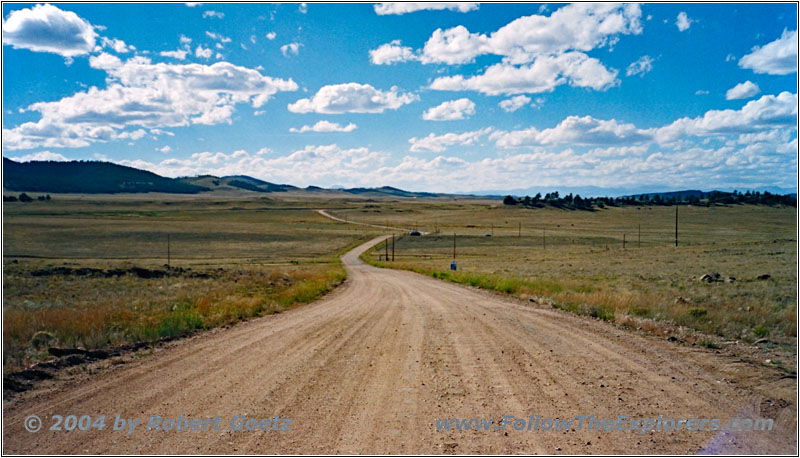 Rd 98, CO
The landscape gets a special impression with the fall colored yellow aspen trees. I think to myself, that I have caught the best time of season for this trip.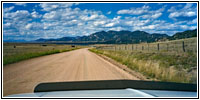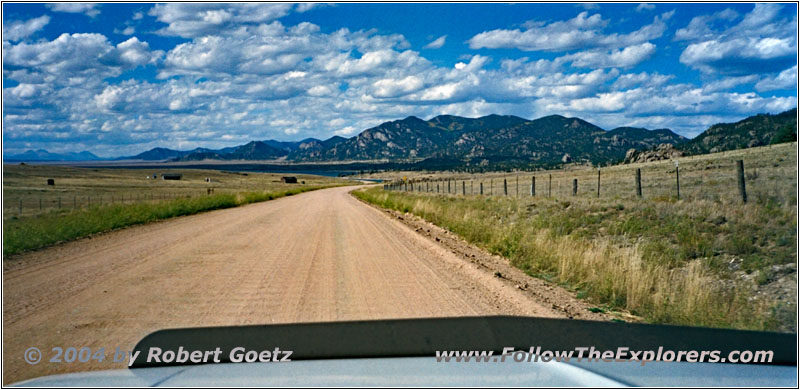 Rd 59, CO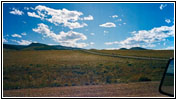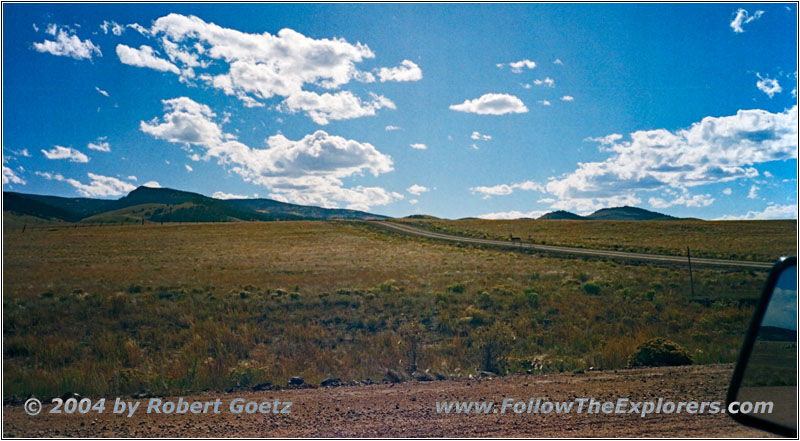 Rd 59, CO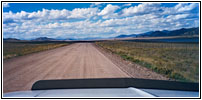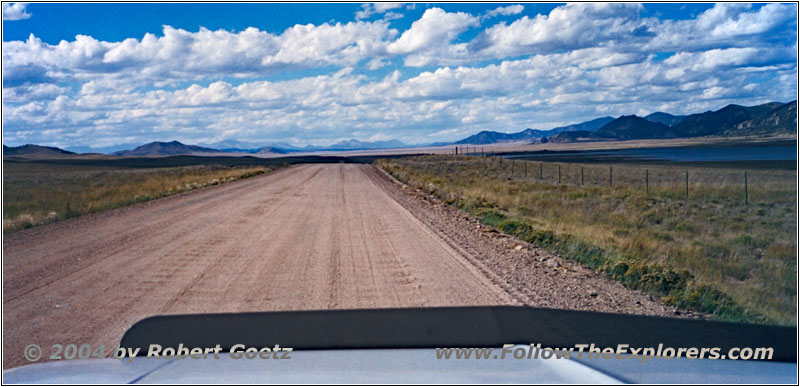 Rd 59, CO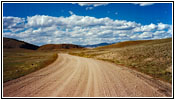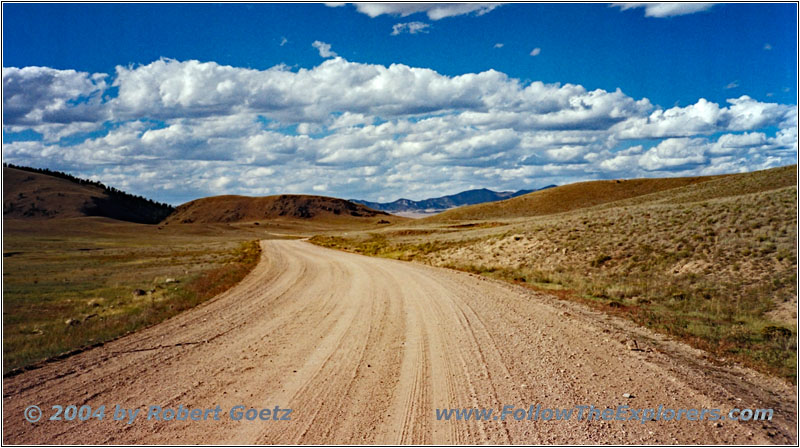 Rd 59, CO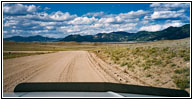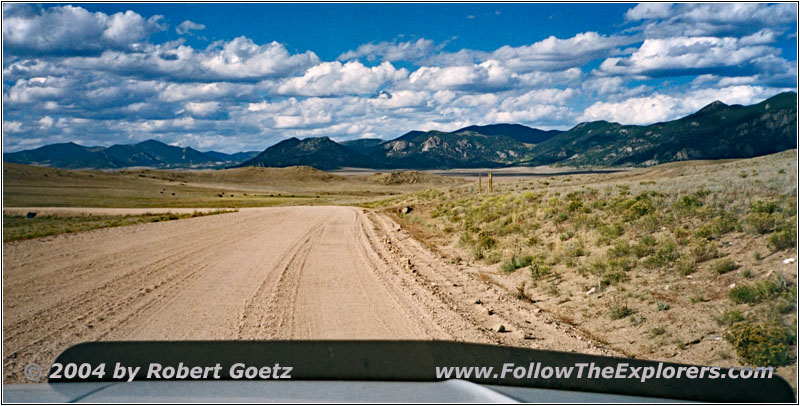 Rd 59, CO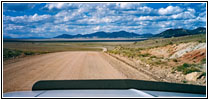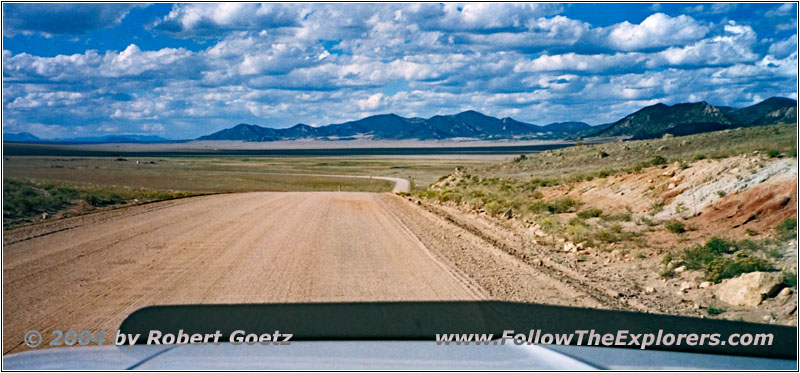 Rd 59, CO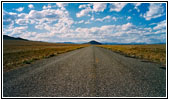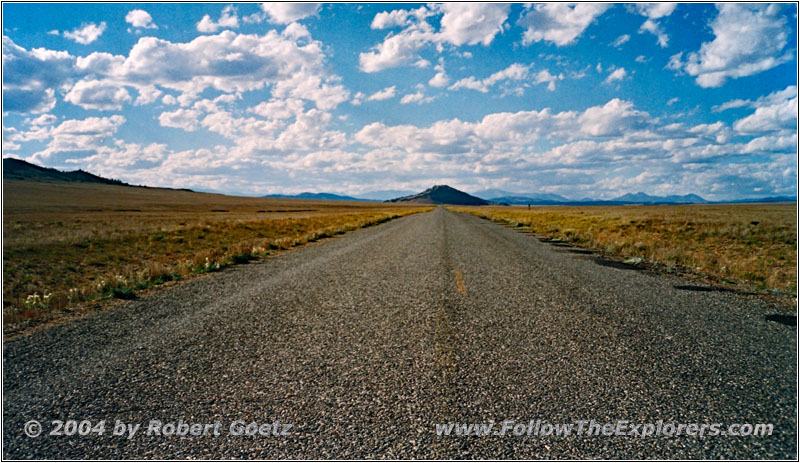 Rd 59, CO
When I am getting closer to the Eleven Mile State Park, the hills are ending and I find myself on a giant plane, which goes all the way to the horizon — only at an elevation of six to nine thousand feet…
I drive along the water reservoir to the end of the lake. There I plan to take another small backroad. But once again a gate stops me and I must turn around. I continue on the gravel road for a short distance until I reach the paved Rd 59. In a distance I see small hills in the big plane. This view is absolutely fascinating.
While driving now on pavement, I am able to make good miles. Slowly I have to hurry up, because the sun is already getting low. Suddenly the pavement ends and gravel starts once again. On top of that also the deep longitudinal rips are back. This is the limit and I start to hammer down. Once I reach 40mph driving is getting way more comfortable. At that speed the rips are eaten up by my suspension. Luckily the road is wide enough and well maintained. Otherwise it would not be possible to drive this fast.
Eventually I reach Highway 24.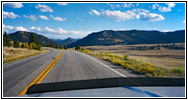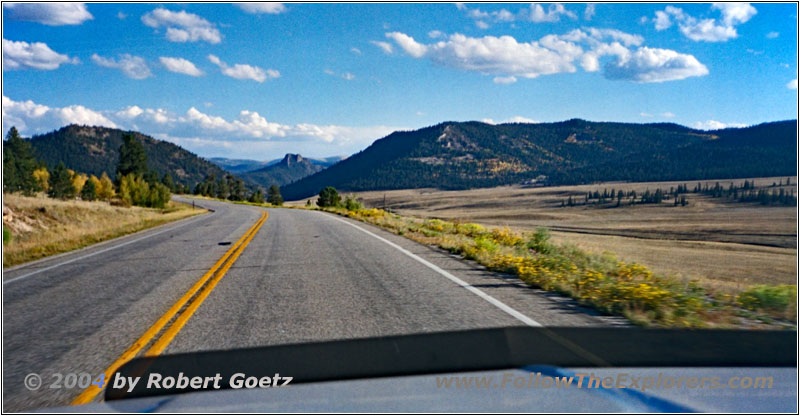 Highway 285, CO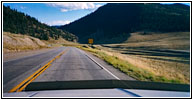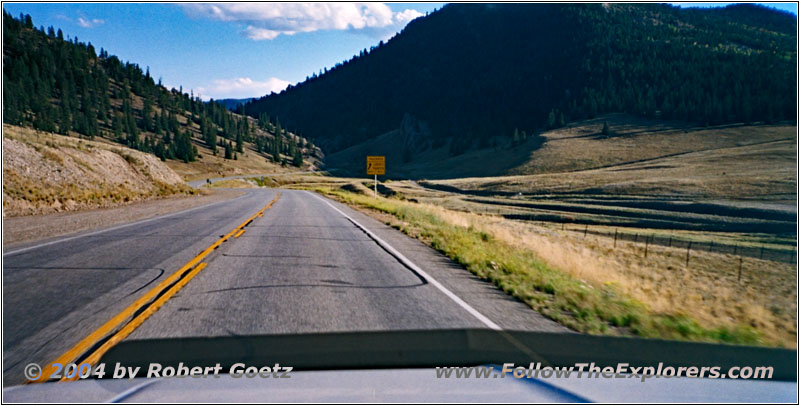 Highway 285, CO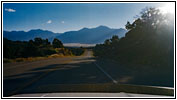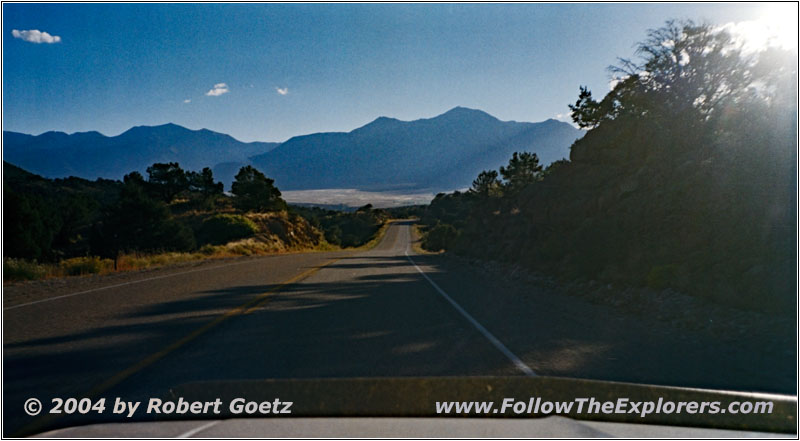 Highway 285, CO
On this highway I reach Trout Creek Pass at 9000ft. On my downhill drive I run into an oversize load, which has loaded a whole house. Unfortunately I don't have my CB radio turned on. That's why I just see the truck in the last moment in a curve. But the roads are wide enough.
Finally I arrive in the valley on Highway 285 North. Unfortunately the sun is already so low, that all my recordings from this downhill ride did not work out very well.
After a couple of miles I reach the Super 8 in Buena Vista just past 6pm. Nevertheless I still get a nice motel room to the rear. Also this motel has an entrance directly to your room from the parking lot — awesome! I also ask for any dinner place recommendations and they really have a long list of restaurants for me.
Finally she recommends Jans for simple and good home cooking. It's the pink house if you drive south in direction of downtown. I say thank you and put my stuff into the room. Then I check the first video taping.
Around 7pm I depart and find the restaurant without any searching. Just adjacent is also a motel. It seems like that most of the customers are coming from this motel, because there are only a few parking spots at the restaurant. It is also pretty tight to park your car there…
The food is exactly as described — good home cooking and plenty. Also the refill service is working very well. But then I have to wait a long time for my check. Eventually she arrives and around a quarter past eight I pay and drive back to my motel. There I check the rest of my video taping from today and program the next GPS coordinates. Then I go to bed.
General
Breakfast: Village Inn, Cañon City
Dinner: Jans, Buena Vista
Motel: Super 8, Buena Vista
Distance: 140 miles