Zebulon Montgomery Pike Trail to Red River, Arkansas Journey 1806 — 1807
Day 37: September 20th, 2004 Kansas City — Terre Haute
From my visit last year I still remember roughly, where the Cracker Barrel in southern direction is located. When I arrive there, everything is almost empty. You can tell that today is a working day. A quarter past nine I pay and drive over to the gas station.
Around half past nine I am back on the Interstate. First I take I–35 South to I–435, which is kind of a city bypass. First it runs east and then north before I am back on I–70 East.
The rest of the day I will be on I–70 East. On my way I cross once again the Missouri River.
At St. Louis is the next Missouri River crossing. Then I take I–270, which takes me over the Mississippi River and the state line to Illinois. You can tell that the traffic is now increasing significantly.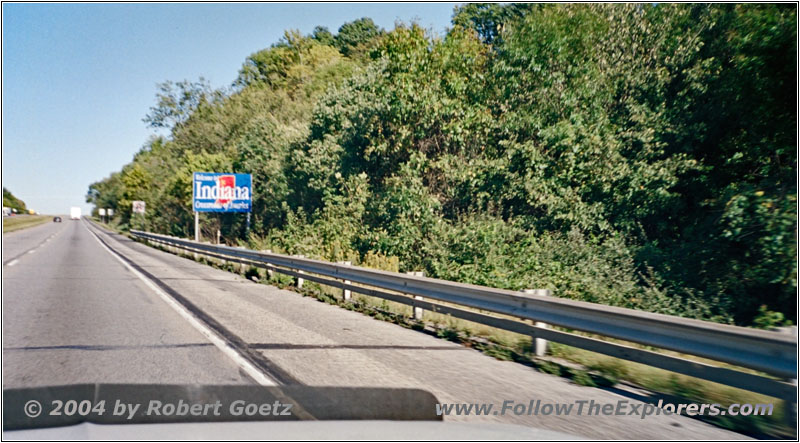 I–70, State Line IL and IN
Finally I cross the state line to Indiana and arrive at Terre Haute. Around half past four I check in at the local Motel 6. Now I have plenty of time to check the video taping of today.
Around half past seven I drive over to the Outback and have my usual 9 ounce Outback Special — and this time I really receive it and not a Prime Rib like last time here. Around half past eight I pay and drive back to my motel.
General
Breakfast: Cracker Barrel, Kansas City
Dinner: Outback Steakhouse, Terre Haute
Motel: Motel 6, Terre Haute
Distance: 445 miles