Zebulon Montgomery Pike Trail to Red River, Mexico Journey 1807
Day 7: October 4th, 2003 Pittsburgh — Marshall
This day welcomes me with a slight rain. After breakfast I first mount my car pod. Then I pack all my stuff in my little truck. Around ten I am ready to roll. I say good–bye and start my journey, first in direction of Cranberry. Indeed I bought some drinking water the last couple of days, but I have no fruits for on the road. I get a bag of apples and a pack of Gatorade at Shop'n'Save. Then I drive over to the next gas station to fill up my gas tank and spare cans. I also increase my tire pressure to 35psi now, because I will be on major highways. Just before 11am I am eventually ready to hit the road.
Just in time for my departure, my speedometer starts to go wild. The needle jumps up and down heavily and the shaft starts crying. Hopefully it works again soon. Usually it takes around 100–200 miles until it works again. But this time it works again much earlier.
I take I–79 south to I–70. On that interstate I will stay for the rest of the day. I pass the state line of West Virginia and Ohio. The weather starts to get better in Ohio. The sun starts to shine and also the temperatures start to rise.
I am making good miles while listening to the truckers on CB and the latest country songs on radio alternately, Time really slips this way. Around 1pm I make a brief stop to have two of my apples. Then I continue my drive. While the sun is shining I cross the state line to Indiana.
As usual the traffic picks up in the area of Indianapolis. But things are still rolling pretty well. After a brief ride on I–65 I continue on I–70 west to my destination of today, the Motel 6 in Terre Haute.
Just past six I arrive, despite my late departure. But there is a bad surprise: The motel is booked. But nearby is a Super 8, where I try my luck again. But this one is also booked, even in October! What kind of a start!
The reception lady tells me, that there is a race tonight. That's why all motels are booked. But there is another Super 8 in Marshall, just half an hour to the west. They for sure have rooms available.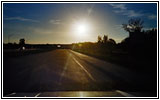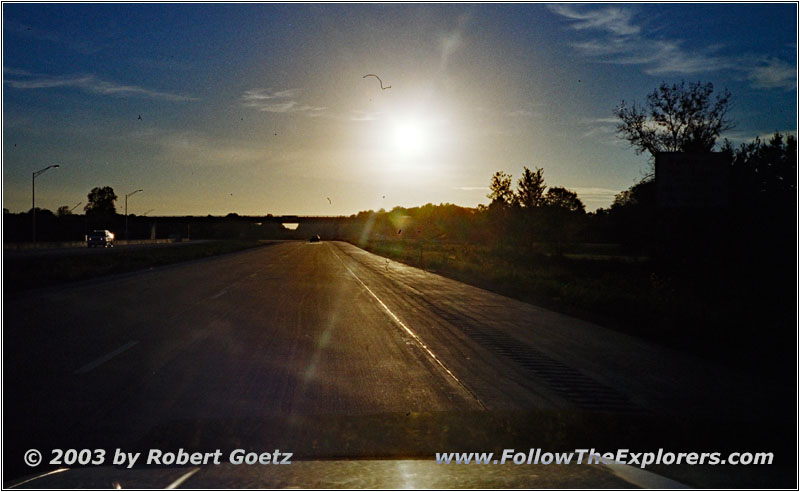 I–70, State Line IN and IL
I follow the advice and cross the state line to Illinois and the next time zone. So I arrive just before 6pm local time at the motel. They really have rooms available. But they don't have an Outback Steakhouse at this town, where I have been looking forward to the whole day.
I drive to downtown and see the Marshall's Family Restaurant, which looks really nice. There I order some strips of meat with vegetables, which tastes really great. And it is even way cheaper than the Outback Steakhouse!
Back in my motel I check the video taping of today. I realize, that I have once again forgotten to turn off the autofocus. That's why all my recordings in Indiana are unusable. Looks like I have been out of training right now. I go to bed around 9pm.
General
Breakfast: Home
Dinner: Marshall's Family Restaurant, Marshall
Motel: Super 8, Marshall
Distance: 476 miles