Zebulon Montgomery Pike Trail to Red River, Mexico Journey 1807
Day 8: October 5th, 2003 Marshall — Kansas City
Today I am awake early. Finally I can put on my thinner clothes out of my suitcase. I switch from my thick long arm flannel shirts to short arm shirts. But I still need a sweater and a jacket in the morning. Breakfast is again at the Marshall's Family Restaurant.
For a Sunday I am pretty early with just before 9am. They haven't even turned on the light in the non–smoking section. But within the next fifteen minutes the restaurants fills up with locals.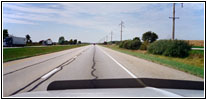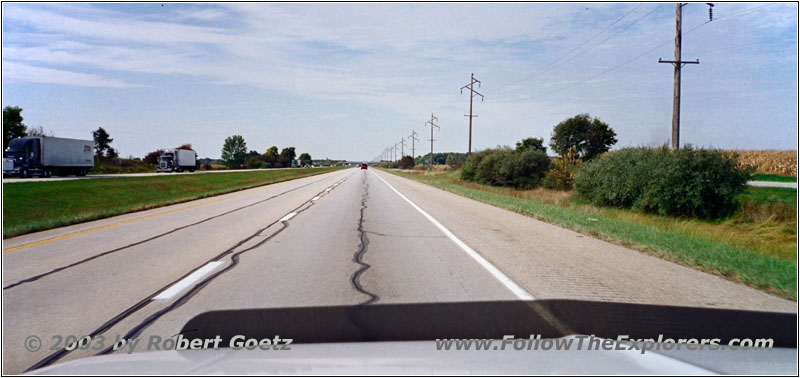 I–70, IL
After breakfast I drive over to the next gas station and around a quarter to ten I am back on I–70 west. When I arrive in St. Louis area I hear on my CB radio a warning, that they are working on I–270 and they sometime even shut down the interstate completely. But another truck driver says, that he went east and on the west side everything was open.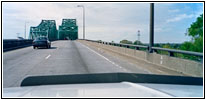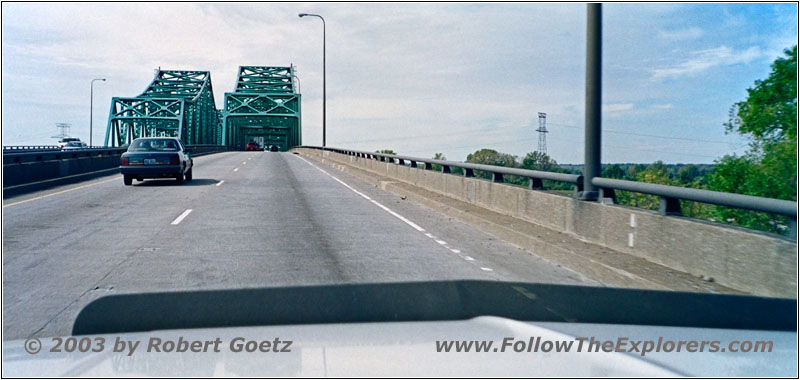 I–270, Mississippi River, IL
So I pass St. Louis, as originally planned, at the north end. Though I cross the Mississippi and Missouri Rivers again, which I already followed on my previous trails to the headwaters. Even with a lot of "Road Work" signs I make good miles on I–270, although the speed limit is reduced to 55mph.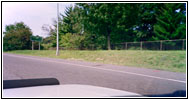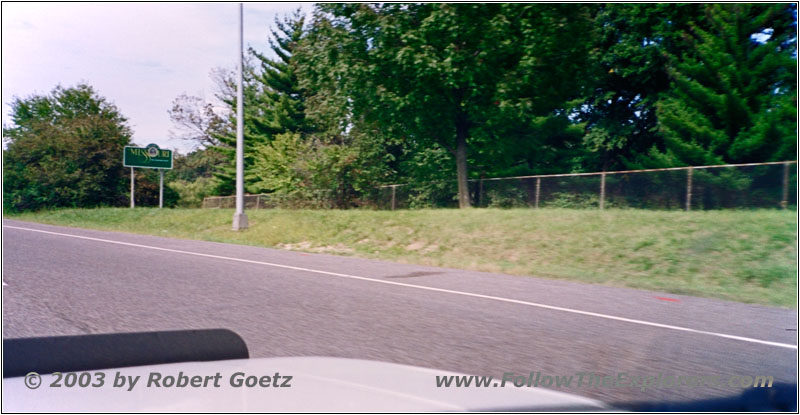 I–270, State Line IL and MO
I cross the Missouri state line and drive on in direction of Kansas City under slightly cloudy skies. Around 2pm I make a brief stop at a rest area to have another two of my apples as lunch. There I meet a couple on their Harley, who are on their way back home to Oregon after several months on the road. They have been in the bad weather in Pennsylvania and they also have similar daily legs as I have. After half an hour of nice chatting we continue our drive.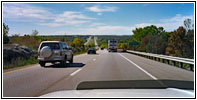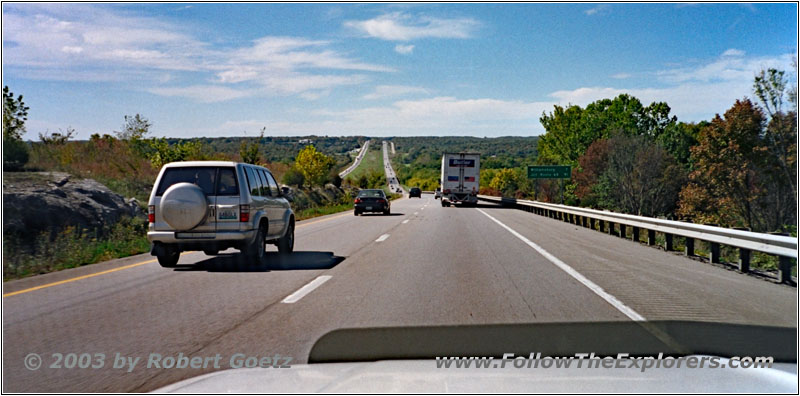 I–70, MO
Again I make good miles. Just before Kansas City I leave I–70, because it turns into a toll road there. I circle around Kansas City on I–435 south. In the south is also my destination of today, the Motel 6 in Lenexa. But before I arrive there I run into a small traffic jam. It looks like a football game is just over, because all the cars have some flags mounted. Nevertheless I arrive around 5pm at my motel and they still have a room for me, even on first floor.
I call my friends Rex and Mark, which I met on the Lolo Motorway on my Lewis & Clark Trail. We originally planned to meet for dinner. But they have a family reunion and so we have to skip dinner. But we make an appointment around 9pm, that we have a chance to meet again after this couple of years.
They give me a way description and, just to be safe, the GPS position of their house. Then I watch the videos of today. Around 7pm I leave in direction of my Outback Steakhouse, which I looked up in the phone book. But even then I have to search for a while, until I find it. I assumed it is north of my motel, but in fact it was even south of I–435.
Now I eventually have a chance to get my first 12 ounce Outback Special for this year. Strengthened like that I start my next search, now for the house of my friends. Unfortunately something was not quite clear for me in the way description, which costs me again some search time. But eventually I am on the correct road and from there I am able to find the house pretty fast.
Lucky me I have the GPS position. Otherwise I would have thought, that I am on the wrong road again, because I end up in the middle of a country residence area. I even have a bad conscience to park here with my old, rusty and oil leaking truck…
There is a big hello when I arrive. They both just returned from the first part of their new bicycling adventure trail, the "Trail of Tears". We talk almost around midnight about our trails. Then we slowly have to say good–bye. After all tomorrow is a regular working day and one of them has to work tomorrow. And I also don't want to depart too late. All in all I want to drive tomorrow all my way to Colorado…
General
Breakfast: Marshall's Family Restaurant, Marshall
Dinner: Outback Steakhouse, Kansas City
Motel: Motel 6, Kansas City
Distance: 462 miles