Zebulon Montgomery Pike Trail to Red River, Mexico Journey 1807
Day 17: October 14th, 2003 Truth or Consequences — Las Cruces
I have breakfast at the Hilltop Café, one of these typical small town Cafés, where you usually only find locals. The breakfast is absolutely great and at nine I leave the restaurant and drive over to the gas station.
I leave Truth or Consequences on Bus 25. At the city limits I take the wrong branch and end up at the Interstate. On this road I have to travel for almost 5 miles until I have the chance to take the next exit Las Palmas. There I can turn onto Highway 187 and follow in parallel to the Interstate the Rio Grande.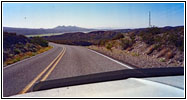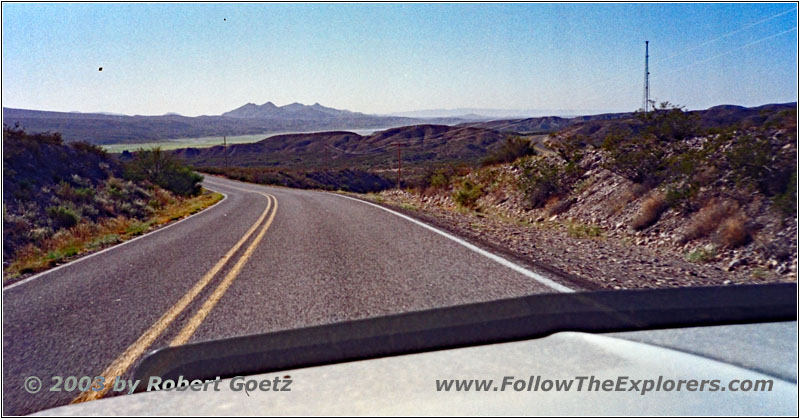 Highway 187, NM
I travel along the Caballo Reservoir until I reach Cabello. Pike stayed in this area at the 16th of March. Highway 187 takes me to another Backroad, just before crossing the Rio Grande. This one is the Bermuda Road and follows the Rio Grande in an absolutely beautiful scenery.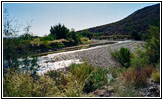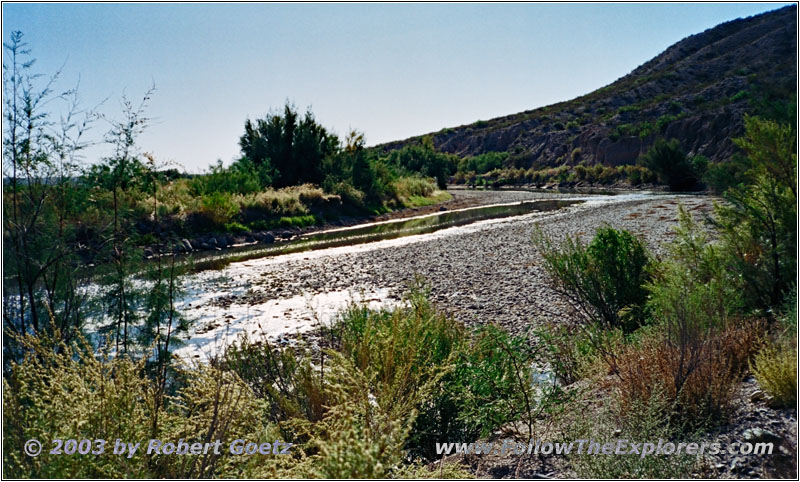 Bermuda Road, Rio Grande, NM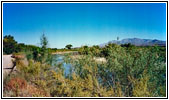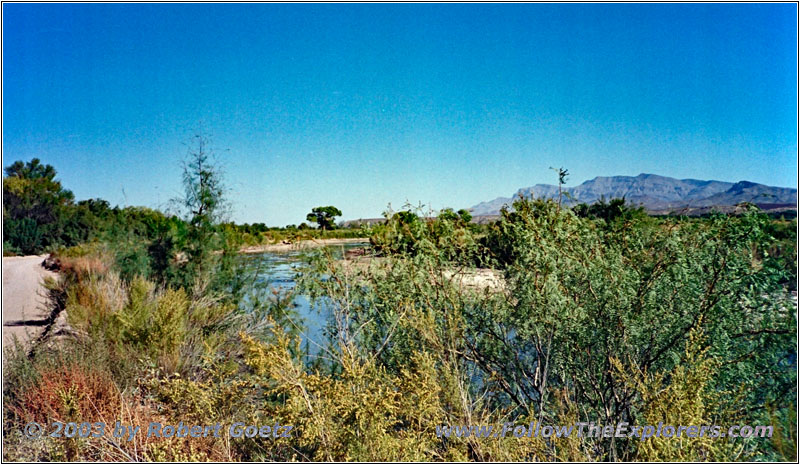 Bermuda Road, Rio Grande, NM
But after a couple of miles I reach an abandoned farm. There are no signs which forbid to travel further. So I give it a chance. But it doesn't take long until the road ends in the middle of a field. I have no other chance than to turn around and drive back all the way.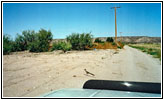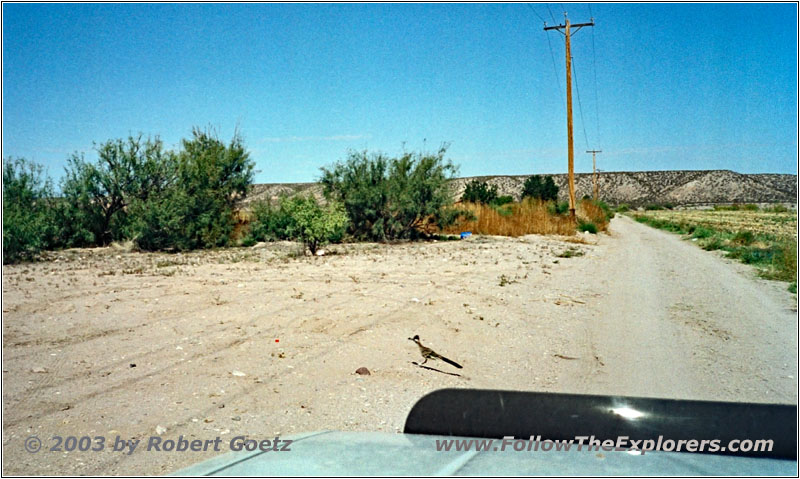 Roadrunner on Service Road, NM
To avoid traveling the same route back I try to take a paralleling road, which runs a little bit to the west. First I pass this abandoned farm, on the west side. After a mile I see something like a big metal in the far distance. I am not able to really see what it is, but it looks like a big dam, which is as high as the surrounding hills. I decide to not continue further, because I don't want to end up in a military area. There would be a lot of unpleasant questions with all my camera equipment.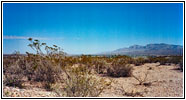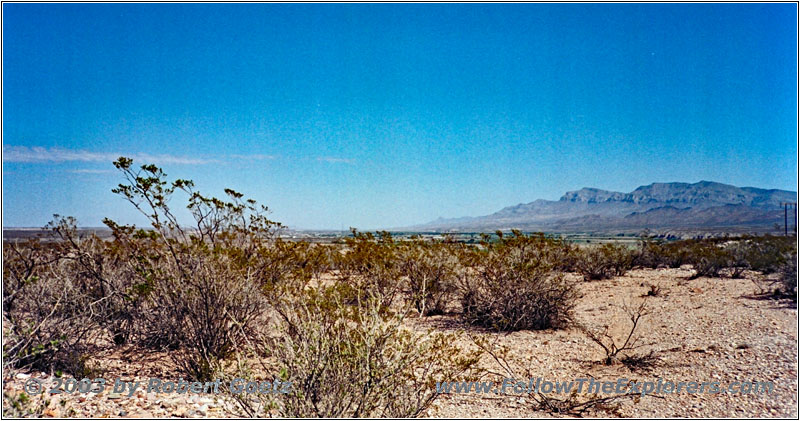 Service Road, NM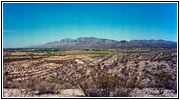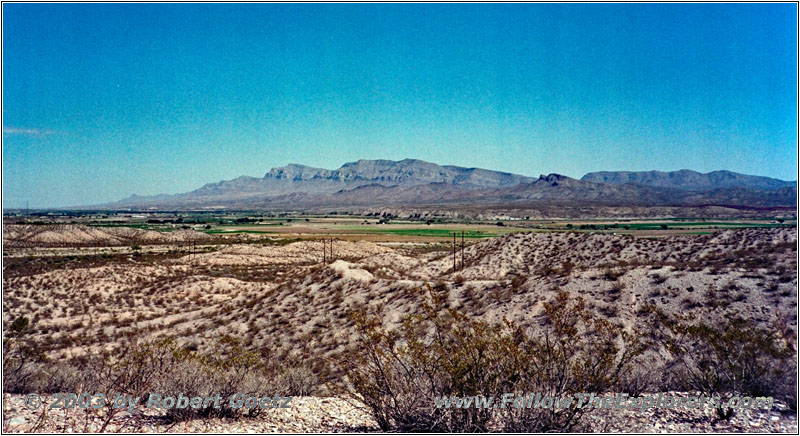 Service Road, NM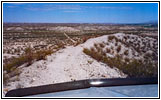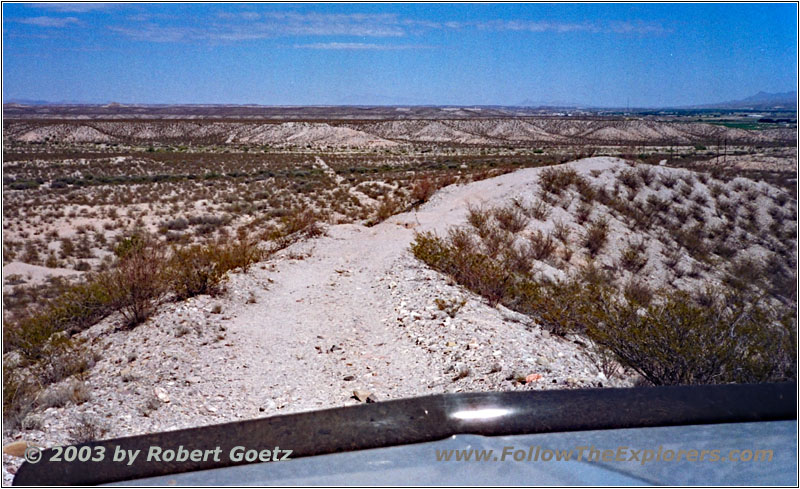 Service Road, NM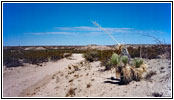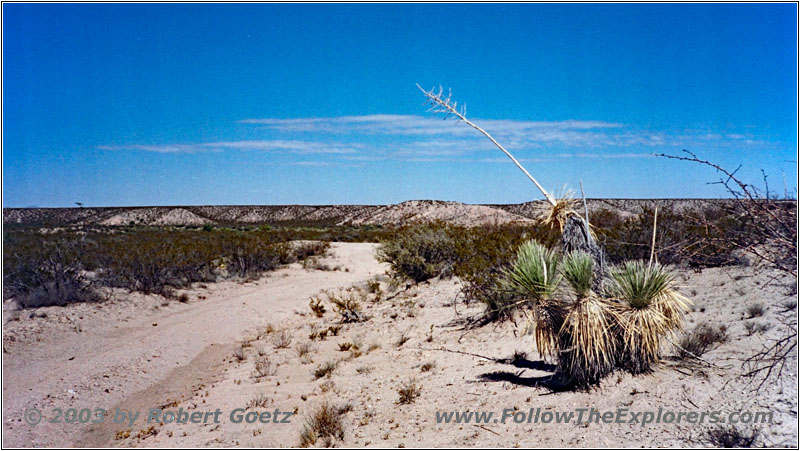 Service Road, NM
So I try to return to Highway 187 along the power and telegraph lines. There is a road on my map, which is most likely a service road for the workers. The road is in a real bad condition. It runs on steep inclines and descents over the hills with deep washouts.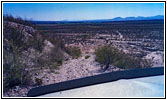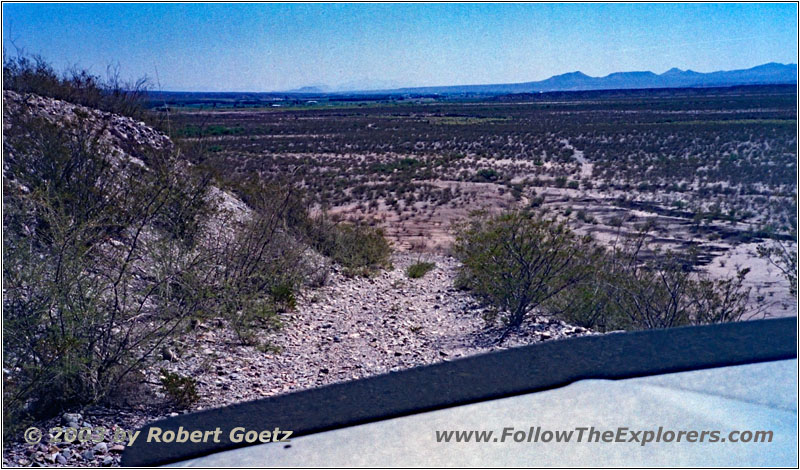 Service Road, NM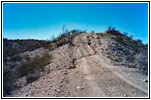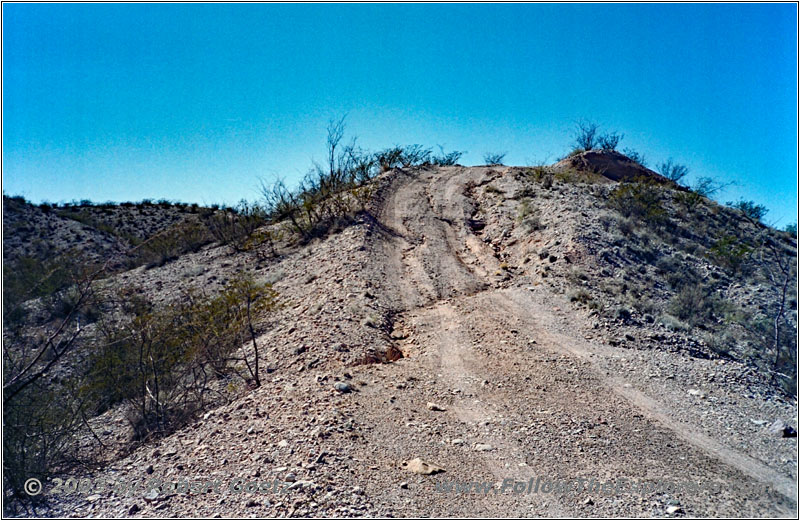 Service Road, NM
But after 2 miles there is also a fence which stops me and I have to drive back the whole distance. On one of the hills with great views is the chance for a nice lunch break where I have two of my apples. Then I drive all the way back to Highway 187 and cross the Rio Grande once again.
Just after crossing the river there is another road on levee, which follows the river banks. The sign at the beginning of the road is extremely washed out and it is not possible to read anything on that sign. So I take the road.
Just before Hatch I cross Highway 26 where I see, what the meaning of this sign was: It is only permitted to travel on this road by the workers of this area! So I turn around and drive back to Highway 26, which takes me to Hatch.
There I turn onto Highway 154. After crossing the Rio Grande another time, I try two times to reach the river banks again. But I am stopped by the same signs again and again. Eventually I reach Highway 140 where I find another chance to follow a nice backroad.
But after 5 miles the road ends again and I must drive all the way back. On my way back I see a plantation worker, who would like to hitch hike. But unfortunately there is absolutely no space in my truck to take someone with me. He realizes this with disappointment and hikes on.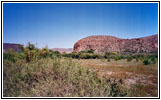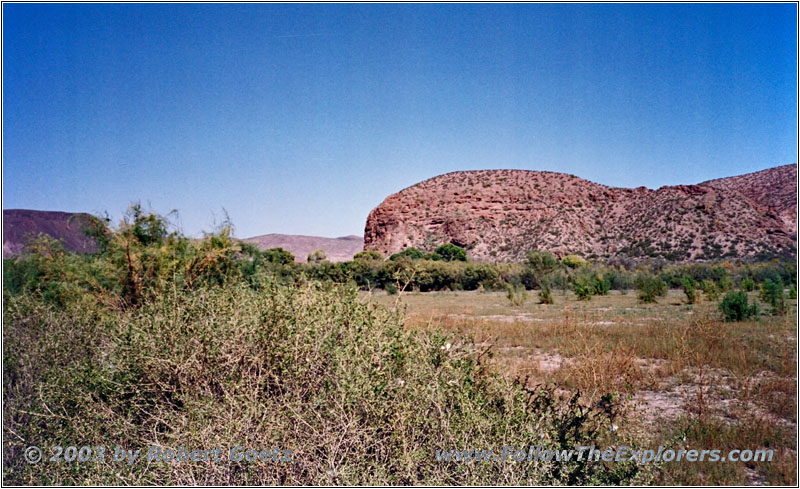 Highway 185, NM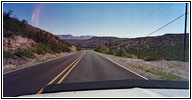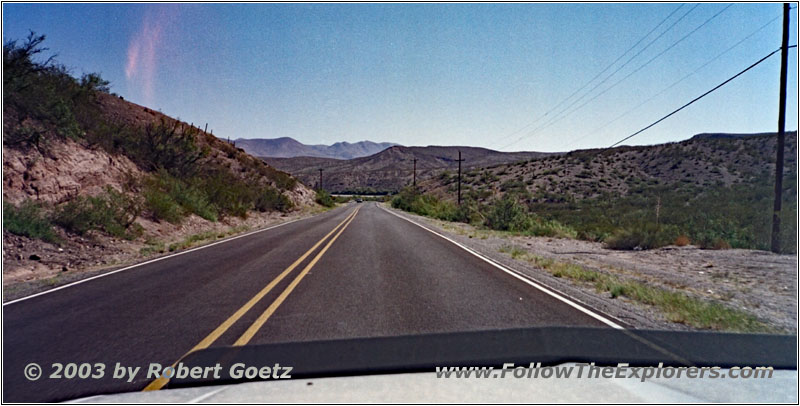 Highway 185, NM
I reach Highway 140 and cross the Rio Grande another time, Then I take Highway 185 south. I follow this highway to Highway 157 where I take the exit to Ft. Seldon. Unfortunately I hit the only day, when they are closed. So I take now Highway 185 all the way to Las Cruzes.
Pike stayed here overnight on March, 19th. Just past three I reach the local Motel 6 and check in. Lucky me I get again a room on first floor. In front of my is a funny elderly guy, who receives the room two doors further. We have a nice chat and we talk about my journey. He tells me that he was in the 50's in Germany.
I check my video taping of today and enter the next coordinates in my GPS. As I am pretty good in time I take the chance to drive over to Wal–Mart. I want to look for something to fix my scratched tire. And I am able to find something called Cement. I assume it is something like liquid rubber, where I can fill up the scratch.
On my way to the counter I pass the CD department. There I buy the new CD of Montgomery Gentry. Then I drive back to my Motel. In the phone book is an Outback Steakhouse listed. So it is quite clear, what I will have for dinner tonight: A 12 Ounce Outback Special!
At a quarter to eight I pay and drive back to my motel. As assumed, someone is now parking directly in front of my room door. The only free spot is between some broken pieces of glass from some bottles. Great! Then I start to try fixing my tire. But I have to realize that Cement means something else: This looks like being just a glue to fix some rubber on the tire — no luck on that one. But at least some kind of material is now in the scratch. Maybe this already helps. Anyway I will stop at the next Wal–Mart to look for another repair kit.
General
Breakfast: Hilltop Café, Truth or Consequences
Dinner: Outback Steakhouse, Las Cruces
Motel: Motel 6, Las Cruces
Distance: 122 miles