Zebulon Montgomery Pike Trail to Red River, Mexico Journey 1807
Day 22: October 19th, 2003 Van Horn — Presidio
I am already checking out around 8am. Just to be sure I check with the motel, where I can have breakfast at this early time on a Sunday. The only location, which is open at that time, is the Chevron Restaurant at the Chevron gas station. So I drive over to this recommended place. It's a typical trucker restaurant. The breakfast is good. Only the cleaner they used to wipe the floor is aggressive and you feel it in your nose.
The good thing is, that I don't must drive far to the next gas station. I enter my car, turn the key, a brief jerk and then nothing happens. There is no display, no gauges, no radio — nothing!
Great! When I arrived, nothing gave a sign of this problem. First I open the hood. Also the light under the hood is not working. First I check the wires to my battery. But they look okay. I try to move the positive wire to the generator, but nothing happens. Then I follow the negative wire from the battery and move this one — suddenly the light starts to flicker!
I looked deeper at this cable and realize that the ground screw at the battery came loose. I tighten the screw and now everything works again. Thanks god! That's the last thing I needed: Having a long stop over here, because something is not working on the electrical side.
I drive over to the next pump, fill up and around half past nine I am ready to roll. First I take Highway 90 southeast to Marfa. On my way I see an old pickup with an open hood at a rest area. I leave the highway and ask, if he needs assistance. He says, he just has a little bit of trouble with his transmission. It just needs to cool down, then he can drive on. He drove all the way from Salt Lake City in Utah up to here with that problem. Also when I ask for the second time, he says, everything is fine. So I continue my journey down to the little city of Marfa.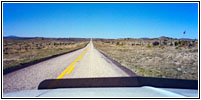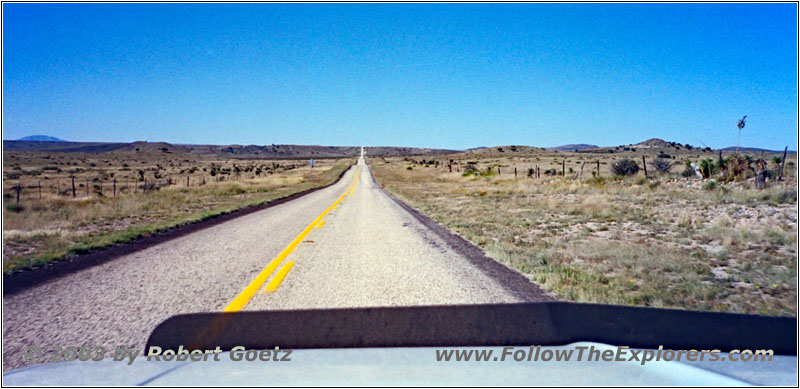 Highway 2810, TX
There Highway 2810 leaves Highway 90, which will take me down to Pinto Canyon. I hope I will not be blocked once again by private property with no trespassing. All in all it's around 50 miles to reach the canyon, which I must then drive back the whole way.
But for now I leave Marfa on Highway 2810. Just past the city limits I see a police officer, who had stopped a speeding pickup driver on his way to the city — that's not a good way for him to start a Sunday…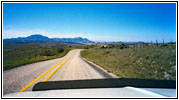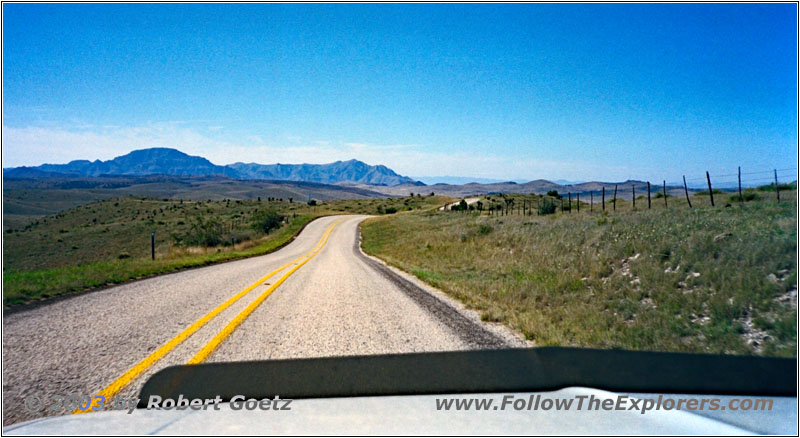 Highway 2810, TX
The landscape around here is again absolutely great. The road runs through hills with a lot of farm land around. Then this paved highway again turns into a gravel road. Just before I reach Pinto Canyon I see again a big sign behind an open gate, which shows private property. Damned, it looks like this is again the end. But the views are great. So I stop here, mount my camera on the tripod and take same nice videos and photos.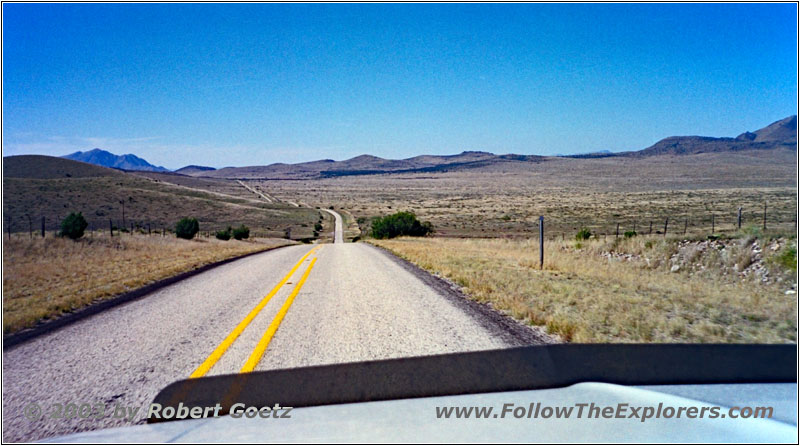 Highway 2810, TX
Then I see that a pretty new 3–series BMW shows up behind me, who also leaves the car for a couple of pictures and then continues down the road. I am really curios if he will able to make this road. All in all this road doesn't looks suitable for low riding passenger cars. Just before I have seen a passenger car on the road side where a lot of big dark drops led to — looks like greetings from the oil pan. Sure I have no problem with my car on that.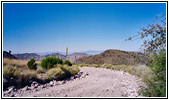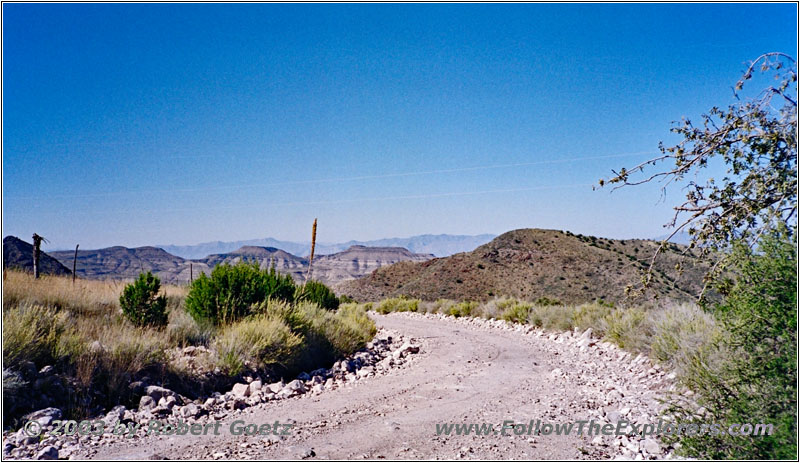 Highway 2810, Pinto Canyon, TX
I use my stopover to also have two of my apples. After all it's already noon. While eating I read through the big sign and realize, that the road runs through private property. But it's only forbidden to trespass to the right or left from the road. So it is allowed to travel on this road!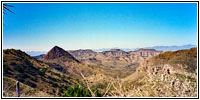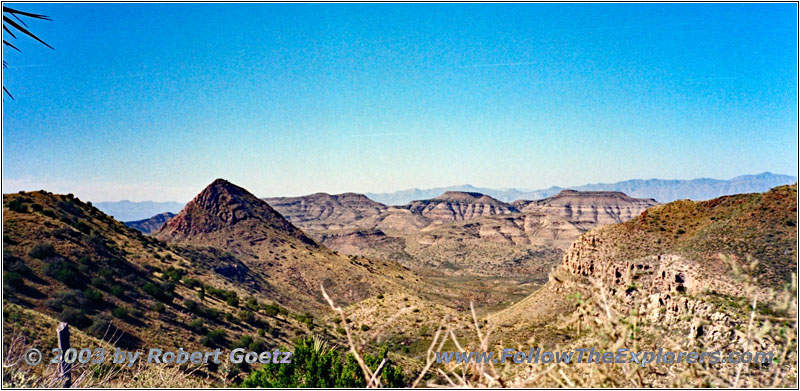 Pinto Canyon, TX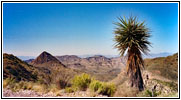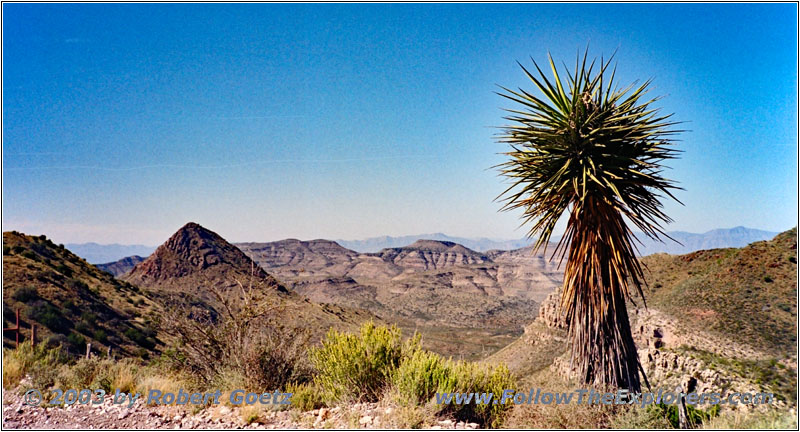 Pinto Canyon, TX
I continue my journey and I am already astonished at the first couple of yards how this BMW was able to make it through. Even with my SUV I don't want to drive too fast down here. But then i concentrate back to this beautiful landscape with mountains and a road which winds down into the valley, sometimes really steep.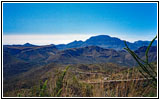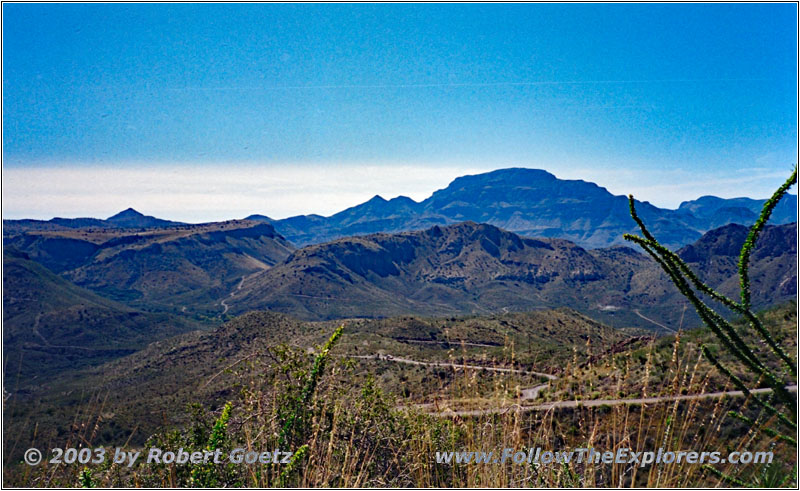 Pinto Canyon Road, TX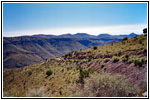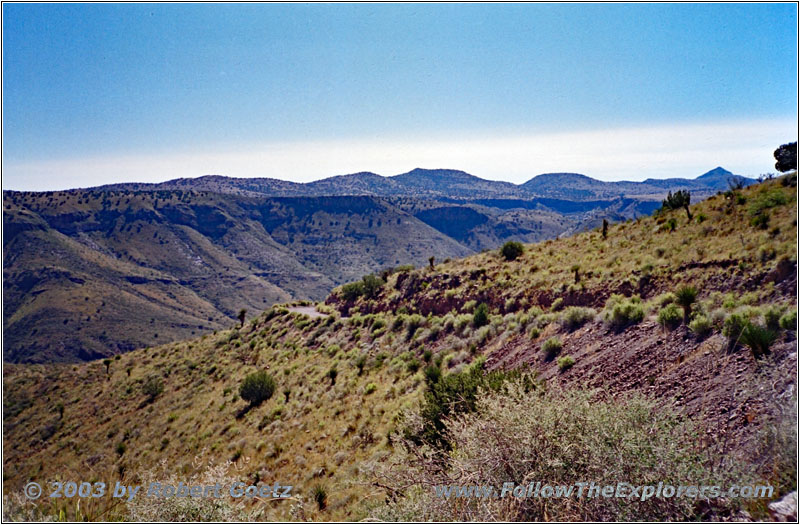 Pinto Canyon Road, TX
For sure, this part is one of the most beautiful stretches on my trail so far. I am almost happy now, that I was not able to drive my originally planned route. But beside me, a lot of other people have discovered this area as a nice spot. Today is Sunday and it looks like the whole youth of this area is traveling along this road with their SUVs. A pickup approaches me, where two girls are laying on their sun lounger on the cargo area. I am amazed, that they are not falling out of the car on a road like this. But these are the Texan girls.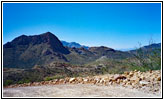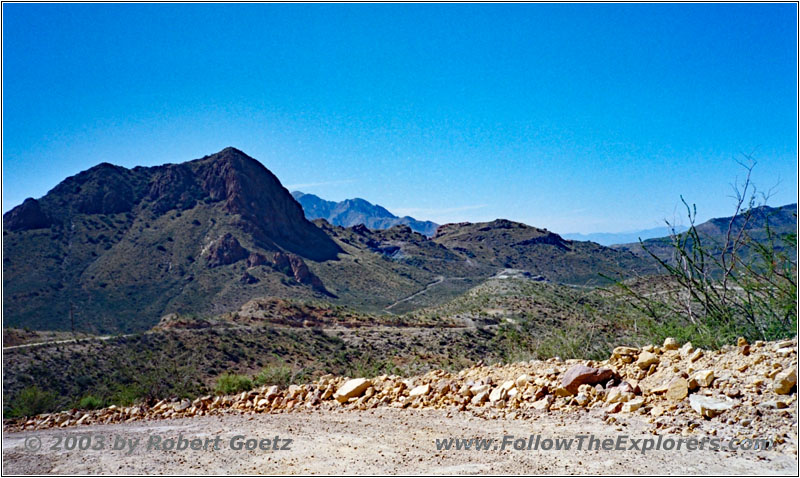 Pinto Canyon Road, TX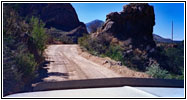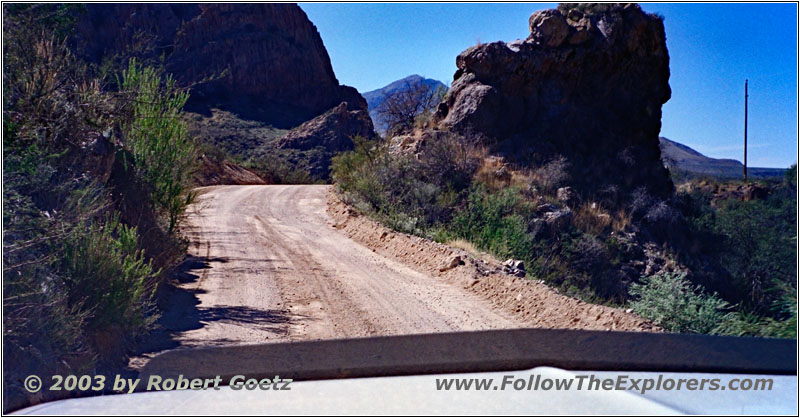 Pinto Canyon Road, TX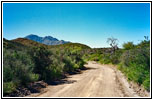 Pinto Canyon Road, TX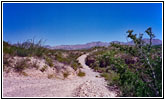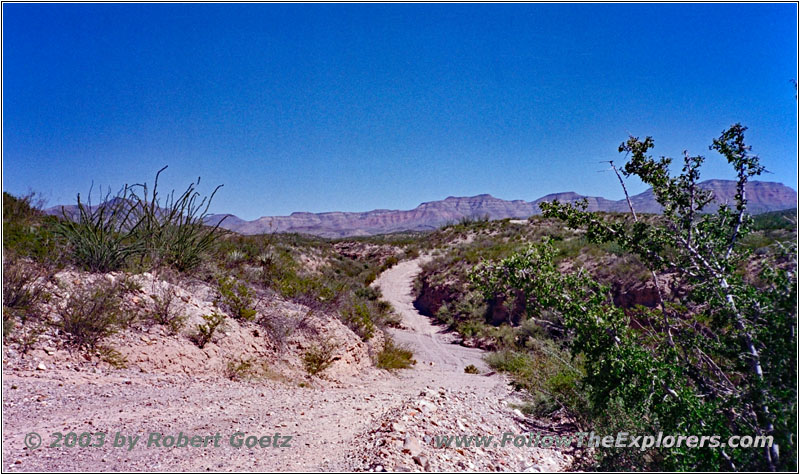 Pinto Canyon Road, TX
Finally I arrive down in the valley. There the gravel road follows a small creek. Lucky me I find a small turnout, where I can stop for a photo. On this heavily traveled road I cannot just stop in the middle of the road, like I am used to on backroads. It's almost like being on a highway. When I take my picture I already see another car approaching. I wait until they passed me, because the road is just one lane here. When we are side by side they stop and we chat a little bit. They just left the hot springs and they ask me, if I also take the road to there. Currently it was not planned, but they give me a way description to easily find them. We say good–bye and we continue.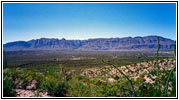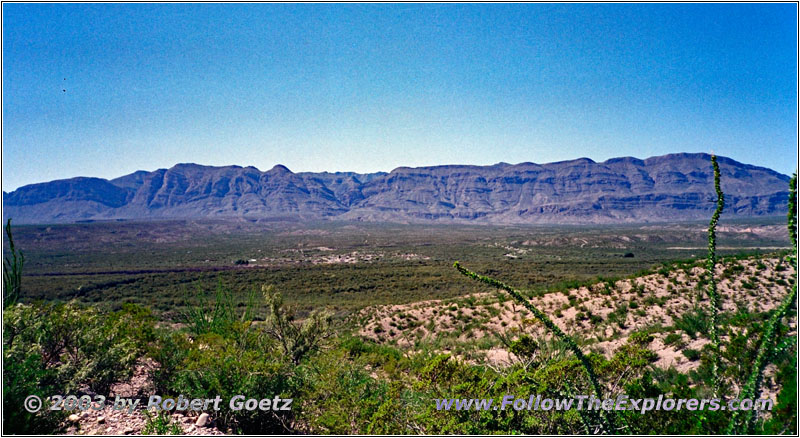 Pinto Canyon, TX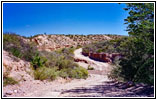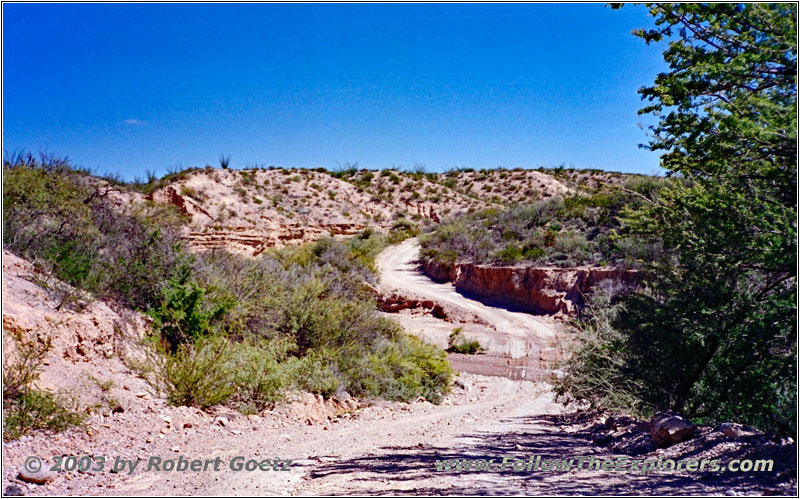 Pinto Canyon Road, TX
Eventually I reach the branch and realize, that it is also the branch I planned to take. I continue on this road, where it goes up and down on steep inclines and declines into and out of dry river beds. But somehow the direction does not align with my GPS destination anymore. It looks like I am on the wrong road. So I turn around and drive back to the road where I came from.
I follow this road for a short distance until I reach another branch. On this one I continue now along small hills and ridges until I reach another branch. As I am not sure how long this travels will take me, I decide not to follow the description to the hot springs but to follow my originally planned route. Then I have to make another turn. Again the road takes me through dry river beds. But I have to realize, that I am once more on the wrong road and must turn around. But this time I did not find the correct branch and I arrive a little bit more south than planned on Highway 170 along the Rio Grande.
As I am still good in time I drive Highway 170 further on north until I reach Candelaria. There the paved highway turn into a gravel road again, the FM170. I am still good in time, so I decide to continue a little bit further. Eventually I am sure that I will be blocked by a private property sign with no trespassing soon.
Just when I entered the gravel road I see a young lady on an ATV approaching me. It seems, that this is also a common stretch to drive on. I continue and after a quarter of an hour I see here again approaching in the mirror. I let her pass, because she is way faster with her ATV than me. Probably she lives along the road somewhere on one of the ranches.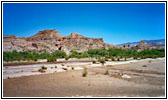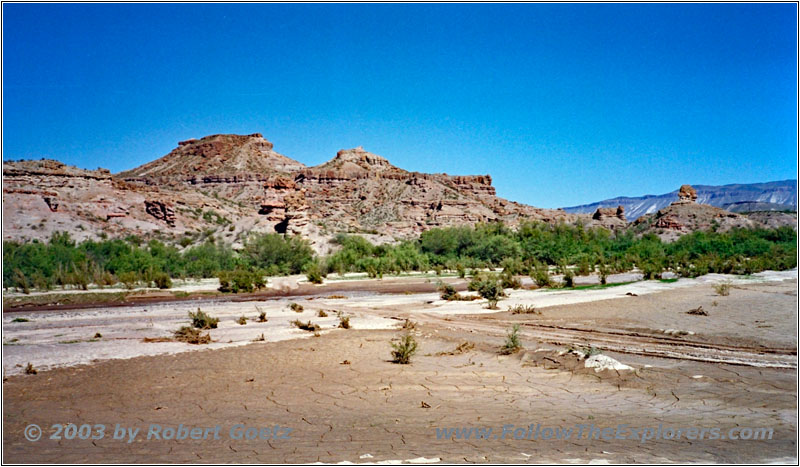 FM170, TX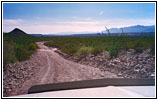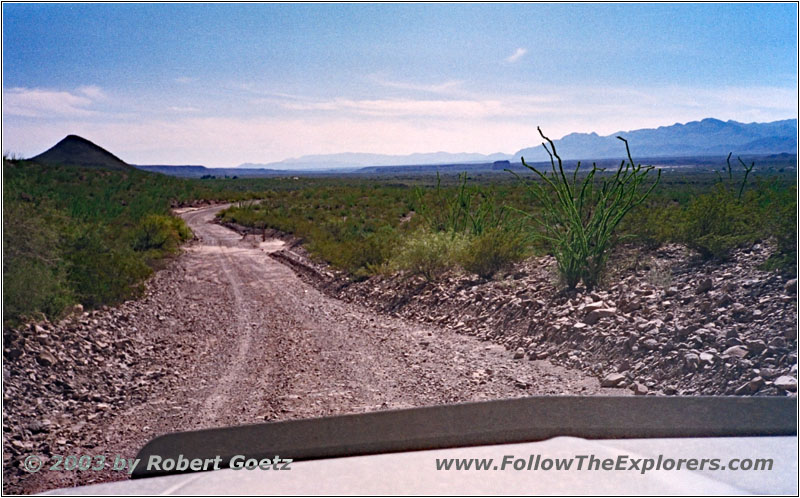 FM170, TX
Suddenly I reach a big river, which is almost dried out. But the river banks still look extremely muddy. Chances are good that I am able to make it through. But the risk is still too high for me to continue. On the one hand I have to drive all the way back, on the other hand I would loose at least one to two hours, if I get stuck here. So I turn around and drive back to Highway 170.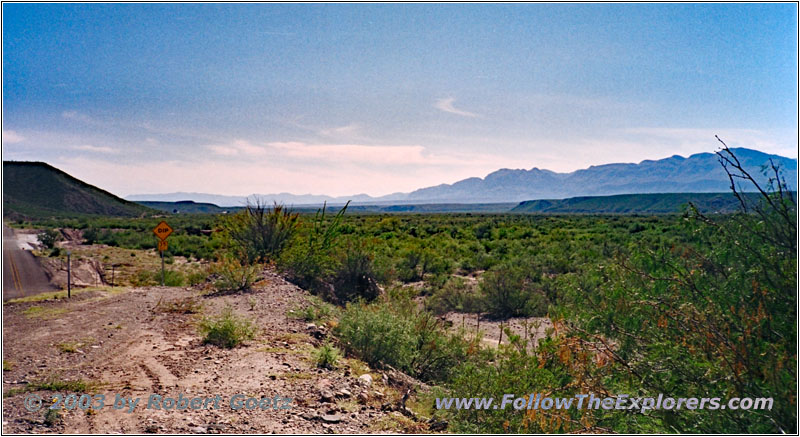 Highway 170, TX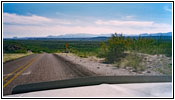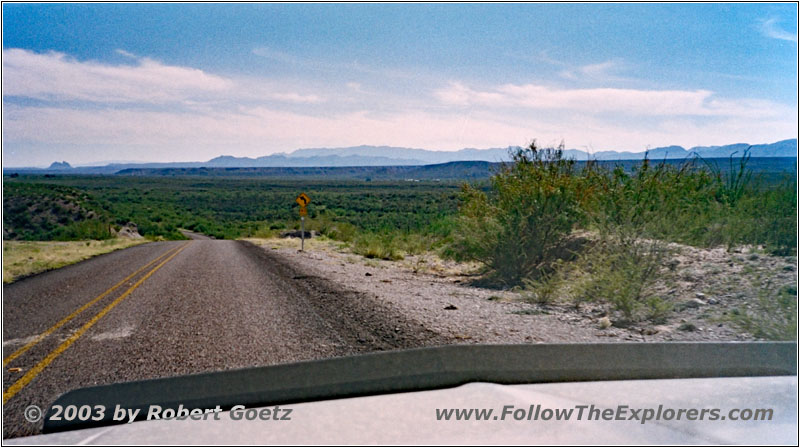 Highway 170, TX
On my way I have the chance for some nice pictures of the Rio Grande. Then I drive on Highway 170 all the way to Presidio. During that drive, I make many stopovers to take nice pictures of the river and the mountains behind. Finally I reach the big Highway 67 from Marfa. There I already see the signs for my destination of today, the Three Palms Inn at Presidio.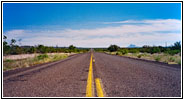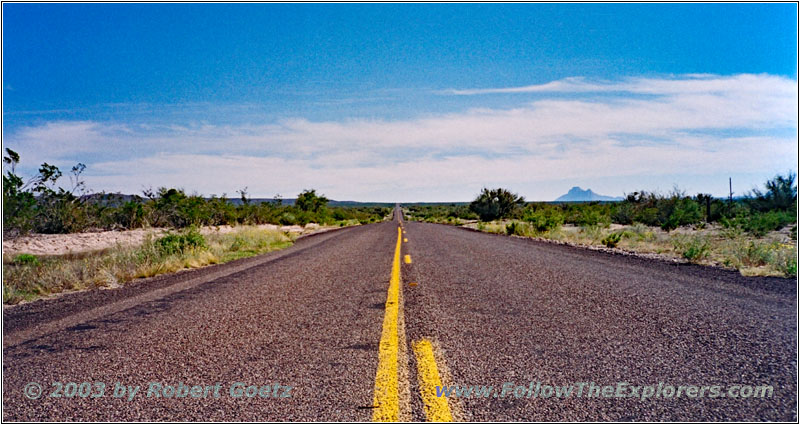 Highway 170, TX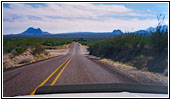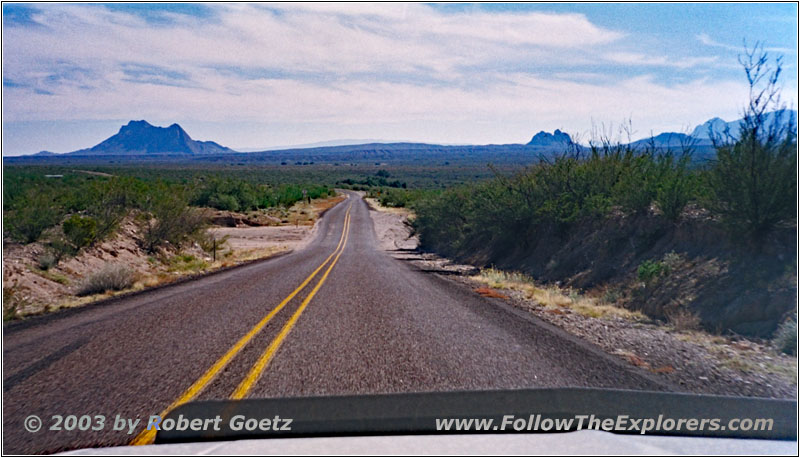 Highway 170, TX
I follow these signs and reach my destination soon. I check in around a quarter to six. I even get a room on first floor. The rooms are huge and look like recently renovated. All in all this motel looks really nice and is worth a recommendation. Just next to the motel is the Oasis Restaurant, which serves Mexican food or even steaks.
But first I get my stuff out of the car and check the first part of my today's video taping. As I am not sure, how long the restaurant is open, I decide to go over there around 7pm. It's pretty empty and I am able to choose my table. Also this restaurant is kept plain and simple. Unfortunately there is a server, who is a bit slow, but still okay. I order some Mexican food and I am ready to leave the restaurant around a quarter to eight.
In the meantime the restaurant filled up pretty good with locals. I wait a little while to see, if I get the check at my table. But as she did not show up within ten minutes I walk over to the register. This seems to be common here. But it makes calculating the tip more difficult.
Then I walk back to my motel and check the rest of my video tapes. Finally I enter the next GPS coordinates. Around half past ten I am ready to go to bed.
General
Breakfast: Chevron Restaurant, Van Horn
Dinner: Oasis Restaurant, Presidio
Motel: Three Palms Inn, Presidio
Distance: 174 miles