Zebulon Montgomery Pike Trail to Red River, Mexico Journey 1807
Day 21: October 18th, 2003 Sierra Blanca — Van Horn
As I was already afraid of yesterday, I have not slept much and also not really well. The train woke me up every hour and gave me a horrible night. The motel was really nice, but the train…
I am glad, when I am on my way to breakfast. I end up at Michael's Cafe, which is at the east end of town. It looks pretty empty for a Saturday morning at eight. But the breakfast is good. Also this restaurant is run by people with Mexican roots. Again, there is no check at your table.
Just to be sure I waited a little while after my breakfast. But my server did not show up, so I walk over to the cash register. There I receive my guest check. Lucky me that I remembered the prices roughly and was able to place the correct tip already on my table. Yesterday at the steakhouse I was not prepared for this and so I had to pay cash including tip at the register.
The cashier asks, where I plan to go today. "Not too far, I only take short distances"— "East or West" he asks. "East" is my reply. Then I walk over to my car and drive to the gas station nearby. There I have the luck to catch the slowest pump I have ever seen in my life. You can really watch every single drop, how it enters the gas tank. I have to wait an eternity for my just nine gallons of gas. And they also have no water to clean the windshield at this ran down gas station. But I have my regular window cleaner, which already helped me a lot in situations like these in the past. So it does this time again.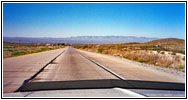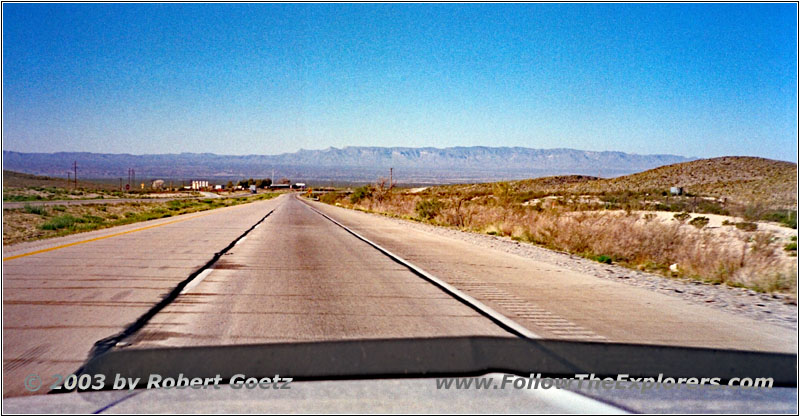 I–10, TX
I depart at a quarter past nine. First I must drive back to Quitman Canyon. So I take Interstate 10 back to Highway 34.
Then I take Highway 192 back to the canyon of yesterday evening.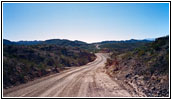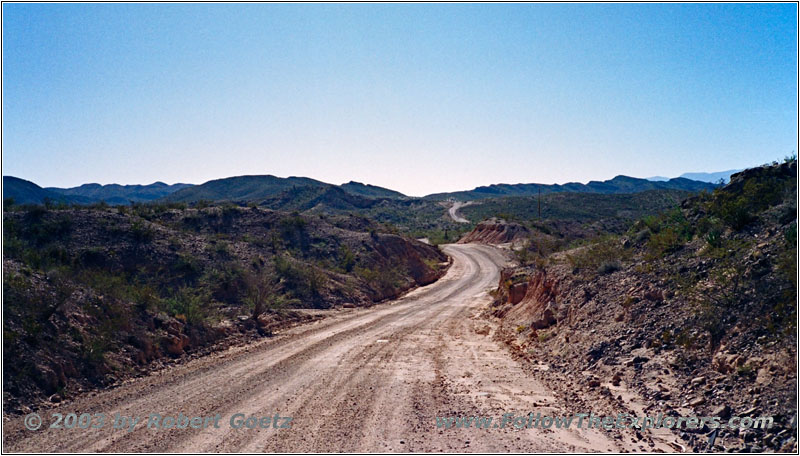 Indian Hot Spring Road, TX
From there the road continues along the Rio Grande River banks. After an hour driving I arrive at the canyon and follow now the extensions of Highway 192, the Indian Hot Springs Road. This road turns soon into a nice gravel road. I have already passed a bunch of farm properties, when again a private property sign with no trespassing stops me.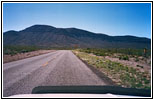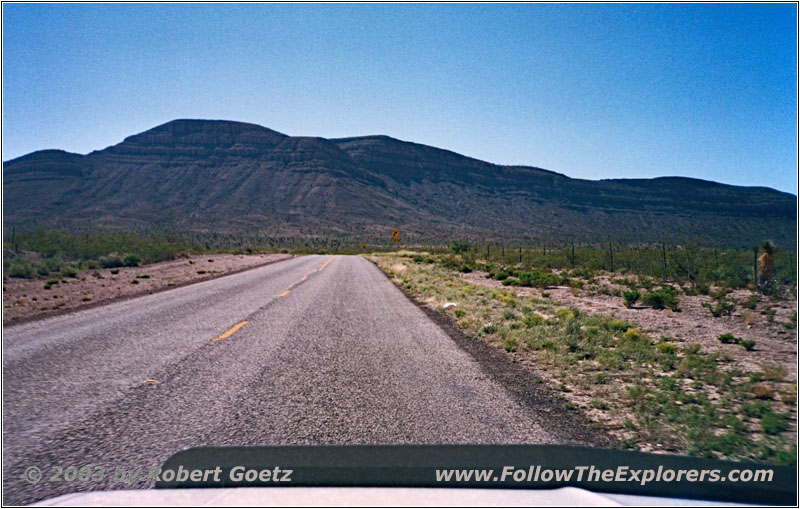 Highway 1111, TX
So I have to drive all the way back for the second time. Also this time I have to pass the checkpoint on Interstate 10. But they wave us all through and I am able to pass the checkpoint pretty fast. I have seen in my map, that there is a second chance to reach the river again. At Sierra Blanca I can follow Highway 1111 South, which should also take me down to Quitman Canyon. But before there is another crossing to Red Light Draw, which should take me again down to the Rio Grande. So I give it a try.
Around noon I am back at the very same spot where I started my day trip — Sierra Blanca. I take Highway 1111 South and turn to the Red Light Draw. Also this road changes soon to a nice gravel road. But also here a private property sign with no trespassing stops me once again and I have to turn around.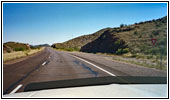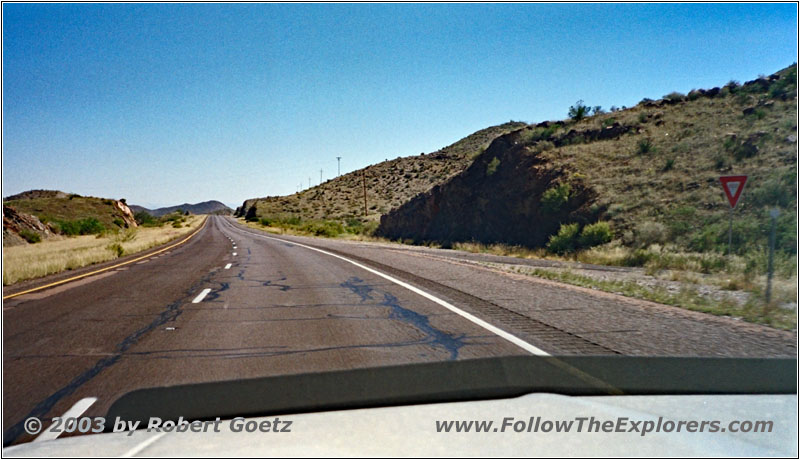 I–10, TX
I arrive at Sierra Blanca now for the third time and I am eventually forced to take Interstate 10 to Van Horn. When I arrive, I think about driving all the way down to Presidio. But I decide, that I might drive up to a beautiful cavern in New Mexico up north. I check in at half past twelve.
At the Motel 6 reception is a totally crazy employee. There is no chance to be upset of her, because I had to wait for her more than five minutes until she showed up. But she is currently alone and has also to do all the laundry on the side.
There is no upper level at this Motel 6. This gives me finally a room, where I can really park in front. I put all my stuff into the room and take a look at the drive to Carlsbad Caverns. There I start to realize, that it is more than 100 miles, which I plan to drive. This will be getting tight, if I want to catch the last tour of the day. So I really hurry up and leave.
From Van Horn I take Highway 54 North. But after a couple of miles thinking about it I am getting aware, that there is realistically no chance for me to make it in time. And even if I make it, there will be no chance to see something of the area around. So I turn around and think, what else I could check out instead. The idea is now, to drive the trail of today in a backwards manner, starting at the end point of Van Horn. Then I can also check out, if another private property with no trespassing blocks me from reaching the Rio Grande.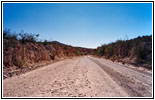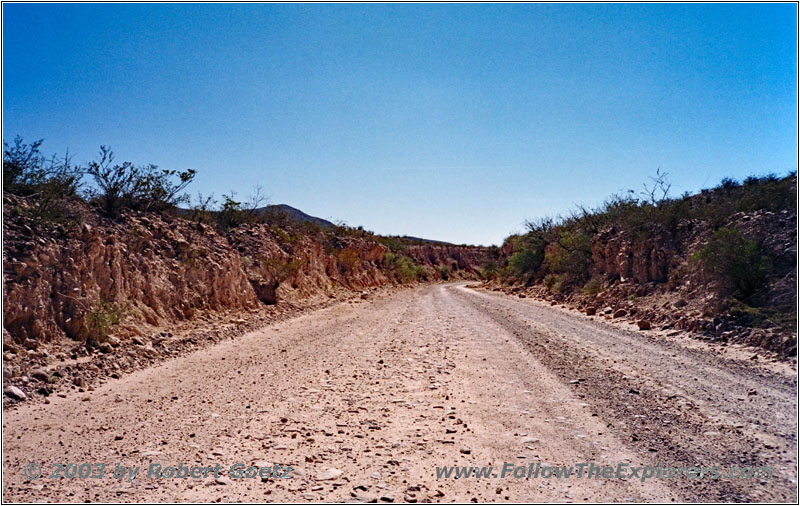 Chispa Road, TX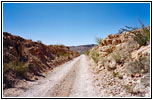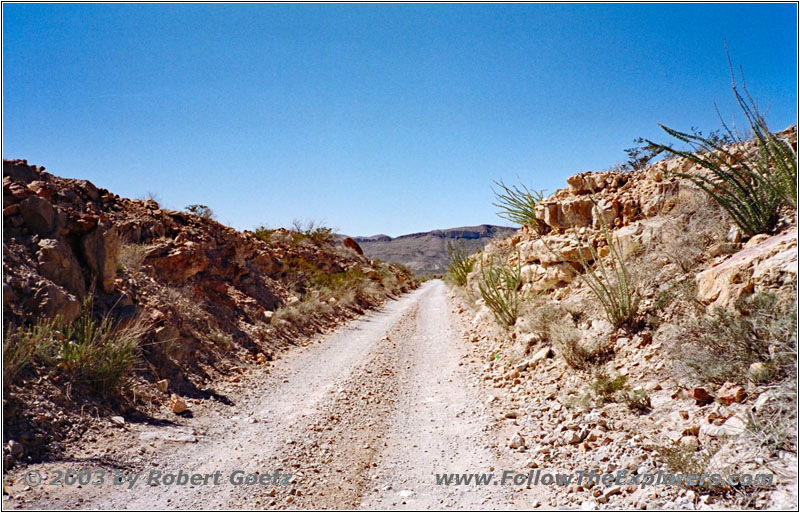 Chispa Road, TX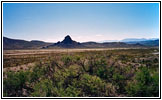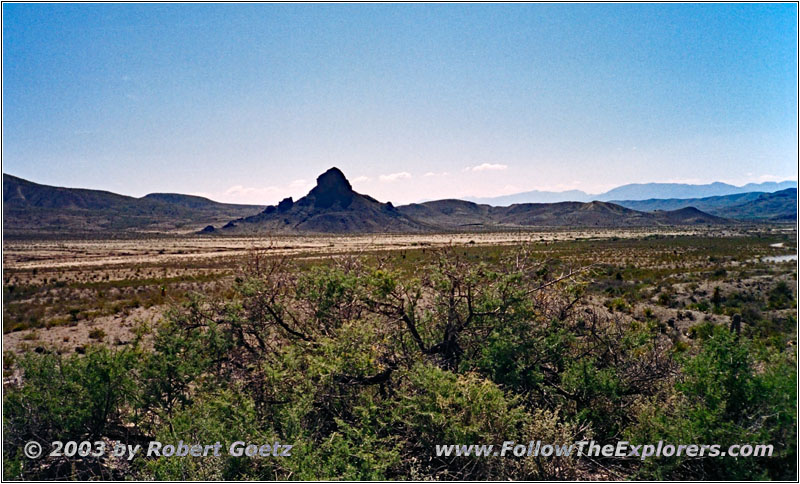 Chispa Road, TX
I take Highway 90 South down to the exit of Highway 2017. Then I take the gravel road Chispa Road, which should take me all the way down to the Rio Grande. The landscape is really impressing. The road has been milled out of an earth hill and when the walls step aside, there are great views of the giant plane with some mountains in there.
But this happiness is not for long, because I am stopped again by a private property with no trespassing sign. So I have to turn around once again. It is good, that I already found out about the blocked road today. This saves me a couple of detours tomorrow. I drive back to Highway 2017 and then up north. Then I take Highway 1523 to Highway 90. On that highway I drive back to Van Horn and to my Motel 6.
After my arrival I check the video taping of today. Around half past seven I leave the motel for dinner. At the reception they recommended to go to the "Cattle Company" directly at the Best Western. I follow that advice and give this restaurant a try. The interior is nothing special, but the steak is good. Around half past eight I pay and drive back to my motel. There I check out an alternative route to Marfa for tomorrow. From there runs another road through Pinto Canyon, which should take me down to the Rio Grande. Let's see, if I am stopped once again by private property and no trespassing signs…
General
Breakfast: Michael's Cafe, Sierra Blanca
Dinner: Cattle Company, Van Horn
Motel: Motel 6, Van Horn
Distance: 153 miles