Zebulon Montgomery Pike Trail to Red River, Mexico Journey 1807
Day 25: October 22nd, 2003 Big Bend National Park (Pine Canyon)
It's already past eight when I wake up — still sleepy and way too late for my planned trip for today. I hurry up and pack my stuff together. Then I have to take all my luggage to my car. It seems that my neighbors are still sleeping — whereas I would not be looking forward to meeting them. I swear to myself, if something goes wrong and they will place me again in these cabins I will cancel the appointments and drive back to my Easter Egg Valley Motel. But for now I leave for breakfast.
I have the choice between menu or buffet. As I am not a friend of buffets I choose the menu. Unfortunately there are only special meals on the menu, which are not at the buffet. So it might have been better for me to brake my rules and take the buffet this time. But I don't want to change my decision and take the Mexican breakfast. This is really tasty. Anyways, I will try the buffet tomorrow.
I pay and walk over to the reception. My first question is, where will be the next night. They tell me that the next two days are in the motel like building, the Rio Grande Motel Rooms. Sounds good, seems like that worked out! But I cannot yet get my room keys, because there are still guests in there. But the room is reserved for me, even when I return at ten at night. So I hit the road.
First I have to drive over the pass out of the basin and down into the valley to the main park road. At Panther Junction I drive into the gas station. Sleepy as I am I take the pump for the most expensive gas, where the cheapest one would have had enough octanes for my old truck. But there are only 9 gallons missing. Therefore it is not as bad.
Unfortunately there is also no water to clean the windows. Also I am not able to pay at pump. Therefore I have to enter the building and pay inside. Then I drive over to the side to clean my windows. Lucky me that I always have my window cleaner and plenty of kitchen towels with me.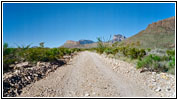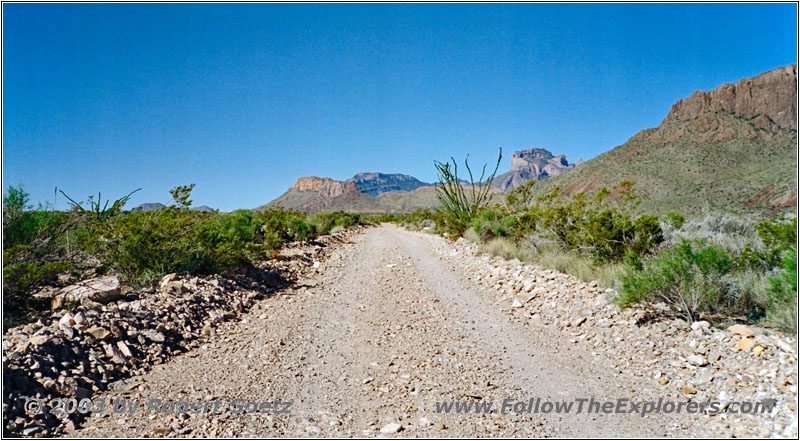 Glen Spring Road, Big Bend National Park, TX
Eventually I am able to start the day around a quarter past ten. I drive on Park Rte 12 until I reach Glen Spring Road. This is a gravel road in fairly good condition. So I make good miles there. Along the road are many spots where you have beautiful views of the surrounding desert landscape, which is pretty green due to the recent heavy rain falls.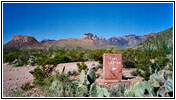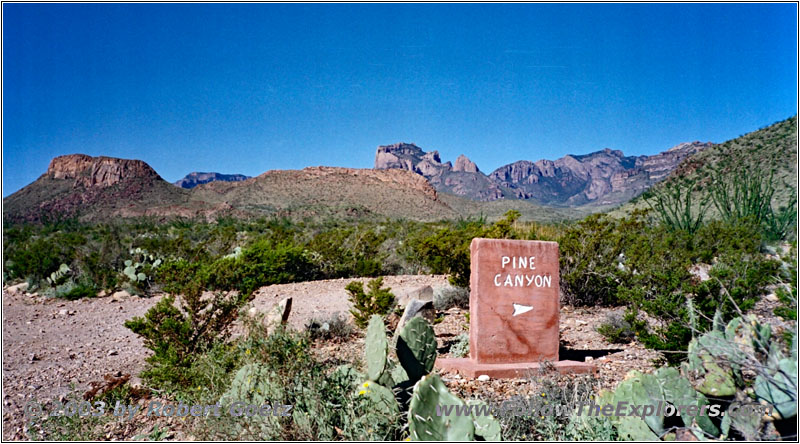 Sign Pine Canyon, Big Bend National Park, TX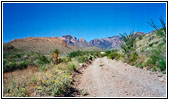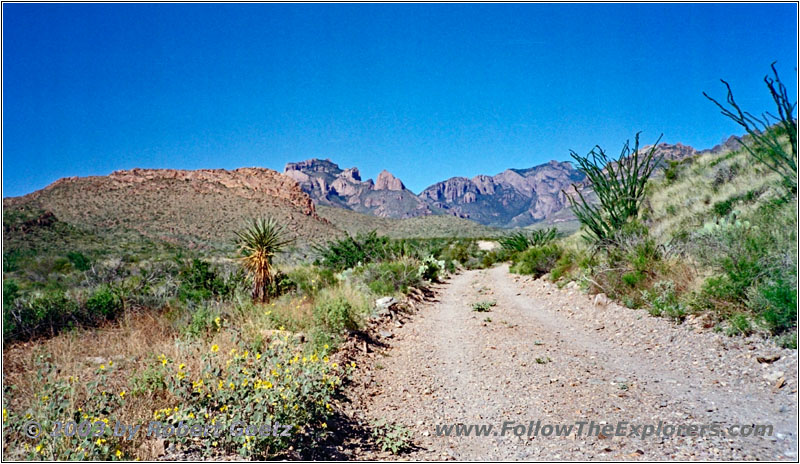 Pine Canyon Road, Big Bend National Park, TX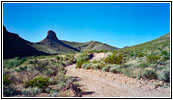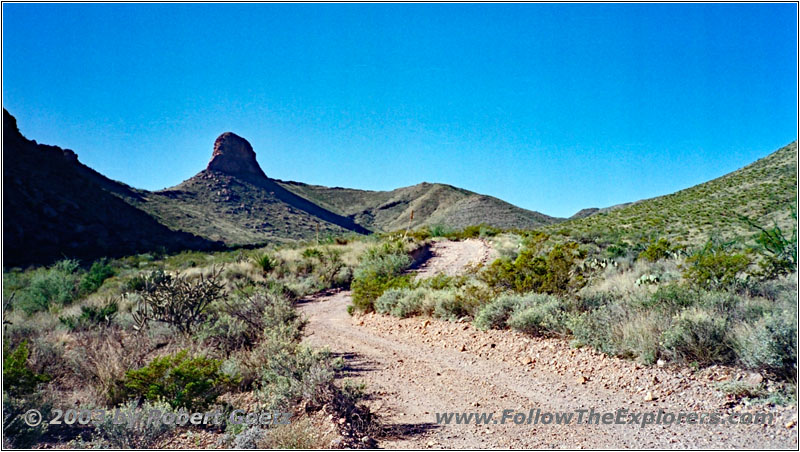 Pine Canyon Road, Big Bend National Park, TX
Finally I reach Pine Canyon Road. This road is way smaller and also in worse conditions. Also the stones are pretty big. Therefore I try to slow down a bit to save my tires. Soon I also pass the campsite, which is drawn into my map. There a big group has made themselves comfortable with tents, cooling boxes, cooking stuff and a shower! They are really enjoying their times. They also have some camping chairs with them…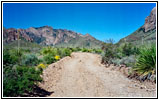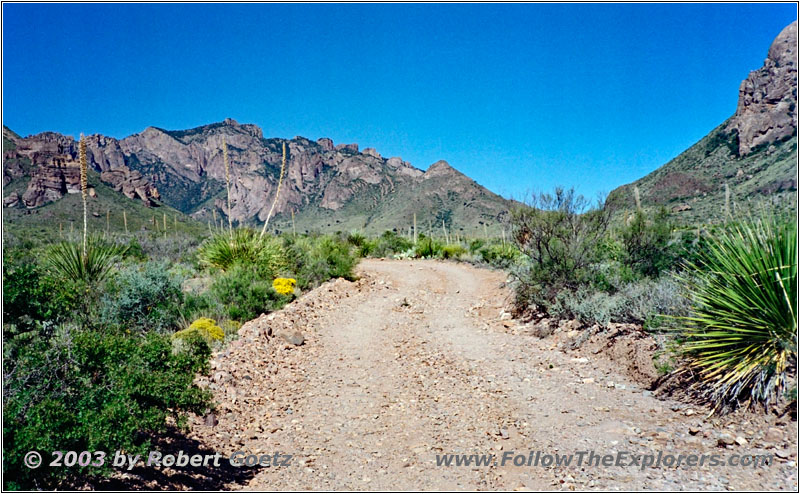 Pine Canyon Road, Big Bend National Park, TX
Half an hour later I see in the rear view mirror a faster little truck approaching me. Seems like he does not really care about his truck. At a wider part of the road I drive to the side and let him pass. It only takes a couple of minutes from then until I also reach the end of this road. There I meet the couple again which has passed me just minutes ago. Only their accent sounds quite weird to me. But they already started their hike, while I am still putting sun protection on my skin. After all I gathered my experience with the sun down here on our river trip five years ago.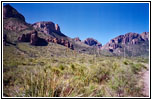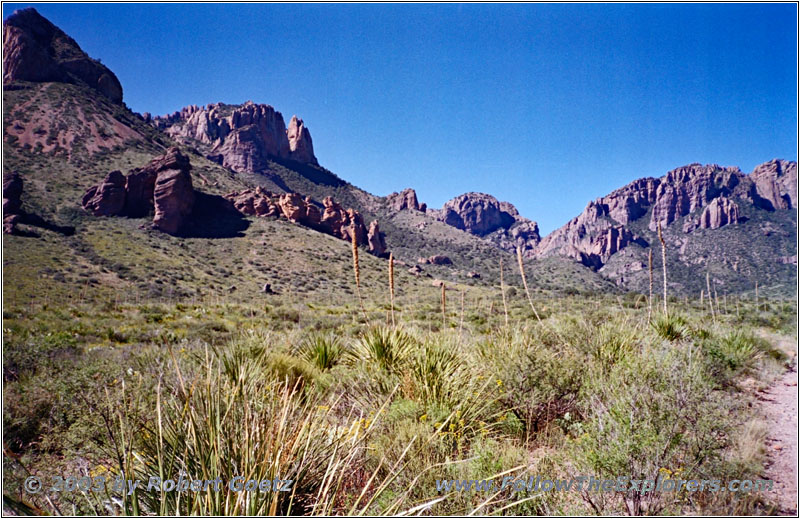 Pine Canyon Trail, Big Bend National Park, TX
Then I mount my camera on the tripod, take a bottle of water and start my hike. First I must hike up a hill through high grass, which is interrupted by bushes and cacti. There I am also able to get some very nice shots. After half an hour of hiking I reach a tree, where three guys are sitting and having a rest. One of them is smoking a big cigar.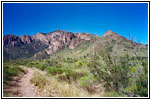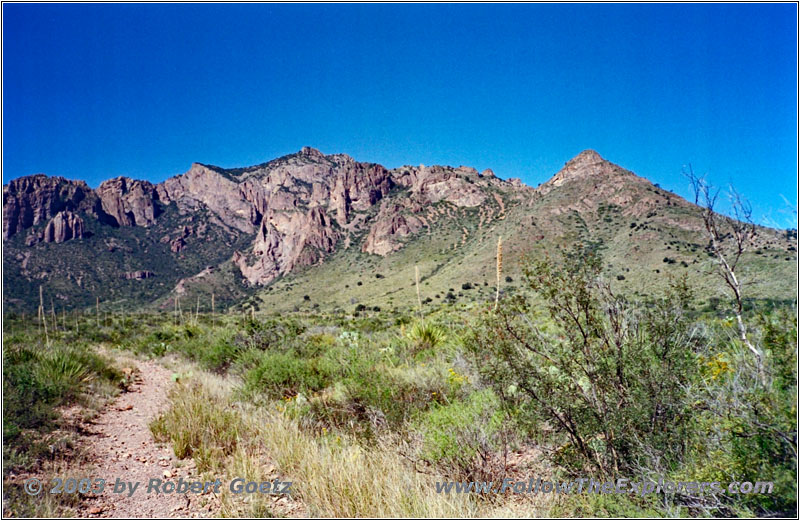 Pine Canyon Trail, Big Bend National Park, TX
We chat for a while and they tell me, that they return to this place in the park for almost twenty years. In the past you even have been able to drive up to this spot, where they are sitting right now. If you carefully look at the hiking trail, you can still see that it was once a road. From here the small hiking trail starts.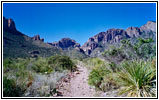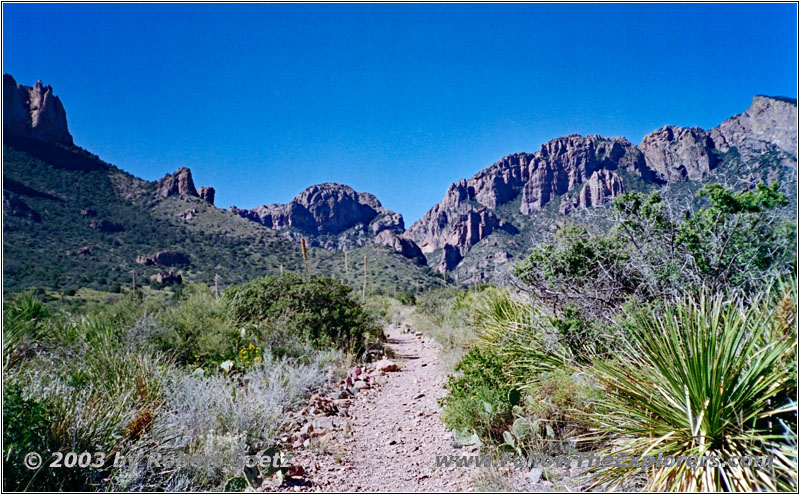 Pine Canyon Trail, Big Bend National Park, TX
They tell me, that I will first reach a small forest. At the end of this trail is a small waterfall, where it is always around 70 degrees — even in the summer when temperatures are in the hundred! Only the mosquitoes can be ugly over time. Great, my repellent is still sitting in my car…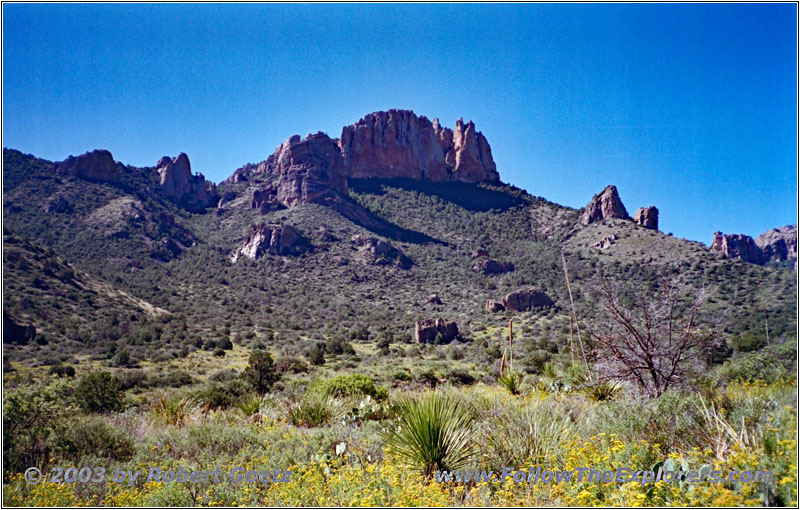 Pine Canyon Trail, Big Bend National Park, TX
I say good–bye for now to the three guys. Pretty sure we will meet soon along this trail. It doesn't take long until I reach the pine forest. There the trail starts to be way steeper and also the first mosquito attack start. I hurry up to get rid of them. After half an hour the couple from the parking lot are already on their way back. They look pretty weird, especially the guy with his very nice pants on these trails — they look like typical tourists…
After a brief chat I realize that they are also from Germany. And due to his Swabian accent it is not really difficult to tell from where they are. That's why their English accent sounded so weird to me. They have only rented the little truck — now I understand why he was driving so careless over the rocks. Maybe I would also not care this much with a rental car. But if you drive your own truck you are usually more carefully.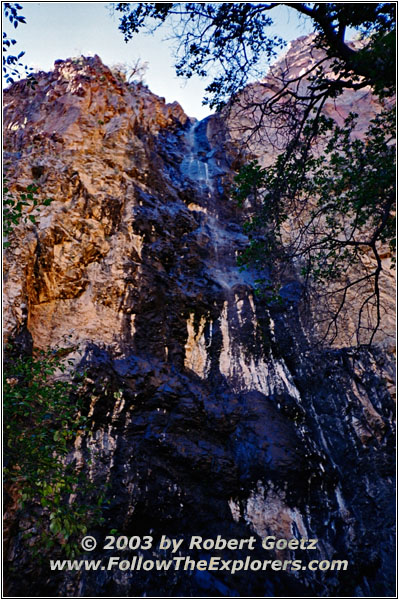 Waterfall Pine Canyon Trail, Big Bend National Park, TX
We say good–bye and I hike on. After a couple of minutes I reach the waterfall. There is not really a lot of water running down. But the waterfall is pretty high. Thinking of being in a desert it is still amazing where all this water comes from. And it is way cooler than before. Lucky me there are no mosquitoes around anymore. Maybe it's still too cold for them around here…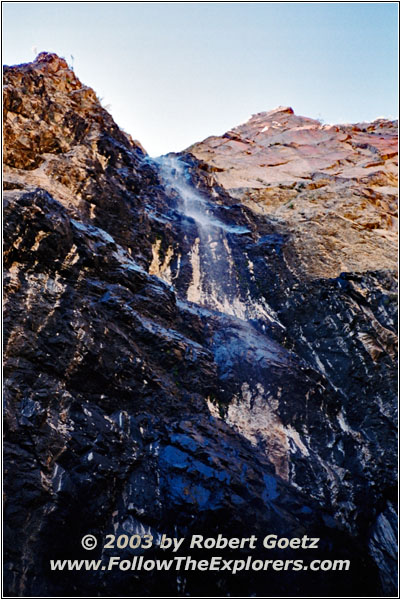 Waterfall Pine Canyon Trail, Big Bend National Park, TX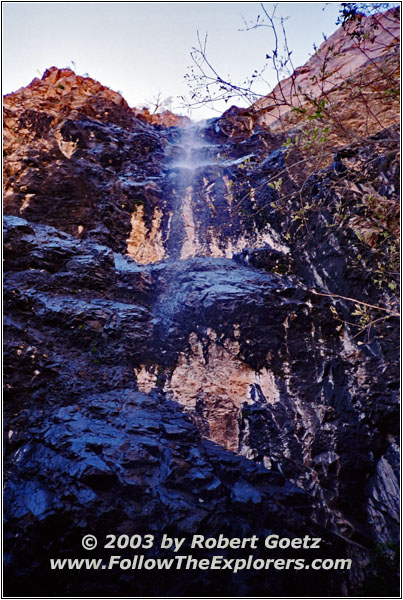 Waterfall Pine Canyon Trail, Big Bend National Park, TX
I take a couple of pictures, then the three guys already show up. We start to chat again and they tell me, that they have never seen this much water running down the waterfall. It seems to be caused by the heavy rain falls a couple of days ago. Also they take a couple of pictures of this area — and this is where I got also captured on one of their photos, because I was busy taking pictures at the waterfall. He is really happy to have eventually someone being on the picture. Now you are really able to see how high the waterfall is in reality.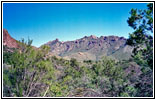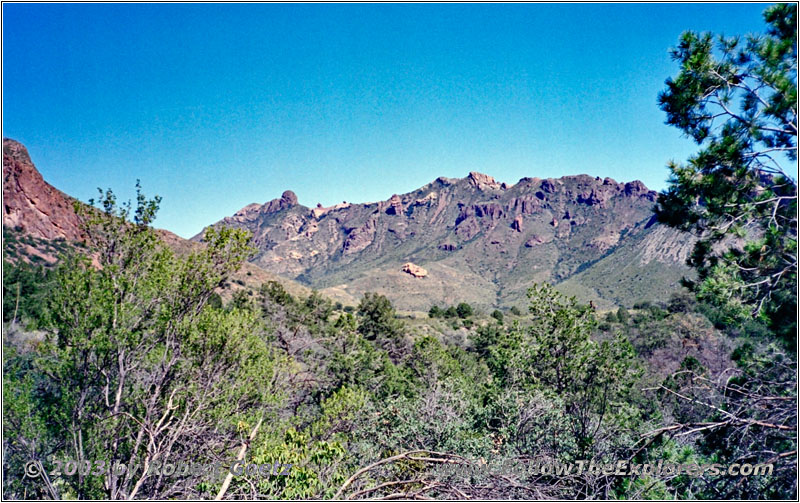 Pine Canyon Trail, Big Bend National Park, TX
We chat for a while, then I start my way back. All in all I still plan to hike into the Juniper Canyon. The way back is much more relaxing, because it goes gently downhill almost all the way. But even then my half a liter of water is getting tight.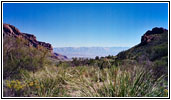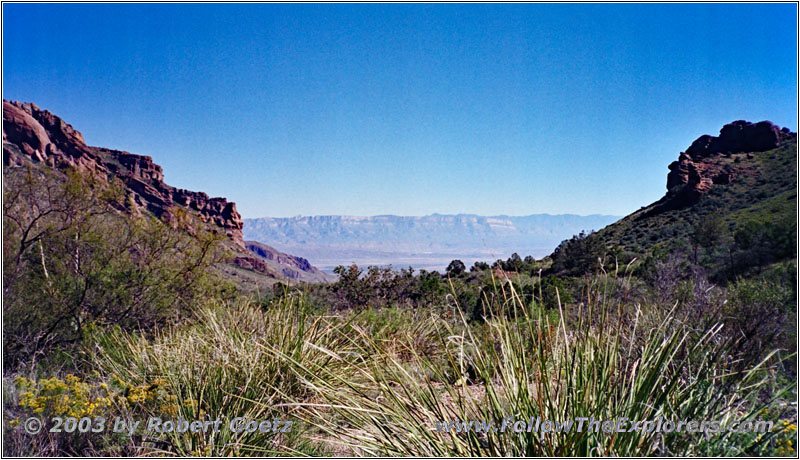 Pine Canyon Trail, Big Bend National Park, TX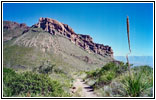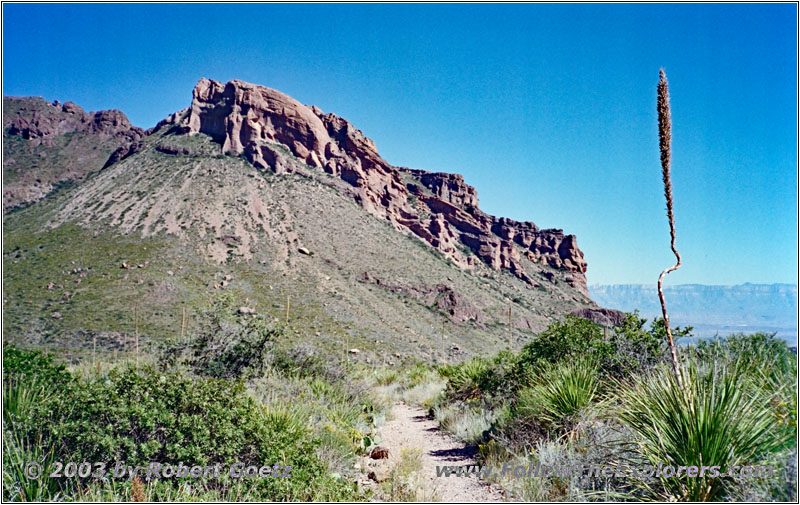 Pine Canyon Trail, Big Bend National Park, TX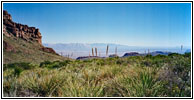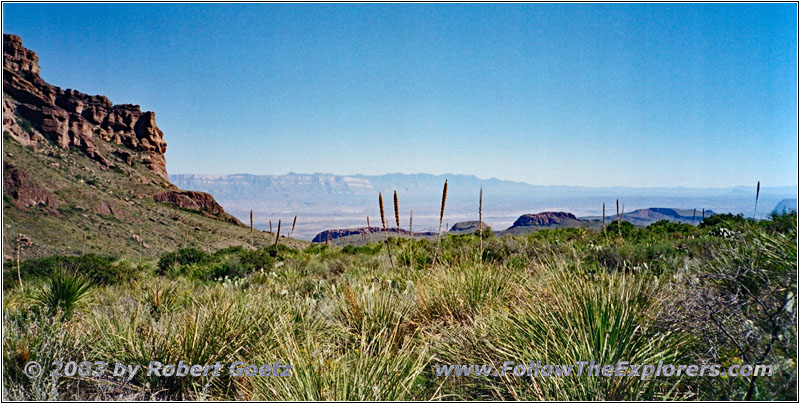 Pine Canyon Trail, Big Bend National Park, TX
At three, three hours past my departure, I am back at my car. At first I drink half a bottle of Gatorade there. Then I am starting to feel better. Due to the late hour I will have to cancel my trip into Juniper Canyon. But at least I want to drive to this canyon.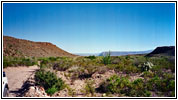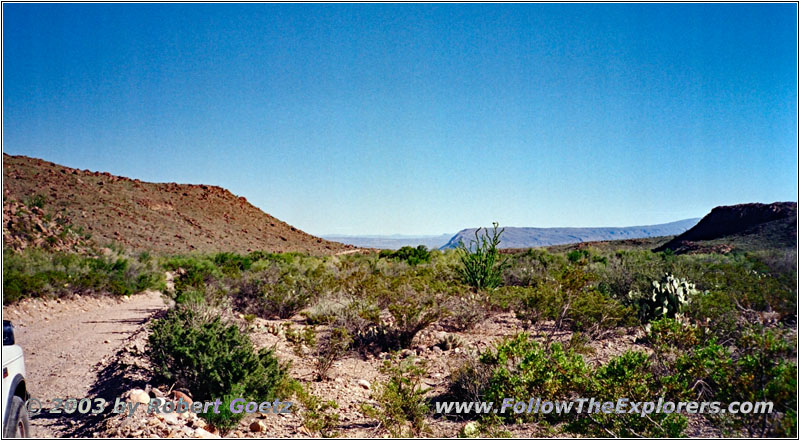 Pine Canyon Road, Big Bend National Park, TX
First I drive Pine Canyon Road back to Glen Spring Road. On my way back a big van approaches me. Now it is really getting tight. But we are lucky and we meet at a slightly wider spot. But what is he doing now?! He drives over to my side of the road and gives me signs to pass him on his side of the road?!?! Seems like this guy is missing visual judgment that he is afraid to drive with the passenger side to the edge of this road…
I pass him and continue my journey. But soon I see him approaching in the rear view mirror again. At least he stays back and shows no signs that he wants to pass me. On this curvy part of the road I soon loose eye sight of him.
Suddenly another car approaches me. Also this guy surprisingly drives over to my side of the road. Seems like no one is able to drive around here, or what…
A short distance further another car is standing, this time on the right side of the road. I give him the advice to wait, because a big van will probably soon show up behind me. He tells me, that he already knows and points to his handheld CB radio. He travels together with the other guy. Great! Then I continue.
I pass two pedestrians, then I am back on Glen Spring Road. In the meantime it is 4pm. After thinking for a moment I decide to still continue down south, at least to the beginning of Juniper Canyon Road. Half an hour later I arrive there. Probably it's best to not continue further.
I turn around and drive Glen Spring Road back. Soon the van approaches me again. I am curious how often I will meet this guy again. But this gravel road is wide enough and so passing is easy and without issues here. At a quarter past five I am back on the main park road.
The shadows are already getting pretty long. The drive up to the basin will most likely take another half an hour. Therefore I also cancel the visit of Dugout Wells. I also don't want to go to bed too late today, because I have to catch up a lot of sleep.
Once again I pass Panther Junction to the road up to Chisos Mountains. Then I drive all the way up to the pass. When I am almost on top I take a look at my transmission temperature and I am shocked. It shows almost 230 degrees! First I thought the transmission itself has heated up dramatically. But then I take a look at the motor temperature and realize that also this temperature is very high.
That is where the high temperature came from. This is the first time, that the motor temperature has risen this high. There I will take a closer look tomorrow morning on my coolant fluid level. But after reaching the pass and on the downhill ride the temperature goes down very fast to a normal level. So it seems this was due to the very long incline. All in all the road runs steeply uphill for a quarter of an hour.
First I must go to the reception to receive my room keys. As promised my room was reserved and I receive my room key without any formal stuff. Then I put my luggage into my room. The rooms are giant! Two double beds and a very high gable. The rooms are really nice. Also the acoustic insulation is more like a regular motel. This is a room you can really enjoy. Tomorrow I will also be at this location. But then I have to move on again. Hopefully they haven't reserved a room like yesterday.
But for now I leave for dinner. I arrive only a quarter of an hour later than yesterday, but today the waiting line is way longer. Even then it does not take too long and I receive my table. Sadly this one is not at the side like yesterday, but almost in the middle of the room. As the sunset is almost over, this is also okay.
My server is really nice, a real comedian. The dinner is great, like yesterday. I pay at around a quarter to eight and walk back to my motel room. This time I don't need a car. Then I check my video taping of today. As my water resources are already running low, I make myself some coffee at the room. All in all this is included in the room fee. There is sugar and milk powder. So everything is available. Just past ten I have finished everything and I am ready to go to bed. Totally exhausted I fall into my bed — and it is quiet!
Sights
Big Bend National Park (Entrance Fee $15)
Pine Canyon
General
Breakfast: Chisos Mountains Lodge Restaurant, Big Bend National Park
Dinner: Chisos Mountains Lodge Restaurant, Big Bend National Park
Motel: Chisos Mountain Lodge, Rio Grande Motel Rooms, Big Bend National Park
Distance: 63 miles