Zebulon Montgomery Pike Trail to Red River, Mexico Journey 1807
Day 28: October 25th, 2003 Big Bend National Park — Sanderson
Today it's time to say good–bye to the Big Bend National Park. I have breakfast again at the buffet. But this time half of the dining room is closed for non obvious reason. But I am able to get one of the free spots. After breakfast I finally check out.
On the way to my car I pass a small store. Just to be sure I buy another two bottles of water, because I am already at low level again. Then I drive over the pass to Panther Junction for the very last time. After cleaning my windows I am ready to roll around a quarter past ten.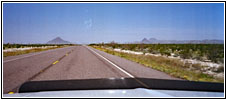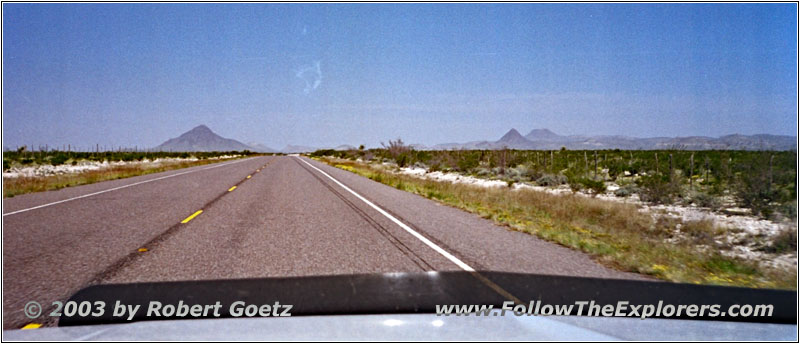 Highway 385, TX
I am driving now north in direction of Persimmon Gap. This is the Big Bend Park exit to the east side. There is also a small visitor center, which I plan to visit. Just past me a group of elderly people enter the visitor center and ask for a special movie about this area to be shown. When you ask, every movie that is on sale here, can be previewed. This is something you should know! So I use this opportunity to learn more about this area and the rangers work. But the movie is already quite old, because they ask you to hike over to cross the Rio Grande to visit Boquillas. This is not possible anymore nowadays…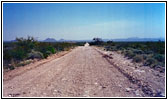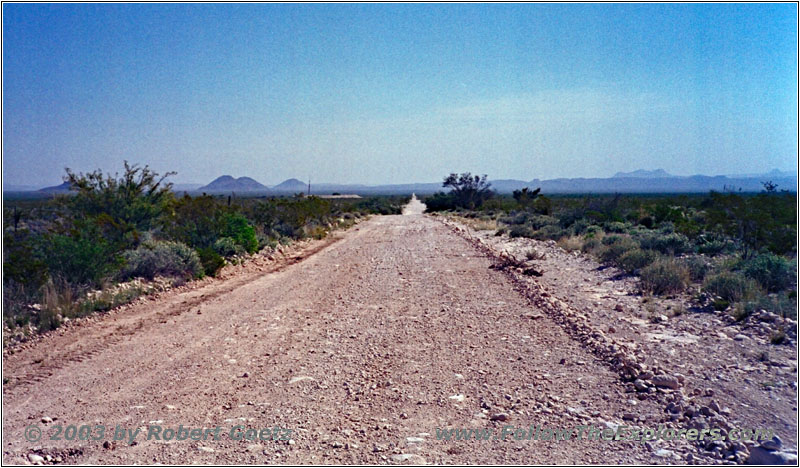 Dove Mountain Road, TX
After the movie I continue a little bit delayed. Around 10 miles further down the road I reach the branch to my backroad, the Dove Mountain Road. Then I am able to proceed for another ten miles before I am blocked again by a private property sign. So I have to turn around again and drive back all the way to the main road.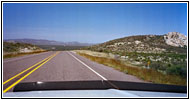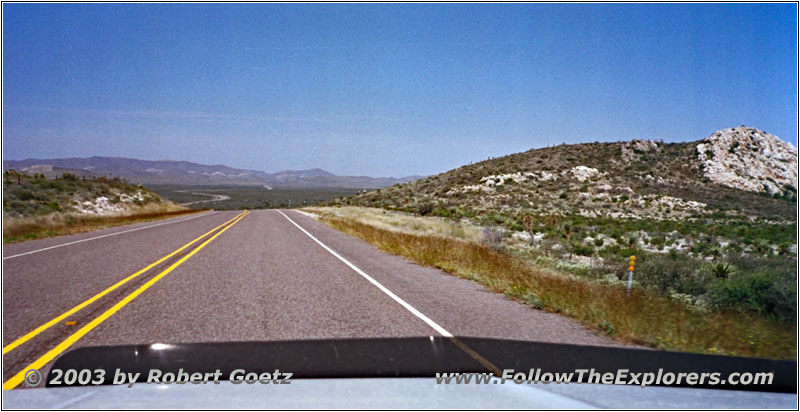 Highway 385, TX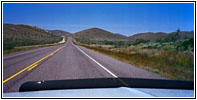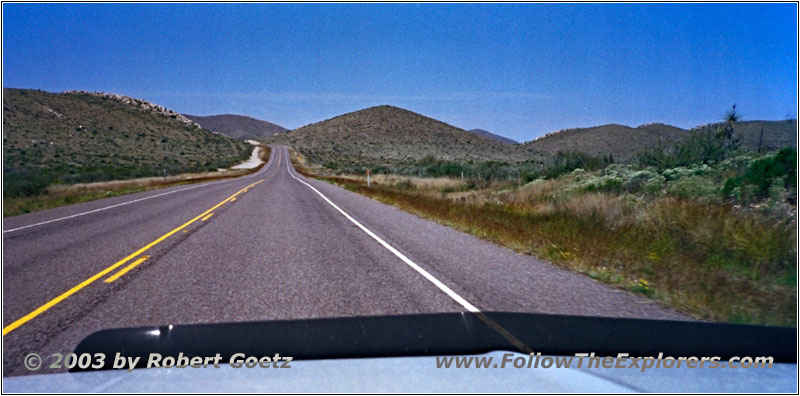 Highway 385, TX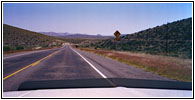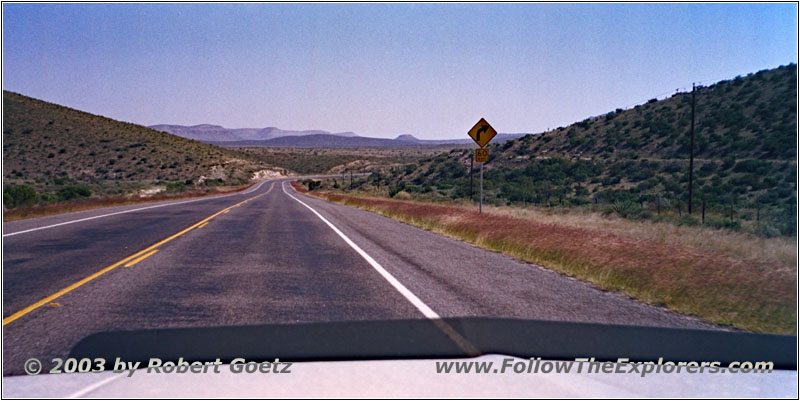 Highway 385, TX
From there I look for another alternative road. But there is only one alternative road to escape from this main highway. But when I arrive there, I only see a continuous fence. From the backroad on my map is nothing to see all the way. So I have to follow Highway 385 all the way to Marathon.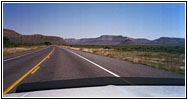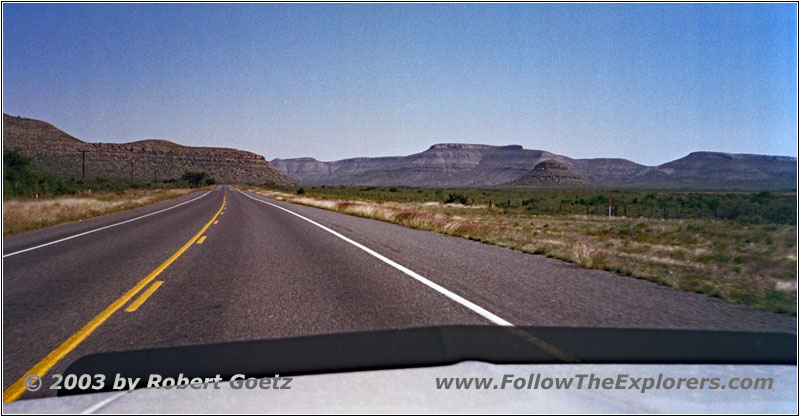 Highway 90, TX
From there I take Highway 90 East. Unfortunately I am not able to find any chance to escape from this main road until Sanderson. Once again I try to take a backroad, but another private property sign stops me. So I continue on Highway 90 until I reach my destination of today, the Desert Air Motel in Sanderson.
As I am still very early I first drive through town to see where I will spent the night. But the other motel at the east side of town does not really look better. So I drive back. But I don't see too many restaurants on this main road through town.
When I check in at the motel I ask for a nice dinner restaurant and they recommend the No Name Cafe. There is also a Kountry Kitchen (it is not a typo!), but they are closed most of the time. There are also none no–smoking rooms. But they have a special device, which cleans the air electrostatically. They should work pretty well.
A little bit skeptic I take the keys and take a look at the room. It is true. You smell nothing from any fumes. Also the room is very nice – simple, but nice. On my way back to the reception I feel, how much it already cooled down. Even now we might have not more than 50 degrees.
I pay my room and drive with my car directly in front of the room – eventually I am able to park directly in front of my room. I pack my stuff together. Then I check the video taping of today. Around half past six I start to look for a restaurant. It is a Saturday, but I am not sure if they wouldn't shut down everything around 8pm in this small town.
I first try my luck at the Kountry Kitchen. But they look like being closed. So I drive on and discover a run down restaurant on the left hand side. As this one also doesn't look very promising, I continue my search. But the other restaurant, which they recommended to me, is also closed and beside this one, there is no other one to see. So I have no other choice than to drive to this hammered together place, which turns out to be the No Name Cafe.
The restaurant is very simple, but everything looks clean. So I decide to give it a try. They have something Mexican on the menu, which I want to try. Unfortunately the Coke is served by the can here, which means, that there are no free refills.
When I am almost finished with my dinner, more people roll in. It's now, that I realize, the paintings at the wall are pencil drawings. They really look great! I pay around half past seven and drive back to my motel. In the meantime it is really getting chilly. Lucky me there is some heating in my room…
General
Breakfast: Chisos Mountains Lodge Restaurant, Big Bend National Park
Dinner: No Name Cafe, Sanderson
Motel: Desert Air Motel, Sanderson
Distance: 122 miles