Zebulon Montgomery Pike Trail to Red River, Mexico Journey 1807
Day 33: October 30th, 2003 San Antonio — San Marcos
Again I have breakfast at Cracker Barrel. There will not be much driving today, because I plan to visit two caves. So the cloudy skies are not bothering me. After breakfast I drive over to the next gas station. Just before nine I am back on the highway again.
First I take I–35, then Loop 1604 to Highway 2252.
At Highway 3009 I take the left exit to Natural Bridge Caverns. Pike didn't had the chance to see the caves, when he came through this area. His trails have been more to the northeast to the United States. But I take the chance for this small side trip.
There are different tours offered for this cave. One is the typical tourist tour, the other one a lantern tour. I would like to take both, but the lantern tour is only offered in the late afternoon. This is way too late for me, because I plan to visit a second cave. So I only take the tourist tour.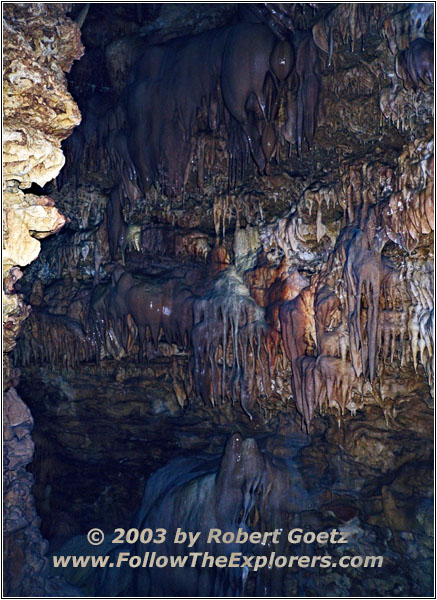 Natural Bridge Caverns, San Antonio, TX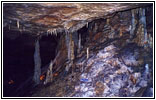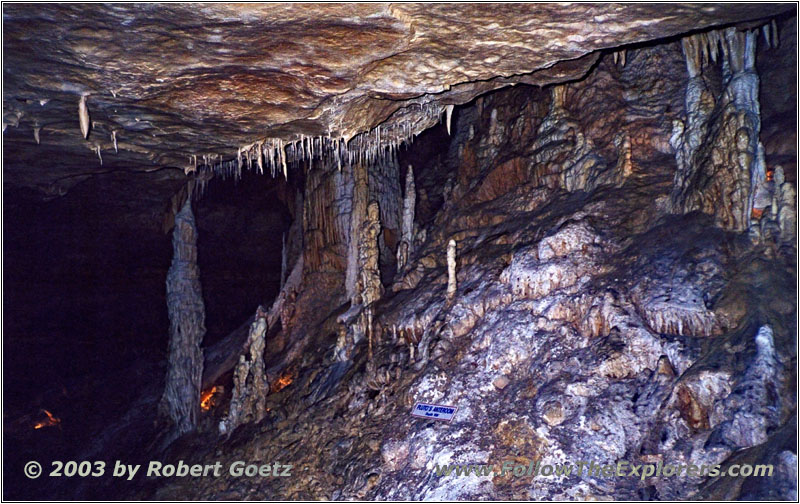 Natural Bridge Caverns, San Antonio, TX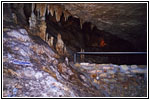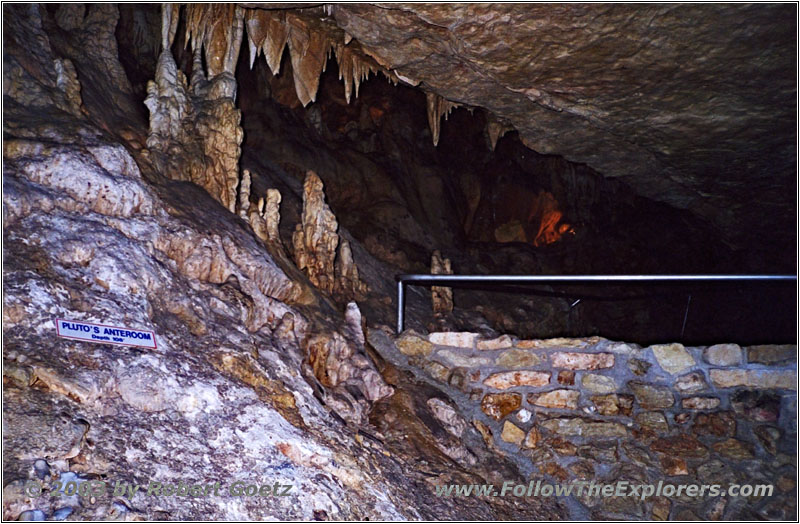 Natural Bridge Caverns, San Antonio, TX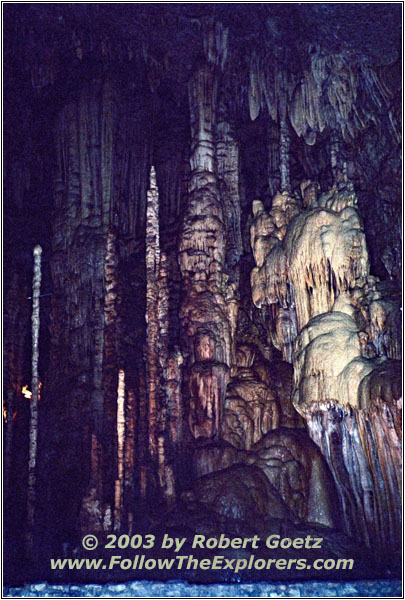 Natural Bridge Caverns, San Antonio, TX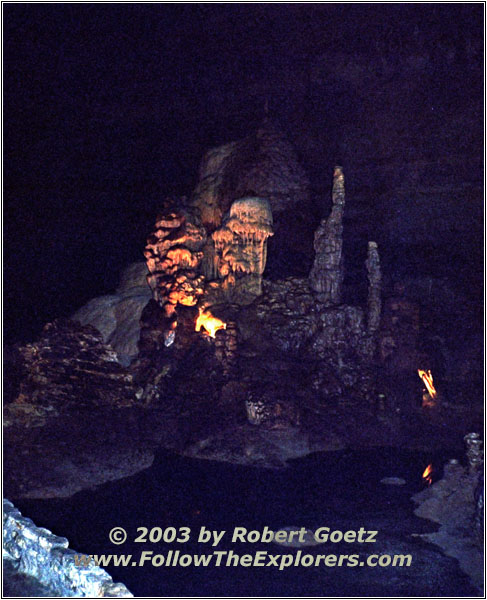 Natural Bridge Caverns, San Antonio, TX
The group with approximately 20 people is not too big. But even that feels already like very much for me. But in peak times the group can be up to 75 people! This would be really no fun. But even with 20 this group feels already like too many for me.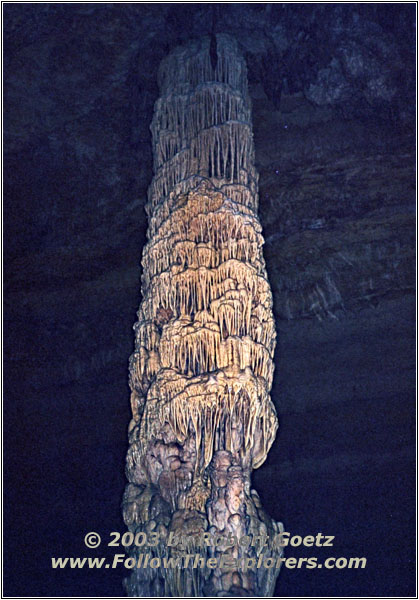 Natural Bridge Caverns, San Antonio, TX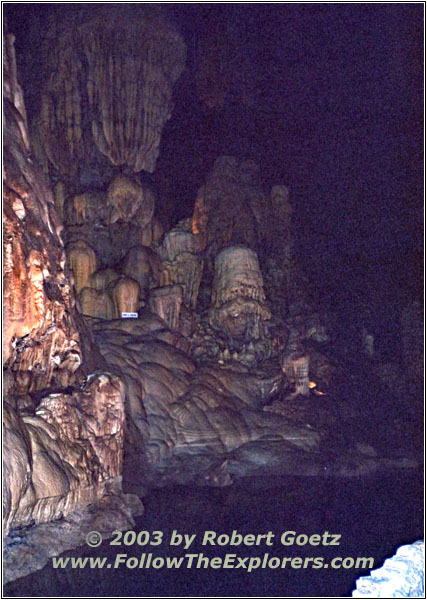 Natural Bridge Caverns, San Antonio, TX
I try to stay a little bit back to have a chance to get some nice video taping. The cave itself is really good developed. You only have to be carefully at the wet rocks. But even with all my camera equipment and walking while taping things are going really well.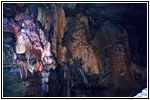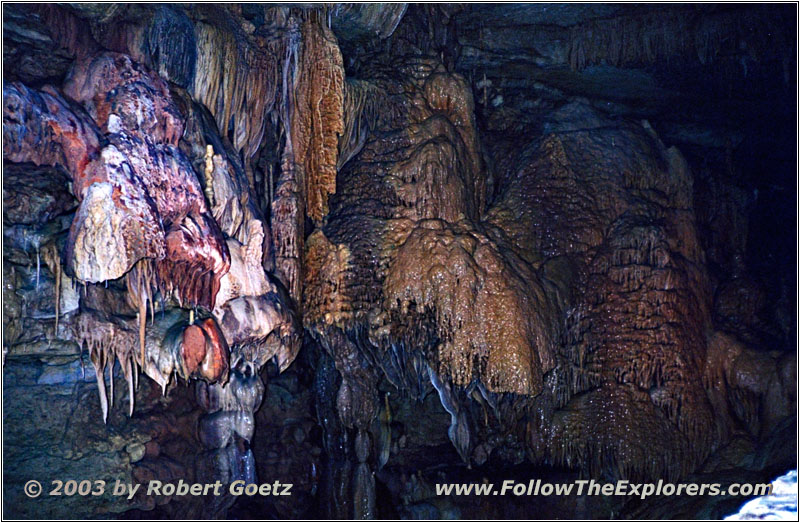 Natural Bridge Caverns, San Antonio, TX

Natural Bridge Caverns, San Antonio, TX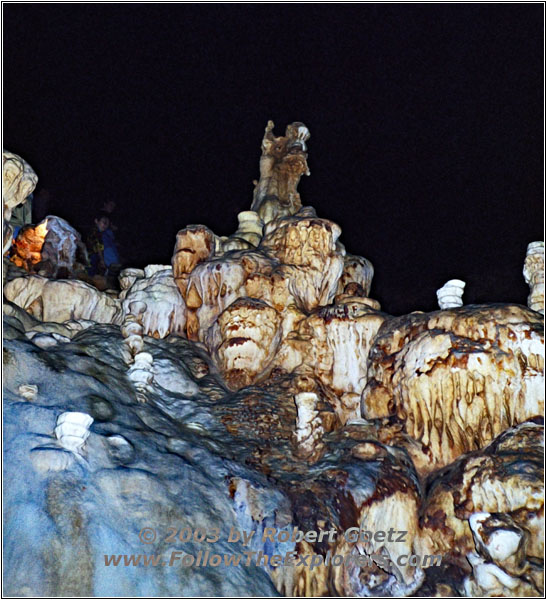 Natural Bridge Caverns, San Antonio, TX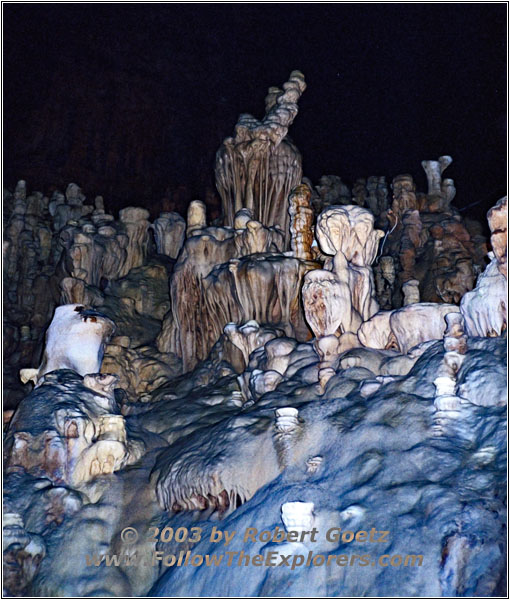 Natural Bridge Caverns, San Antonio, TX
The cave consists of several small and some really giant caves and absolutely impressive stalactites and stalagmites. And as usual there are also rocks around here which look like figures and the guide also tells some nice stories about them. This is what folks really like. All in all this cave is really interesting and worth a visit, but for me already a little bit too touristy. Anyways, the guide definitely compensates for that.
After the tour I drive back to Highway 2252 and drive on to New Braunsfels.
From there Highway 1102 takes me through a village called "Gruene" and from there further on to Highway 2439. On this highway I reach the outskirts of San Marcos and the very hidden exit to Wonder World Cave.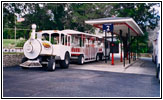 Wonder World Cave, San Marcos, TX
To my surprise this cave is in the middle of a residential area. Additionally to the cave there are also attraction like a nice viewing platform and a children's zoo, where a small train runs through. The additional costs for all attractions together is only $2. So after a little bit of hesitating I decide to take the whole package.
In the meantime even the sun starts to shine. This makes the ride with this litlle train even more comfortable. To my surprise I am the only passenger. The employee tells me that it was way more crowded yesterday. But today it is really quiet. I definitely have nothing to complain about this. This gives me the chance to receive a very personal guide through the zoo and I am able to take the best spot in the train.
You can tell that everything here is adjusted for kids. The deer is already very calm from all the feeding and was really disappointed when they realized that I only had my camera and no food for them.
After the train ride the cave visit is next. My guide Jennifer has currently left for a lunch break. But she will be back within a quarter of an hour. Then I also have an exclusive guide through the cave. Unfortunately she caught a cold which makes it hard for her to talk. So I try to not interrupt her with questions to make it easier for her.
This cave does not have as much attractions as the last one. However it is still worth a visit. At the end you can ride with an old shaft elevator up to a viewing platform — which is not meant for someone afraid of heights, because you can see the outside world all the time through the mesh.
When you arrive up there it is just a couple of stairs to the top of this viewing platform. There is the wind heavily blowing. It is also extremely cooling down, so I try to finish my video taping fast to get back down with my guide. The finish of this tour is the visit of the Gravity House, which is build into the hill at an extremely steep angle. This gives you the famous impression as if water can run uphill out of the faucet! This is how you can fool your senses…
I say thank you to my guide for this very nice tour and walk back to my car. Now I am not far away from my destination of today, the Motel 6 in San Marcos. I just have to drive through town, which turns out to be not this easy during the afternoon rush hour.
Eventually I arrive and check in. Then I check the video taping of today. I also found an Outback Steakhouse in the phone book. So I already know where to go next. This time I only need a brief search until I find it. To my surprise it is in the middle of a huge shopping mall. This was the mall I expected to find in Del Rio! Seems like my memory has fooled me here! As usual I have my 12 ounce Outback Special for dinner. Just before nine I pay and drive back to my motel.
Sights
Natural Bridge Caverns (Fee $14)
Wonder World Cave (Fee $14)
General
Breakfast: Cracker Barrel, San Antonio
Dinner: Outback Steakhouse, San Marcos
Motel: Motel 6, San Marcos
Distance: 77 miles