Zebulon Montgomery Pike Trail to Red River, Mexico Journey 1807
Day 35: November 1st, 2003 Navasota — Natchitoches
Today is the last day of my trail. The breakfast recommendation is at that time of day the Hillary's Cafe at the Circle H gas station. This is also a small breakfast restaurant with only a few seats, which is mainly used by locals. The server is one of these typical black "Mom"–type ladies, which works at her own pace. But all this has a very special warm atmosphere- The breakfast is good and also the gas station is not far away.
Just before eight I am ready to hit the road again. Lucky me it has stopped raining. It is still a bit cloudy, but it is also slowly warming up. First I take Highway 105 and 6 out of Navasota. Then I continue to the exit of Highway 3090.
On this one I continue to Highway 244.
This highway takes me to Highway 39 through Iola.
From Highway 39 I continue on Highway 1372 to Highway 190 through Madisonville.
I travel a short distance on the big Highway 190/21 to the exit of Highway 2346 north. On this one I continue on TX–OSR and further on to Highway 579 through Elwood.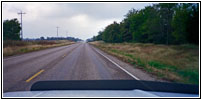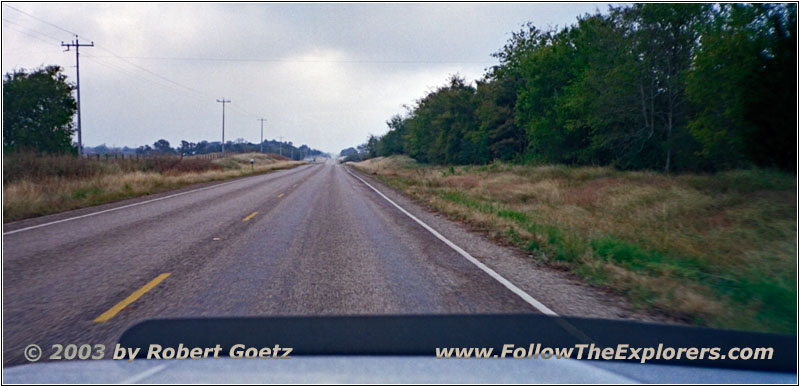 Highway 811, TX
On some paved and some gravel roads I continue to Guys Stores on highways 579, 1119 and 811.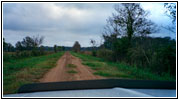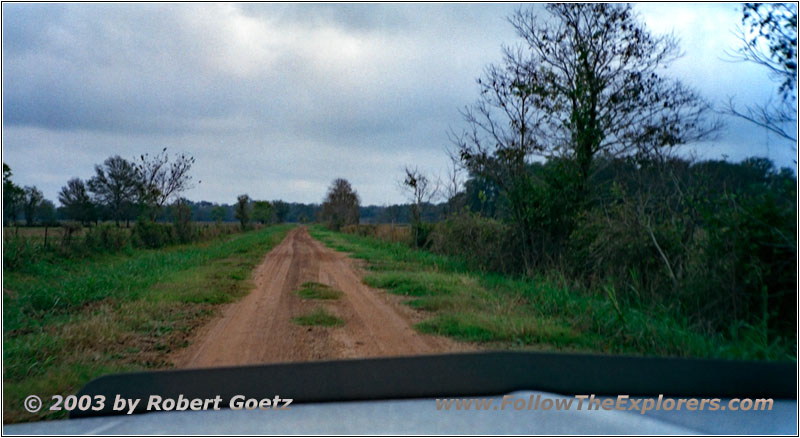 CR123, TX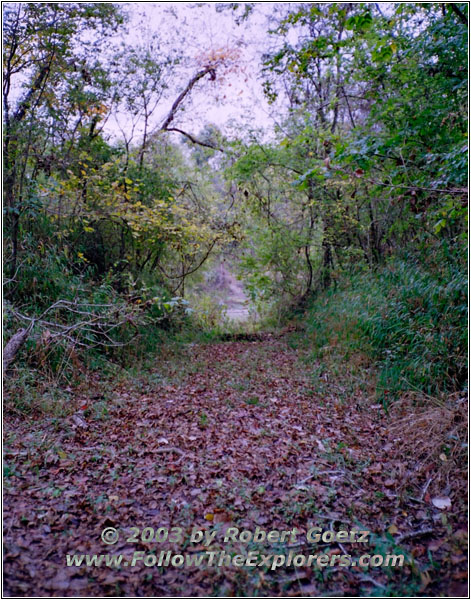 Bridge out on CR123, TX
There another gravel road named CR123 takes me in eastern direction. After a couple of miles the road degrades rapidly. Eventually I reach a small forest, where the foliage on the road tells me, that it was obviously quite a while ago, when someone drove there. And after a couple of yards the road definitely ends: There are some branches and bushes build up as a road block. I get out of my truck and inspect the situation by foot. In the distance I realize why they made this: The road would lead directly into the Trinity River, where Pike already had trouble crossing it.
So I have to turn around and must drive back to the main road. Highway 811 takes me now further north until I reach the big Highway 7.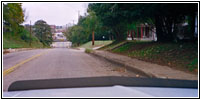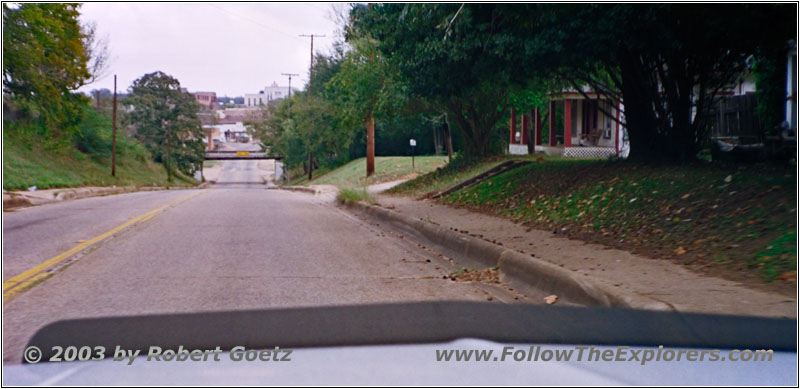 Highway 7, Crockett,, TX
I make good progress on this highway, which takes me over the river and to Crockett.
I continue for a short distance on Highway 21 and then the smaller Highway 3187 until I reach the first gravel roads again in the Davy Crockett National Forest.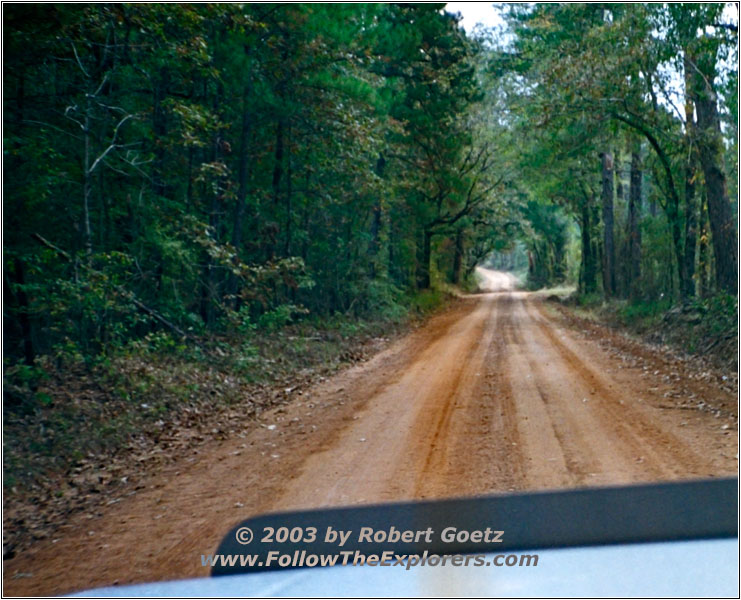 Highway 1060, TX
I drive through the forest on small forest roads. Suddenly I see two guys waving at me on a clearing. First I think they just wave to say Hello and I greet back friendly, as it is common on this smaller roads. But in my mirror I see, that one of the guys enters the road and still waves to me.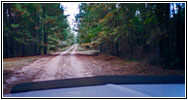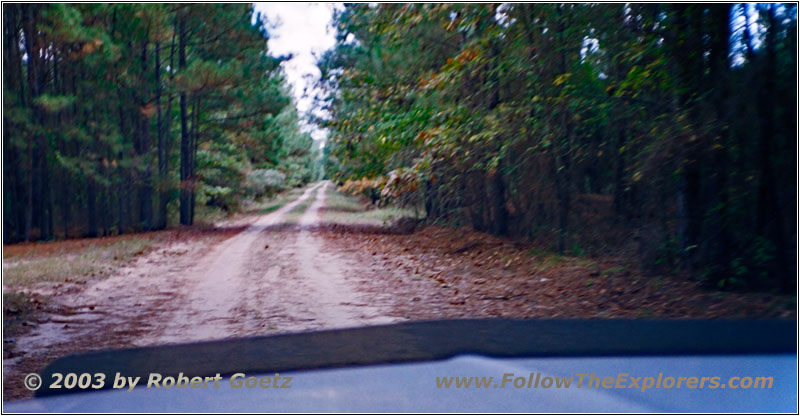 Highway 1170, TX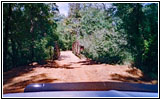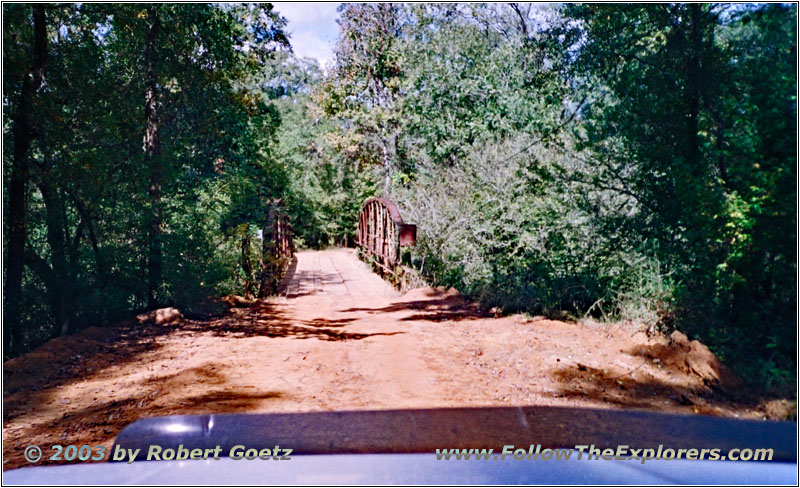 Highway 1170, TX
So I stop and drive back. I turn off my engine and ask, what has happened. They tell me, that they are waiting for a hunter, with whom they want to go for hunting something. But I did not really understand exactly, what they want to hunt. Now I am in the middle of the south state slang area and I really have trouble to follow the conversation. I tell them, that I am following the footsteps of Zebulon Montgomery Pike, who once came through this area. They tell me, that not too far away is an old Spanish Mission. A little bit to the north is also one of the old Spanish trading routes. I assume, that this was also one of the "El Camino Real", the royal roads of the former times.
We talk a little bit on and they tell me, that I will be able to cross the next river. The bridge burned down last year. But it has been rebuilt. Seems like I am lucky! I say good–bye and continue my journey.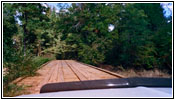 Highway 2829, TX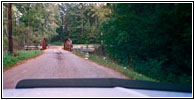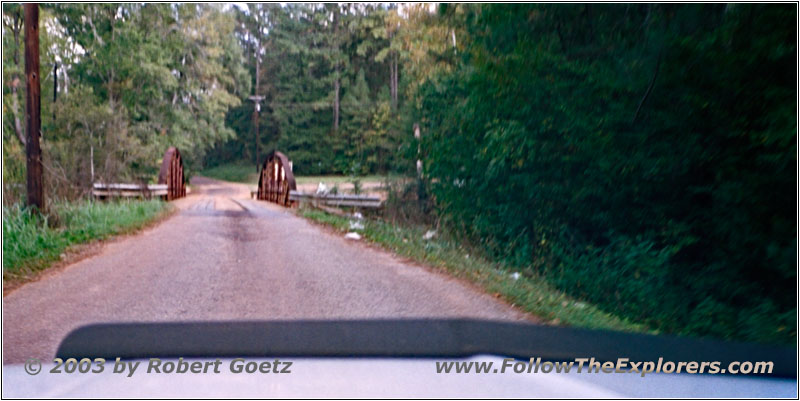 Highway 789, TX
And exactly as the guys described me the road, exactly as easy I continue my trip. Only one of the bridges has been rebuilt. But they both don't look very promising. But they should be strong enough for my little truck. Pike stayed in this area at the night of June 23rd.
Just a little distance and I leave the gravel roads behind me. I continue on the small Highway 1911 until I reach Highway 225 to the east. On this one I reach Nacogdoches. Pike spent here two days to prepare everything for his return to the United States.
On Highway 21 I continue east through San Augustine.
Also I cross Milam on Highway 21.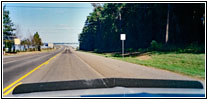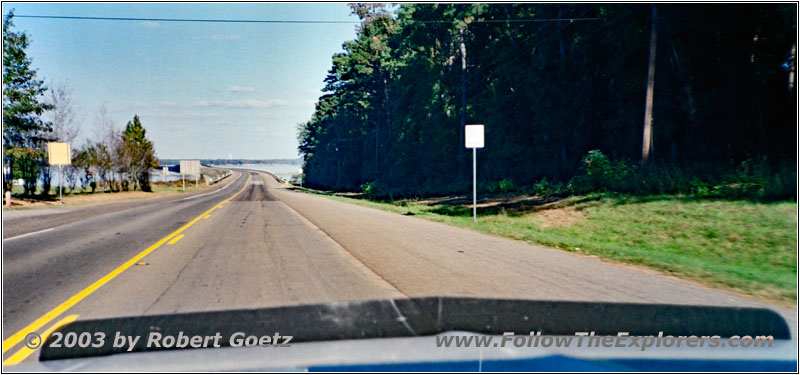 Highway 21, Sabine River, TX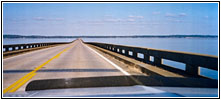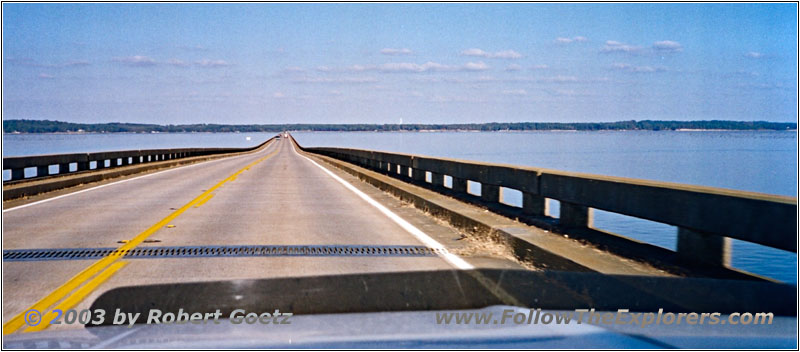 Highway 6, Sabine River, LA
Now I continue to Sabine River, which formed the border back then. But river is just a small understatement. The width remembers more like crossing a lake than crossing a river. I ask myself, how Pike was able to cross the river back then. Today a several miles long bridge takes you through the swamp area at the river banks and across the whole river.
I reach Louisiana and the highway changes to Highway 6. In 1807 this was the border to the United States of America — Pike was back home!
On Highway 6 I continue to follow Pike's footsteps through Many.
From there I drive on the same highway through Robeline until I reach Natchitoches.
Although I was on the road for more than 250 miles, I am already checking in at half past four. I receive a room on first floor without any issues. I chat for a while with the reception lady. She tells me a lot about this small town and all the activities around here. It seems like she was really into convincing me to stay for a longer period of time. But I must leave tomorrow. In the end my flight back home will not wait for me.
She recommends the Mariner's for dinner, which is just a couple of minutes drive from here — however it will not be cheap. But all in all this will be my final dinner on the real trail. So I allow myself something special. But first I check the video taping of today. Then I am looking for an oil change station in the phone book and really discover a Jiffy Lube here.
I give it a try, even if it is already very late. But this gives me also the chance to discover town a little bit. Of course, when I arrive at the Jiffy Lube, it is already closed. So I drive back in the direction of my motel. I am not able to find the other restaurant, which she also recommended, so I directly drive to the Mariner's.
It seems like this restaurant is really a hip restaurant. And if you look at the people, it really looks like upper class. But I let them put me on the waiting list anyway. After all, today is Saturday evening and there is everyone going out for dinner. After a bit more than half an hour it is my turn.
The prices keep up what the ambient promises. But after all this is my good–bye dinner for the trail. I treat myself with an appetizer, a big filet and a desert, called "New Orleans Bread". It tastes pretty sweet, like most of the deserts in the US. But not as extreme as many other things I tried in the past. So it is something you can really try. Just before nine I pay and drive back to my motel. The distance is so short, that I really could have walked over. But I was already on the road…
General
Breakfast: Hillary's Cafe, Navasota
Dinner: Mariner's, Natchitoches
Motel: Super 8, Natchitoches
Distance: 254 miles