Zebulon Montgomery Pike Trail to Red River, Mexico Journey 1807
Day 40: November 6th, 2003 Pittsburgh (Mine)
We leave before noon to bring my car back to the mine. Today it is not raining as heavily as yesterday, but it is still very cloudy and with less than 50 degrees not really warm. When we arrive at the mine, the usual procedure starts. I have to sign the contract and prepay until July. Then we have to wait for our "Pace Car".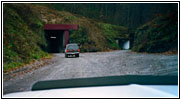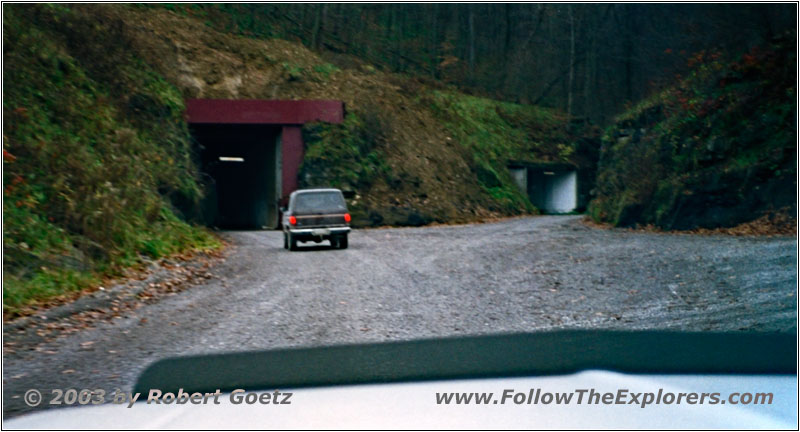 Bradys Bend Underground Storage, PA
This time he takes us pretty deep into the mine to my parking spot. He reserved the spot beside Helen's Mustang for me, so that our cars are parked together again. But he has to leave immediately, because the next customers are already waiting. We should just drop the car keys at the reception when we leave the mine.
I disconnect the battery, unmount my camera and put everything over to Helen's car. Then we drive out of the mine and return the key at the reception. Around 1pm we are back home and we make ourselves a sandwich. Then I have to pack some stuff together for my flight tomorrow before I make myself comfortable in front of the television. Today is the last chance to watch the CMT channel. Unfortunately there is no country station in Germany.
For dinner we have some spaghetti, which Helen already prepared for yesterday. But from the microwave it still tastes like freshly made. Just before eight she has to leave to take one of her grandchild to the hockey training. I jump through the channels and get stuck at a thrilling prisoners movie, which I have already seen in a German version. Now I eventually have the chance to listen to the original voices and especially to the original dialogues of "The Shawshenk Redemption". It is amazing, how they adapted the German translation and even added weird things. Around ten Helen returns and at half past ten my movie is over. Then I go to bed for the last time of this year in the USA…
General
Breakfast: Home
Dinner: Outback Steakhouse, Pittsburgh
Motel: Home
Distance: —