Zebulon Montgomery Pike Trail to Red River, Mexico Journey 1807
Day 41: November 7th, 2003 Pittsburgh —Munich
Today is my last day. We are already two hours before my departure at the airport, because I don't know, how long the security checks will take. This year they tightened the luggage checking: Every suitcase will be radiated when checking in and you are only allowed to proceed to your gate, once the suitcase is cleared!
But the rest is business as usual. The carry–on will be searched thoroughly. But at least they don't do a check on myself, like in Chicago this year. The train takes me to the departure terminal. Around one hour before my flight departs, I am already sitting at the departure terminal to Chicago.
This time there is no delay and I am able to depart on time. I also have plenty of time in Chicago. But they have again changed the procedure to leave the country. Now they have a separate terminal with a Laptop, where they again scan your passport and where you hand over your green visa card. Then you receive the clearance for boarding. But the rest is as I am used to.
At the waiting area I have a nice chat with an elderly couple, who are flying together with the Lion's Club, where they are members, to Hungary. He tells me, that they have been to Germany 40 years ago and they were driving through the area with a brand new BMW. This was a real adventure for them back then!
When it is time to start boarding, I say good–bye and I put my stuff in the plane as usual: The tripod goes in the overhead compartment, while my bag goes under the seat in front of me. This time I am in the back of the machine at the last row. This is probably the noisiest place in the plane. But there is absolutely no one who can press his feet in your back.
My neighbor is Peter from Wheeling. He is carpenter and flies together with his boss and a church pilgrim group to Cosovo and Croatia.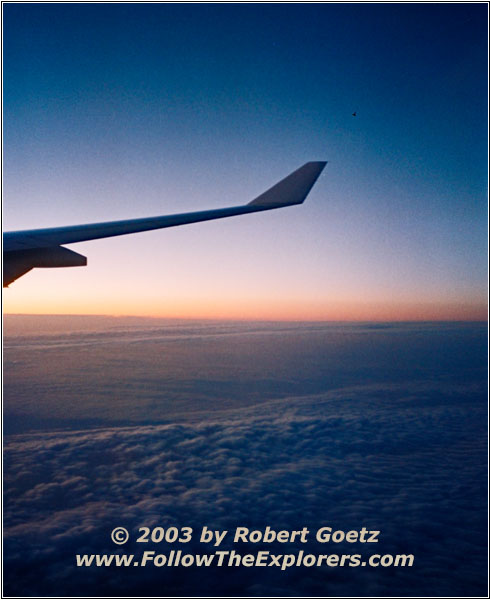 Flight Chicago to Munich
After dinner there is really some action starting. One passenger suddenly lost consciousness. The captain makes an announcement, that any doctor or nurse shall get in contact with the crew members. And there is really a doctor on this flight together with a nurse, who are taking care of the patient.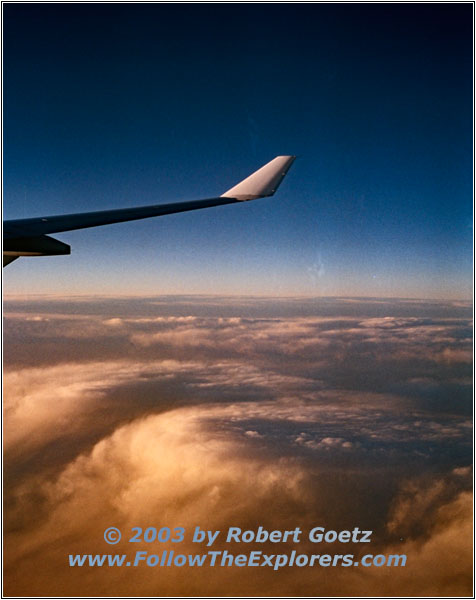 Flight Chicago to Munich
Even after a short amount of time, he feels better. But the shock is pretty much for my neighbor, when he realizes, that this is one of his group members. As the patient is being taking care of in the rear of the machine, he is able to see how things are going with him. But it takes just before landing, until he is able to go back to his seat. But then he is already feeling so well, that he does not even need the assistance of the medical team, who already awaits him at the gate.
I say good–bye to Peter and wish him all the best for his pilgrimage. With all this action I completely forgot to ask him for contact details like address or email…
My parents already await me at the airport, who take me back home. In the meantime, I don't really feel well myself. I assume, that I have problems with all the garlic in the dressing, which we got for breakfast. I think, it is really an impudence to serve this much garlic on a flight meal. All in all a lot of people will continue their flights and will be together with other people, who had no garlic at all. Lufthansa should really rethink this…
Back home I have to unpack my suitcase first. Then I put my new Country CDs in the player and try to work around the jet lag. Now I have to wait for another year until I am able to drive with my little truck on my beloved backroads again…
General
Breakfast: Home
Dinner: —
Motel: —
Distance: —