Zebulon Montgomery Pike Trail to the sources of the Mississippi 1805 — 1806
Day 15: August 25th, 2002 Hannibal — Quincy
Yesterday I have found "Mark Twain Diners" in the phone book. They also serve breakfast. It's rated as family restaurant which is perfect for breakfast. I order my usual setup of eggs, bacon and toast.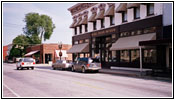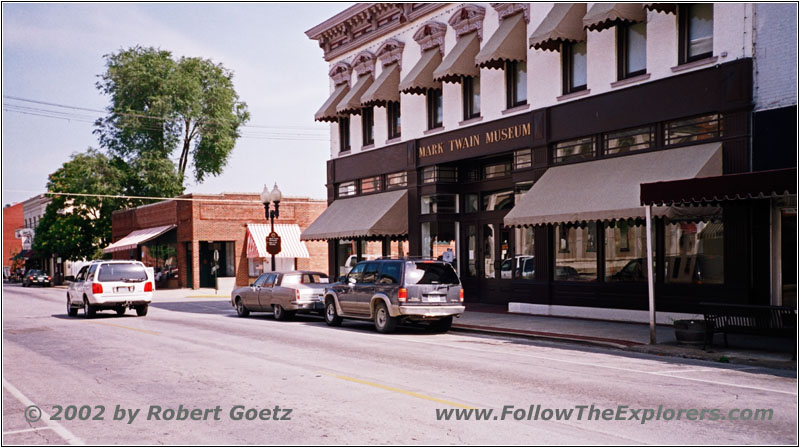 Mark Twain Museum, Hannibal, MO
After breakfast I start to visit the special Mark Twain places. I start with the museum at the other end of town. They tell me that the tour usually starts at the other end of town where Mark Twain had been living as boy. But my ticket is valid for all Mark Twain places in town. Originally I only planned to visit the museum. But with a ticket valid for everything I decide to also visit all the other interesting places.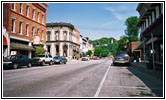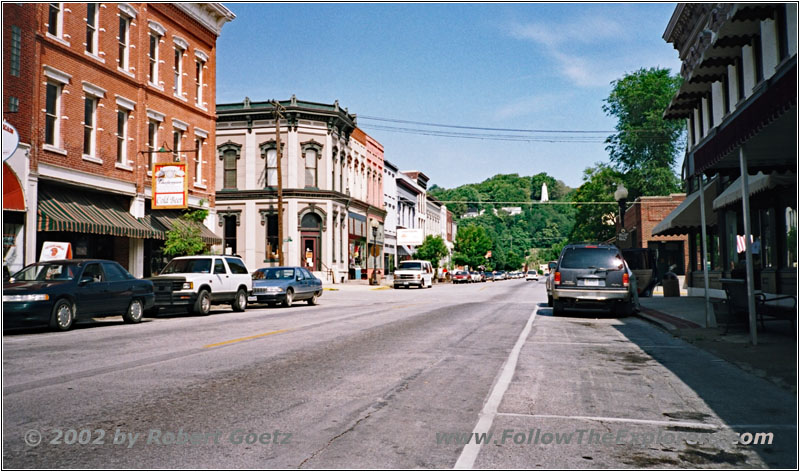 Hannibal, MO
The museum tells you a lot about Mark Twain and his history. But also about Mississippi and the live at his river banks. I didn't knew that Mark Twain was a captain on one of the sternwheelers on the Mississippi River.
These sternwheelers only needed three feet of water to be able to navigate. When they have six feet they were absolutely safe. Mark Twain, whos real name was Samuel Clemens, has declared a new noun for that: The guy who measures the current water depth has a rope with marks every three feet. Therefore the safe water depth was "Mark Twain", which gave Samuel Clemens the name he should later be known for all his books.
Another interesting news for me was about his books. All stories he wrote about were a mixture of fantasy and reality, which he experienced in his life! Therefore all his stories have a lot of truth and reality in it! Once he told about a story with medicine and a cat. He also didn't wanted to take his medicine. Every time his mother was not watching him he put the medicine in a floor crack — exactly like written in his stories.
One day the cat wanted to try the medicine. So he gave the medicine to his cat. After that the cat was staggering and completely lost orientation. His mother said, that she has no clue what happened with the cat. In his story the cat jumped out of the window. So you see a lot of things in his stories have an actual truth in it.
After I have visited the museum I do a brief stop at the gift shop. There is a shirt with a nice saying that I like. Unfortunately they don't have it in my size. But the saleslady has an idea. The one in the shopping window might have the correct size. And really, the size matches! I also buy some post cards to comply with what my friends at home expect from me.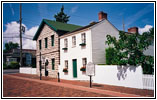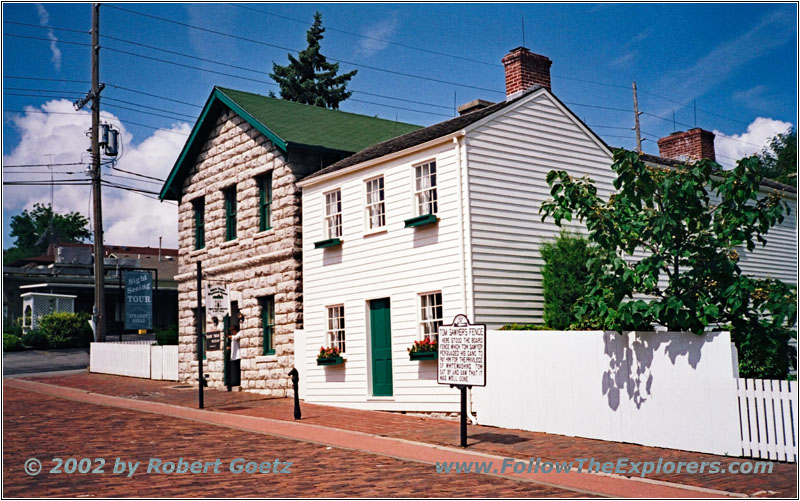 Tom Sawyers Fence, Hannibal, MO
Then I drive to the other end of town where the regular starting point is. It's almost ten, but everything is pretty empty for a Sunday. The tour starts at the house where Samuel Clemens spent his boyhood. This is also the place where you see the connection between his stories and his real life. The visit ends at the ground floor at a gift shop. There they have the shirt in my size. This I should have known earlier…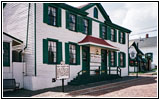 Becky Thatchers Home, Hannibal, MO
Across the street is the home of Becky Thatcher. Also this girl has been living in reality, just with a different name. After a visit of this building I start to video tape the outside. The streets are completely closed to traffic. This gives me the chance to search for the perfect picture spot. When I am just trying to set up for a new spot an older guy asks me if this is part of my business. I tell him that this is just a hobby. But you never know what the future will bring. He also tells me that he has seen me yesterday at the Travelodge. He also stayed at this motel last night. And he also knows that I had a room at the second floor. This is how you are being watched. I would have never expected to be remembered like that…
Next on my list is the visit of the Tom Sawyer and Huckleberry Finn statues. They are at the foot of Cardiff Hill. To get to this place I have to pass my car. I use the opportunity to get something to drink. It's already in the 90's!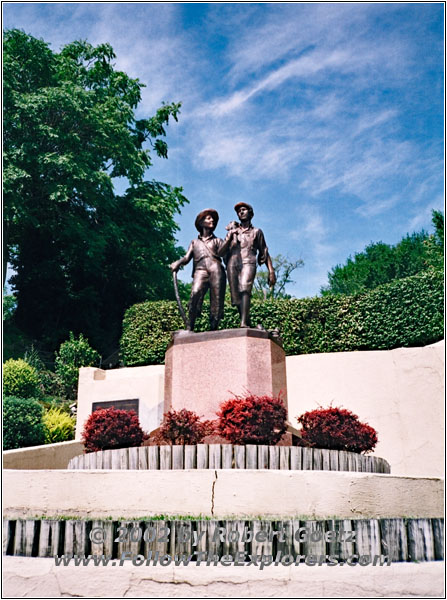 Tom Sawyer & Huckleberry Finn Statue, Cardiff Hill, Hannibal, MO
Then I start the short hike over to the hill. The statues are absolutely brillant. It's also made very nice with all the flowers around. A sign to the left shows me the way to the lighthouse. It has never been used but is also part of Mark Twains stories.
The path takes me pretty steep up the hill. Then I reach a flat from where some steep steps continue. At the top I arrive at a street which takes me to a small parking lot. Now it's only a couple of steps until I reach the lighthouse. Looks like I could have saved a lot of sweat if I would have driven up to this place…
When I arrive at the top an older guy sits at a table in the shadow. As I am polite I say Hi. This is the beginning of a long monologue from him, which seems to be unstoppable. I assume he just waits there for some tourists to have a chance to talk to them. But he also tells me some interesting details. He was also up there when the big flood came down the Mississippi River a couple of years ago. He was able to see how the river flooeded everything within a very short amount of time.
After half an hour I say goodbye and start my video taping. Then I start my long way back. At least downhill is way easier and more comfortable. When I reach the flat again I see that there is a nice view of the village entry of Hannibal. There is also a big sign showing you that this is the home town of Mark Twain.
I use the opportunity to video tape also this view. Then I descend the rest of the hill. Now it's just a couple of minutes back to my car. I am still good in time. My next destination are the Cameron and Mark Twain caves. It's not too far to get there by car.
This area is much more crowded. The entrance fees are pretty high. They charge $12 to visit the cave. The next tour is within a quarter of an hour. They arranged to wait for the tour in a gift shop where you have a lot of chances to buy something. After a brief tour through this shop I ask, if this ticket is really for both caves. They tell me that this ticket is only valid for the Mark Twain Cave. The Cameron Cave is without any lights. But I can also attend a tour there which starts at the same time. The entrance to this cave is usually $15 but if I book both tours it's just another $9.
This is pretty expensive. And I realize that I have forgotten to fill up my wallet. I am trying to think how I can access my other money without everybody seeing where I hide it. Then I remember of my travelling cheques. I am lucky that they accept these and I always have one in my wallet. So I am able to also pay for the second cave and keep my ticket for the Mark Twain Cave for later. The Cameron tour is only a couple of times per day, because the demand is not this high.
Our guide arrives with a bunch of lanterns. Let's see if I am able to get through there with my camera. Beside me there are four other guys. But none of them is a XXL–Size body, because they would not be able to do the tour.
We cross the street to the hill on the other side. After a short steep incline we reach the entrance. We come together in a small anteroom and receive our instructions. The guide also shows us a map of the cave. But with all the branches it is absolutely impossible to remember the layout.
Then we enter the cave. The ground is sandy and the rocks are pretty rugged. In some areas it is getting really tight to squeeze yourself through. Our guide is really great. It all remembers me to the easy going tour in Montana when I visited the Lewis & Clark Caverns. But in contrast to that cave there are absolutely no lights in this cave. The only light we have is from our small hand lanterns.
I am almost running out of hands. I have the lantern in one hand, my camera in the other one. Lucky me I screwed on my shoulder pod before. This gives me good steady shots while walking through the cave. I decide to let the camera run continuously. The downside is that I will have no pictures. But I will have the whole comments from our guide on video.
We walk on and suddenly a bat flies by. Our guide tells us that there are a lot living in this cave. But we don't have to be afraid of them. Usually they don't even hit one as long as we don't move.
A lttle bit further we even see one hanging at the wall directly on eye level. We are just able to pass this fellow without getting in contact with him because the rocks are very close at this point. The last highlight of the cave is a small hole, where you have to crawl on your knees through to get to a second room. The guide explains that we don't have to go through there. This is just an option. If someone doesn't want to crawl through he can just walk down the cave a little bit. Then we would reunite there.
I would like to also crawl through there. But I only have this one pants with me and it looks like I will have a lot of mud on my pants if I try it. And there is still all my equipment which needed to be dragged through. So I decide to take the easy way down the cave as the only one from our group. It doesn't take long until the others show up on the regular path again.
Then we walk through the rest of the cave until we reach the exit. From there it is just a brief hike back to the gift shop where we can wait for the next tour through the Mark Twain Cave. It only takes another quarter of an hour before this tour starts.
This tour is way more crowded. Also the guide is not as good as the other. But they have the cave well illuminated. Also Mark Twain has been in this cave. This is the cave where the roots of the story lays in when Tom Sawyer and Becky Thatcher got lost in a cave.
All in all I don't enjoy this tour as much as the other one. The jokes feel like memorized, the stories are just being told. But most of the people seem to enjoy the tour. Ok, they haven't been at the other tour…
After this tour I set off for to reach my todays destination Quincy. The distance is not really much. First I have to drive back to Hannibal. Just before I reach this little town I see a branch to "Lovers Leap". This sounds like a promising viewpoint!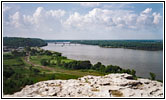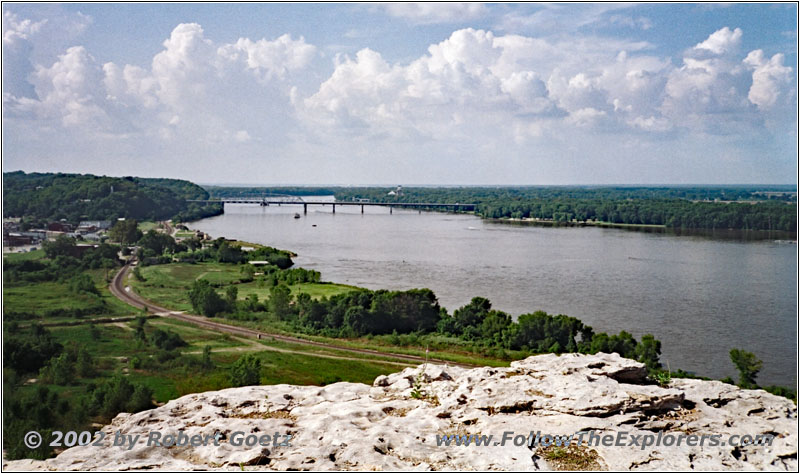 Mississippi River, MO
I take the turn and I am rewarded by a great view of the Mississippi River. The spot is directly at the edge of the rocks. For visitor security there is a fence around. I have a nice conversation with an older guy. He tells me that he had been there a lot as kid with his friends. They were always sitting at the edge, the legs dangling over the abyss. They always tried who was able to spit further than the other. Nowadays he wouldn't do that again. But if you are young…
I soon drive back to Highway 79 and cross the Mississippi River on Interstate 72 after passing Hannibal.
Then I drive on to the exit of Highway 57. This highway takes me all the way to Quincy.
There I turn onto Highway 104 East. I reach the Super 8 motel along this highway. This is the destination for today.
I am lucky and get a room on the first floor. Then my daily routine starts: Packing everything together and carry my suitcase and bag to my room. Then I start to check my videos. After a while I leave for dinner. There is a Ruby Tuesday not too far away. According to my motel they should have good food. So I give it a try.
The restaurant is really comfy. It reminds me a bit of the style of the past. Also the music is more oldie. The only thing, that is really annoying, is the extreme cold air condition. But the dinner is good and plenty. I would return to this place anytime I am in the area.
I even have a chance to talk to my server. She will be in Germany next year. I ask if she will visit someone, but she says no. She will enter the army and then you will also be stationed in Germany. She hopes to be able to visit some relatives there. Her mother is from Germany. I say goodbye and pay around a quarter to nine and drive back to my motel.
Sights
Mark Twain Museum (Fee $6)
Hannibal
Cameron und Mark Twain Cave (Fee $21)
Lovers Leap
General
Breakfast: Mark Twain Diners, Hannibal
Dinner: Ruby Tuesday, Quincy
Motel: Super 8, Quincy
Distance: 67 miles