Zebulon Montgomery Pike Trail to the sources of the Mississippi 1805 — 1806
Day 14: August 24th, 2002 St. Louis — Hannibal
I have breakfast again at Bob Evans. Three years ago on a sunday I had to take a seat at the counter because every table was occupied. There I met Matt & Jean from Detroit who I will visit this year again. But now it's time for breakfast. After that I drive to the next gas station. Around half past eight my trail to the sources of the Mississippi starts!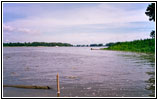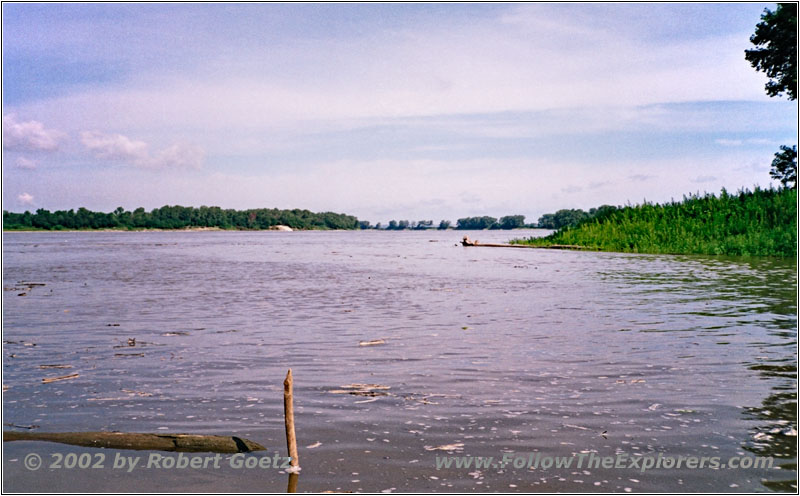 Camp Wood, Mississippi River, IL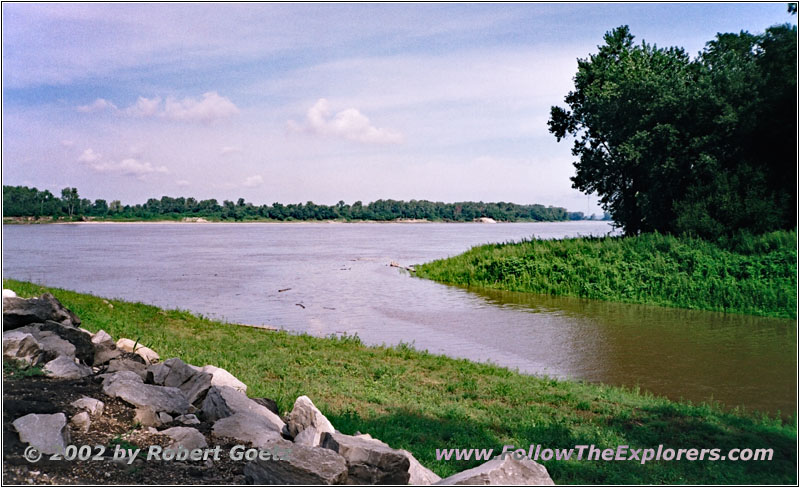 Camp Wood, Mississippi and Wood River, IL
My first destination is Camp Wood, where also Lewis & Clark set off for their legendary trail. I followed that trail three years ago. In the meantime the new Interpretative Center is almost finished. The old Camp Wood sign at the entrance from three years ago has vanished. Now there is the Interpretative Center. But there is still the road down to the river confluence and the memorial place with all the entries of the Lewis & Clark Trail. But I am amazed that there is no hint for the trail which I will follow this year. Pike set off only one and a half year later as Lewis & Clark from the exact same place.
I meet a fisherman at the river banks to whom I talk for a while. He tells me that the water is more than a foot higher than yesterday. It looks like there has been a lot of rain in the north. There is also a lot of driftwood in the mighty Mississippi.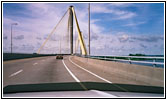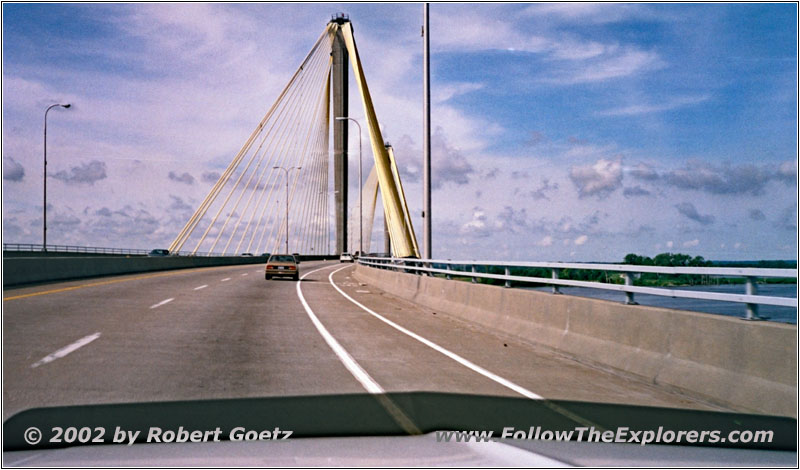 Highway 67, Mississippi River, IL
I say goodbye and drive on to the north. I cross the Mississippi at Alton and follow now the west and south banks. At West Alton I turn onto the smaller Highway 94. There is a lot less traffic than on the bigger highways.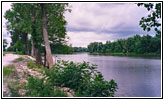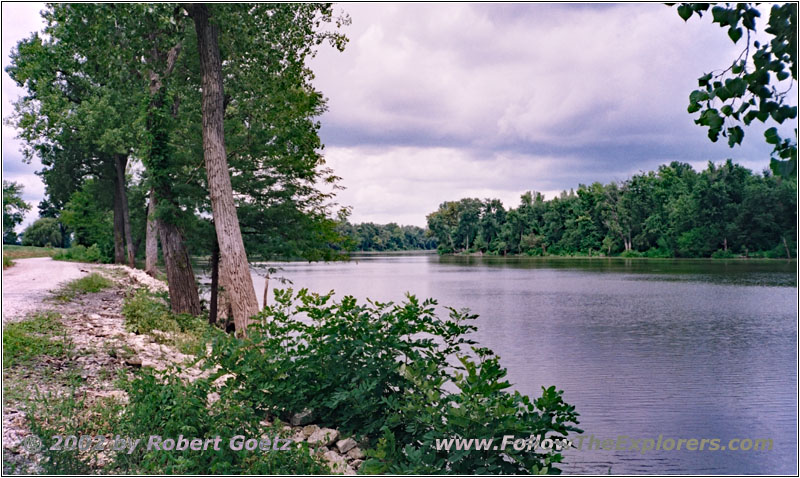 Mississippi River, MO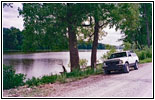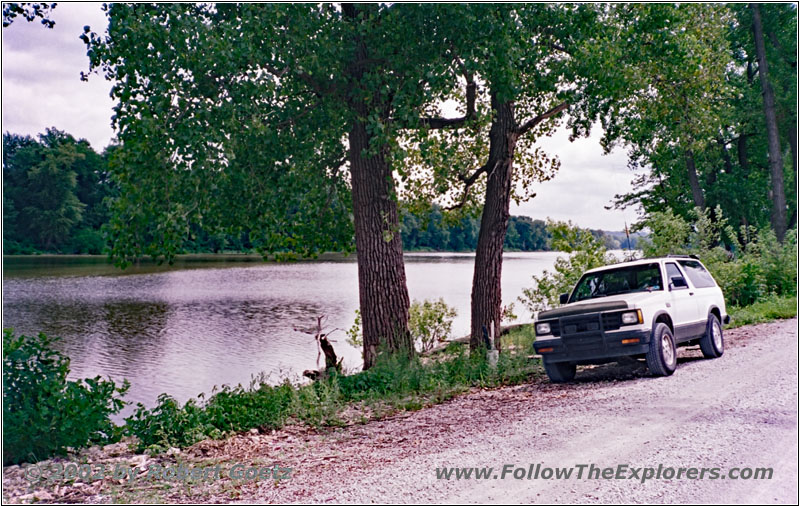 88er S10 Blazer at Mississippi River, MO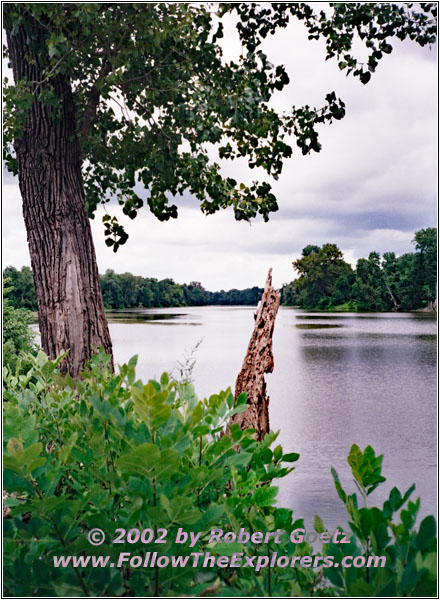 Mississippi River, MO
I follow County Road B to C. A warning sign says that this area is impassable during high water. Hopefully it hasn't rained too much in the north…
I reach the Mississippi river banks as planned on County Road C. But from there I cannot proceed. A stop sign forbids trespassing of this area. So I have to turn around and search for another way to the river banks.
I am able to be back on my originally planned route by just a small detour. As reward I receive a nice dust road which takes me over some questionable bridges to Firma and further on back to the main highway.
I follow Highway 79 to Winfield. At the end of the village, just past the bridge over McLean Creek, I turn onto County Road N. Again I reach the Mississippi river banks on this road. But I am unable to locate the road which should take me along the river banks. I am almost giving up and start my way back. But just before I recross the dam I see a small gravel road which runs along the river banks. I carefully look for any sign forbidding me to take this road. But there is none! So I take the chance and turn onto this nice little road.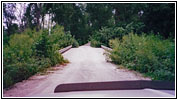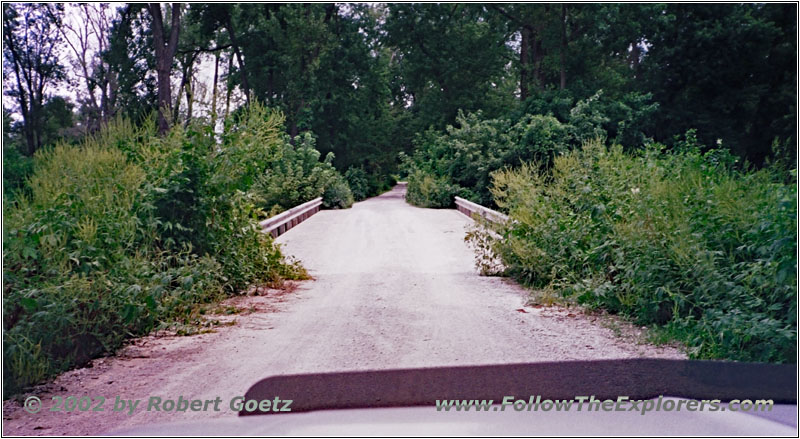 Hatfield Road, MO
The road takes me nicely along the river banks and I have the chance for a lot of great pictures of the Mississippi. When the road opened up I decide to have a brief lunch break. I always have some fruits with me. Then I follow the Mississippi river banks again until another small gravel road takes me back into the country. Unfortunately I haven't been able to drive as far as I wanted. So I have to search again for another way back to the river banks. First I have to drive back to Highway 79. Just past Apex I am able to turn east again. But at a river access for boats is the end of the road. The road I have in my maps is again closed.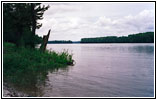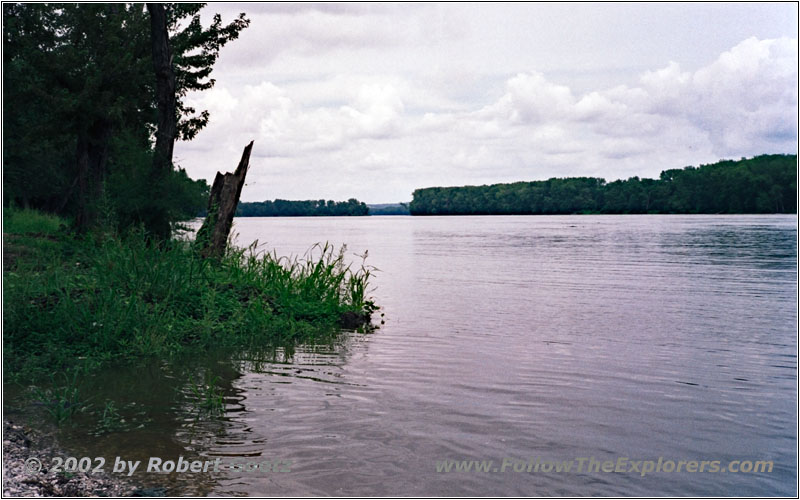 Highway P, Mississippi River, MO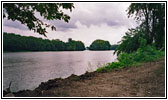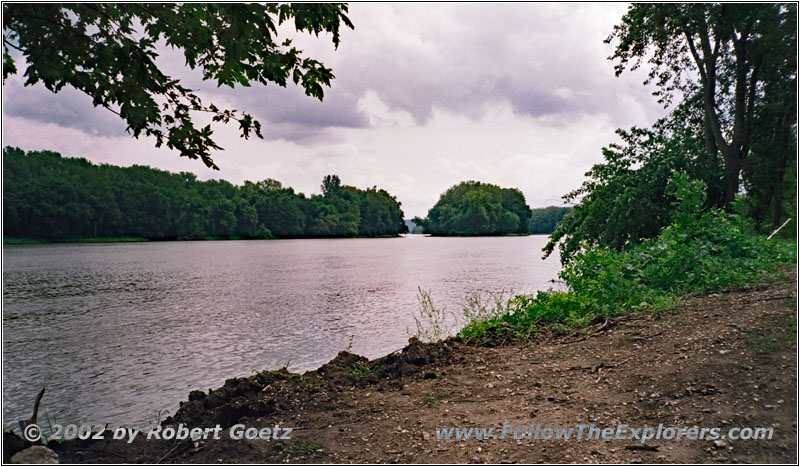 Highway P, Mississippi River, MO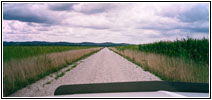 CR202, MO
I have no other choice than to turn around again and drive back to Highway 79. Just past Elsburry I turn onto County Road P. I reach the river banks another time and have the chance for some very nice pictures. Then I have to drive back for a short distance to CR202. On this small gravel road and CR205 and CR210 I reach Highway 79 again.
Now I have to drive a longer stretch on the highway. At Kissinger I amble to turn onto the smaller CR208 to the east. Exactly at the time I arrive a freight train passes the railroad crossing. This gives me the chance to video tape the train while passing me. I am getting more and more happy with my new car pod. With the option to turn my camera I eventually have enough freedom to do nice video clips. After a short time of waiting I can continue my journey.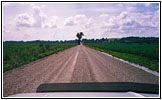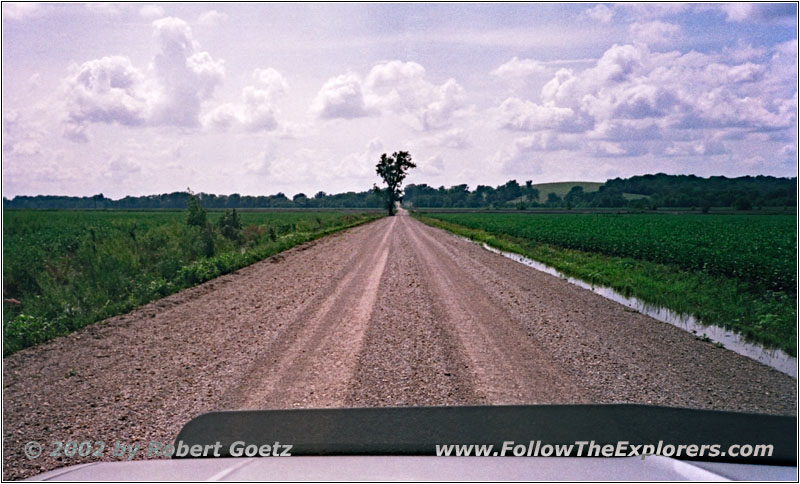 CR202, MO
At the end of CR208 I turn onto CR209. I drive through a small settlement by the river, which is not present on my map. People have learned to deal with high water. All houses are built on stilts or the ground level is just a garage or a place where nothing important will be stored. Everything is very open space. The living starts usually on the second floor. Otherwise the houses would have no chance to survive.


CR202, MO
Then I have to change my direction back to the main highway. Suddenly I see a crane who starts to fly away with a lot of noise. I try to video tape this fellow with my camera. But here I reach the limits of my car pod. Especially when I try to zoom in, because all the car vibration will be amplified in my camera. I have to give up this video taping a little bit disappointed and drive on. In the meantime I am again behind the dam. But not for long, before I can recross the dam again to be closer to the Mississippi River. Unfortunately I am not getting close enough to see the river.
There is still water on the road from yesterdays rain. But it is not as bad that it would stop me from going. I don't even need 4WD. In the meantime the sky is completely clouded. I hope that it will not start to rain. Otherwise I might need my 4WD though. But even with all the clouds the temperature is still in the 90's. Despite getting adjusted a bit to the air condition at Helen's house I leave it off in my car. I usually have a good chance to catch a cold when using an air condition and my schedule has no offtime for being sick planned in…
I reach the main highway again at Clarksville. This was also the last chance for being on gravel roads for today. Now I will have to stay on Highway 79 north. I pass big and wooded lime stone hills where the Mississippi demonstrated his power impressively. Then the highway takes you close to the river banks, only to make another turn back into the country. I drive through Louisiana and some other small villages, which names I cannot remember.
I follow now the Great River Road, who closely follows the Mississippi River banks. Sure these roads are bigger roads. The landscape is getting more and more hilly. I have the impression, the road has been just layed over these hills without any equalization. But this way the road keeps the charme of this landscape. On one of the hills a road sign diercts me to a viewpoint. But when I arrive there, I only see high bushes and trees. Maybe this was a nice viewpoint 30 years ago. But now everything has been grown in…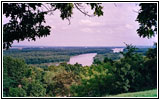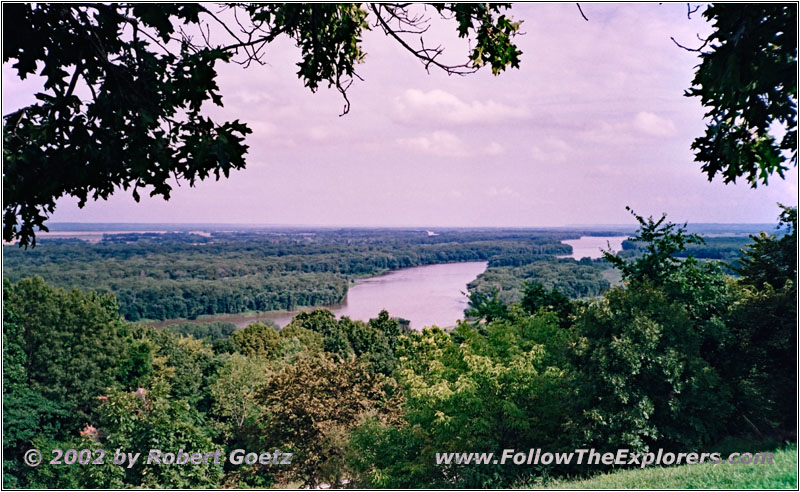 Highway 79, Mississippi River, MO
I follow again Highway 79 and after a while I see another viewpoint sign. Despite my bad experiance from the last stop I give it another try. But this time I get rewarded for my side trip. I have the chance to video tape a nice view of the Mississippi River. Then I drive on. Soon I leave the hills behind and the landscape gets more level.
I reach Hannibal, my destination of today, already around half past four. After a brief search I find the Travelodge motel, where I plan to stay for tonight. I am almost too late due to being Saturday. I get the last non–reserved room. Looks like I have been lucky! But I have to drag my luggage again on the upper floor. Not fun thinking that my suitcase weights around 65lbs. Eventually I arrive at my room. I am good in time therefore I start to take a look at my video taping from today.
Just past eight I leave for dinner. The TJ's Supper Club has been recommended to me as a restaurant for good steaks. I almost miss it, but I see the highway turnoff in the last moment. The restaurant looks really genuine. But it also looks pricy. Don't mind, main thing is the steaks are good. The menu confirms my suspicion. Main dinner options are filets, but only 8 ounces. The only 12 ounce I can see is pretty much at the end of the menu. I am amazed that this is even cheaper. But I don't think of anything bad with it. I am definitely hungry!
When I receive my "steak" I know why it is cheaper. I have ordered grounded beef! Now I know what that term means! I am only wondering why my server has said nothing to me when I ordered it medium well. Usually grounded beef will always be well done. No wonder that I am not really happy with my dinner. I am looking envious to the people at the other tables who understood the menu…
Just a quarter past nine I drive back to my motel. There I type in the GPS positions for tomorrow and do my bookkeeping. Then I go to bed. Tomorrow I want to try to get out of bed early. It is Sunday and if I am too late things might be crowdy.
Sights
Camp Wood
Mississippi River
General
Breakfast: Bob Evans, St. Louis
Dinner: TJ's Supper Club, Hannibal
Motel: Travelodge, Hannibal
Distance: 217 miles