Zebulon Montgomery Pike Trail to the sources of the Mississippi 1805 — 1806
Day 17: August 27th, 2002 Ft. Madison — Davenport
Today I ask for a nice breakfast place before I leave. They recommend the Cottage Café, which has a real good breakfast. I pay around nine and start my tour. I found a post office yesterday. I stop there to get some stamps to eventually mail my postcards back home. Surprisingly they only have old stamps which are not self adhesive but needed to be wetted!
But the lady at the counter has mercy with me and borrows me her stamp sponge. Now I can start to get my postcards ready. After a quarter of an hour I made it and I line up again to return my item on loan. She also takes my postcards and I am ready to roll.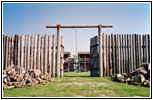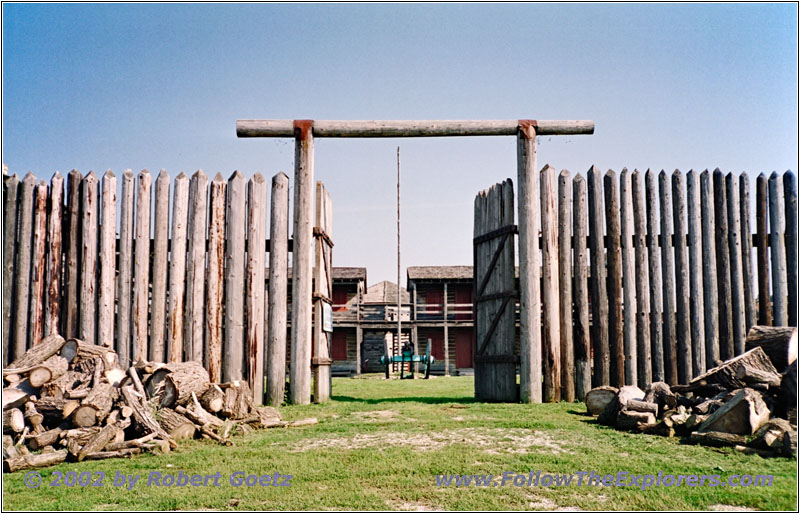 Old Fort Madison, Mississippi River, IA
First I need a gas station. Then I drive over to Old Fort Madison. Today is Tuesday and according to my plan they are propably closed. But I give it a try anyway. Unfortunately it is really closed. There are only a few gardeners cutting gras and cleaning up the Fort. I only have the chance to take some pictures from the outside.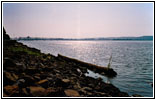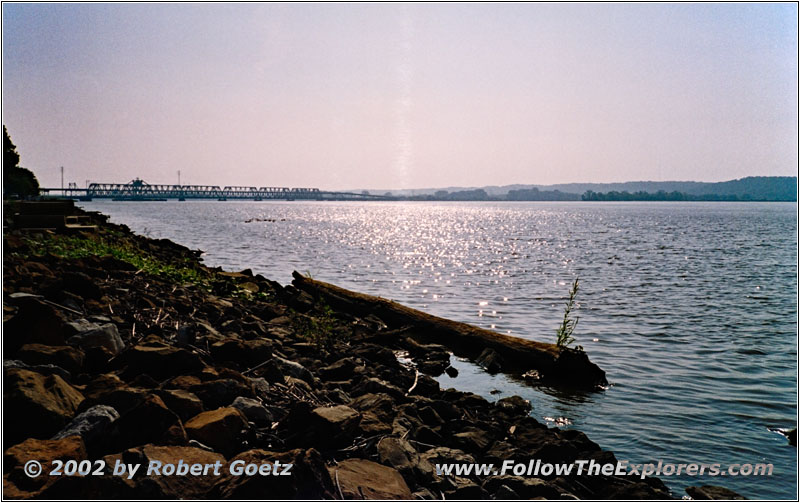 Park Fort Madison, Mississippi River, IA
Beside the fort is a nice park with fountains. I meet an older couple there. They ask me if I do this for living: Not yet, but who knows what the future will bring. We have a nice chat and they tell me that they have already been at the sources of the Mississippi River at Lake Itasca in Minnesota. He also tells me that the river is there so narrow that you can literally walk over. I am really getting anxious to see that place!
I say goodbye and walk further at the river banks. This gives me the chance for some nice pictures of the mighty Mississippi. Also the gates of the fort are open and I am able to take some pictures from the inside while staying outside. All in all I needed much less time as originally planned.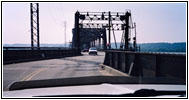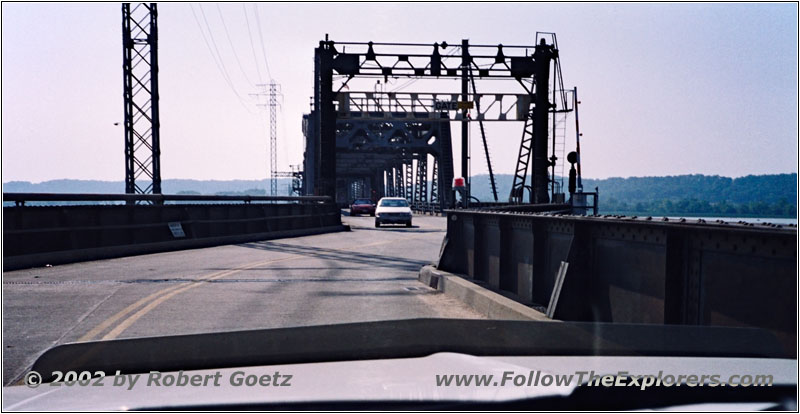 Fort Madison Toll Bridge, IA to IL
Around half past ten I drive on to the bridge I have already seen from the fort. I also passed this bridge yesterday. The bridge is one of these typical old metal bridges which can be lifted for higher vessels to pass underneath. After accessing the bridge I have to drive around a small corner. Now I see why this bridge is less crowded: It is a toll bridge. But the fee of $1 is really reasonable. My reward are some nice pictures out of the car while driving over the bridge.
On the other side I turn onto Highway 96 which takes me now along the eastern banks of the Mississippi River. At Lomax I turn onto CR700E which follows the river banks to the north. Exceptionally this is not a gravel road and I make good mileage.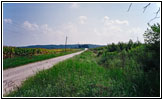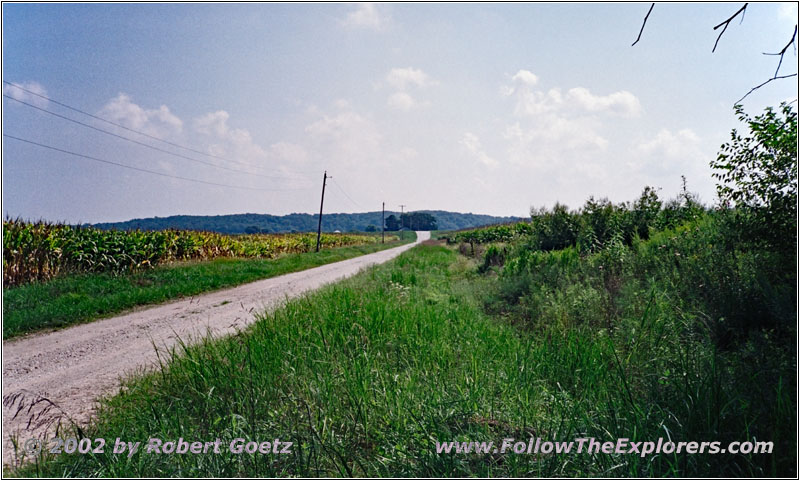 CR900E, IL
Around Burlington I turn onto Highway 34 which I follow for a short distance to the east. Then I take CR900E North. First this road is also paved. But soon it turns into a gravel road again. The soil still shows signs of the last rain. I am sure you are not able to proceed without 4WD when it is wet. Just to be sure I kick in 4WD for the first and only time on this trip. There is a short stretch of 7 feet length with water. The ground looks muddy and I want to be sure not to get stuck. But I have no issues and I am able to continue to Highway 164.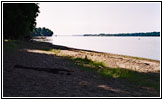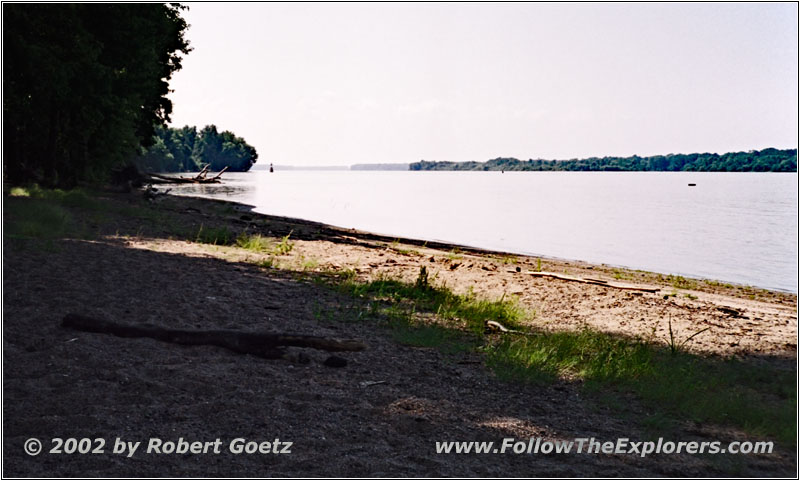 Mississippi River, IL
I follow this highway to the Big River State Forest exit. There is a picknick and camping area along one of the Mississippi side arms. It's already noon and a perfect place for a lunch break and have some of my fruits. There is no one in the park. There are only two park rangers at the entrance who do some maintenance work. The shade is very comfortable — if there wouldn't be all the mosquitos. Therefore my break will not be as long as originally planned and I continue my journey to the north.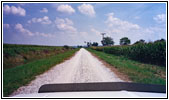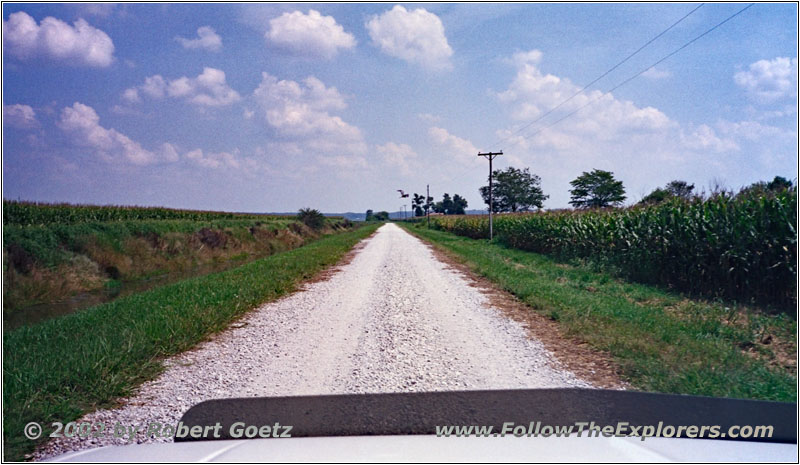 CR1100N, IL
First I take CR825E, then CR775E North. One road I planned to go is once again closed to through traffic. So I have to drive a short distance back to Highway 17. I follow this highway to the west and after a couple of detours I am finally back on my originally planned route — a gravel road for sure.
But it is hard to follow the river in this area. The roads are built for the farmers and follow more the fields rather than the river. So I am able to see the dam all the times but very seldom the Mississippi.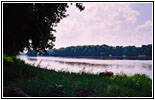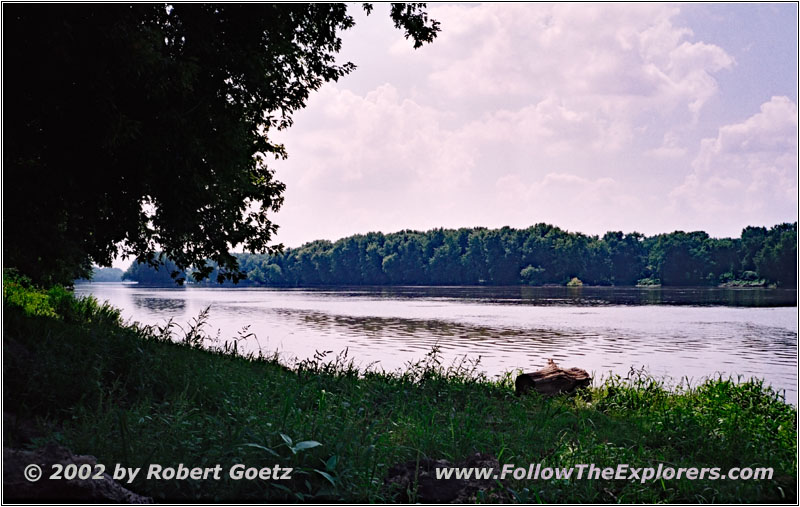 Mississippi River, IL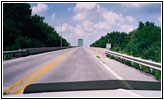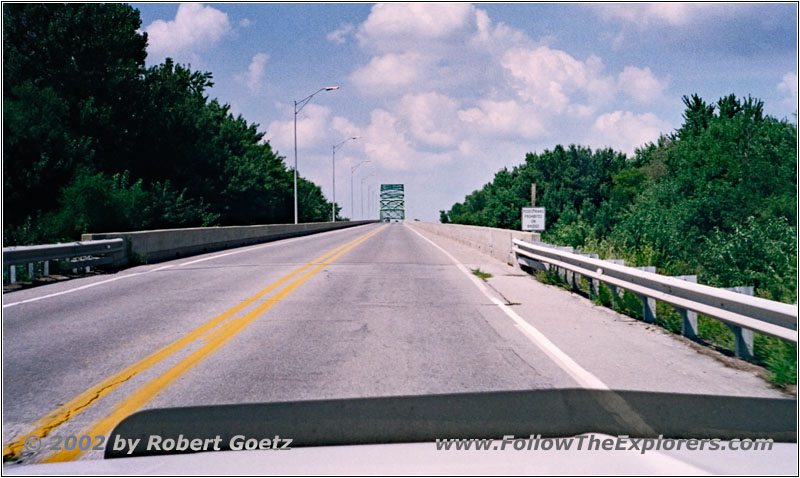 Highway 92, IL
I am able to do a side trip to a river access for boats. Then I have to drive back. After a couple of miles I reach Highway 92. This highway takes me over the Mississippi to Muscatine, where I turn onto Higwhay 22.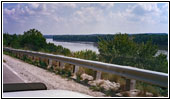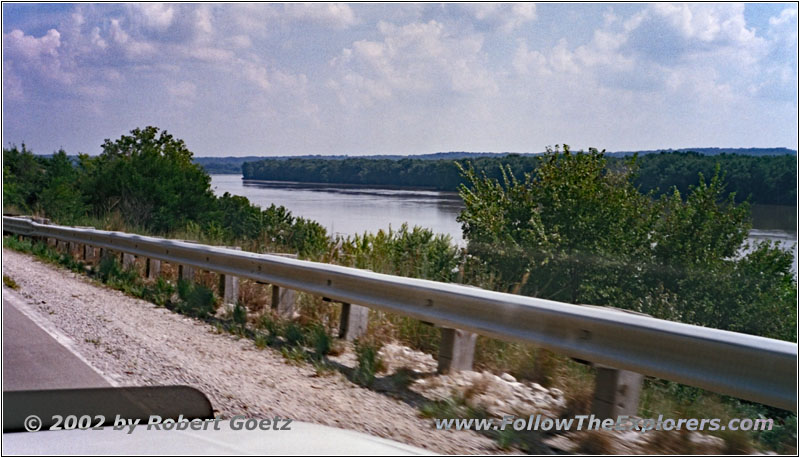 Mississippi River at Highway 22, IA
Now I am travelling really fast along the north and west banks of the river. There are some nice views of the Mississippi from this highway. Unfortunately this is a bigger highway which forces me to take the impressions of the landscape from the moving vehicle.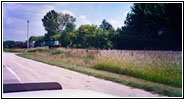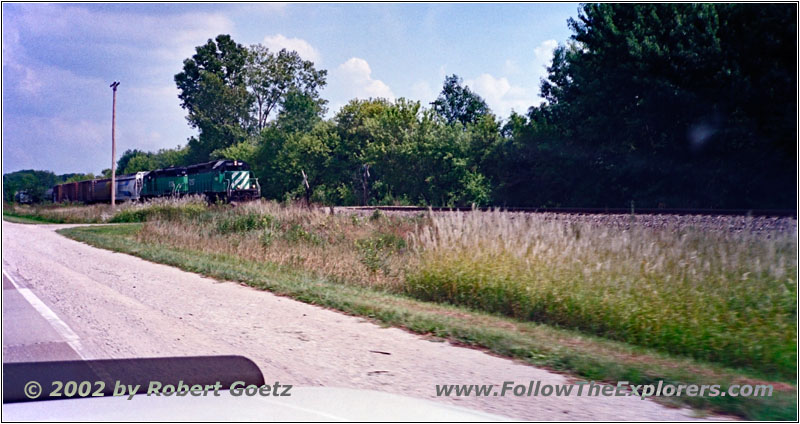 Train at Highway 22, IA
I follow this highway all the way to Davenport. There I take Highway 61 which takes me through Downtown to the north and my destination of today: The Motel 6. I am already checking in around 3pm. But it is good to be so early. This gives me the chance to look for a Jiffy Lube to do an oil change.
I ask at the reception and they describe the way how to get there. It isn't far away. But it is not a Jiffy Lube but the competitor Pennzoil. I am lucky and there is no one ahead of me and they can take me in immediately. They also have synthetic oil and they start to work. After the usual try to sell an air filter the employee tells me that he is unable to open the oil drain plug. He suggests that I shall follow him down to see what the problem is. There is already an oversized drain plug installed and he is afraid of taking it out because he might not be able to get it sealed again. But he suggests to go to a mechanic, VP Auto Service & Repair, not too far away from here. People only tell the best of them. Hopefully that is not nepotism.
I say thank you and follow the way description. But I am not able to find the mechanic. After a while of searching around I return to the shop and ask again for directions. They show me on a map how to get there. Now I realize which branch I missed. I say thank you again and start my second trip. This time I find them, whereas I almost passed the little shop.
A mechanic lady welcomes me at the front desk. If I have some time they can take me in right away. I haven't expected this much of a luck. They take my car on a lift and see where the problem is. They are amazed that the guys at the oil change station where afraid of taking the plug out. The problem is not a damaged thread in my oil pan but the plug itself. It just turns endless at the end of the threads.
After a short time they have the drain plug out. They ask if they should do the full oil change service where I happily say yes. But they have to get the synthetic oil first, which is not a problem. I chat a little bit with the young mechanic in the meantime. He asks if I am a storm chaser. I have the same equipment like them with car pod and GPS.
I am sorry to say no, even when I am really honored that he thinks I am one of them. He tells me that he was travelling with one of them last year. He learned a lot and it was a real adventure. In the meantime he is really good in detecting if there is tornado weather. Last year a tornado went over his house. But he realized early enough of what was going on. Luckily there was no touch down of the tornado and there was not too much damage. Only a couple of windows broke.
In the meantime also the senior mechanic is with us. I assume he is the shop owner. He works very accurately. The new drain plug is being reworked by him almost lovingly and he screws it in very precisely. I think no one has ever screwed a plug in this car so carefully.
We talk for a while and he tells me that he also has been once in Germany. Then his colleague returns with the oil. Now they can get my truck ready. They even give me a discount because they currently have an oil change special. Usually it is only for returning customers but they make an exception for me. That is really nice!
I say thank you and give them my credit card. But at the moment the phone lines are down. It looks like the digger has torn the line apart when opening up the street. But they will take a note of my card number and this will work even without my signature. He also signs on my bill that I have paid in full because I have no receipt.
Hopefully they really receive the money. Otherwise I have to arrange a transfer from Germany which is very costy. But I am glad they were able to help me out this easily. I say thank you and drive back to my motel around 6pm. Lucky me I was at my destination this early. Otehrwise I would have not been able to manage the repair today.
Unfortunately while driving back I hit the commuting traffic jam. When I finally arrive at my motel I start to check the video taping of today. Then I leave for a restaurant. I have seen an Outback in the phone book. After a brief search I am able to find it. I drive into the parking lot and walk over to the entrance. I am amazed that everything looks different like the other Outbacks I have been in.
When my server takes me to my table I see my mistake: I am not in the Outback but the Cheddar's, the restaurant just before the Outback. In the dark it looked to me that I have taken the entrance to the Outback — my fault. But I don't want to leave now so I give it a try.
The interior is also very nice. The prices are similar to Outback. The only difference is that I might be able to skip sides and salad. But I take the full set as usual. I am really hungry. The steak is also very good. Even the salad is giant with a lot of dressing. All in all it is great. I pay around a quarter to nine and drive back to my motel.
Sights
Old Fort Madison
Fort Madison Toll Bridge (Fee $1)
Big River State Forest
General
Breakfast: Cottage Café, Ft. Madison
Dinner: Cheddar's, Davenport
Motel: Motel 6, Davenport
Distance: 154 miles