Zebulon Montgomery Pike Trail to the sources of the Mississippi 1805 — 1806
Day 18: August 28th, 2002 Davenport — Dubuque
Yesterday I saw a Bob Evans where I plan to have breakfast today. I arrive without a big search this time. Just a quarter past nine I have finished breakfast and drove over to the next gas station. At half past nine I start my trail of today.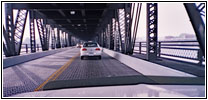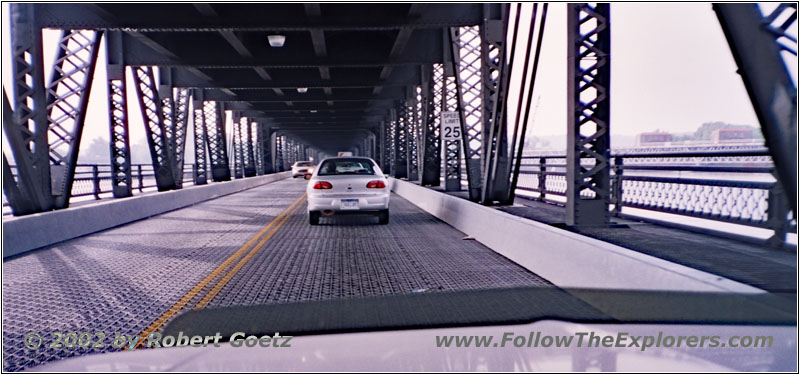 Government Bridge, Davenport, Iowa, to Rock Island, IL
My first destination is the Mississippi River Museum at Rock Island. A small bridge is the road to this island. When I arrive there is already a traffic jam. This bridge is a lifting bridge and currently a vessel is passing. After a little bit of waiting I can continue my journey. I am amazed that they don't charge a fee for this bridge.
A sign shows the museum is at the left on this island. But this would take me directly into an army area. This looks a bit too risky for me thinking of my mounted camera and all my technical equipment. Therefore I turn to the right and completely cross the river.
At the other side I take a look at my map how to continue. The best would be to recross the river and drive from there to LeClaire to visit the Buffalo Bill Cody Museum. Therefore I cross the river again, but on a different bridge and take Highway 67 East.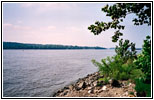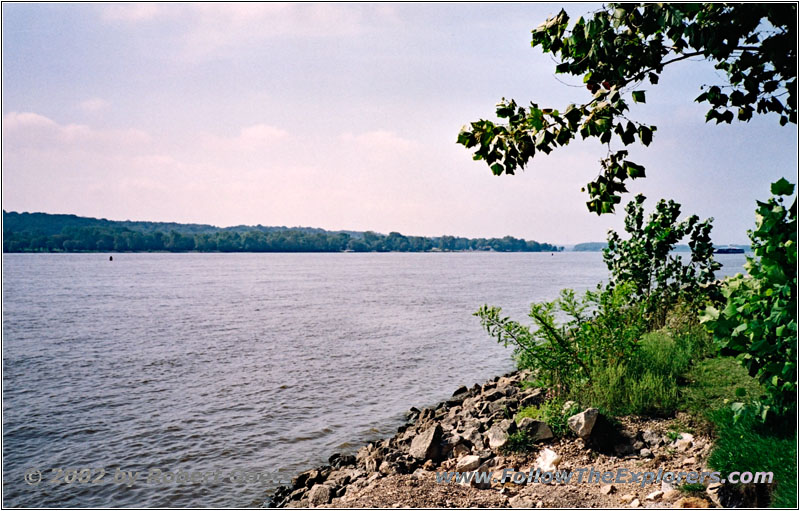 Mississippi River, Highway 67, IA
Dam 14 looks like a good place to stop and take a picture of the Mississippi. There I meet a guy who is there with his little daughter. We talk for a while and he gives me some good hints for nice spots for pictures and video taping. He also gives me a good description of the way to the Buffalo Bill Cody Museum.


Buffalo Bill Museum, Steamer Lonestar, IA
I say goodbye and continue my journey to LeClaire. When I arrive there his way description matches exactly. The museum is small. Anyways there is not only information about Buffalo Bill Cody but also about the time he lived in. For my taste, there is not enough information about the main guy. Additionally there is a stern–wheeler to see outside the museum: The Lonestar, which is the last of his kind built by wood. Unfortunately it is pretty much rotted in some spots, but they are very busy renovating everything. Currently they are waiting for money from the government. They hope, they will receive enough to preserve the ship for future generations.
This vessel started in 1869 with paddle wheels to the side. To fire the engine they used wood until 1899. It is assumed that it was built to carry logs down the Mississippi. In 1899 they switched the engine to coal. At this time they also added the "Texas" deck with 4 staff cabins. The vessel was in operation until 1968. From then on wooden ships were considered to be too risky and have been taken out of service.
The lady at the counter tells me that there was another highlight, which cannot be seen anymore. Before they started the dam there have been rapids in the river. To navigate through there has to be taken a pilot on board. The place to stop and pick him up was marked by a tree, which died around 50 years ago. But for every vessel this was the spot they were forced to stop.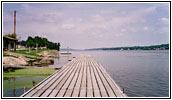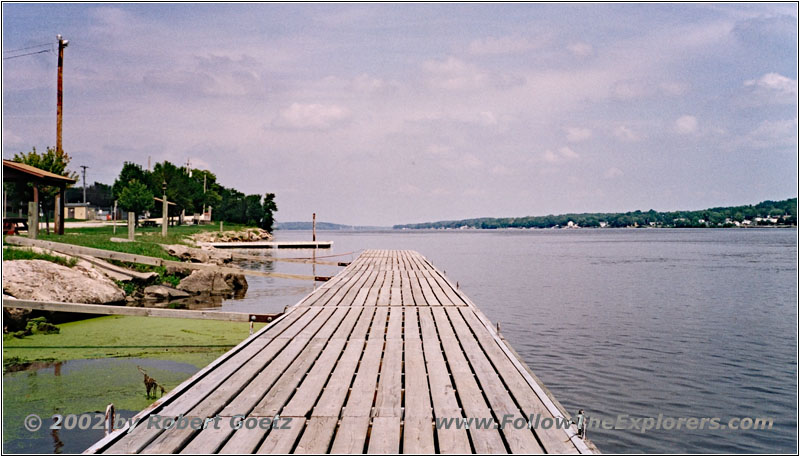 Mississippi River, Buffalo Bill Museum, IA
After visiting everything I go down to the landing stage and take a couple of pictures of the Mississippi. I leave the museum around 1pm. It's only a short drive back to I–80. It feels like I have already been there one day. After a while of thinking I remember that I passed this area last year on my way to Montana. Now I cross the Mississippi and take Highway 84 North.
Lucky me this highway also takes me along the river banks for most of its way. But it is a big highway and this forces me to take pictures and do video taping while driving.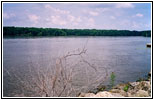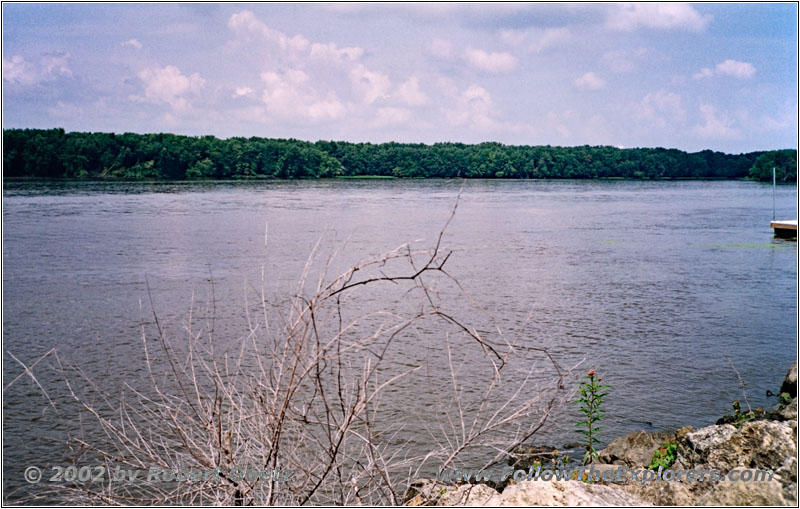 Mississippi River, Albany, IL
At Albany I drive down to the slipway. There is a decent stop to park and I use the opportunity to eat some of my fruits. I only make a brief stop and drive on after a quarter of an hour.
Just when I left I see in the corner of my eye, that something has fallen down. First I thought my camera has been fallen again. But this should not happen anymore with my new car pod. When I look over I see that my polar filter with sun protector has fallen down. It seems like I have not screwed it tight when I changed it the last time. After I screwed it on again it looks like everything is fine again.
I continue on Highway 84 to Clinton. There I take Highway 30 West to get back to the Mississippi. Now I would be at the destination of today. But it's not even 2pm. Therefore I decide to skip the sights around Galena and continue to my destination of tomorrow: Dubuque.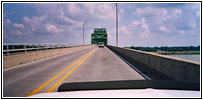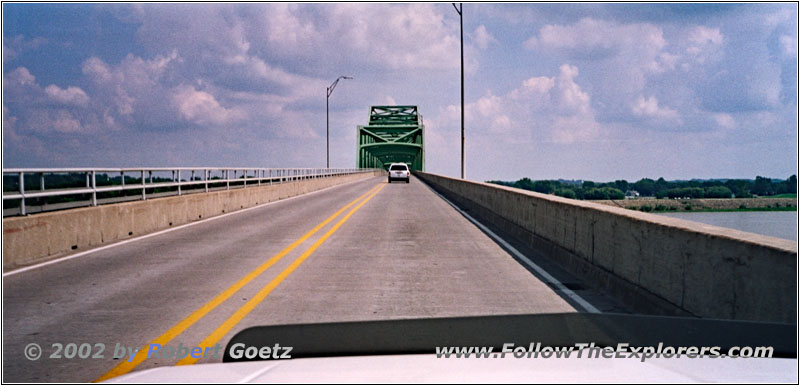 Mississippi River, Highway 136, IA
I take Highway 130 East in Clinton and cross the Mississippi another time, now a little bit further to the north. There is a van driving in front of me over the bridge. I am getting afraid when I see that he is getting closer and closer to the side of the bridge. Just in the last moment he encounters that he almost hits the concrete wall and turns his vehicle back into the lane. Seems like he missed where he is going by looking at the river.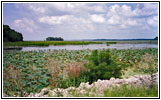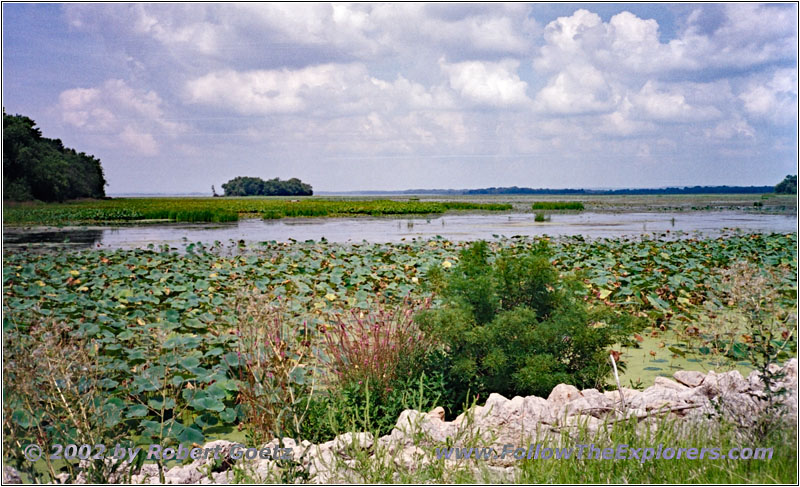 Mississippi River, IL
At the other side I take Highway 84 North again. Just before Thomsom there is another chance to reach a side arm of the river. There is also almost no traffic. The whole area is grown over with water reed and lilies. This is just an awesome view. I use the opportunity for some nice video and photo shots and then drive on.
I follow the river all the way to Savanna. Then the highway takes me into the backcountry, because there is another army station at the river. I try to return to the river banks around Hanover on a small backroad. First I miss the branch, but the next turn was the right one.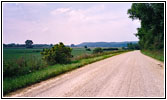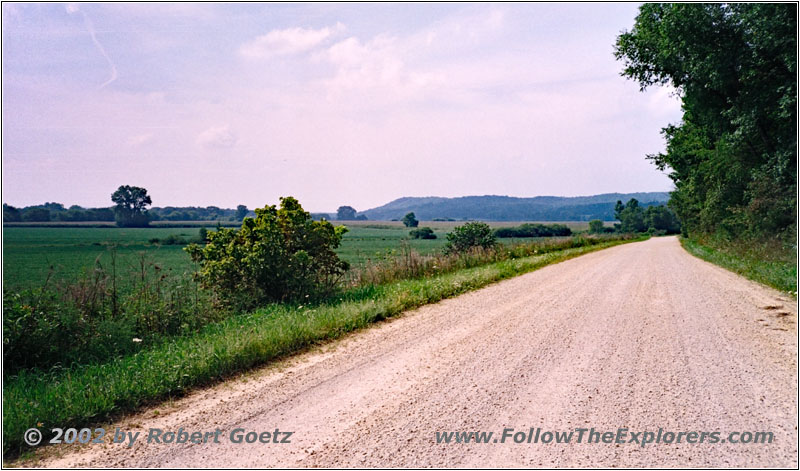 River Road, IL
Just past Highway 84 makes a turn to the right and crosses a small bridge there is another branch along a small channel. I follow this road all the way to the next turn to the right. Now I am driving in direction of the river. As there is eventually no traffic around I can take the time for videos and photos.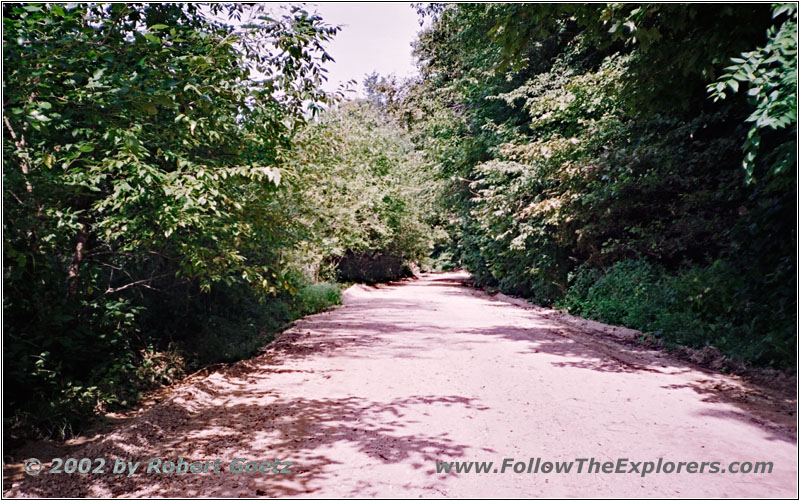 Diggin Hill Road, IL
But the luck of driving along the river banks lasts not very long. Soon I reach a sign which warns me of an approaching road closure. So I have to drive up a hill and I have to follow the river way back in the country. Soon I reach another branch to the Chestnut Mtns but I cannot proceed further. The road ends at a luxury hotel resort and I have to turn around.
I have more luck with the next try — even when I almost missed the branch. It takes me back in a pointed angle and is easy to miss. I can follow the river banks for a short distance, then I have to drive back into the backcountry.
After a steep uphill ride I reach Galena. This little town shows its German roots. But I skip my visits there and continue on Highway 84 to the branch of Highway 20 West.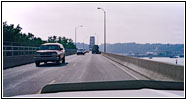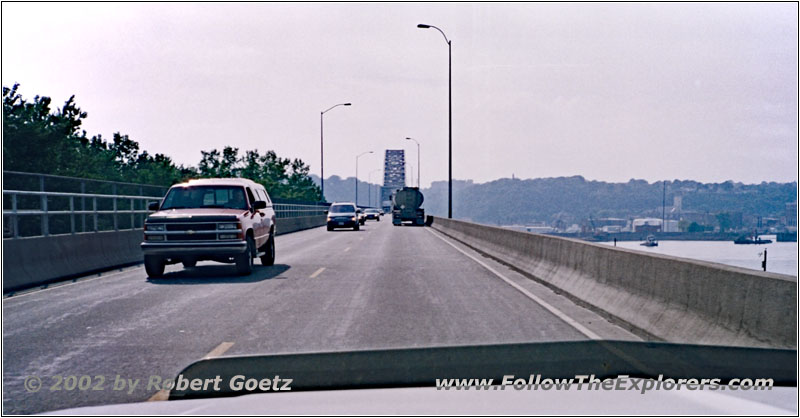 Dubuque, Mississippi River, Highway 20, IL
I cross the Mississippi on Highway 20 to Dubuque. Within the city, the highway follows a really weird path. I don't know how, but I am always in the right lane to stay on Highway 20. I leave the city also on this highway. Now it shouldn't be far to see my Super 8, where I plan to stay for today and tomorrow. But I miss the road to the left and I have to drive on to the next traffic light. There I turn around and eventually reach my motel.
Two electricians from the road enter the motel just before me. It takes a while until I am able to check in. It's already 5pm, but I still get a room on first floor. I ask for a good dinner place and they recommend the Los Aztecas. Also the next working guy waiting behind me confirms that.
Seems like that is the place to go. I take my stuff out of my car and start looking through my video tapes. Then I walk over to the recommended Mexican Restaurant. Today I am allowed to drink a beer because I don't have to drive. They don't have a Samuel Adams, but a Corona. The dinner is great! I would have not expected that it is this good! Seems like I will be also there tomorrow night. I pay my bill around half past eight and walk back to my motel.
Sights
Buffalo Bill Cody Museum (Fee $2)
General
Breakfast: Bob Evans, Davenport
Dinner: Los Aztecas, Dubuque
Motel: Super 8, Dubuque
Distance: 149 miles