Zebulon Montgomery Pike Trail to the sources of the Mississippi 1805 — 1806
Day 24: September 3rd, 2002 La Crosse — Winona
Yesterday it was pretty late, because of my search for an Outback Steakhouse. Therefore I was not able to wake up early. It's almost 9am when checking out. But I receive a good breakfast recommendation, which is not far away from the motel. The restaurant is named Margee's and is one of these typical American small city cafés. The breakfast is really great. It looks like a very good recommendation, because I only see locals around.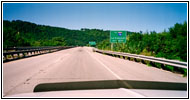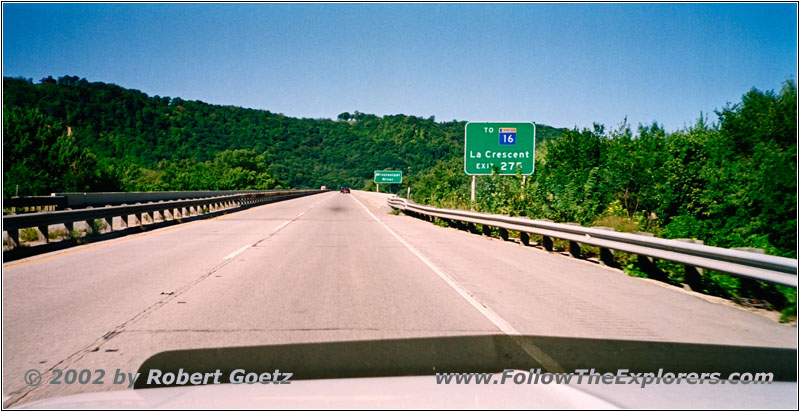 Mississippi River, Interstate 90, State Line WI & MN
Refreshed I drive over to the next gas station. Around ten I leave for the trip of today. First I have to recross the Mississippi again to the west. I follow Interstate 90 to the exit of Highway 3. This highway takes me to the park destination of today: The Great River Bluffs State Park.
At the entrance I see that I am already past season: There is no one at the building, but you have to fill out a form and put your money in an envelope. Unfortunately I am running out of 1's and I have to scratch all my cents together to reach the necessary 4 Dollars. I assume the guy, who will take out the money, will give me names. But I have no other choice…
As usual I plan to drive to the farthest end of the park. But they already closed the camping area. Therefore I am not able to drive to the view points over there. So I drive over to the one most suitable and get ready for my hike. This time I don't forget my mosquito repellent. The last day has literally left traces on my skin. I also take the repellent with me in case I need some refresh while hiking.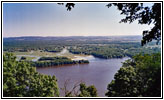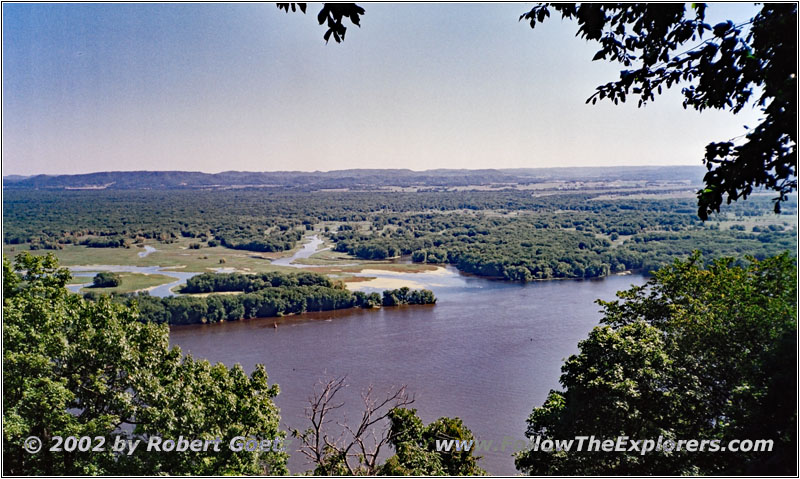 Mississippi River, Great River Bluffs State Park, MN
It 's not far to reach the first view point. From there I have again great views of the Mississippi. Then I hike over to the second view point. From there the hike continues to the view point in the area of the closed camp ground. A lot of birds accompany on my way. I am lucky to get some of them banned on my video tape. Also one of the very shy squirrels was so nice to stay in front of my camera.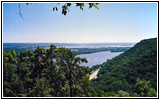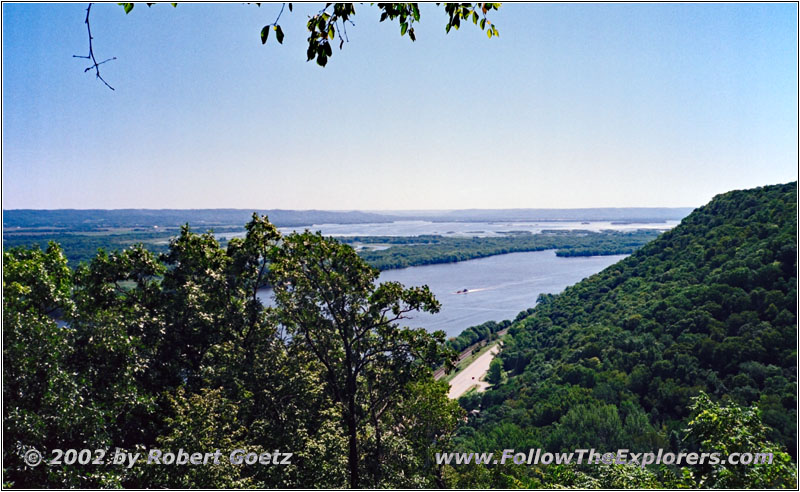 Mississippi River, Great River Bluffs State Park, MN
While video taping another hiker passes me. I am not sure if he is slowly running or fast hiking. But I am sure he has no eyes for all the wildlife in this forest. When he returns after a short amount of time I am sure I am right. Just after passing him I see two ears moving around in the thick brushes: Behind a fallen tree lies a deer well hidden. When I stop it got up and took a precise look on me from a distance.
I mount my camera and try to stay as calm as possible. Between the bushes I am able to get some nice shots with my camera. But suddenly I discover it is not alone! A fawn is with her and is slowly moving through the wood. But it is even harder to video tape then his mother. So I wait patiently and get some nice shots until suddenly the tape is full.
Exactly when the deer is starting to move slowly to the open hiking path. If I do a quick movement now, they will be gone forever. So I try to open my bag as slow and quiet as possible to change the video tape. Now I hate the touch fasteners!
But against all odds I make it. The new tape is inserted and because I am not moving anymore the deer comes closer again. When she arrives at the hiking path 50 to 60 ft in front of me, she carefully sniffs at the ground and immediately looks up again. It almost looks like she wants to leave the impression that she just came along by chances and is only looking for some food. Compared to human behavior it would look like trying to hide curiosity…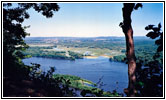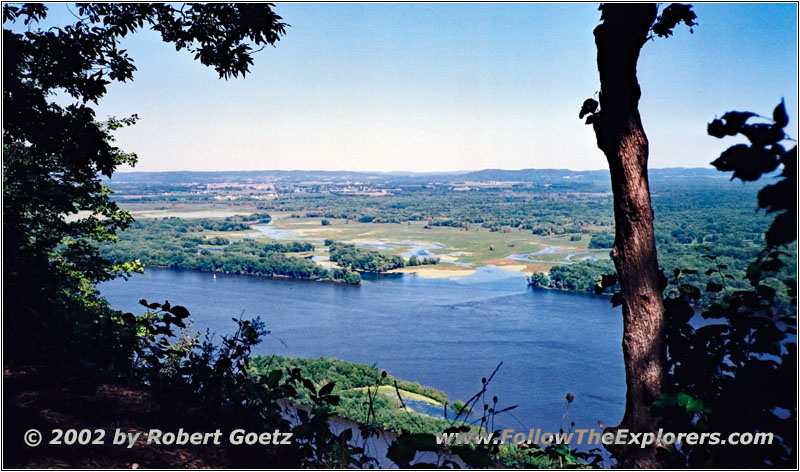 Mississippi River, Great River Bluffs State Park, MN
When she realizes that I have nothing bad in mind she turns around and makes her way into the bushes. There she reunites with her fawn and walks out of my sight. But at least I was able to get some real great shots with my camera. I pack my stuff together and hike the last short distance to the last view point.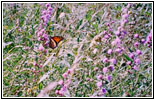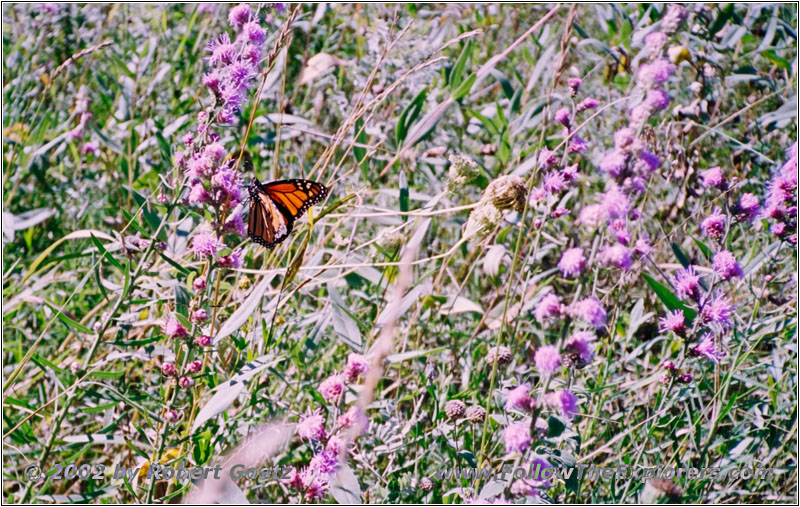 Butterfly, Great River Bluffs State Park, MN
There I have the chance to get again some very nice views of the Mississippi River. Then I start my hike to another view point in the country. The area has a lot of thick wooded hills. From the view point I also get some nice pictures from flowers and butterflies. Then I start my way back to my car.
As I am still good in time I decide to also hike to the most farthest view point in the northwest of the park, Kings Bluff. On my way I see again a lot of birds. But this time I am not able to get them on tape. Finally I reach my view point destination and I am rewarded again by nice views of the Mississippi River.
The mosquito repellent did a good job so far. But now I realize that it comes to an end and would need some refreshing. But I am almost at the end, so I hike back to my car. There I mount my camera back on my car pod.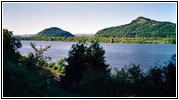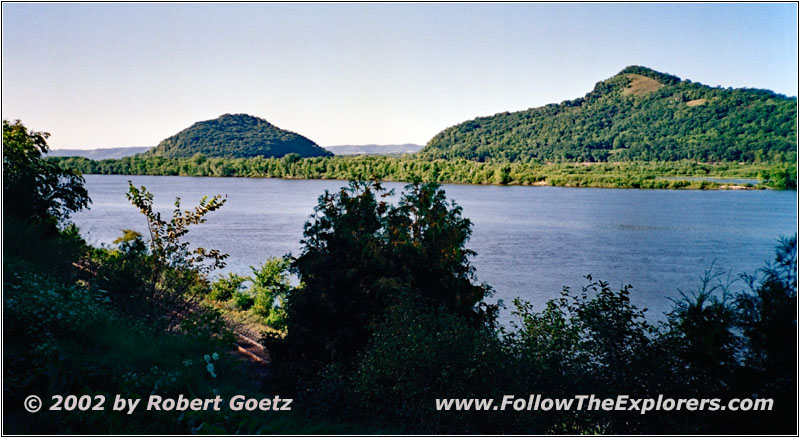 Mississippi River, Highway 14/61, MN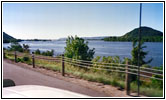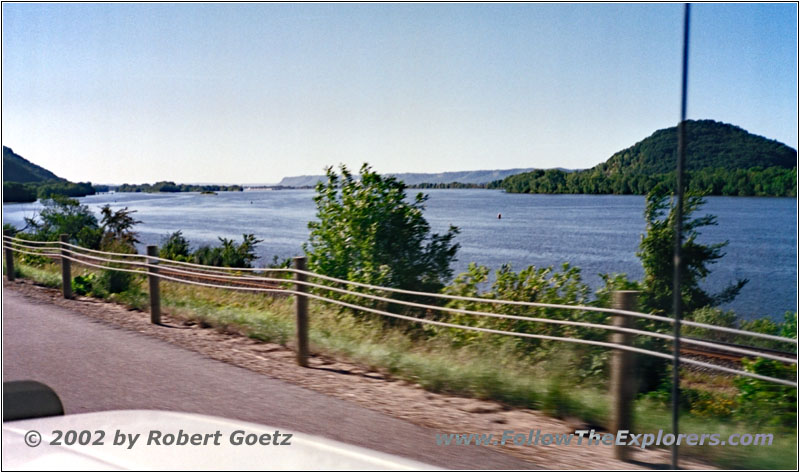 Mississippi River, Highway 14/61, MN
Then I drive back to Highway 3 and from there to Highway 14/16 along the Mississippi River banks. From there I have again great views of the river.
Soon I reach the Super 8 in Winona, where I plan to stay for two nights. There is still another hike planned in the park on the other side of the Mississippi. I check in around a quarter past five with the luck to get again a room at first floor. But the reception guy has no recommendation for a dinner place. I thankfully turn down his advice to go to Country Kitchen or McDonald's. But in the room is one of the Super 8 motel guides where I pick two interesting restaurants in downtown.
After checking all video tapes from today I leave the motel. Already the first restaurant, the Prime Steak'n'Cake, looks really good, so I give this a try. However I have to wait for quite a while at the entrance until the server realizes I am here. She was so busy vacuuming the floor, that she has not realized someone entered the restaurant. I was already afraid, that they have finished for today and I will not get any food here. But I am lucky and they are still open.
I order my usual steak. The dinner is really great and I am amazed that there are not more people around. But the waitress said that this is most likely due to the Labor Day weekend which is just over. I pay around a quarter to nine and drive back to my motel. There I tell the guy about this great restaurant. Now he remembers another restaurant. It's a Mexican restaurant not far away. It's called Chula Vista, which I should try tomorrow. I promise to do so and walk back to my room.
Sights
Great River Bluffs State Park (Fee $4)
General
Breakfast: Margee's, La Crosse
Dinner: Prime Steak'n'Cake, Winona
Motel: Super 8, Winona
Distance: 47 miles