Zebulon Montgomery Pike Trail to the sources of the Mississippi 1805 — 1806
Day 25: September 4th, 2002 Winona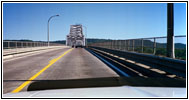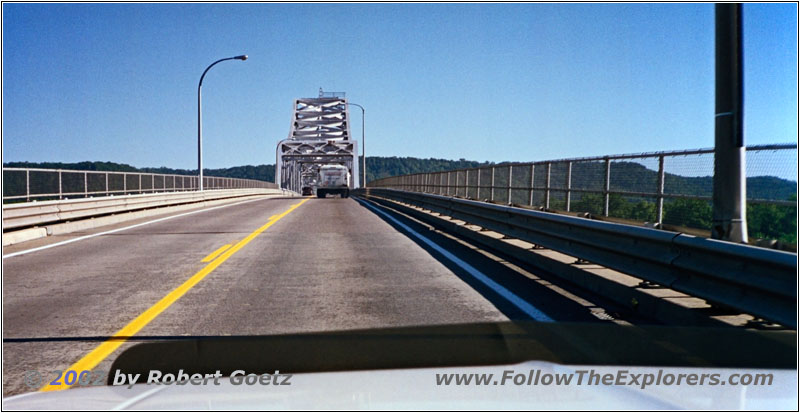 Mississippi River, Highway 54, MN
The "Prime Steak'n'Cake" also serves breakfast, so this will be my place for the morning. Also the breakfast is great there. I am sure I will have breakfast there tomorrow too. Then I take Highway 43 and cross the Mississippi. I skip the gas station this time because I only have to travel a couple of miles to Perrot State Park.
There is also no cashier at the entrance station. But this time I have to drive to the ranger's headquarters in the park to buy my day permit. They recommend to hike the Bradys Bluff Trail. I will have the best views of the Mississippi from there.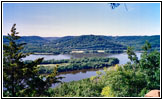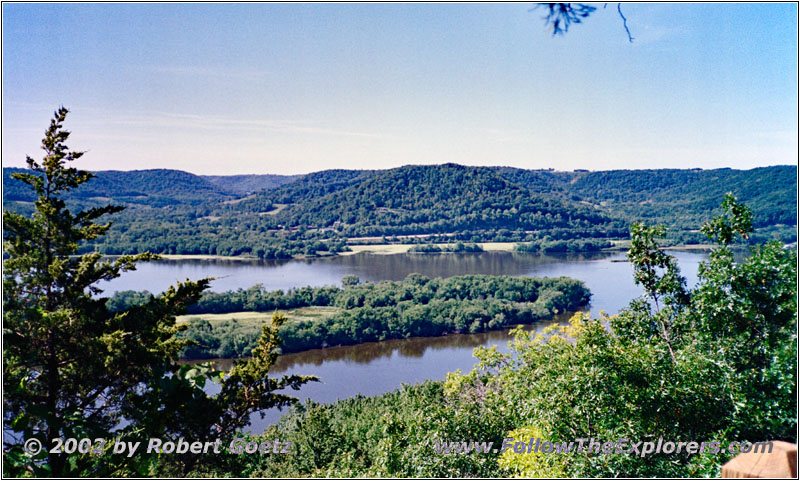 Mississippi River, Bradys Bluff Trail, Perrot State Park, WI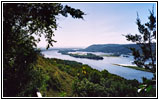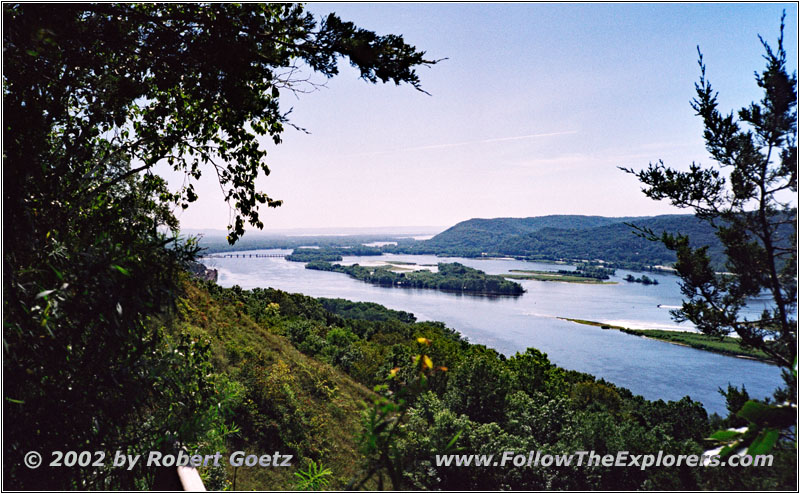 Mississippi River, Bradys Bluff Trail, Perrot State Park, WI
I drive over to the parking lot for this trail. Then I put on a lot of mosquito repellent. Just to be safe I take the little bottle with me. The incline on the hill is steep and sweaty. But I am rewarded with one of the best river views on my trail. I only wish the sun would not burn down this much. Hopefully my bottle of water will last for the whole hike.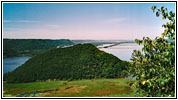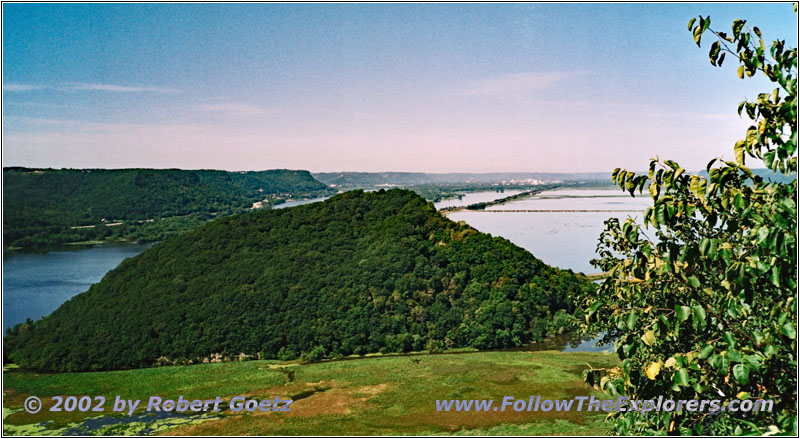 Mississippi River, Bradys Bluff Trail, Perrot State Park, WI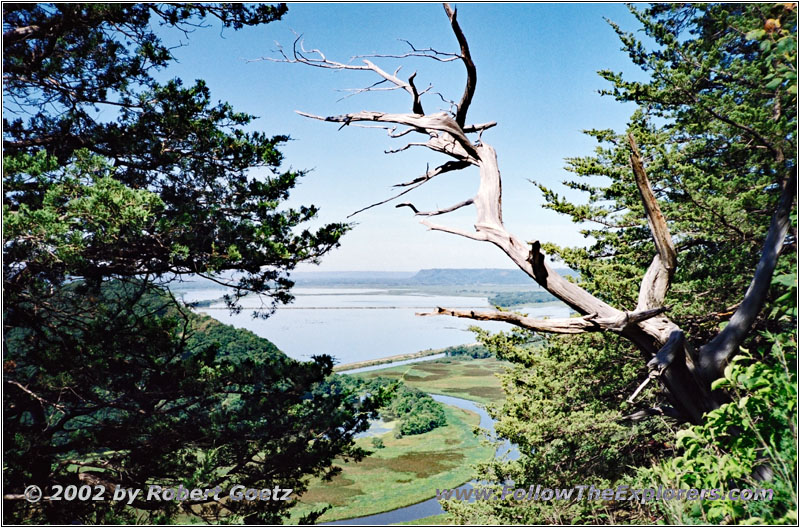 Mississippi River, Bradys Bluff Trail, Perrot State Park, WI
I hike down the hill on the other side and there are also great river views. Down at the river another trail starts, the Perrot Ridge Trail. You can tell that there are way less people on this trail, because the trail is not widened as much — and the mosquitoes are way more hungry. My sweat from hiking up also supports their appetite. When I arrive at the ridge I immediately put on more repellant. This time it didn't even last for two hours! But after freshening up I can enjoy the country again.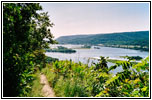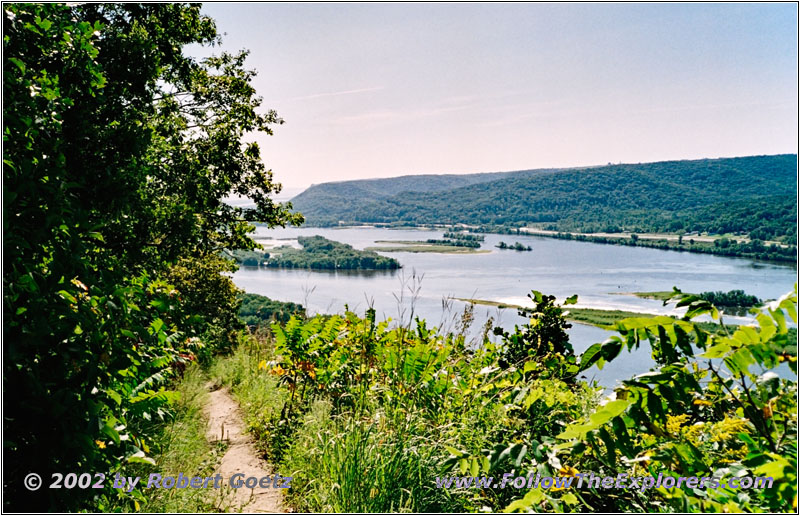 Mississippi River, Bradys Bluff Trail, Perrot State Park, WI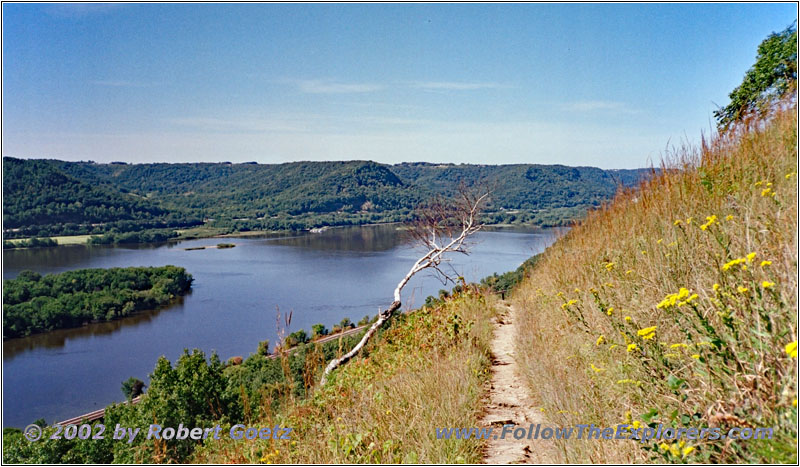 Mississippi River, Bradys Bluff Trail, Perrot State Park, WI
I don't want to hike deeper into the country. Therefore I take the trail to Reed's Peak in direction of the Riverview Trail. The trail passes a parking lot where I meet a couple with their motorcycle and trailer. They are on their way to a biker reunion. They are perfectly equipped for their trip. They have everything in their trailer including a cooler. Not a bad idea to travel with a bike this way. So they have a chance to take with them all they need in their trailer. After a brief chat I say goodbye and hike on to the Riverview Trail.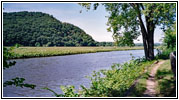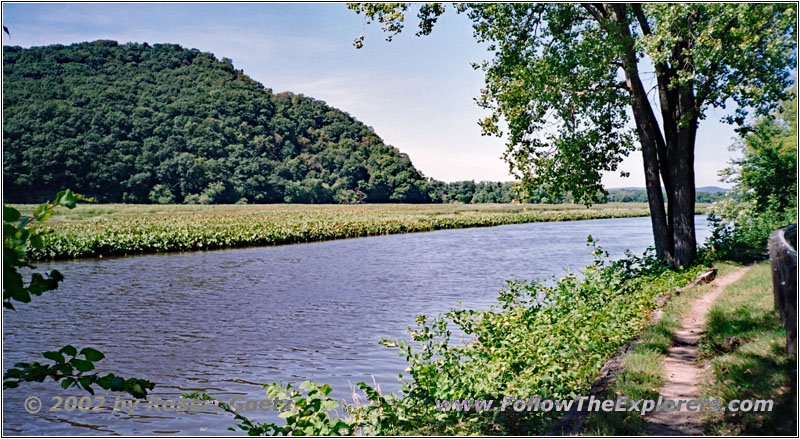 Mississippi River, River View Trail, Perrot State Park, WI
This trail follows exactly the river banks. It's really swampy and boggy there, a real breeding ground for mosquitoes. But thanks to my repellent I have no issues at all. Suddenly I see a crane through the bushes. But when I start to set up my camera and tripod a fishing boat with outboard motor comes around, which scares the bird away immediately — bad luck.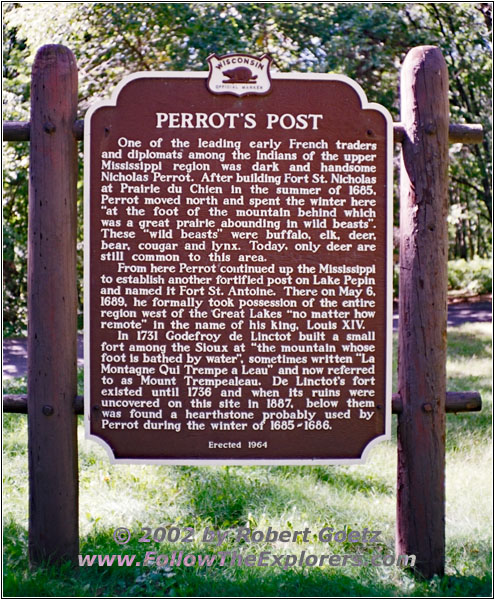 Perrot's Post, Perrot State Park, WI
I hike back to my car and first thing is to quench my thirst after a couple of hours hiking. Then I drive to the park interpretative center. They show you a lot about the nature, plants and all geological correlations. I have seen all this information in numerous other interpretative centers. Therefore I skip spending time there and drive on.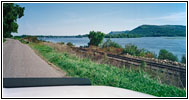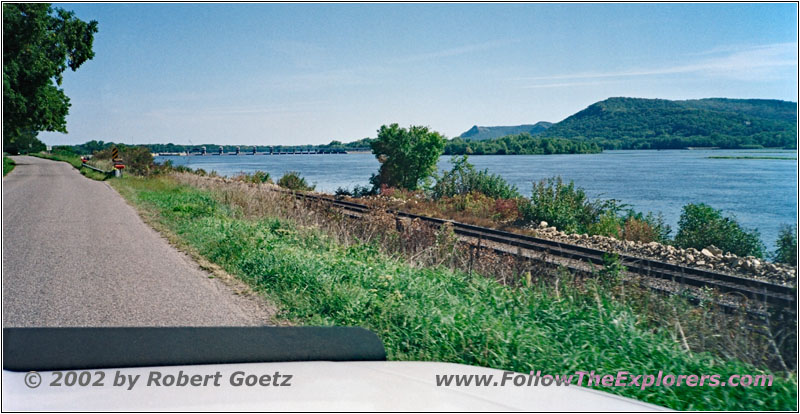 Mississippi River, South Park Road, Perrot State Park, WI
I finish my visit by following the South Park Road along the Mississippi out of the park.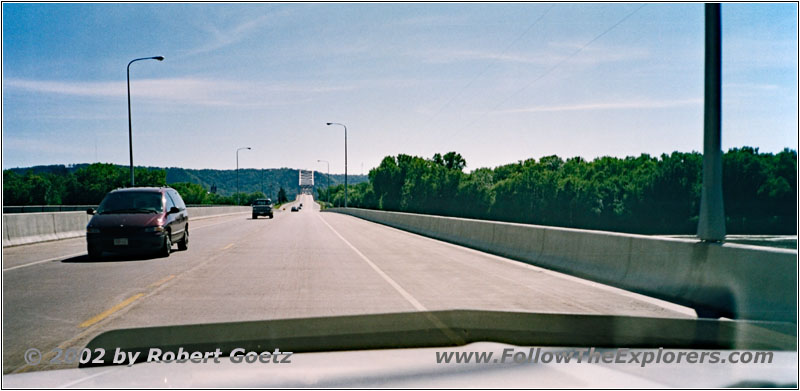 Mississippi River, Highway 54, WI
Then I take Highway 35 and Highway 43 back to Winona. Back in my motel I first take a look at my recordings. Then I program my GPS for tomorrow.
I leave the motel around half past seven to try out the Chula Vista. Today is the same guy at the motel reception as yesterday. This gives me the chance to ask again for directions. It is really easy to find, just down the hill and then I will see it on the left side. Sure I miss the crossing. But I can turn around at the next traffic light to reach the restaurant.
The interior is really comfy. They are pretty crowded. But I have look and get a table immediately. The dinner is really great. I pay around a quarter past eight and drive back to my motel. There I have a long chat with Mohammed, who has the evening shift at the Super 8 until eleven. We talk for almost an hour, before we exchange our email address. It's time for me to go to bed to not sleep in tomorrow.
Sights
Perrot State Park (Fee $10)
General
Breakfast: Prime Steak'n'Cake, Winona
Dinner: Chula Vista, Winona
Motel: Super 8, Winona
Distance: 43 miles