Zebulon Montgomery Pike Trail to the sources of the Mississippi 1805 — 1806
Day 26: September 5th, 2002 Winona — Minneapolis
Today I have again breakfast at the "Prime Steak'n'Cake". Like yesterday the breakfast is really great. I pay around nine and drive over to the next gas station. Around half past nine I start the next leg of my journey.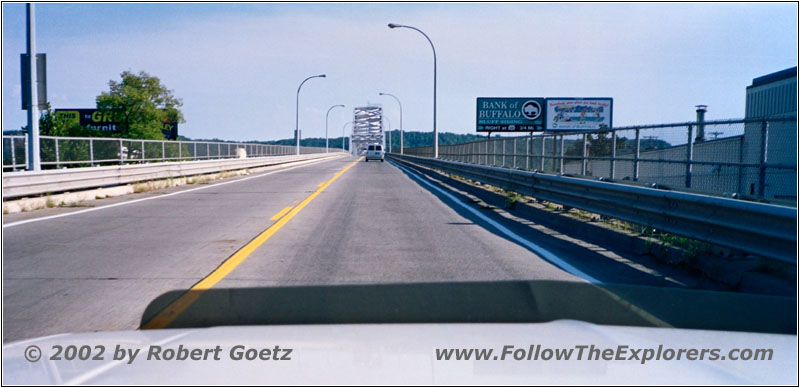 Mississippi River, Highway 43, MN
First, Highway 43 takes me again over the Mississippi. Then I take Highway 35 to the northwest.
I am passing Fountain City, where Pike spent the night on September 14th, 1805.
After passing the Merrick State Park, I turn onto Indian Creek Rd to follow the river. But there is a huge swamp area laying between the road and the river. Therefore I have no chance to see the river from the road.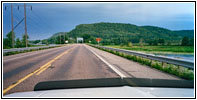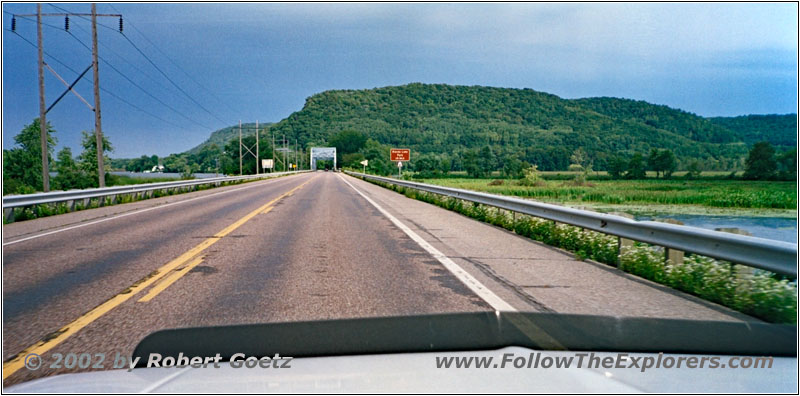 Highway 35, WI
I reach the river again, when I turn onto County Road OO. This road also takes me through the little town of Buffalo and then back to the very busy Highway 35.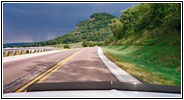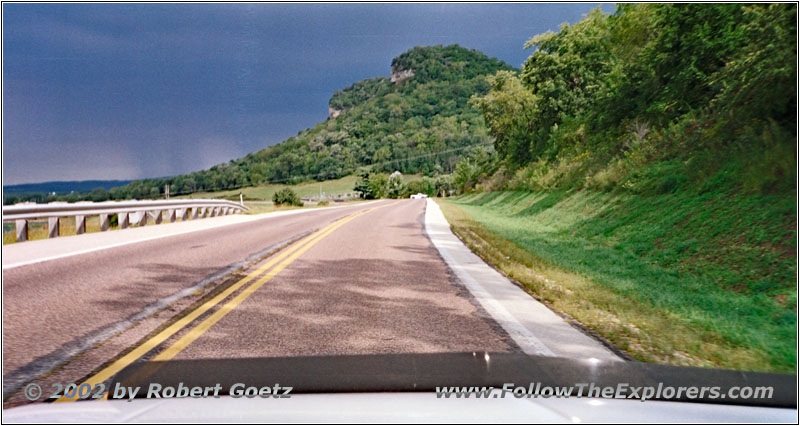 Highway 35, WI
Soon I reach Alma, where Pike spent the night on September 15th. Slowly the clouds are increasing. It looks like the weather forecast was correct with the approaching rain front. But currently the sun is still shining.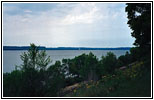 Lake Pepin, WI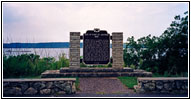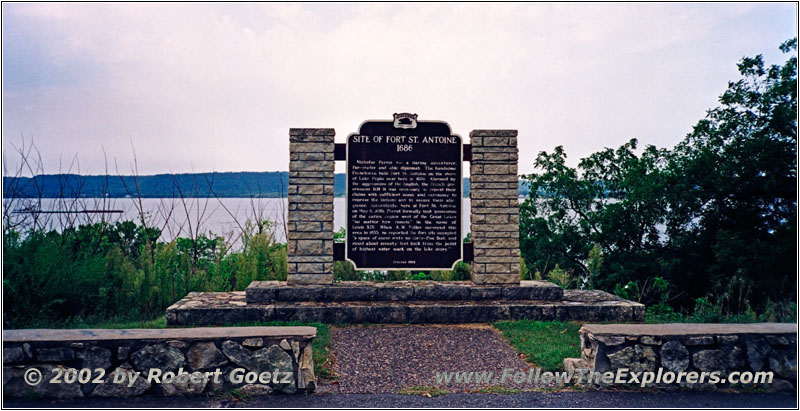 Marker Fort St. Antoine, Lake Pepin, WI
The next bigger city is Pepin at Lake Pepin. This lake is the only natural lake along the Mississippi. It also existed at the time when Pike went through this area. After passing Pepin I see a marker for a viewpoint. I have to give this place a try and leave the highway. And I am lucky: There is a really nice view over the lake and the wooden shores. I have the chance to get really nice shots of the area with the mixture of clouds and sun.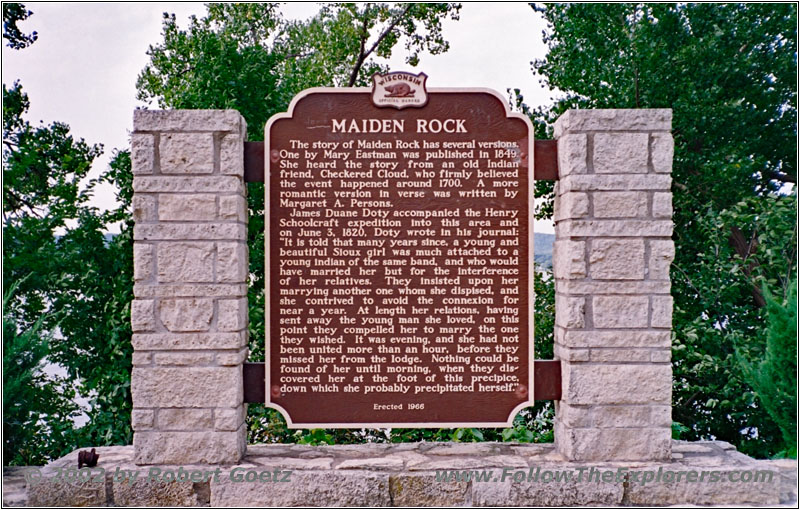 Marker Maiden Rock, Lake Pepin, WI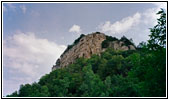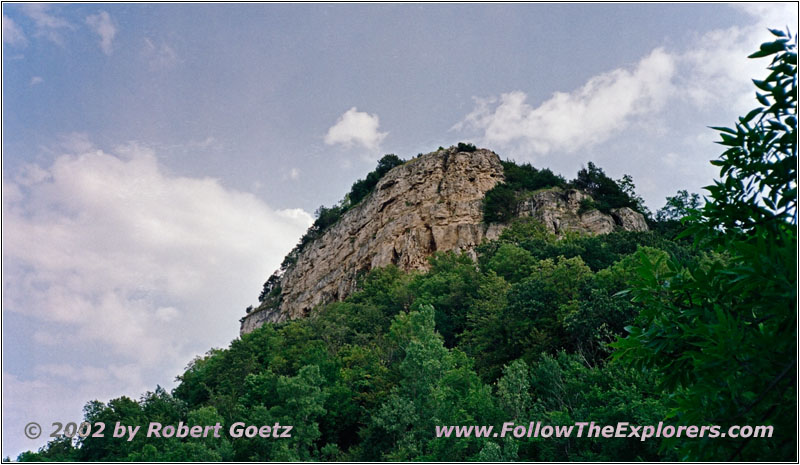 Maiden Rock, Lake Pepin, WI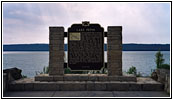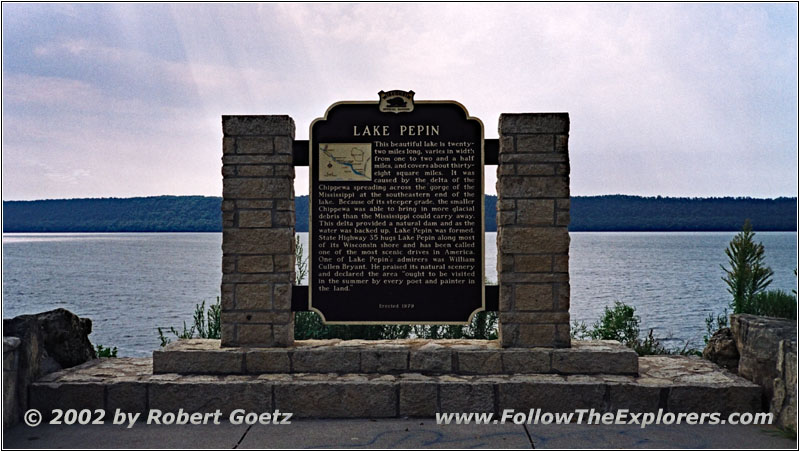 Marker Lake Pepin, WI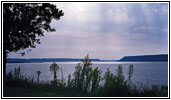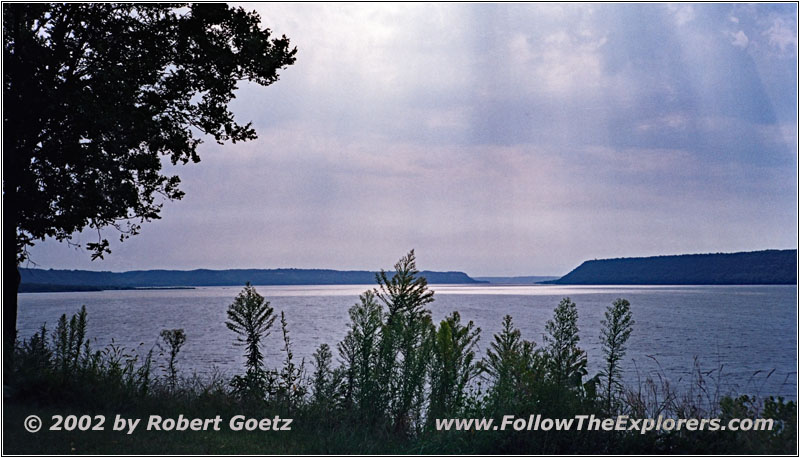 Lake Pepin, WI
Just when I put all my stuff back in my car it starts to drizzle. This dark sky already predicted something like that. But it rains only for a short amount of time. It already stopped for a while when I reach Maiden Rock. There are a lot of ancient stories about Indian women who committed suicide, because they didn't wanted to live with the one they where forced to marry. The same happened here at Maiden Rock. Also Pike heard about this story when he passed this area. Today a historical marker reminds of this tragedy.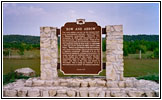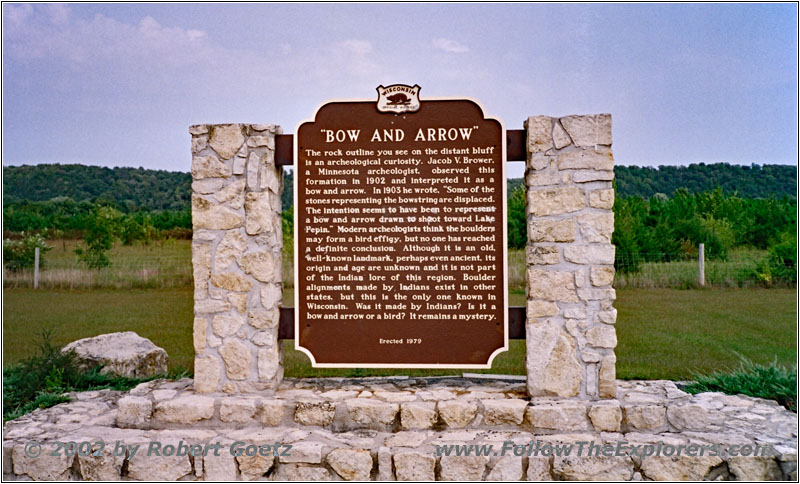 Marker Bow And Arrow, Highway 35, WI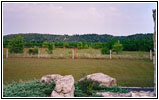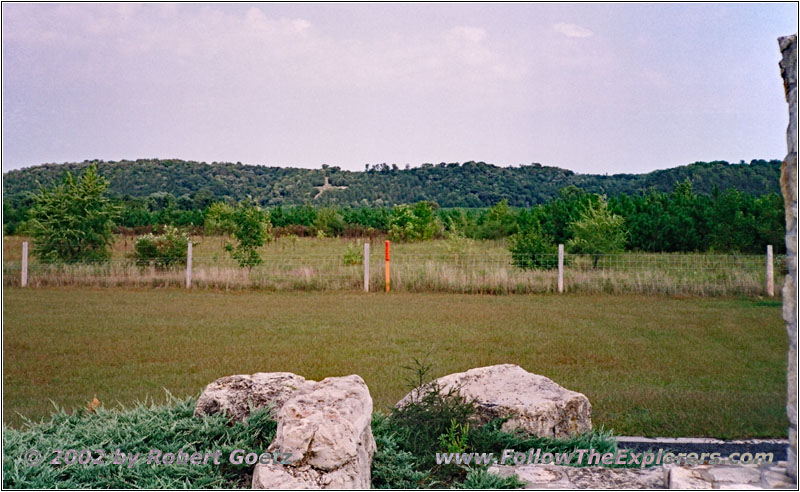 Bow And Arrow, Highway 35, WI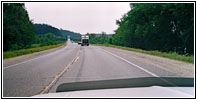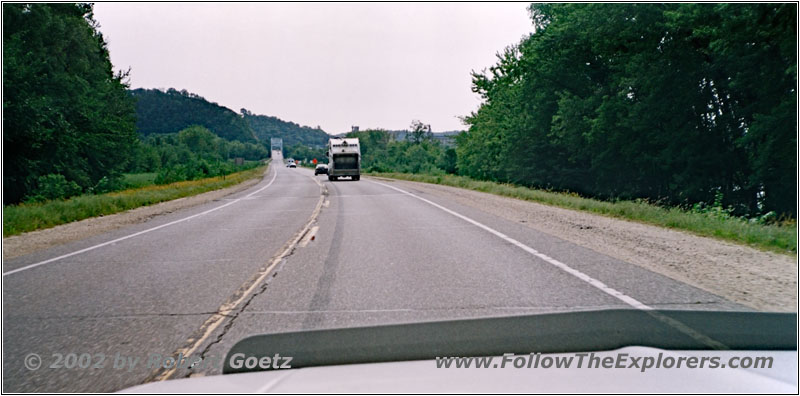 Mississippi River, Highway 63, WI
I finish my video taping and taking pictures just in time before the next rain starts. I am back on Highway 35 until the vicinity of Red Wing, where I take Highway 63. Once again this highway takes me over the Mississippi River. Then I look for the road to Barn Bluff — a rock, where I should have nice views of the Mississippi.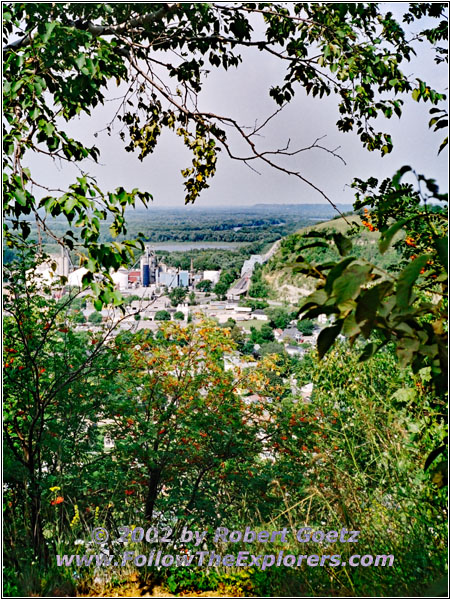 Memorial Park, Red Wing, MN
But I missed it and end up at the Memorial Park which is also located on a rock above the river. You can drive a road all the way to the top. From there I have great views of the area and have the chance to get some nice pictures and videos. In the meantime the rain completely disappeared. Therefore I am not really alone up here. It seems like this park is also a common place for lunch breaks for all the locals. I am also looking for a decent spot and have some of my fruits for lunch.
Then I drive back down the hill and search again for the road to Barn Bluff. This time I am able to find it. But there is no road up this rock but a hiking path. First there are some stairs, but then it's some of the usual non–paved hiking trails. So I turn around and put on my tennis. Now I can start my hike again. On my way up I have to pass thickly wooded areas. As usual I am completely under attack by outnumbering mosquitoes. I didn't wanted to put repellent on for this short hike. But that was a big mistake. Also the trail is way longer then expected. Therefore I have to give up again and run back to my car to save a bit of my blood. When I am back at my car I store everything back and drive on. Unfortunately there is not enough time to start a third attempt.
Into the bargain there is one mosquito now in my car. I assume she entered while loading all the stuff in my car. It takes me a lot of effort to catch this beast. But after the third longer stop I made it. I follow now Highway 61 out of the city. Just past Highway 19 I turn onto a small back road. But I am not able to reach the road, I planned to follow. Also the road to a boat landing is not reachable.
So I follow County 46 Blvd, which brings me up on a little hill. Maybe there is a nice view of the Mississippi River. But I am getting disappointed. The gravel road is on a plane far away from the cliff.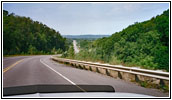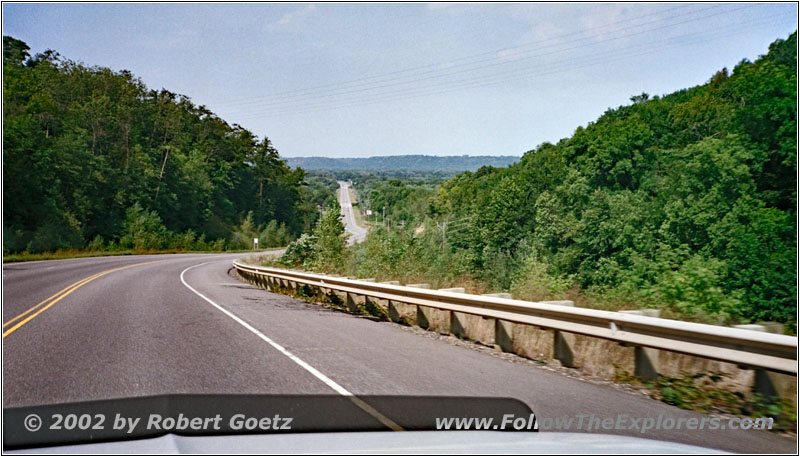 County 18 Blvd, MN
I reach Highway 61 again and follow this one to County 18 Blvd. Just before Eggleston should be another chance to reach my back road. But I also have no luck there. So I drive further on County 18 Blvd and reach a long island on the Mississippi. The road goes all the way up to the north end where County 18 Blvd takes me back to land.
I turn onto Highway 54 and follow this one up to Hastings. From there I take Highway 61 which brings me again back over the Mississippi. The traffic really starts to increase and you can tell that I am slowly approaching St. Paul and Minneapolis. Also the highway changes to a small interstate.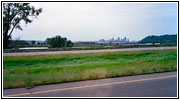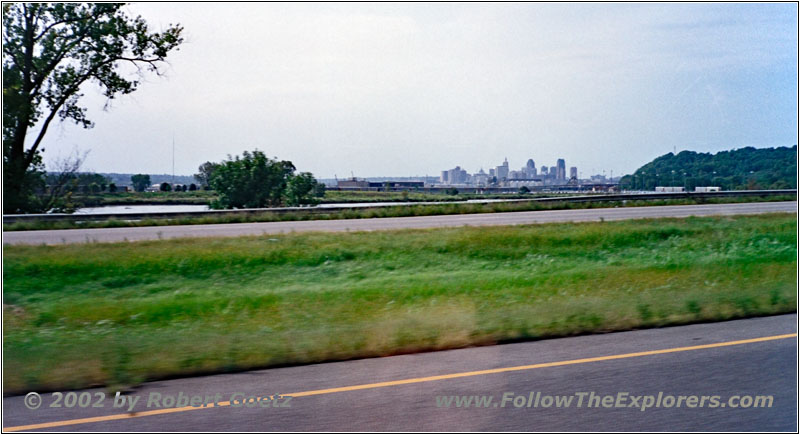 Highway 10, St. Paul, MN
I follow Highway 10 and 61 until I reach St. Paul. There I want to take Highway 5 which should take me directly to my next destination of Historic Fort Snelling. But I miss the turnoff and hit I-35 North.
I turn around at the next exit, but I miss again the turnoff to Highway 5. Luckily the interstate follows the same direction which I need. Therefore I plan to take the next crossing with Highway 5 to leave the interstate. Then I see directions to the Fort, which makes things now really easy. But even then the directions are very confusing. It feels like I am approaching my destinations by circling around it…
After I arrive at the parking lot I pack my cameras and stuff together and start my hike to the fort. According to my plan it should be closed. But maybe I still have a chance for some pictures. First I visit the Interpretative Center. There the guys tell me that the fort is really closed today. But there are a bunch of workers there. I shall ask them and maybe they let me in. But I shall be careful to not be locked in, because they usually finish around 4 to 4:30pm!
But first they ask me to see the introduction movie of the fort, which will be once again only started for me. They tell the whole life cycle of the fort in this documentation, starting with the narration of the former commanding officer. They also mention Pike when he passed this area and visited the fort. After this very interesting and informative documentation I chat for a while with the employees. Then I start my hike over to the fort. I see real dark clouds approaching in the back and I hurry up to get some nice pictures before the bad weather arrives here.
Just when I want to enter the fort it starts to drizzle. I hurry up to pack my camera in my bag and start running back to the Interpretative Center. In the meantime it really starts to rain and I am soaking wet when I arrive there. After a couple of minutes the rain is getting less and I start running back to my car immediately. There I mount my camera back on my car pod. Unfortunately I was not able to video tape or take pictures of the big confluence of the Mississippi River and the Minnesota River. Also there is no chance to see the Minnehaha Falls in a bad weather like this.
Pretty disappointed I start the drive to my motel. The Motel 6 for today is almost at the north end of town. The easiest way is to follow Highway 55 first and then take I–94 further north. Just when I leave the rain starts to getting stronger again. I already see and hear the thunderstorm in a distance. When I reach Highway 55 the bad weather comes in full force. The rain is so heavy that you can only drive extremely slow. There is lightning and thunder like it is the end of the world. Immediately a big traffic jam is building up. It's around 5pm and I am in the middle of the rush–hour. Into the bargain a lightning caused all traffic lights on Highway 55 to completely shut off. The thunderstorm only lasts around 10 minutes until it merges to regular raining. But it was enough to start some big lakes on the streets.
Slowly I approach the interstate. Suddenly I hear the peeping of my CB radio. I switch over to the weather channel and they warn about a heavy thunderstorm in this area. Lucky me that I already went through this…
Things are still going extremely slow to the interstate. After I passed the interstate ramp bottleneck things are going way faster. I reach my Motel 6 around a quarter past five without any further issues. There are even some rooms available on first floor. After putting my stuff in my room I check the videos of today.
Then I decide to visit a Wal Mart, because I am getting extremely low on drinking water. According to the phone book I have a rough idea where the Wal Mart should be. I leave the motel but I cannot find the mart in the shopping center where I thought it would be. After circling for almost an hour I haven't seen a Wal Mart nor a nice restaurant for dinner. But I remember that there was a Chi Chi's at the entrance road to my motel. On my first US trip from east to west coast I had a couple of times dinner in this chain. So I decide to give it a try again.
The restaurant is already pretty crowded, but I am still able to get a table. Unfortunately not one on the side but in the middle of the room. But currently nothing else is free. It also seems that my server is not really the fastest one. Or she is completely over strained with the amount of guests. Anyway I have to wait really long until I am able to place my order. Sure there was no refill on my coke. Also the dinner was not as good as I remembered it. But maybe I am already too much spoiled from this small and independent Mexican restaurants. I pay around half past eight and drive a bit disappointed back to my motel.
Sights
Fort St. Antoine
Maiden Rock
Lake Pepin
Bow And Arrow
Memorial Park, Red Wing
Fort Snelling
General
Breakfast: Prime Steak'n'Cake, Winona
Dinner: Chi Chi's, Minneapolis
Motel: Motel 6, Minneapolis
Distance: 192 miles