Zebulon Montgomery Pike Trail to the sources of the Mississippi 1805 — 1806
Day 27: September 6th, 2002 Minneapolis — Long Prairie
Yesterday I saw a Cracker Barrel when I was searching for a Wal Mart. This is where I plan to have breakfast today. But the search from yesterday starts again. I am not able to find the restaurant. After I passed a Perkins for the third time I decide bugged out to have breakfast there. But I have to admit that I am pretty surprised: The breakfast is really good, not like at most of the other places I have been.
Refreshed I start my search for a Wal Mart again. Yesterday I took a look at the phone book again and realized that I have searched in a whole wrong area. So I try it again. But even where I expected the mart to be now I have no chance to find a Wal Mart. In total I search for several hours and draw bigger and bigger circles. Eventually I am so far away on I–94 that I decide not turn around but to continue my way up north to the Mississippi.
At St. Cloud I reach the Mississippi again — and all of a sudden I see a Wal Mart! I cannot believe it. Eventually I am able to buy my water. Also my old Rand McNally starts to completely fall apart. Therefore I buy some sticky tape to bring him back to one piece.
It is around 2pm when I leave Wal Mart. Now I am able to start my trail of today. In the meantime I already traveled so far that I desperately need a gas station. So it ends up to be a quarter to three when I start my trail. I follow Highway 1 up north, which takes me out of St. Cloud and along the Mississippi.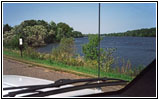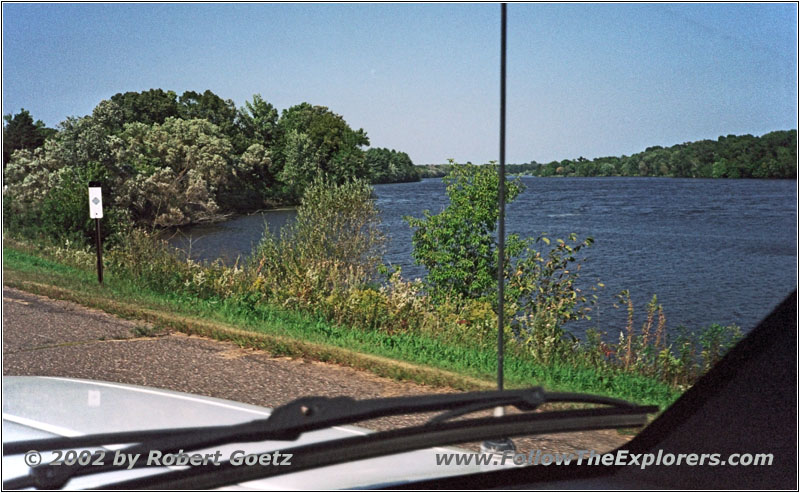 Mississippi River, CR224, MN
The river lost a lot of its width. I pass Pike's hunting camps as well as his Little Two Rivers Hunting Camp and Swan River Wintercamp of 1805. Unfortunately there is no chance to reach the river there. So I have no other chance than to video tape and take pictures of this area from my car. Pike spent several weeks here until he was able to proceed with his journey.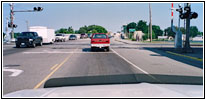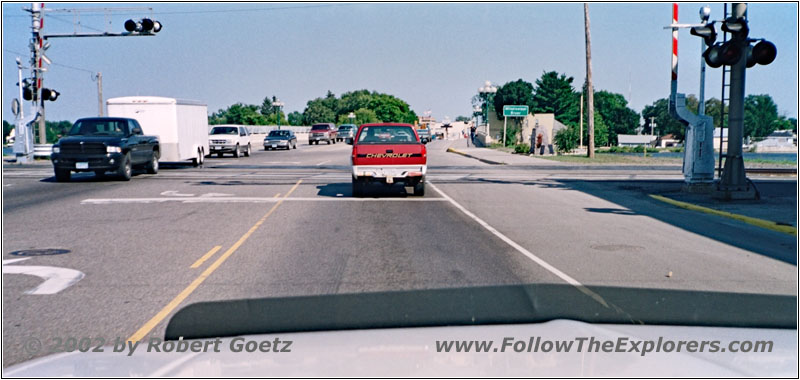 Mississippi River, Highway 27, Little Falls, MN
So I reach Little Falls, my destination of today, really early. Pike needed several attempts to pass these falls. It was already mid of December when he was able to leave the falls behind. For sightseeing I still have the Charles A. Lindbergh House on my list. But I want to visit it after I checked in at my motel.
When I reach the town I am getting worried. There a lot of preparations going on for a public event. At the motel my concerns are getting confirmed. Everything in this area is completely booked for the whole weekend!
Great — first I check the motel guide to see which motel is somehow close. The best motel is in Long Prairie, where it would also be not too far to another one. Thus I take the absolutely straight Highway 27 to Long Prairie.
When I arrive at this motel I cannot believe what they tell me: There is only one room left and it shall cost $100 for one night! This is a standard price for all rooms due to the event in Little Falls. All motels in this area have the same price. Grudgingly I accept this exorbitant price. Into the bargain it is also a smoking room, where you still smell the smoke heavily even after a lot of venting. But I am not in the mood to drive several miles to find another motel. After all I already made these experiences at Labor Day weekend. And I don't want to repeat it here.
I check in around 4pm, pretty annoyed from this day. I check my video taping, which does not take too long today. This gives me the chance to listen to my CDs. Just past seven I leave for dinner. I decide to try out the Pier 71, which should have great steaks. It is pretty crowded. But I am lucky and get a small table immediately. My server is well overloaded with all the guests. But dinner is really great. I pay around 8pm and drive back to my motel. Let's see how tomorrow will work out…
General
Breakfast: Perkins, Minneapolis
Dinner: Pier 71, Long Prairie
Motel: Super 8, Long Prairie
Distance: 203 miles