Zebulon Montgomery Pike Trail to the sources of the Mississippi 1805 — 1806
Day 28: September 7th, 2002 Long Prairie — Aitkin
The recommendation for breakfast is Michael's Café. This time I find it without a big search. The breakfast is really great, not like these big chains breakfast. I pay just past nine and drive over to the next gas station. Around half past nine I am on my way to Little Falls to continue my journey.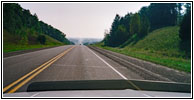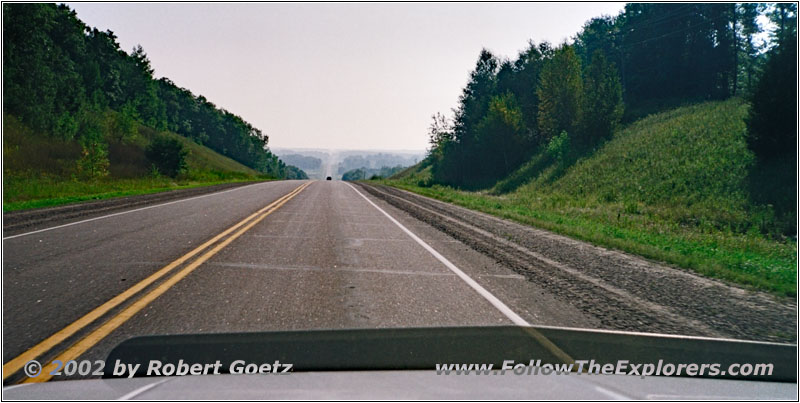 Highway 27, MN
I decide to get around the city in a big circle on some backroads, because they were yesterday already busy to prepare everything for the event. Just before the city I turn onto CR214 which takes me around the city and to CR213. The latter ends at Highway 115 which I follow across the Mississippi to the east.
At the other side is a guy who looks like a hitchhiker who wants to go in the direction I am just coming from. But then I realize that he most likely has some issues with his car. Therefore I turn around and park behind his car. He is extremely happy that eventually someone stopped. He already thought that he has to hike more than 20 miles…
His gas gauge is broken and he estimated the remaining gas in his tank wrong. Well, there I can help. I always carry my spare 5 gallons can in my car. He almost cannot believe his luck. We fill most of the can in. Then he tries to start his car. But she doesn't fire up. The problem is that the gas has to fill up the the lines first. So he unmounts the air filter and also fills some gas directly in the carburetor. After three attempts the car finally starts. Then we fill in the rest of my can in his gas tank.
We start a little chat. He has worked some time in South America and has been a lot together with tourists. Therefore he also knows where my accent is coming from. We continue our conversation a little bit before we say goodbye.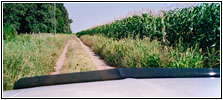 Backroad, MN
I drive on and turn onto Highway 371 north. This crowded highway is not the place where I want to be. After a short drive I turn onto a backroad again. Unfortunately I have no view of the Mississippi River from there. I pass farms and huge fields. There is mostly forest on my left which blocks the river views. After a couple of miles I am back on the highway.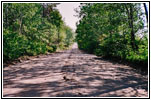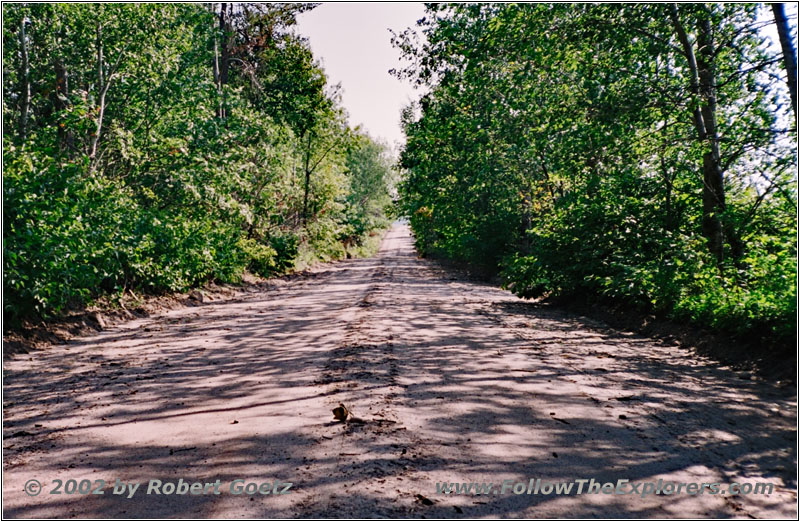 Backroad, MN
But I don't have to travel long on the black top before I can turn onto a backroad again. The forest also blocks the river views on this road. Just before I reach Crow Wing State Park I am back on Highway 371. From there I reach the park.
The ranger building is at the entrance, where I can also pay the entrance fee. The ranger briefly explains what I can see here and where I shall park for the hiking trail. Then I drive further to the parking lot. A brief test hike into the woods shows me that I definitely will need mosquito repellent. So I put a lot on and start my hike.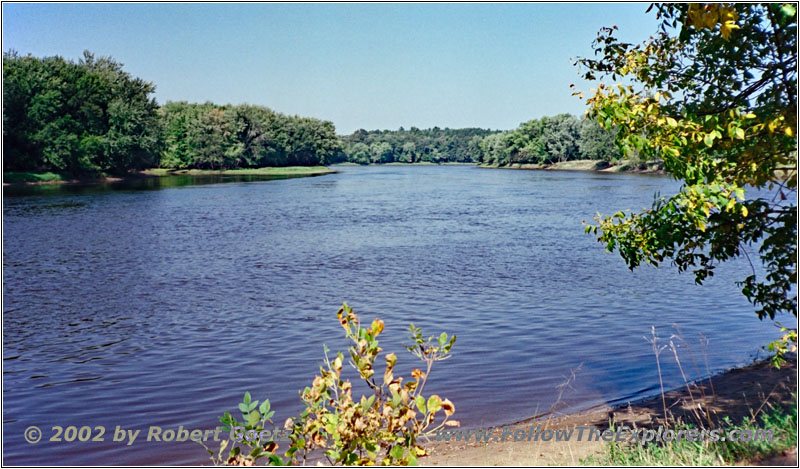 Mississippi River, Crow Wing State Park, MN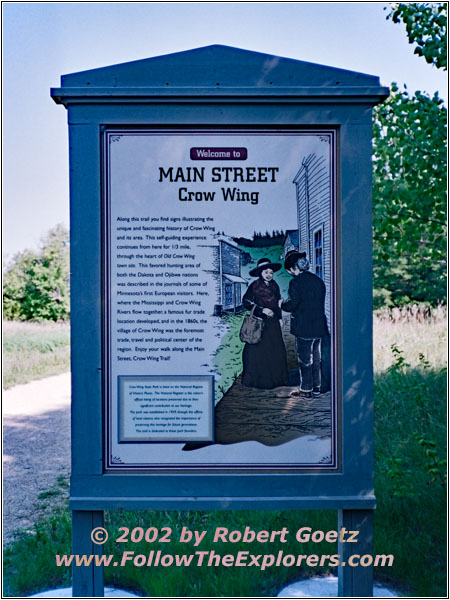 Crow Wing State Park, MN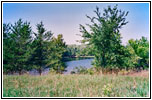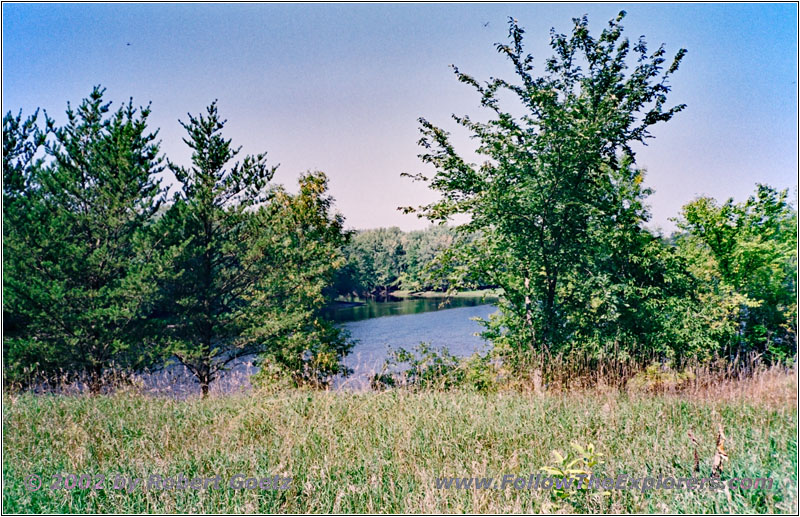 Mississippi River, Crow Wing State Park, MN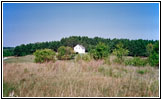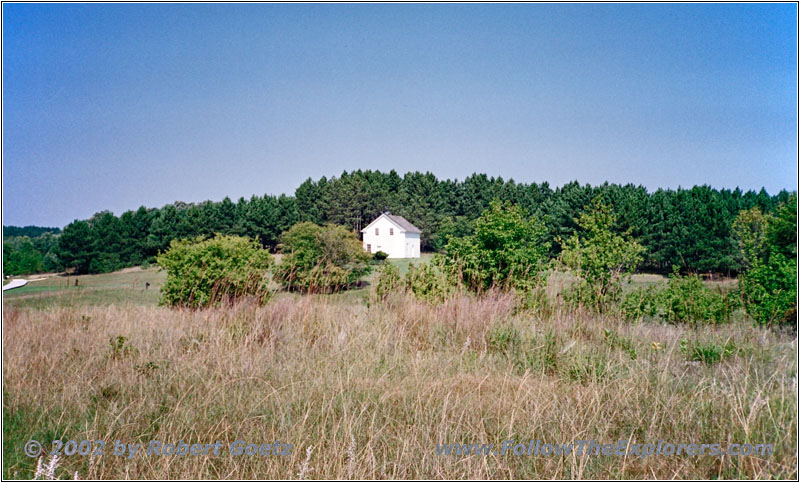 Crow Wing State Park, MN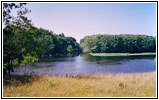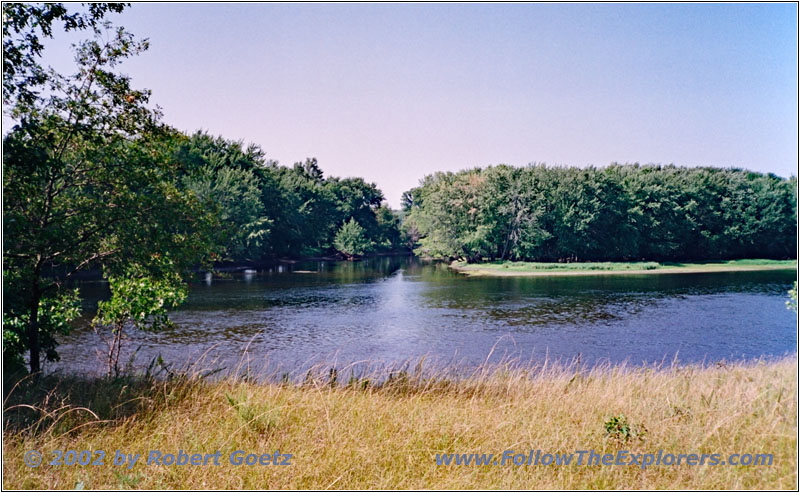 Mississippi River, Crow Wing State Park, MN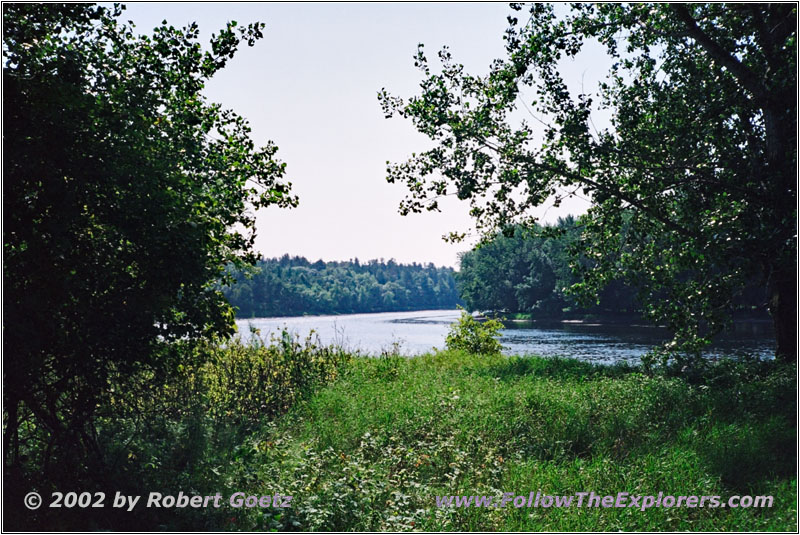 Mississippi River, Crow Wing State Park, MN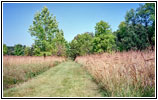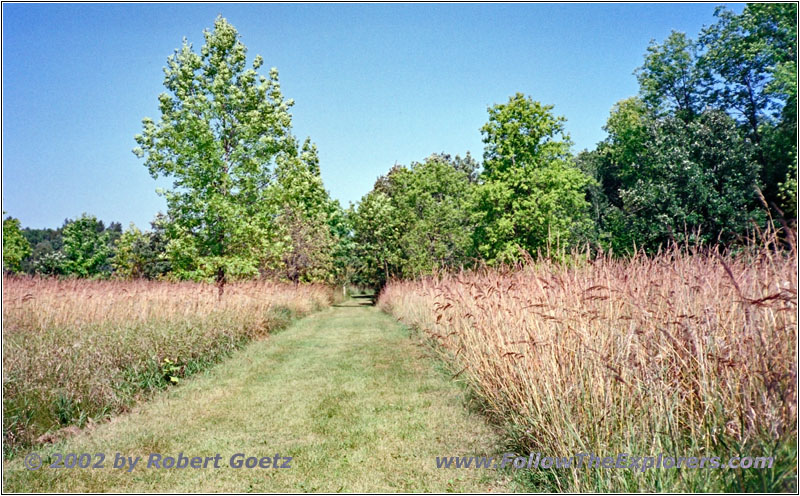 Crow Wing State Park, MN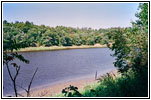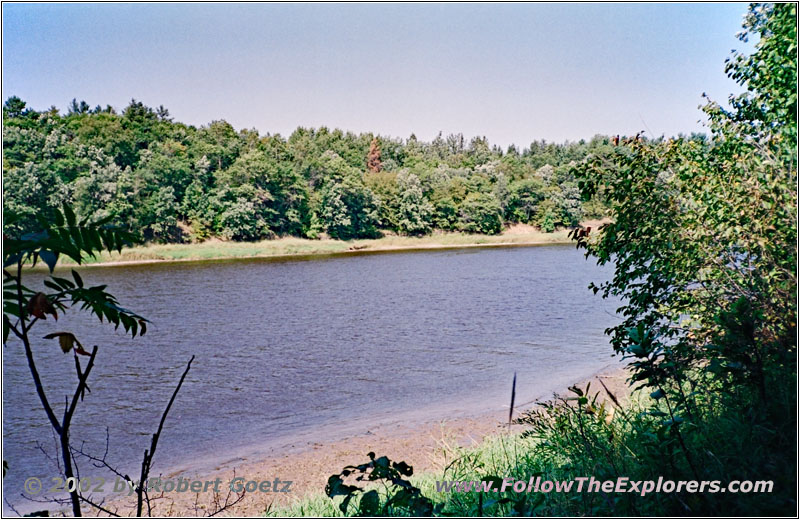 Mississippi River, Crow Wing State Park, MN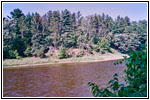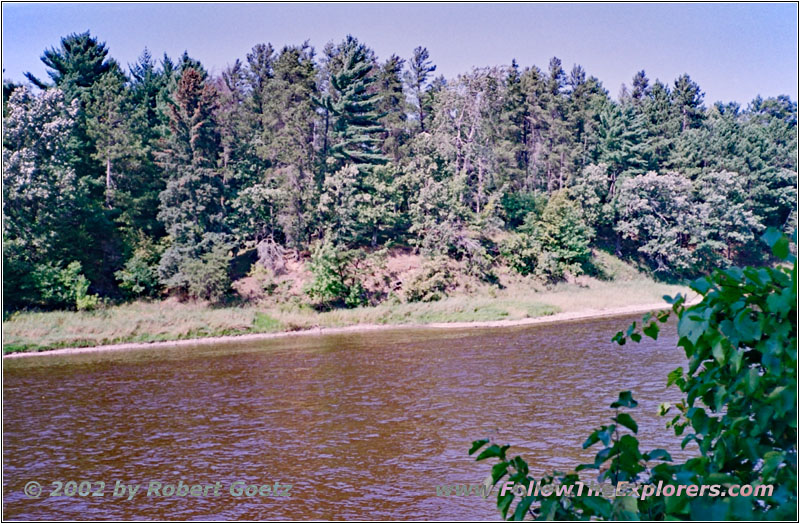 Mississippi River, Crow Wing State Park, MN
There are numerous nice views of the river and the Crow Wing River as well as the small isalnd at the confluence of both rivers. At this point stood once one of the most important towns in that area. Every wagon trail west had to cross the Mississippi River at this spot for a long time. Even today you can look at the spot where animals and people fought their fight to reach the other side of the river. Around 1880 this town was already abandoned because the railway passed the river a couple of miles north at nowadays Brainerd.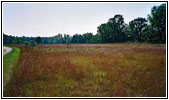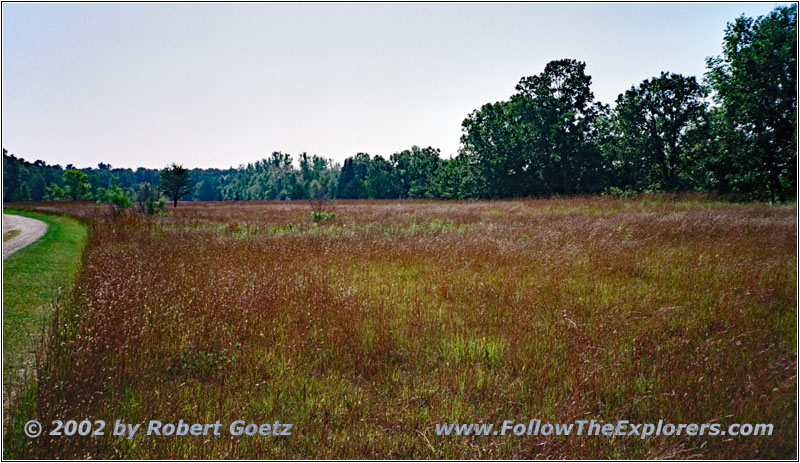 Crow Wing State Park, MN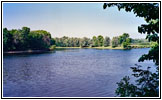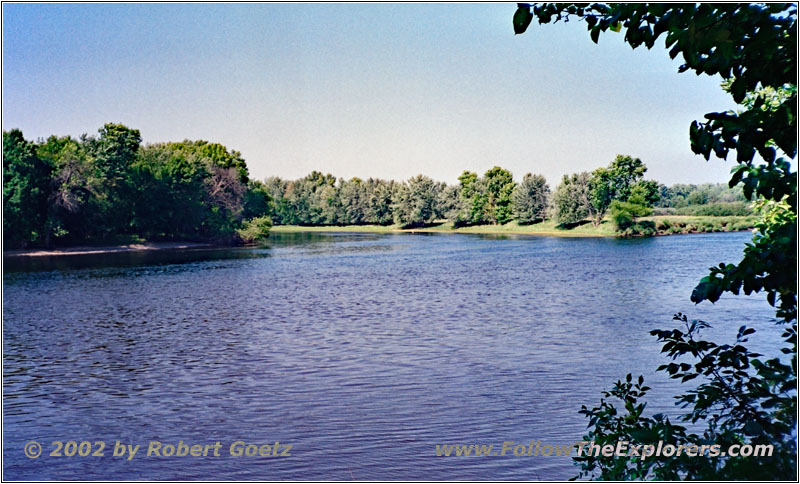 Mississippi River, Crow Wing State Park, MN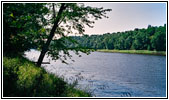 Mississippi River, Crow Wing State Park, MN
After I finish my hike and taking pictures of the river and prairie around I add a brief lunch break. Then I drive on. At my next turnoff to a backroad I am not as lucky as before. I must return to the highway way earlier as originally planned. There were also no views of the river possible along this backroad.
Finally I reach Brainerd on Highway 371. From there I follow Highway 20 up north before I turn onto another backroad to follow the river. But I cannot continue at my planned branch, because this road goes onto private property. So I drive further down to the river and reach Greens Point. There I run into a couple of silent locals, who doesn't make the impression on me that they were interested in a chat. All in all you can tell by the way of their looks that they are pretty amazed how I was able to find their secret spot.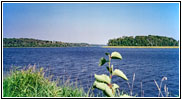 Mississippi River, Greens Point, MN
I do some video taping and take pictures of the river before I drive back to Highway 25. Also the next turnoff to the river brings no luck to me. I also end up at private property. So I have to return to the highway.
I take the next branch north and reach eventually Highway 19. I follow this one until I make another attempt to reach the river. Now I am able to reach the river, but that is also the end of this road. So I have to drive back the short distance to my highway. Now I follow Highway 19 to Highway 11. Then I follow this one to Highway 22. The Mississippi is not a straight river here, but winds itself through the country. Therefore the road has only some touching point with the river.
Then Highway 22 completely leaves the river and takes me to Country Road 1 south. On this road I reach my destination of toady, the Ripple River Motel in Aitkin. I already looked it up in the internet back home. When I arrive, I cannot believe what they say: It is not even 5pm and they are already booked! There is only one small trailer house left. They charge expensive $80 for one night! Slowly Minnesota is getting unfriendly to me…
I put my stuff into the house and check my video taping of today. The house itself looks really new. I assume it is the first season running. Around me are three campers, where I have seen no one so far. All in all it is very comfy. If you are traveling in a group it is really nice to sit here outside at the porch behind the fly screen and have a chat with a glass of wine.
But I will first drive somewhere for dinner. They recommend "The 40 Club". I almost assume I have missed it. But then I see that it is really way outside of town. I enter just past seven. To my surprise it is really crowded. But even then I don't have to wait long until a table is free for me. My server is really running. She tells me that one server has not shown up tonight and she asks me to be patient. That is not a problem. It takes a while until I receive everything, but the service is even better than in other restaurants, where all servers are working. Then you really like to give a good tip. It is just past eight when I drive back to my little house for tonight.
Sights
Crow Wing State Park (Fee $4)
Greens Point
General
Breakfast: Michael's Café, Long Prairie
Dinner: The 40 Club, Aitkin
Motel: Ripple River Motel, Aitkin
Distance: 128 miles