Zebulon Montgomery Pike Trail to the sources of the Mississippi 1805 — 1806
Day 33: September 12th, 2002 Thunder Bay — Wawa
I totally sleep in today, what I already expected from yesterday. I miss this hour in the morning due to being in a different time zone. It's already half past nine when I check out. To loose not more time by searching around for a breakfast place I ask again at the reception. They recommend another restaurant in the city. Hopefully I will be able to find a parking spot at that time of day…
I put my stuff into my car and hit the road. I have no issues in finding the restaurant due to the excellent way description. But as I was already worried about there is absolutely no free parking spot around. Also I would have to pay the parking meter and I still have no change for this. So I am forced to look for a different restaurant. But Thunder Bay isn't that small. So I take one of the bigger roads out of town to reach the bigger highways to town.
But the search is getting more complicated than expected. I am circling for almost half an hour until I eventually find the Strawberry Family Restaurant, which looks really nice. It's build up like a typical American roadside restaurant. In the meantime it's already past ten and the crowds have left. I order my usual bacon, eggs and white toast breakfast. Everything tastes really great. I pay around a quarter to ten and drive over to the next gas station. Lucky me I find one very close, so I am back on the highway around eleven on my way to Sault Ste. Marie.
But I am afraid that I will not be able to drive this far today. It was good that I was able to be one day ahead of my planning. This gives me now more time for the drive through Canada. The only issue is, that there is no motel in my motel guide, where I would need one. But let's see.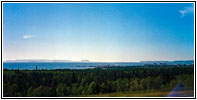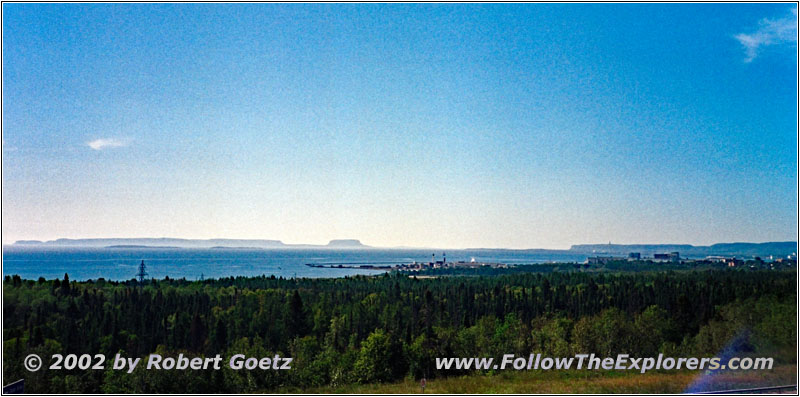 Highway 11/17, Thunder Bay, ON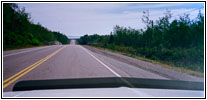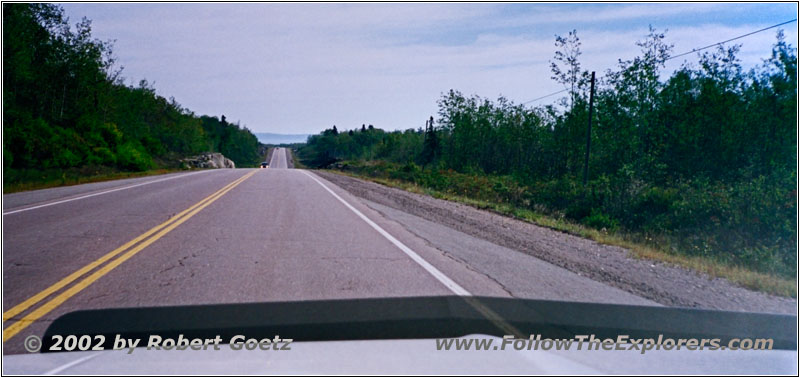 Highway 11/17, ON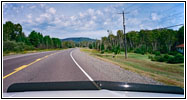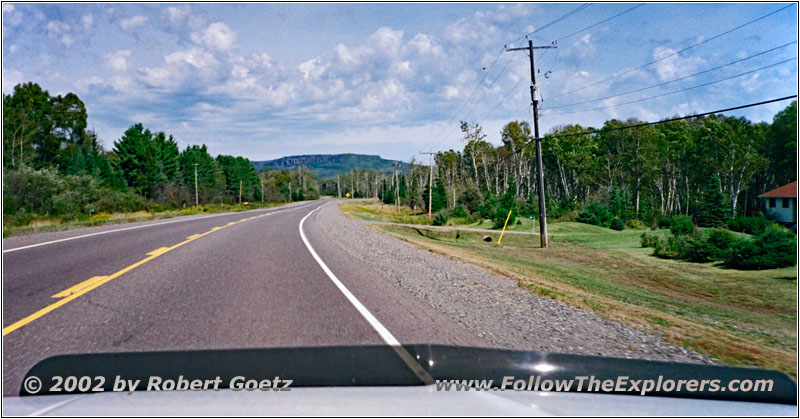 Highway 11/17, ON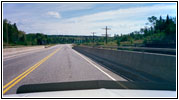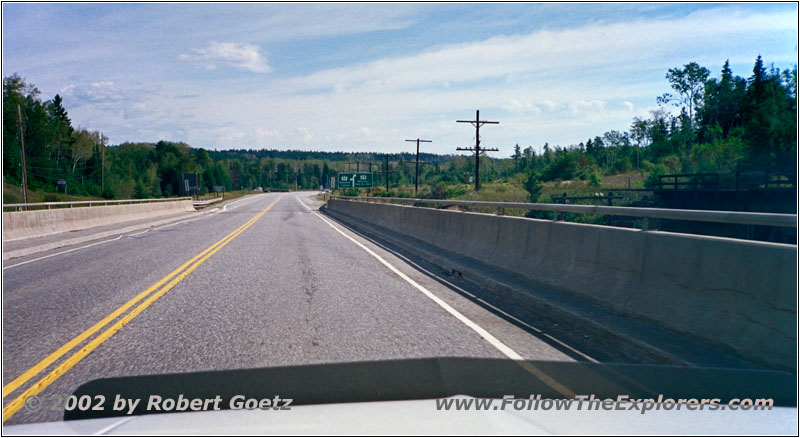 Highway 11/17, ON
First I leave the city on Highway 11/17 in northeastern direction. This highway is also part of the Trans–Canada Highway. Just past the city limits is a short branch to a view point. I am already late, but I don't want to miss this one. So I drive up and have the chance to get some nice shots of the city, the bay and Lake Superior. Then I drive on.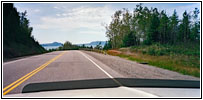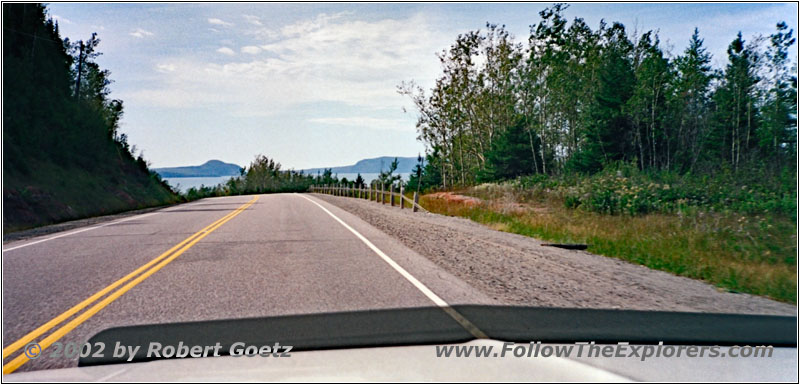 Highway 17, Lake Superior, ON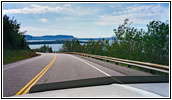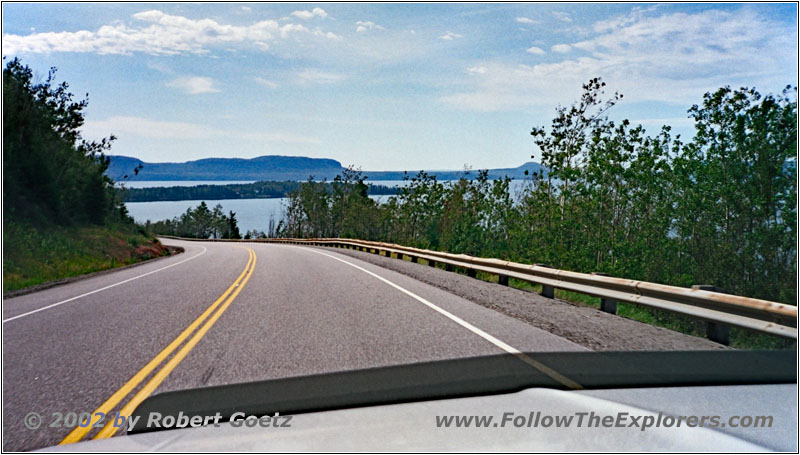 Highway 17, Lake Superior, ON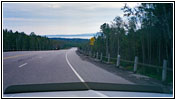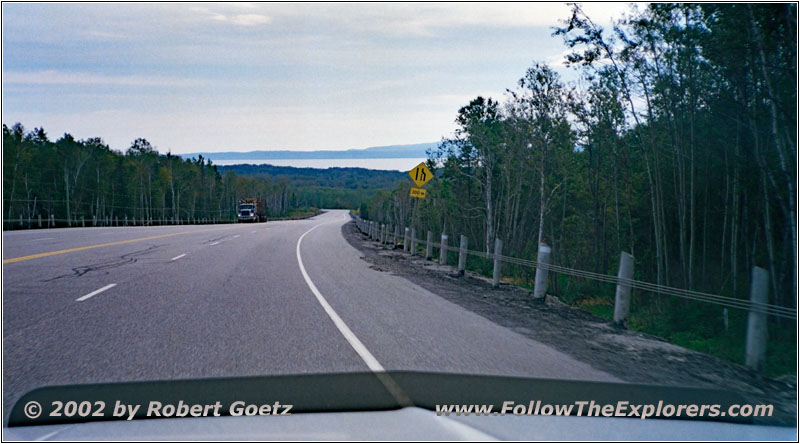 Highway 17, Lake Superior, ON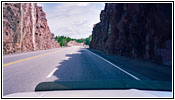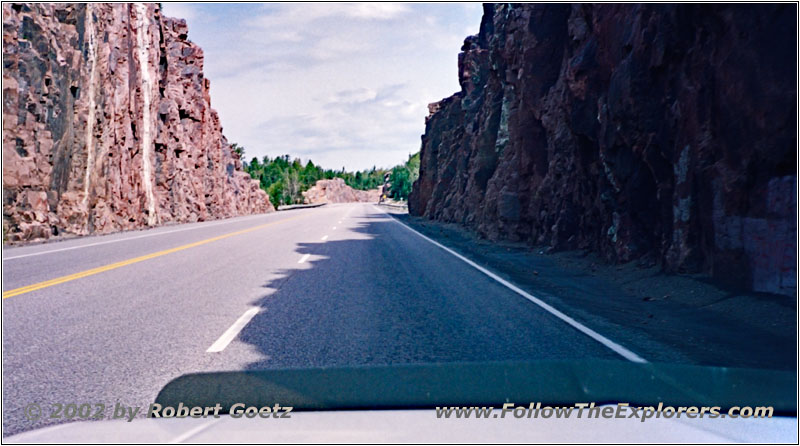 Highway 17, ON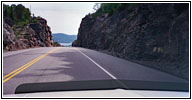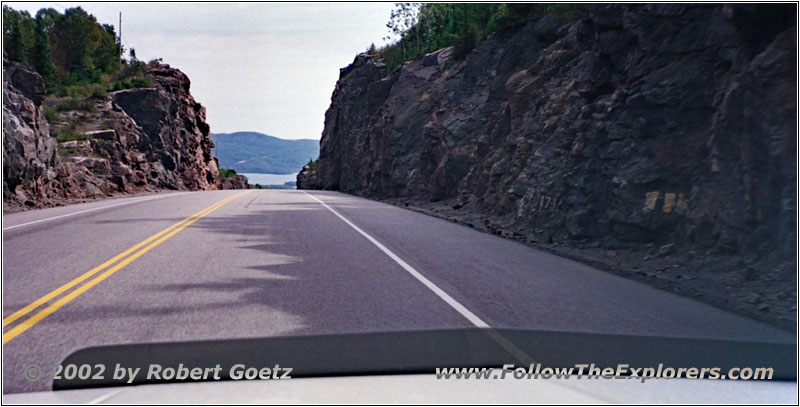 Highway 17, Lake Superior, ON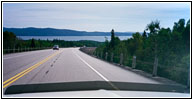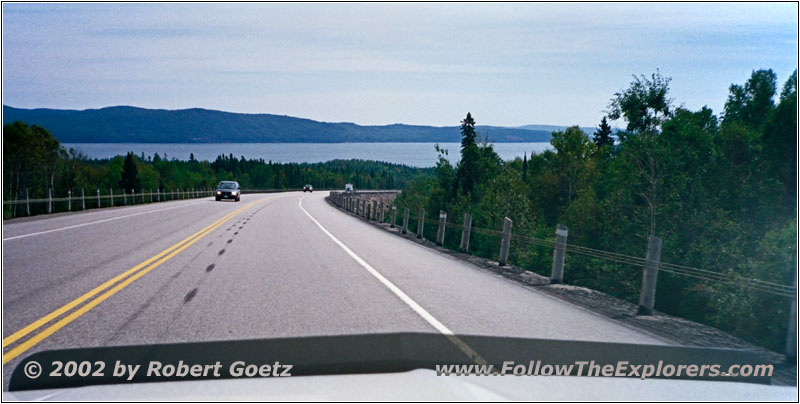 Highway 17, Lake Superior, ON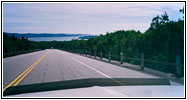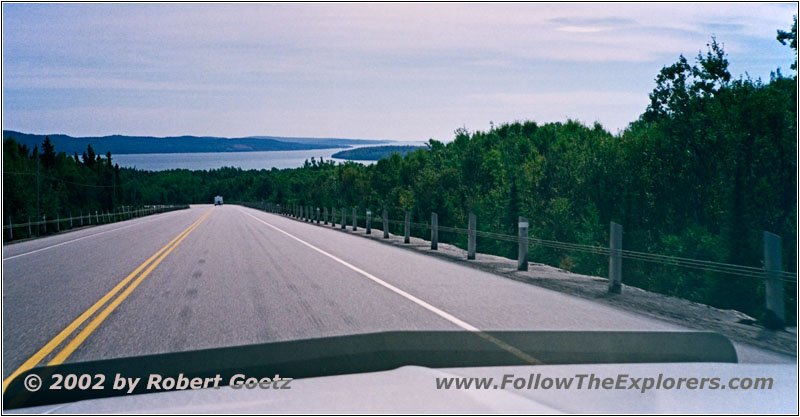 Highway 17, Lake Superior, ON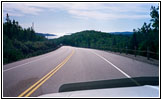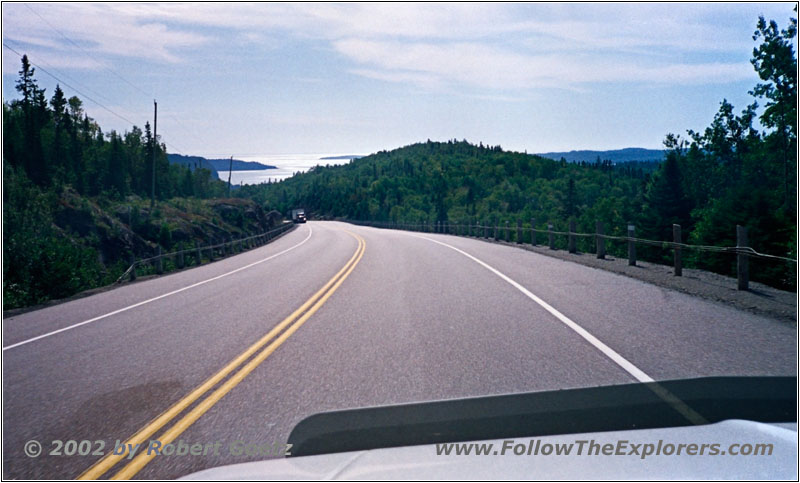 Highway 17, Lake Superior, ON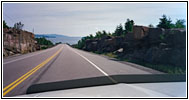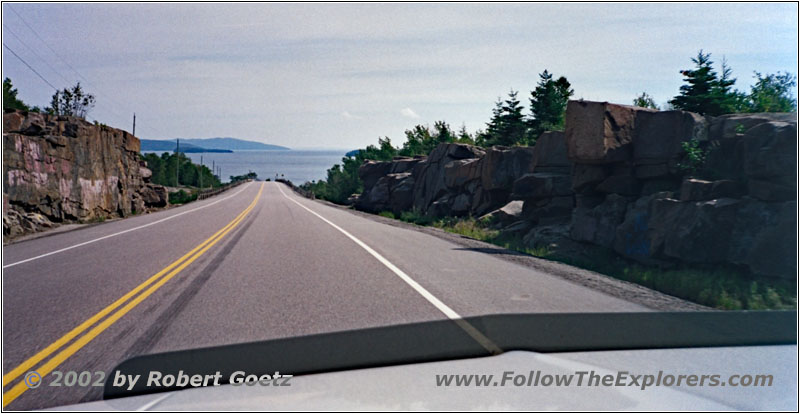 Highway 17, Lake Superior, ON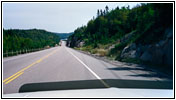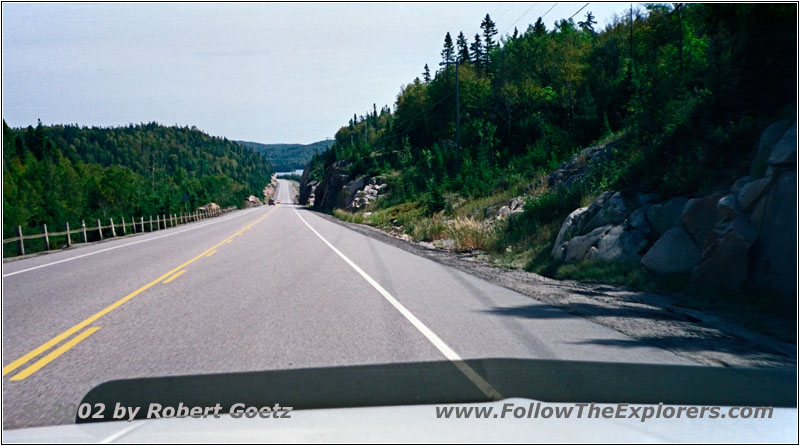 Highway 17, Lake Superior, ON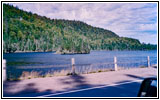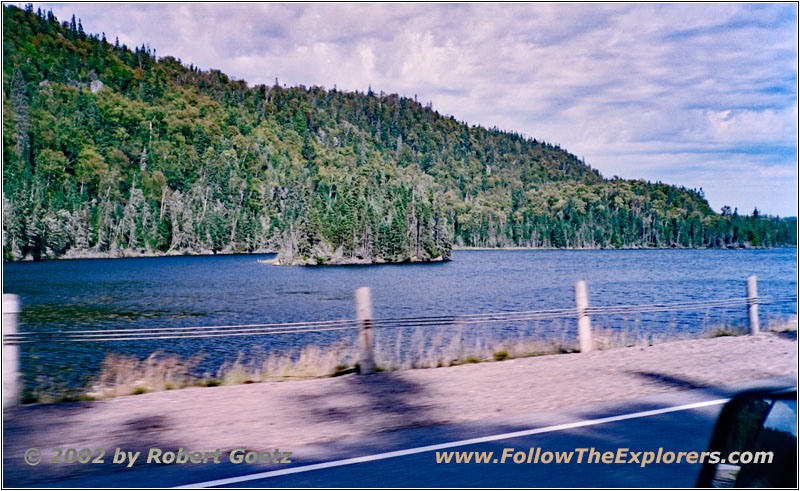 Highway 17, Lake Superior, ON
Highway 17 offers great views of the lake along the road for a long time. The road hugs the lake shores and cuts through rocks. Most of the time the highway is a two lane road, just like yesterday. Only on inclines there is an additional lane for the uphill drive. This part offers a great landscape. For someone who likes to travel on highways this is definitely a highlight. But I terribly miss my gravel roads. Sometimes I see a big truck in my mirror, where I try to give him room to pass whenever possible. I know these guys are in a hurry and they like to drive fast. But I don't want to risk a ticket and I am also not in a hurry to catch my plane. I am on vacation and can drive relaxed…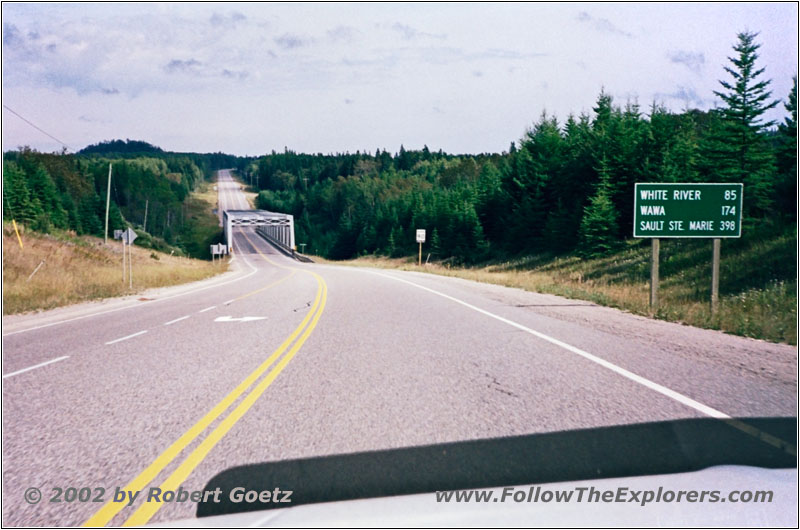 Highway 17, ON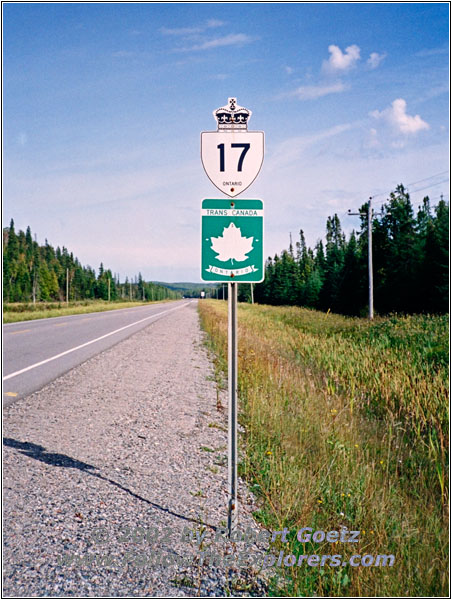 Sign Highway 17, ON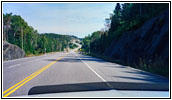 Highway 17, ON
Just past Marathon the highway leaves the lake shores and follows the Pukaskwa National Park limits. It's already late afternoon when I reach the village of White River. But it's too early to stop for today. So I decide to drive on to the next bigger city, which is Wawa.
I see two smaller motels on my way and I am getting worried if I will be able to find a motel there. But just a couple of miles before Wawa the motel signs start which announce all available motels. From the signs I like the Wawa Motor Inn best.
The city is not directly located at the highway but on Highway 101. As soon as I reach the top of the hill I reach the city limits and the motel. It looks really decent and clean. I am anxious to see how much the rooms will cost — and if there is a room still available!
I enter the reception around a quarter past five. Another guest just received his room. Then it is my turn. Indeed they still have a free room for me. Also the price is acceptable. When I enter the room I am pleasantly surprised. Everything looks like it has been recently renovated. There are even two TVs to watch TV either from the couch or from bed! But what I like most is, that there is a restaurant at the motel property. So I have a chance to have a beer for dinner.
As usual I order my favorite steak. Also the dinner is reasonably priced and tastes absolutely great. I leave the restaurant very happy around a quarter past eight. I go to my room and watch the weather forecast on TV. It looks like I will still have decent weather with temperatures in the 70s — and this in September!
There I really expected something else. Then I look up my next stop for tomorrow. It looks like the Super 8 in Sudbury will be the best bet. So I know where to go tomorrow. I go to bed now very early to not sleep in tomorrow like today…
General
Breakfast: Strawberry Family Restaurant, Thunder Bay
Dinner: Wawa Motor Inn, Wawa
Motel: Wawa Motor Inn, Wawa
Distance: 304 miles