Zebulon Montgomery Pike Trail to the sources of the Mississippi 1805 — 1806
Day 32: September 11th, 2002 Bemidji — Thunder Bay
When looking at the date of today I am getting worried. Probably they will check way more thoroughly than usually at the borders. But maybe I am lucky, we will see. Anyway I will have breakfast first at the Perkins from yesterday. I pay just past nine and drive over to the next gas station. This time I am looking for one where I can pay at the pump.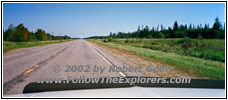 Highway 71, MN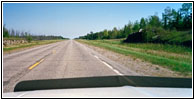 Highway 71, MN
My trip starts around half past nine in direction to Canada. I follow Highway 71 out of Bemidji, which takes me over open planes and through thick forests all the way to International Falls, the border to Canada. First you arrive at a pay station where they charge you $6 for crossing the bridge over Rainy River.
It is almost noon when I arrive at the US border. The officer asks a bunch of questions like where I am coming from, where I am going to and what I do around here. Suddenly he takes my green I–94 permit out of my passport, even that I told him, that I will be in Detroit within the next couple of days!
After a bunch of more questions he demands to pull over to the side, because his colleague will have another bunch of questions. So I pull to the side and wait for the Immigration officer to arrive — just to understand: The Immigration! Where I am about to leave the US! Are these guys bored or what?!
Then this officer asks me again a whole bunch of questions before he starts to dig through my car. He has a lot more questions about my camera, my equipment and my spare gas cans. Finally he starts to dig through my whole suitcase. After almost an hour he is eventually finished with his harassment and I can drive on. I definitely have the impression that these guys were terribly bored and they needed something to do — thank you so much…
Then I cross the bridge and reach Canada. They also ask some questions here then I also have to pull to the side. Now I am searched by customs. I must sit on a bench while the officers are searching my car and suitcase. In the meantime I have a chat with the other custom officers, who have currently nothing to do.
After a felt eternity they are finished with my truck and I must enter the building to receive my Immigration stamp in the passport. There I must wait again, because three other guys are in front of me. After another half an hour it is eventually my turn. There they have only some questions, than I receive my permit.
Now I can continue my journey — after two and a half hours! I am wondering if this was due to being September 11th or that is was just a small border station. Most likely I will never find an answer to this. But I know that I have lost way more time than originally planned. Lucky me I was at the border one hour earlier than planned.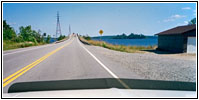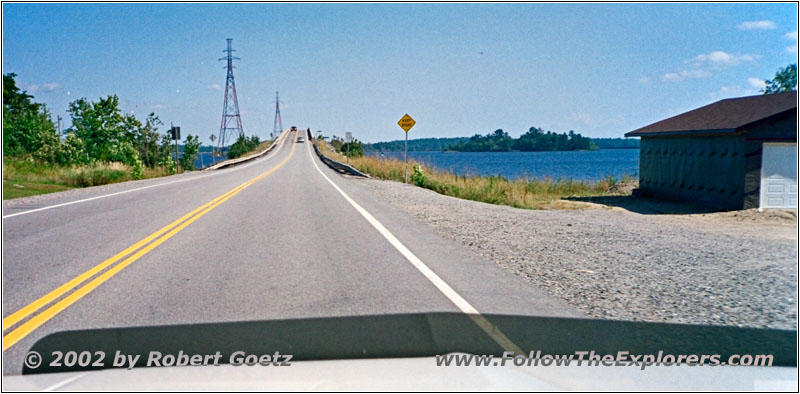 Rainy Lake, Highway 11, ON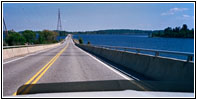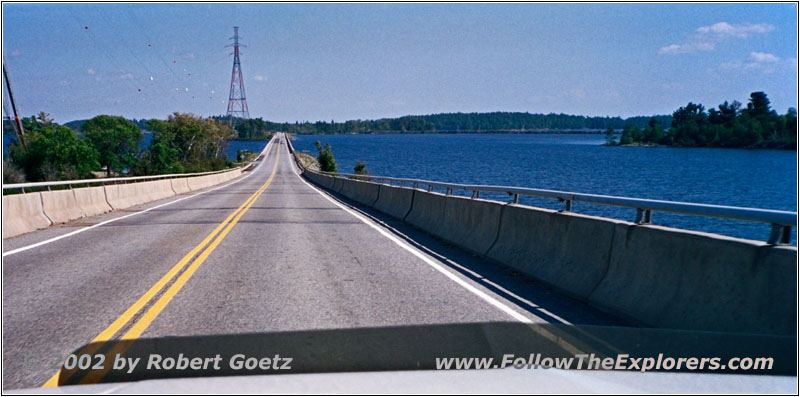 Rainy Lake, Highway 11, ON
But now I must rethink. Here the signs are posted in kilometers and not miles. So I have to check the smaller numbers on my speedometer. The Canadian side of International Falls is Fort Frances. From there I take the Trans–Canada Highway 11 East to Thunder Bay, which takes me over Rainy Lake first.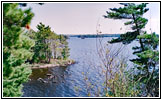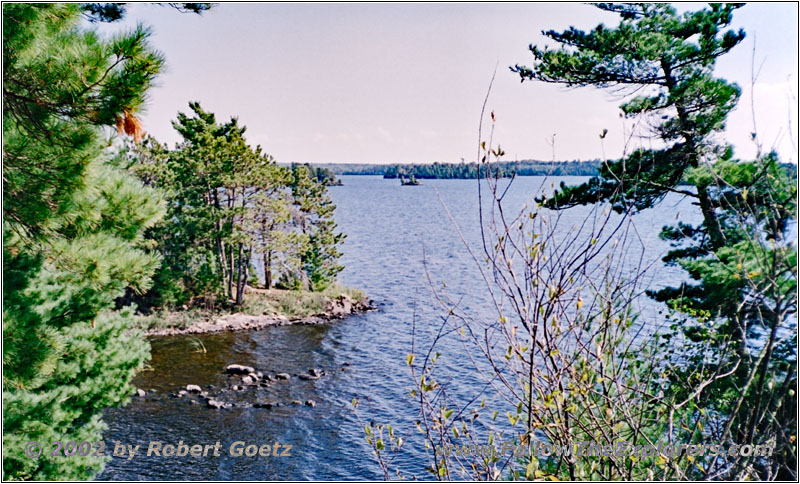 Lake, Highway 11, ON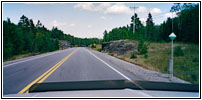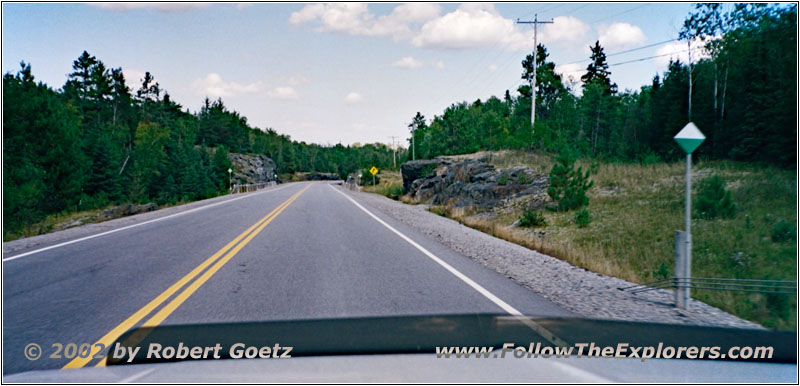 Highway 11, ON
The landscape is getting more and more rocky. You have some great views of this landscape, which is split up by numerous small lakes. For most of the time this is a two lane highway. At some spots it extends to three lanes, where only one lane is allowed to pass.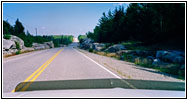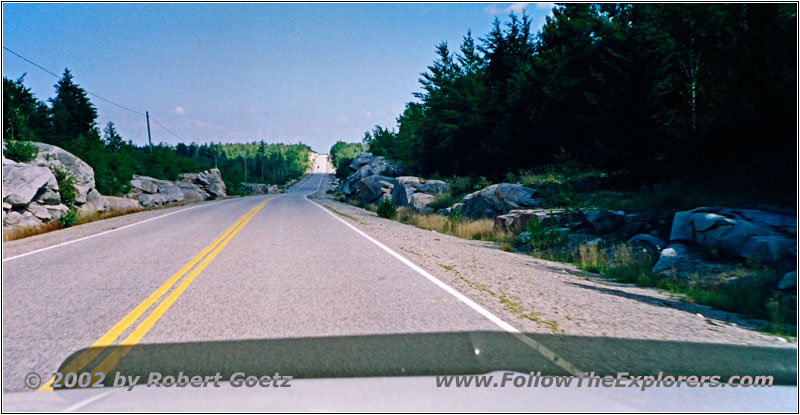 Highway 11, ON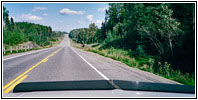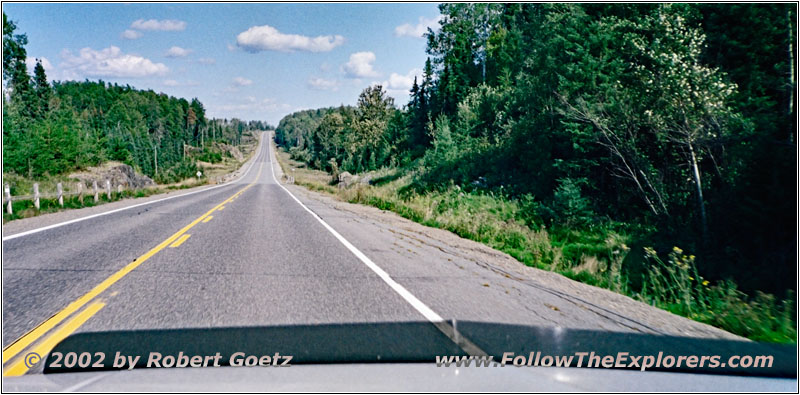 Highway 11, ON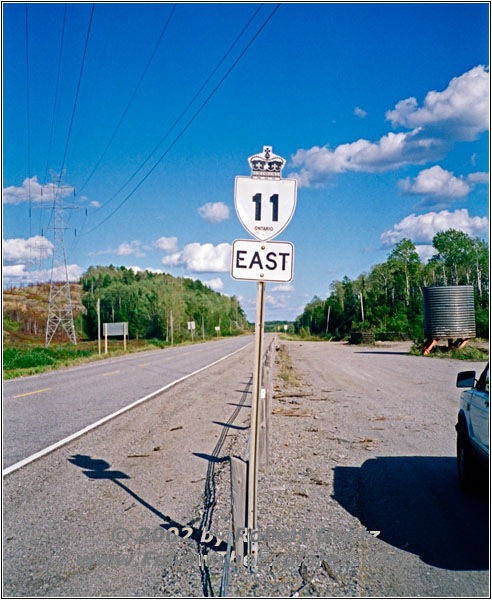 Highway 11, ON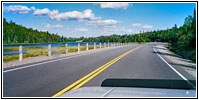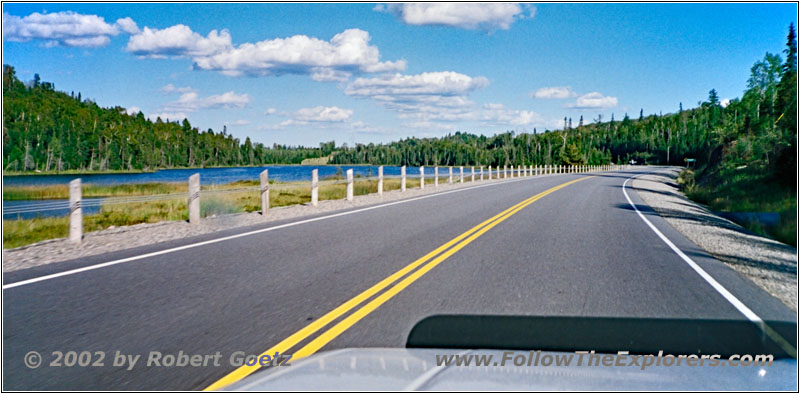 Highway 11, ON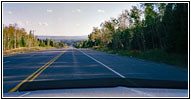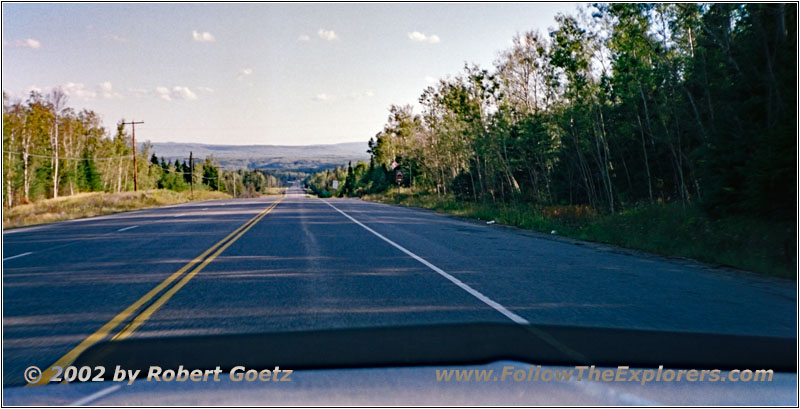 Highway 11, ON
After a short time I find a decent spot to eat one of my apples. Thanks to the speed limit of 90km/h I do not make too much progress. Additionally I also drive into another time zone, which I missed in my planning.
It's already half past six when I arrive in Thunder Bay. My destination of today, the local Super 8, is not hard to find. But the parking lot looks pretty full which is usually a bad sign. Actually the motel is already completely booked. The reception lady tells me, that at five they started to run in — great…
But the Travelodge across the street might have some rooms left. So I drive over to the other side. The waiting line is already very long, but at least I get the last smoking room — better than nothing. For dinner they recommend the Prospector Steak House in the city. I am more than happy to follow this advice. First I put my stuff into my room, then I check the video tapes of today. There I completely forget that I am already in another time zone and one hour further.
I leave around a quarter to eight and drive into town. Thanks to the excellent way description I find the steakhouse without searching around. It's directly in downtown. But I am lucky and find a parking spot just on the other side of the street. I am only missing some coins for the parking meter. But I can ask in the restaurant to change some money. There they tell me, that I don't have to pay past six — looks like I will have eventually some luck today?
As usual I order a big steak. Everything runs here like in the US. They also guide you to a table and the servers are very friendly. Because I finished my first glass of Coke so fast, she brings me a whole carafe. This has never happened to me in the US. But I like this, because I don't have to hunt for my server every time my glass is empty. The steak is also as it should be. Absolutely satisfied and happy I leave the restaurant and drive back to my motel. Let's see when I will be able to get out of bed tomorrow…
General
Breakfast: Perkins, Bemidji
Dinner: Prospector Steak House, Thunder Bay
Motel: Travelodge, Thunder Bay
Distance: 355 miles