John Colter Trail 1807 — 1808
Day 10: August 23rd, 2005 Jefferson City — Kansas City
Unfortunately it had continued to rain over night — and also in the morning it is pouring. So I have no other choice than to load my truck in the pouring rain. At least it is not really cold: After all it's around 65 degrees!
Breakfast is again at the Country Kitchen next door. Also this time my coffee tastes heavily like softening agent, but not as bad as last time — back then it was almost undrinkable. After breakfast the rain starts to slow down. After my usual stop at the gas station, it is only trickling.
Around a quarter to eight I am back on the road again. This time I follow the Missouri River south banks.
First I take Highway 179.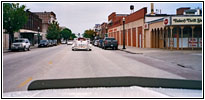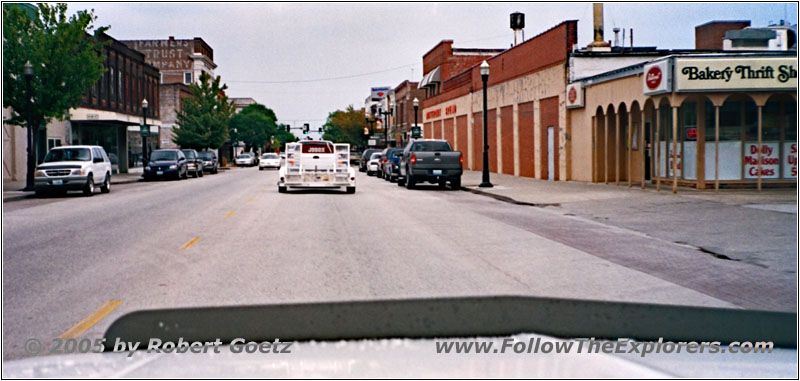 Highway 87, Boonville, MO
Then Highway 98 takes me to and Highway 87 through Boonville. On Highway 40 I cross the Missouri River and continue on Highway 87 and County Road Z along the Missouri River north banks.
Past Petersburg I continue on some gravel roads. There are plenty of great views for taking pictures and videos from the river.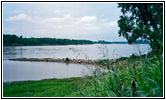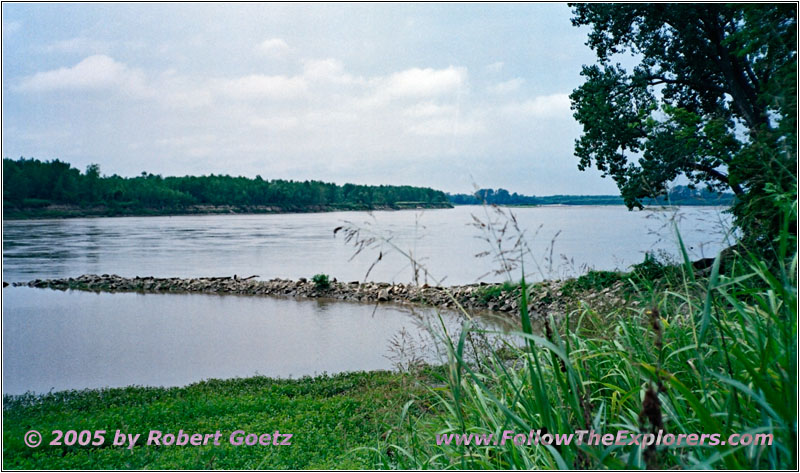 Rd 319, Missouri River, MO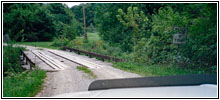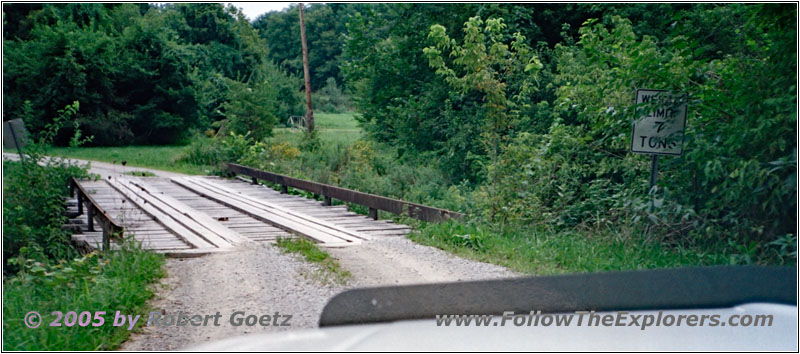 Rd 319, MO
These backroads are so great!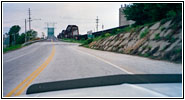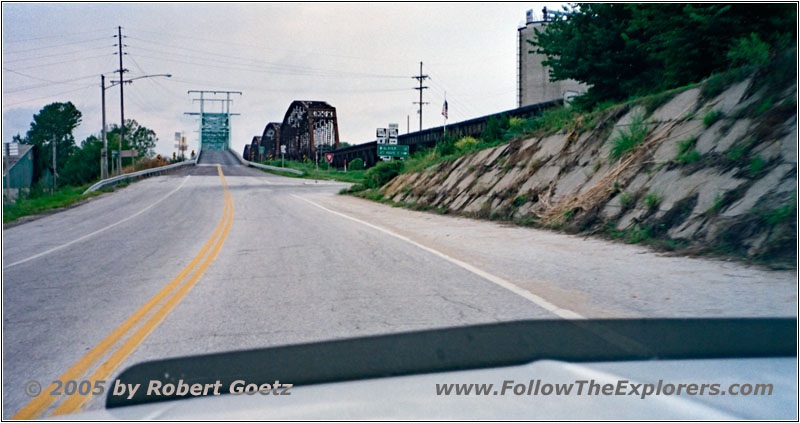 Highway 240, Missouri River, MO
Way too fast I reach pavement and Glasgow. On Highway 240 I cross once again the Missouri River.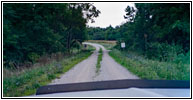 Rd 114, MO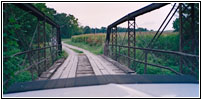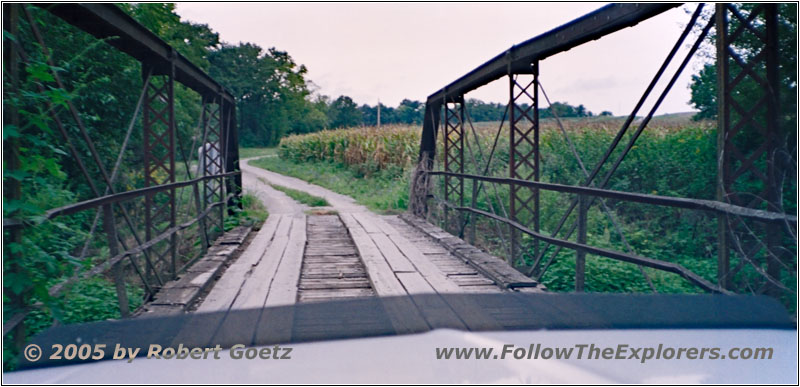 Rd 127, MO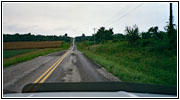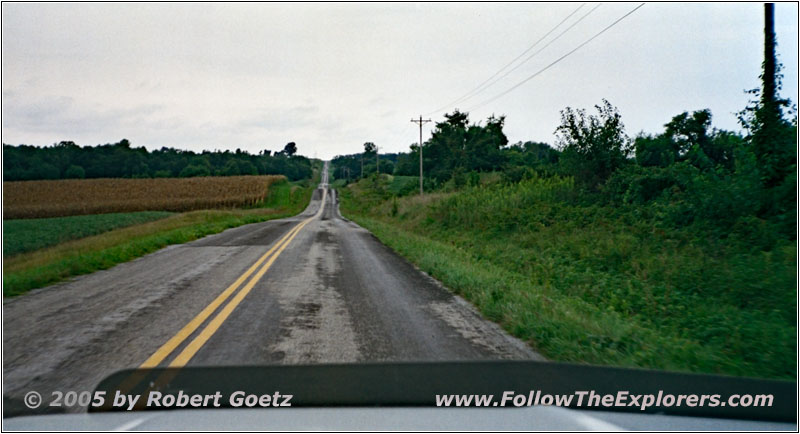 Highway F, MO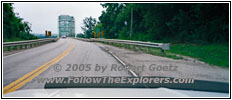 Highway 41, Missouri River, Miami, MO
Then I drive on gravel and pavement all the way to Miami. Highway 41 takes me finally back to the Missouri River north banks.
On numerous backroads I reach the area of Lexington.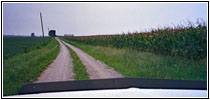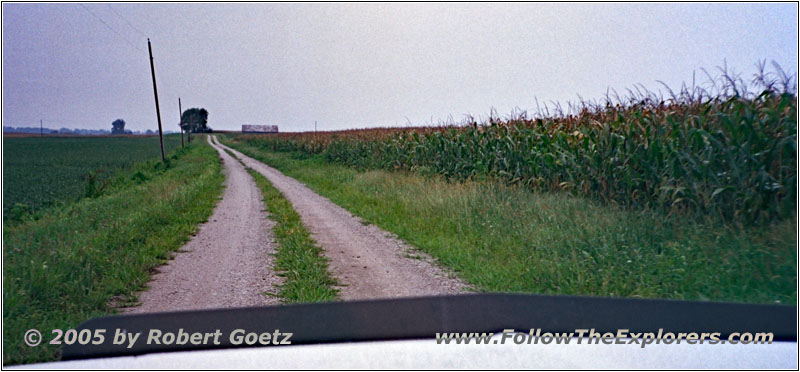 Rd 516, MO
There I must realize, that the bridge is closed, on which I crossed the Missouri River in 1999. Now there is a new simple concrete bridge a couple of miles to the west which takes you over the Missouri.
I drive on backroads along the Missouri River north banks until I reach the bigger Highway 210 at Albany. Now I am driving on this highway until I reach I–29 at Kansas City. On this Interstate I cross the Missouri River again. But in this area the Missouri River stinks heavily due to the port and industry around here. There should be a Motel 6 also in this area. But thinking of this smell, I decide to continue to the Motel 6 in Lenexa, even when this costs me another hour of driving.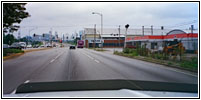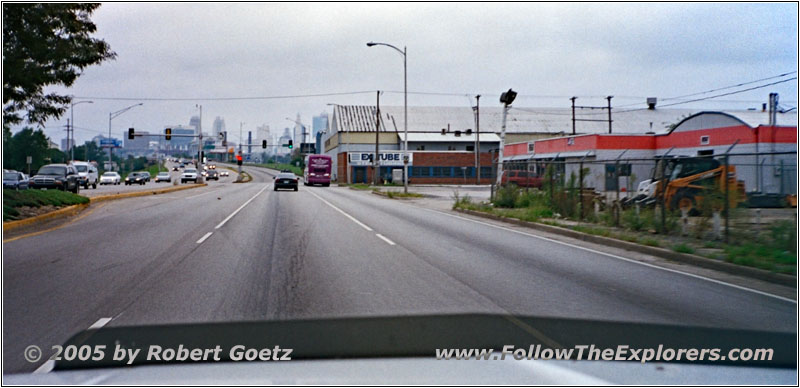 Highway 9, Kansas City, MO
Unfortunately there are a lot of road constructions and detours on this part of the Interstate. Therefore I am able to check in not before 5pm. First I drive over to Wal–Mart to get a new water can, because the old one broke today when putting it on the ground. When already being there I also buy a small universal pocket knife. And also a clamp to close the vacuum lines to my cruise control. This should fix the issue, that my vent flaps inside loose vacuum and go to the windshield position every time I step on the throttle.
At the tool area I look for a 3/8" extension, but I have no luck. Instead I meet a Native, who has some issues with his car, where he must change a part. He already has the part. But he needs a 5.5mm socket with a small wall to reach the deep buried screw. Unfortunately I am not able to help him with my tools and say good–bye. I also only have the regular stuff.
Back in my motel I modify the vacuum lines first. Then I check the video taping of today. Around half past eight I drive over to the Outback Steakhouse. I still remember from last year, where it is approximately located. Around half past nine I pay and drive back to my motel. Unfortunately the parking lot is now completely full. They are even parking on the side. There is only one small spot left directly at the fire lane, where I am able to squeeze in. Lucky me the truck is so small…
General
Breakfast: Country Kitchen, Jefferson City
Dinner: Outback Steakhouse, Kansas City
Motel: Motel 6, Kansas City
Distance: 267 miles