John Colter Trail 1807 — 1808
Day 19: September 1st, 2005 Miles City — Red Lodge
Today my little truck should be finished. But I am still a bit skeptical. Therefore I do not yet make a reservation for my motel tonight. Breakfast is again at 4B's. Also today the service is great. I pay and walk back to my motel. Then I call A1. They tell me, that they will send Josh over as soon as they start working on the truck.
Around half past nine he arrives and we load my stuff into his car. Then I quickly check out and we drive back to the garage. My new transmission has already arrived. They even started to do some preparation work. The old cooler lines will be replaced by new ones — at least one of them, because the second one was accidentally bent by Randy. But the old one is still quite okay and can be reused.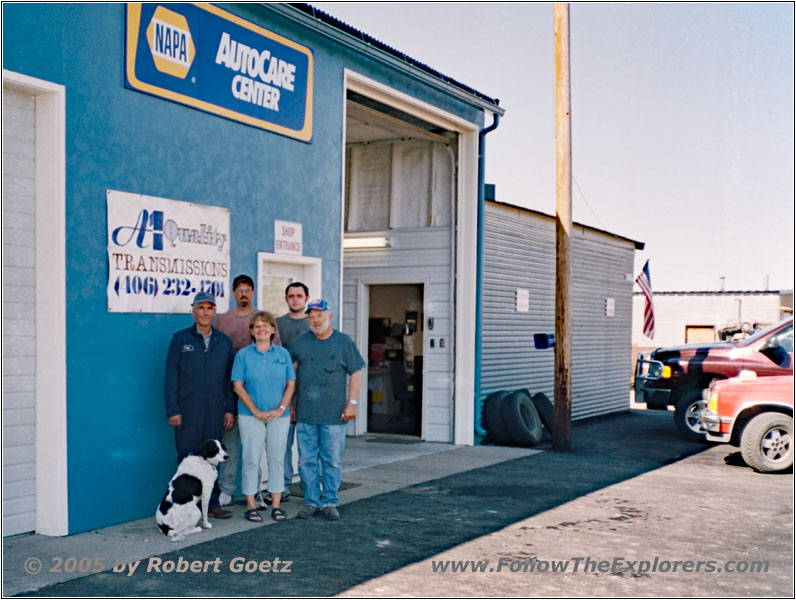 A1 Quality Transmissions, Miles City, MT
Then the installation work starts and around half past one they are already done. I take a picture from all of them and say again thank you for this really fast help. Then I start my journey. But the switching points of the new transmission are now extremely high. Therefore the transmission shifts now way harder than before.
I drive over to the gas station and then continue on the Interstate. But now the transmission does not shift in Overdrive. At the next exit I turn around and drive back to the garage. Randy agrees on the issue and readjusts the transmission. Now the switching points are still pretty high, but therefore I have my Overdrive back.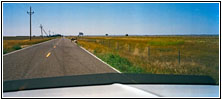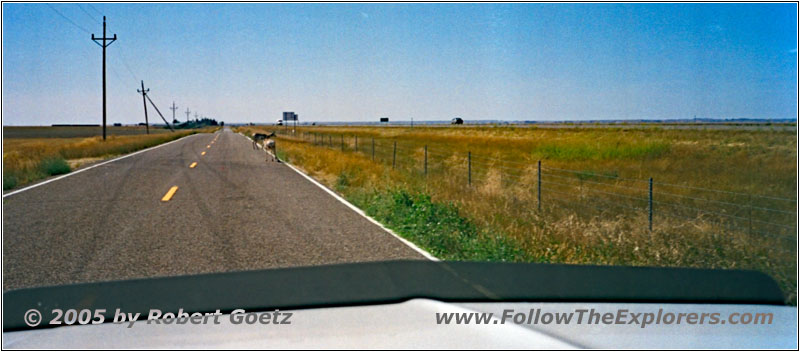 Deer, Rd 616, MT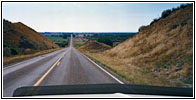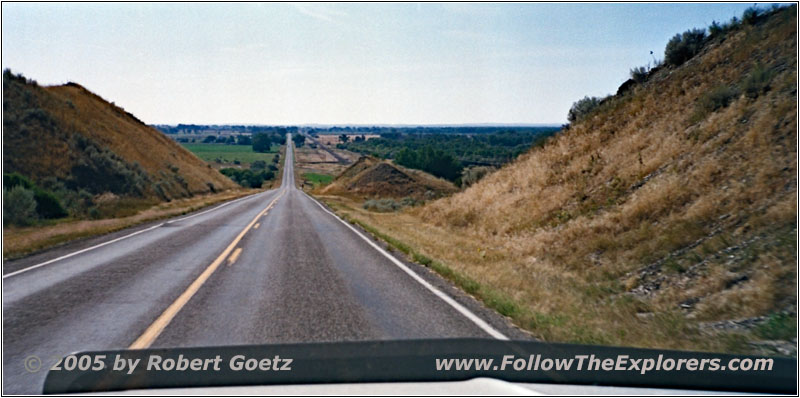 Old Hwy 10W, MT
Despite being already pretty late, I still take the smaller roads, which are running close to the Interstate and along the Yellowstone River. All in all I still have made a reservation for the Super 8 in Red Lodge. Therefore it should not be an issue, if I arrive late.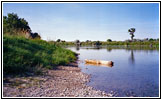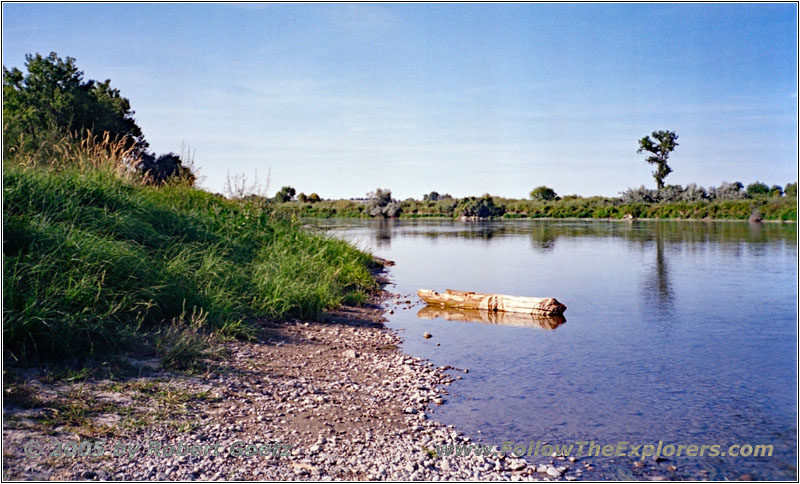 Ft. Raymond, Yellowstone River, MT
At the confluence with the Big Horn River I try to reach the point, where once was a trading post from Manuel Lisa, called Ft. Raymond. Nowadays a fishing access is close to that spot with the name "Manuel Lisa".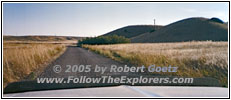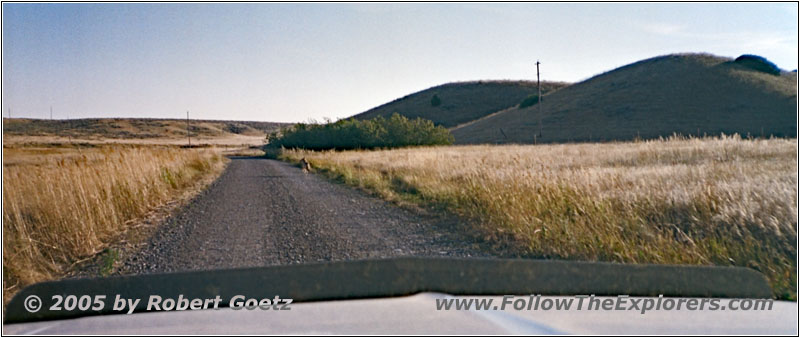 Backroad, MT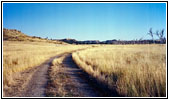 Backroad, MT
After I have finished my video taping I continue my journey. Because I am running really late now, I take the Interstate from Pompey's Pillar. At Exit 6 I leave the Interstate again and follow Pryor Creek. I cross the Interstate and pass a lot of farms, always following the creek. But after 5 miles I am stopped again by private property and must turn around.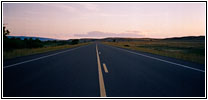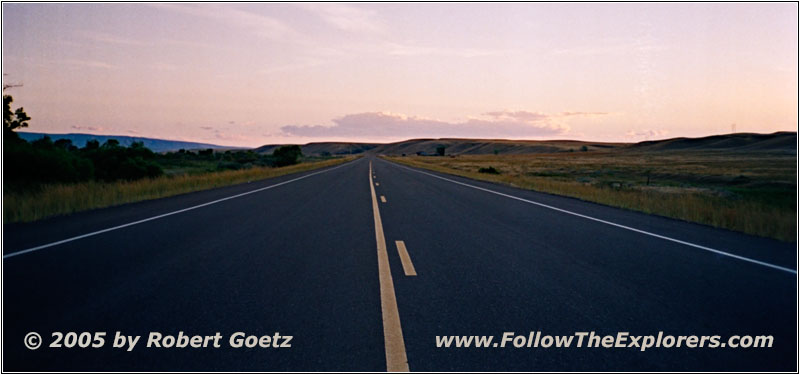 Pryor Rd, MT
On I–90 I drive in direction of Billings until I leave the Interstate at the next exit to reach my originally planned route again. Finally I reach the paved Pryor Road, which takes me to Pryor.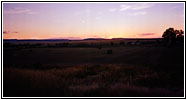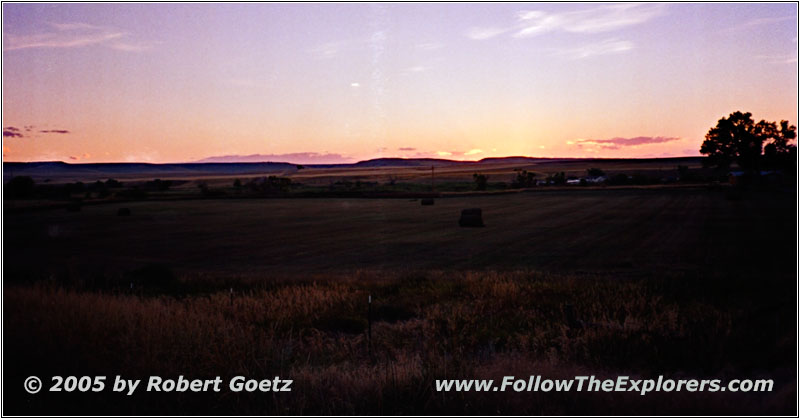 Sunset Pryor Rd, MT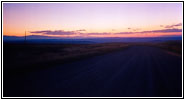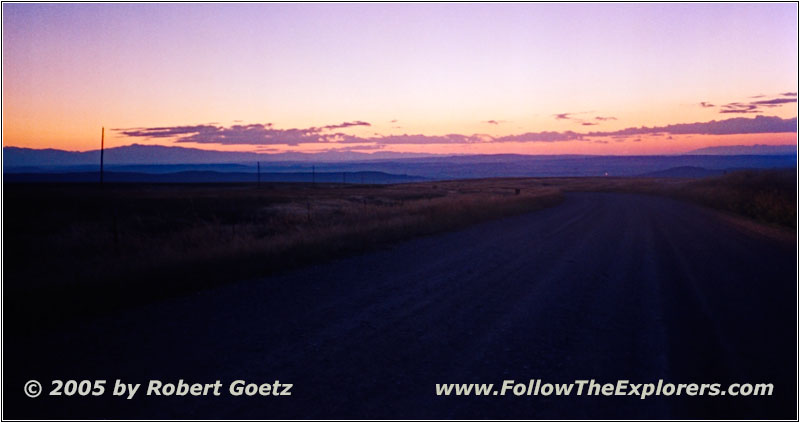 Sunset Pryor Rd, MT
However the sun is starting to go low. Therefore I stop for some nice video taping and pictures, before I continue my way to Pryor.
As I am not sure, if I am able to drive over Pryor Gap, I decide to take the direct route to Red Lodge. But also this way I must drive for almost 20 miles on gravel roads in the dark, until I reach the paved Highway 310.
Just past Bridger I take Highway 72. There is also a shorter way to Red Lodge. But that would be again a Gravel Road. So I continue my drive to Belfry on paved Highway 72. There I follow some trucks in a convoy. Suddenly I see a police car in the rear mirror with the lights on, who quickly passes me. Not even a minute later, another one shows up and a little bit later another one. What has happened here?
Then I drive on Highway 308 over the mountain range. Around half past nine I arrive at Red Lodge. I check in, but they tell me, that there is no restaurant open at that time — this cannot be true. After this long night drive I will not have a real dinner! So I have no other choice than to grab my Gatorade, some granola bar and some apples and to eat them in my room. The only advantage is, that I can check my video taping now, while having dinner. Anyway it is past midnight, when I am finished…
General
Breakfast: 4B's, Miles City
Dinner: —
Motel: Super 8, Red Lodge
Distance: 289 miles