John Colter Trail 1807 — 1808
Day 36: September 18th, 2005 Minneapolis — Chicago
Breakfast is again at the Cracker Barrel. Around 9am I arrive and am just in time, before the crowds roll in. But the servers are all completely overloaded. Nevertheless, the service still works quite well, because the servers help each other with the coffee service. Around a quarter to ten I pay and drive over to the next gas station.
Around ten I drive again over to Jiffy Lube. First I do not find them, because I miss a turnoff. But after a bit of circling around, I arrive there. I warn the guys to be careful with the oil drain plug, that nothing goes wrong there. Then I realize, that they have not done the grease job. I tell the employee about this. He checks the joints with his hands and says, they are fine — great, what can I say here…
Around 11am I pay and leave for I–94. There I really make good miles.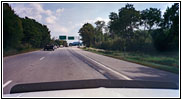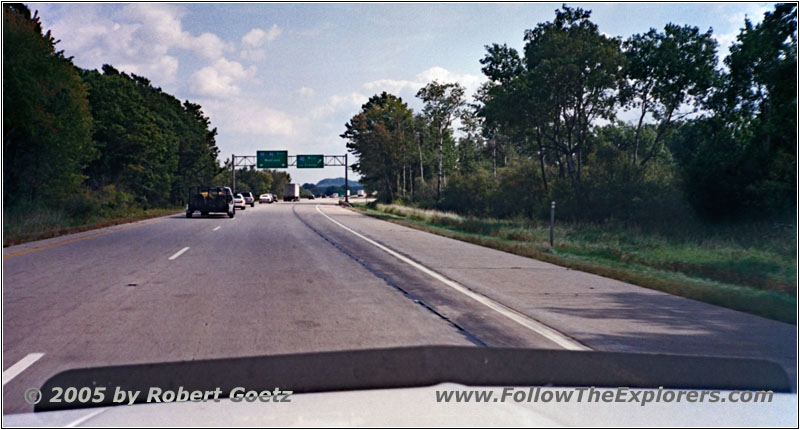 I-94, WI
At a brief pee stop I realize, that my truck is loosing oil. Also the coolant level is a little bit lower. It seems like something is starting to break here and the Jiffy Lube guys have obviously overtighten the oil drain plug once again.
Around half past three I have another stop at a gas station in Madison, Wisconsin. Then I continue in the direction of Joliet, a suburb of Chicago.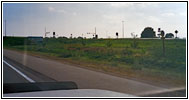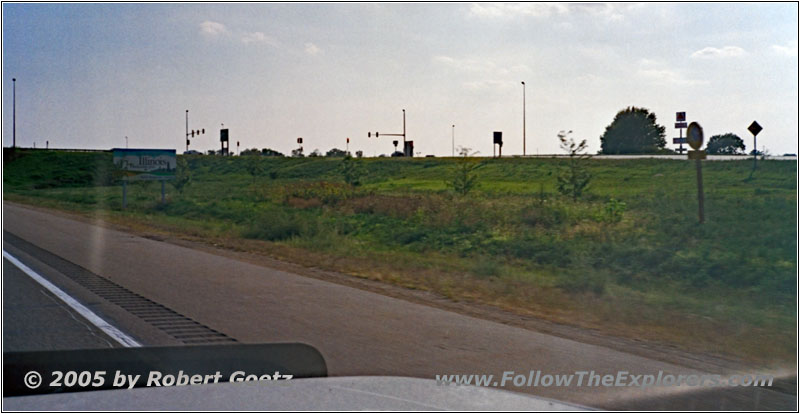 I-94, State Line WI and IL
I try to avoid the toll roads and circle them around on regular highways.
Despite the areas, where I must travel through cities, I really make good miles here.
Taking I–39 and I–80, I finally reach the Motel 6 around 7pm. There are only two bed rooms on first floor. But exceptionally, I receive this room for a single bed price. And it even is at the rear side, where it is more quiet and where there is more parking space available.
I also ask for the closest Outback Steakhouse and I receive a way description. Because it is already pretty late, I plan to check my video taping later. Around half past seven I leave the motel. Unfortunately the way description is so bad, that I am only able to find the Outback Steakhouse after a lot of asking locals and almost an hour of searching around.
Just in timer before they close around 9pm, I arrive. Now they only have tables in the bar area. The rest is already in preparation for tomorrow. Although they are not really busy, the service is not really great. Around a quarter to ten I pay and drive back to my motel. Back there I realize, that there would have been another Motel 6 just around the corner of the Outback Steakhouse. Seems like I will take a different motel next time…
General
Breakfast: Cracker Barrel, Minneapolis
Dinner: Outback Steakhouse, Chicago
Motel: Motel 6, Chicago
Distance: 463 miles