John Colter Trail 1807 — 1808
Day 37: September 19th, 2005 Chicago — Detroit
Breakfast is again at the Cracker Barrel, which is, almost as usual, really good. Only the service is a bit slow at this location. Around half past ten I drive over to the next gas station. However, the BP close by is around 10 cents more expensive and has no water to clean the windshield — not even a trash bin!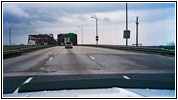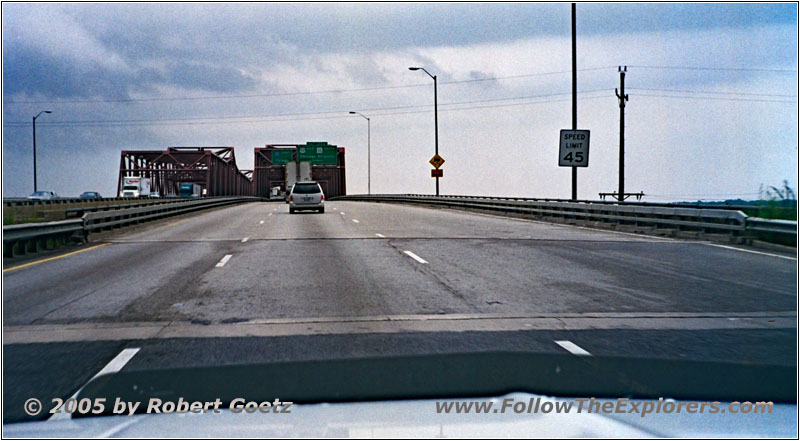 I-80, Des Plaines River, Joliet, IL
Around a quarter past eleven I leave and try to avoid the toll roads. That works out pretty well and just past the toll roads I enter the Interstate again — only to end up in a huge traffic jam. If I would have known that before, I would have stayed on the regular highways and pass the south end of Chicago on these roads. But now I am trapped on the Interstate and must work myself through a giant road construction for more than an hour to drive just a couple of miles.

I-94, State Line IN and MI
But eventually I passed it and things are now going on smoothly. At least until the next stop over at a rest area. I take a look beneath my car and realize that beside my oil leakage is also a coolant water leakage. I see that the lower coolant hose is wet and assume, that the hose is no longer sealed at the connection. But the clamp is so corroded, that I am not able to retighten it.
Frustrated I give up and drive the last 200 miles to my friends in Chicago. Just to be sure, I fill in the rest of my coolant water.
Around 5pm I arrive at my friends home. After a brief welcome I tell Matt about my issues with my truck. He directly calls his mechanic at the Shell gas station. He immediately takes me in and we shall drive over right now, so he can take a look at the problem.
Unfortunately he figures out, that it is not the coolant hose, but the water pump, which is leaking! That's the last thing I needed. But the pump is on stock and available. He promises that he will take me in first thing in the morning and to get everything fixed. He also wants to take a look at the oil drain plug.
So I leave my car over there and drive back home with Matt. In the meantime Jean has prepared dinner. She has cooked a wonderful salmon. Matt has really married a fantastic cook! After dinner he needs to buy some clips at Staples, where I join him. Then we drive back.
We chat for a while. Then Matt suggests to go in the garden. He has some speakers outside and for his birthday he received a fire place, which is surrounded by iron. There you can really set up a huge camp fire and you don't have to worry, that something bad will happen. We only have to watch his dog Cody, that he will not burn his fur.
When Matt needs to go back into the house to bring his son to bed, he gives me his mobile phone, that I can call my friend Sepp, who recently moved back to the United States. We chat for a very long time and Matt comes back twice to see, if I have already finished my phone call.
So I have no other choice than to end my call, to have some time to chat with my friend Matt. His wife has no time to join us this time, because she was going through the home works of her adopted son Adam and is now finishing the same. Around 11pm I finally go to bed.
General
Breakfast: Cracker Barrel, Chicago
Dinner: Matt & Jean, Detroit
Motel: Matt & Jean, Detroit
Distance: 303 miles