Lewis & Clark Trail
Day 16: September 5th, 1999 St. Louis — Jefferson City
Today I try breakfast at Bob Evan's. But again everything is crowded because of Labor Day Weekend. I ask for a spot at the counter and I am lucky. Just after I placed my order a guy with his wife asked me if I could move one seat further, so he and his wife can have breakfast together. We start a nice talking and I figured out that they have stayed in the very same Motel. They have been at a convention. But they are in a hurry to reach their flight back to Detroit. We exchanged our addresses without knowing that this is the beginning of a very long lasting great friendship with Matt & Jean!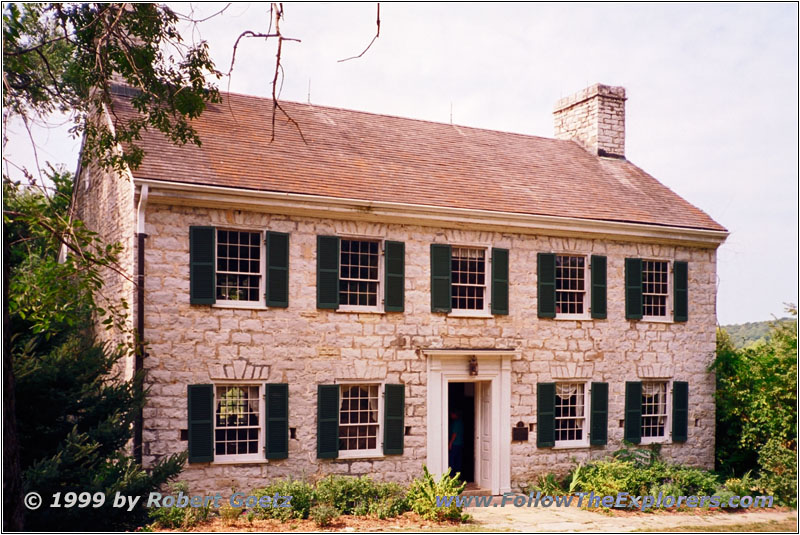 Daniel Boone Home
At ten I start my Lewis & Clark Trail. First I hit I–270, then following Highway 340 to 40 and 61. After I crossed the Missouri I turn onto Highway 94 at Weldon Spring. After a short drive I reach the crossing to Daniel Boone's Home. Daniel Boone was one of the most important guys for America's westward expansion. From 1770 to 1780 he supported the settlement in the Kentucky area. He was always at the frontier. Even 1814, in the age of 80, he still traveled to the Yellowstone River in the Rocky Mountains. He died in 1820. Also Lewis & Clark visited him on their way west.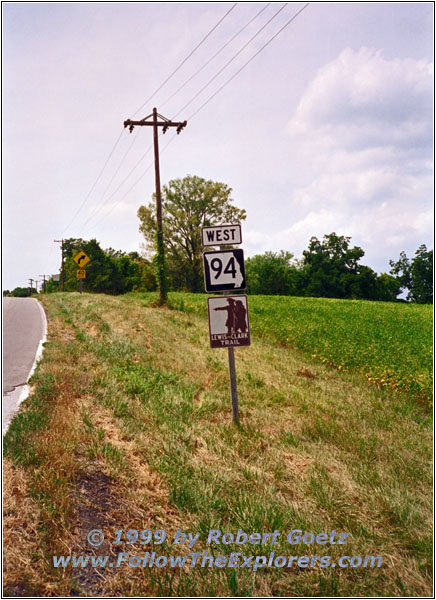 Highway 94, Lewis & Clark Sign, MO
Today it is possible to visit the living home and the property. Also the famous judgement tree is still there. But the tree is already fallen. Daniel Boone made justice at this tree.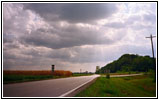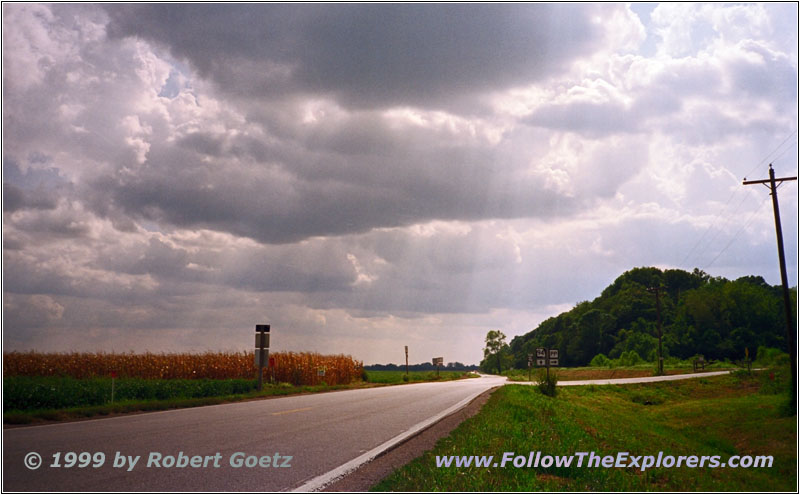 Highway 94, MO, Last White Settlement on Lewis & Clark Trail
I drive back to Highway 94 and follow the Missouri further on. Around Marthasville Lewis & Clark passed the last white settlement La Charette, which no longer exists. Now the expedition starts to enter unknown territory. How does these early explorers might have felt at this moment?
I follow Highway 94 up to Hermann. I cross the Missouri to visit Deutschheim State Historic Site. But I am half an hour late for the last tour. So I drive back to my Highway 94 to follow again the Missouri. The landscape changes between hills and big planes. Also the vegetation changes from farmland to fertile and then also dry meadows and to small forests. I follow the Highway up to Highway 54 and cross again the Missouri. My destination for today is Jefferson City. I am checking in at the motel at half past four.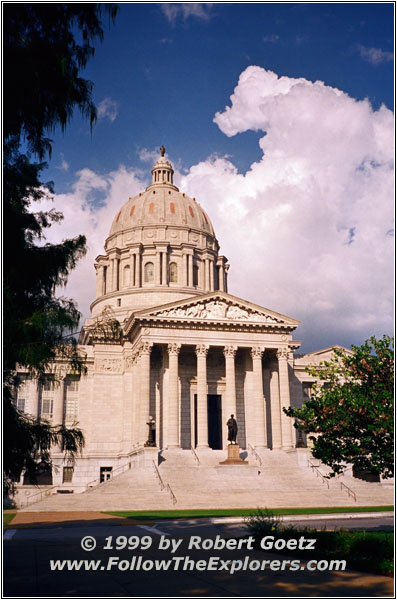 Jefferson City, Missouri State Senate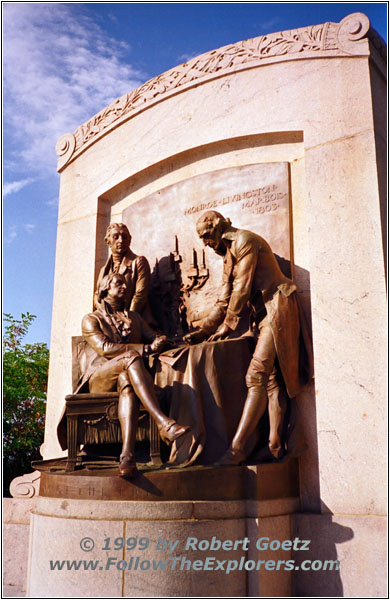 Jefferson City, Louisiana Purchase
It is still early enough to drive to downtown Jefferson City to see the Missouri State Senate. At the back of the building to the Missouri river is a small fountain with a bronze sculpture showing the signing of the Louisiana Purchase.
Then I am driving back to my motel. On the way back I search for a nice place to have dinner, but I only find a Perkins restaurant. Around 7pm I drive back to the motel.
Sights
Daniel Boone Home (Fee $7)
General
Breakfast: Bob Evan's, Bridgeton
Dinner: Perkins, Jefferson City
Motel: Motel 6, Jefferson City
Distance: 205 miles