Zebulon Montgomery Pike Trail to Red River, Arkansas Journey 1806 — 1807
Day 9: August 23rd, 2004 Terre Haute — St. Louis
The weather forecast said rain for today. Therefore I think about installing my old gear set as first thing to do in the morning. I take out my small Wal–Mart tool case, but there is the first surprise: There is no 15mm wrench or nut!
So I try it with a little bit bigger one from the inch sizes. But I am not able to build up enough torque to loose the nuts on my skid plate with this mini ratchet included in the set. My last try is to use this mini screw wrench. But I also have no luck with this tool. That convinces me, that I could immediately junk this tool set, if I am not even able to open a skid plate nut…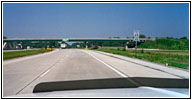 I–70, State Line IN and IL
So I have no other choice than to load my truck and drive over to Cracker Barrel for breakfast. After a brief search and a small detour I am able to find the restaurant. Around half past nine I pay and drive over to the next gas station. Then I start my last leg to St. Louis.
The weather is still nice and I arrive already at half past one at my motel in St. Louis. As I am still early in the day, I am able to receive a room on first floor in one of the buildings farther away. I put my stuff in the room and check the video taping of today. Then I try to find a good mechanic in the phone book. Unfortunately I am not able to find someone promising. Therefore I just hit the main road in direction to St. Louis to see, if something promising shows up here.
In the meantime it starts slightly to rain. My first stop at a mechanic was not really successful. They would have only time to take a look at it tomorrow morning. But I should give Dobbs a try. Beside tires they also do some other stuff. So I give it a try at this location. And indeed I find someone really listening to my kind of unusual problem, where I would like to tell the mechanic what he shall do on my car. However, they tell me, I have to wait for approximately an hour. But that is still fine for me.
It is already heavily raining and with this kind of weather, I am not interested to lay under my car at the motel. After a bit more than an hour the mechanic enters and picks me up. He already did take a look at it, but he wasn't really sure of what to do. Sure, all in all I told the guy at the reception, that he shall tell me, when they plan to start working on my truck…
Anyways, I am able to explain the mechanic my problem. We figure out, that the cheap part, the driven gear, is the wrong one. My new one has 21 teeth, while the old one only has 19. That's why my speed showed up too high.
The mechanic even changed the seal and put on a longer cable tie. Then I am ready to hit the road again. The bill of $20 is absolutely fair and I would give this place the value of recommendation.
As my speedometer problem is now fixed and I have to skip the visit of "The Arch" once again due to rain, I drive over to Wal–Mart to get the newest Country CDs. Indeed I am able to find some of my most wanted CDs for just $10. This is really cheap.
But at the cashier I realize, that the price is higher on my bill. Unfortunately the cashier is not able to change something here. I have to go to the complaints section. After a short waiting, they pay out the price difference without any discussion. Then I drive back to my motel, where I start immediately listening to the first three CDs. While listening, I feed my GPS with the next positions.
Just past seven I drive over to the Outback Steakhouse. This time I have a black guy as server, who is almost 7 feet tall and has the deepest voice I have ever heard. He is super nice and we have a great chat. He even brings me special honey butter, where he insists, that I have to try it on the bread — up to this time, I didn't even knew, that there is honey butter around! And it tastes fantastic together with this Outback bread!
I pay around half past eight and drive back to my motel. When I arrive there, a police car parks directly at the motel corner. Maybe this Motel 6 isn't as safe as I thought?!
I go to bed early, that I have a chance to get up also early tomorrow. Unfortunately the quiet night doesn't stay quiet for too long. Soon it is starting to get noisy in the adjacent rooms. It seems like some kids started to run around and jump from their beds around half past twelve in the night. Anyways, it crashes and bumps all the time. Eventually it is getting too much for me and I hammer against the wall. But there is not really a change. Then my patience is gone and I hammer with my both fists against the wall. Now it is getting quiet and I am able to fall asleep again. But now my hands start to ache…
General
Breakfast: Cracker Barrel, Terre Haute
Dinner: Outback Steakhouse, St. Louis
Motel: Motel 6, St. Louis
Distance: 280 miles