Zebulon Montgomery Pike Trail to Red River, Arkansas Journey 1806 — 1807
Day 16: August 30th, 2004 Emporia — Salina
In the same area, where the Applebee's is, is also a Village Inn located. There I plan to have breakfast. Today it is with around 70 degree in the morning pleasantly cool. After breakfast I do a brief stop over at the local Wal–Mart to fill up my water reserves. Around half past nine I continue to the next gas station and a quarter of an hour later I am back on the road again.
First I take the highways back just past Olpe.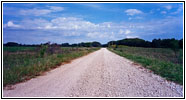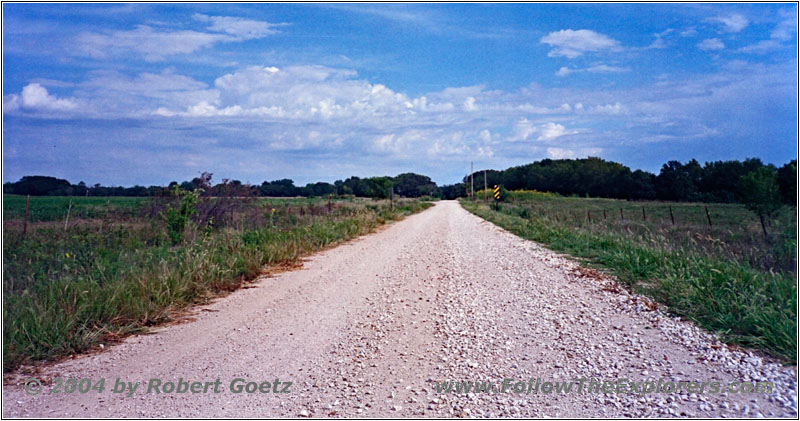 Rd E, KS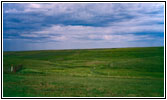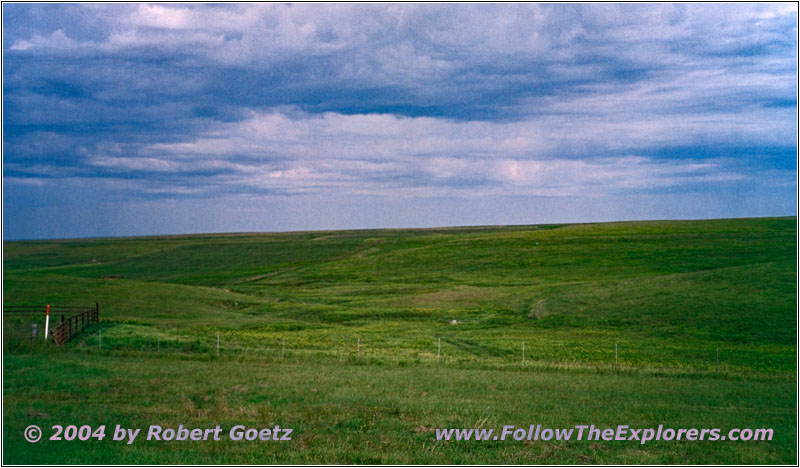 Rd 20, KS
Then I turn to the west on the next backroads. Finally I reach the Rd 20 gravel road to the west. You almost feel like being in Montana here. The farm lands have made room for ranches. The roads run through the ranchers properties and are separated by cattle guards.
Thanks to the recent rain, there are still numerous creeks running over the roads. But none of them is really deep. Unfortunately I take a wrong branch and arrive after a while at the Interstate, around 20 miles away from the point, where I planned to reach the Interstate. Also I have to drive through some cattle gates to reach the main road.
I cross the bridge over the Interstate to look for a path on the other side. But I also can only enter the Interstate there. It took me up to here until I realize, that this is the Kansas Turnpike and therefore a toll road. As I am not able to show a ticket for the spot, where I have entered the Turnpike, I would have to pay the maximum toll for just these couple of miles — no way!
I try to remember, where I took the wrong branch and try to figure out with my map where I am actually at. Finally I find this point and remember that I saw a sign at this branch, which looked like a road closure. As I am not able to exit from my current location, I must drive back anyway. Then I have the chance to take a closer look at this sign. Even when the road is closed, I might still be able to drive it with my 4WD.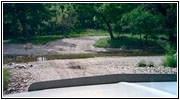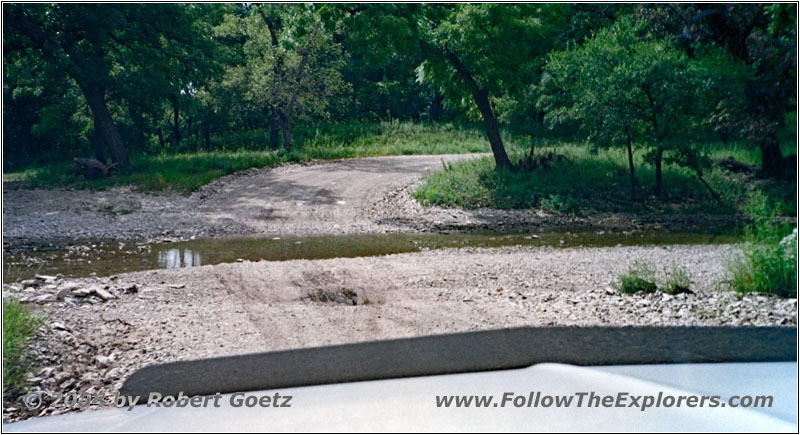 Camp Creek Rd, KS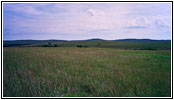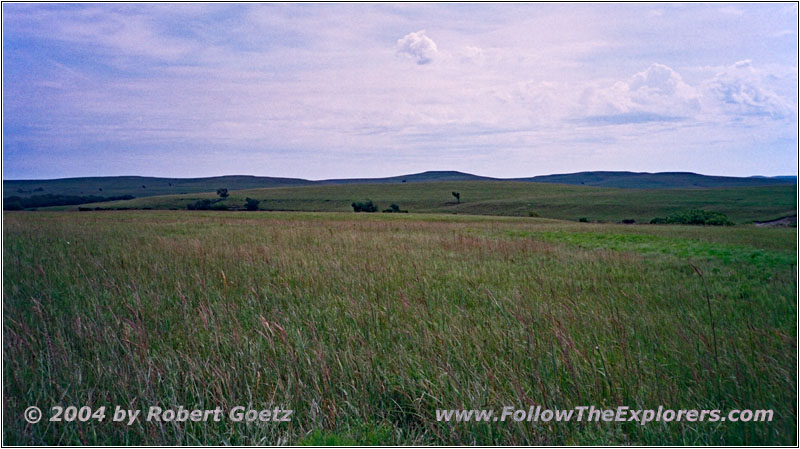 Camp Creek Rd, KS
I drive back over the "Rolling Prairie" and really find the crossing where I took the wrong way. The sign is in reality just a sign that warns for a river crossing, which you should only take during low water. This can also gives me an impression of the river crossing past the Medano Pass in Colorado. But the river depth is not really deep and I reach the other side without any issues.
Also Pike was able to find water here after a long thirsty journey. He camped here on September 10th, 1806. I follow his good example and have a lunch break here to eat one of my apples. I have to eat them, before they turn brown…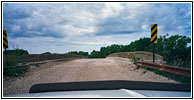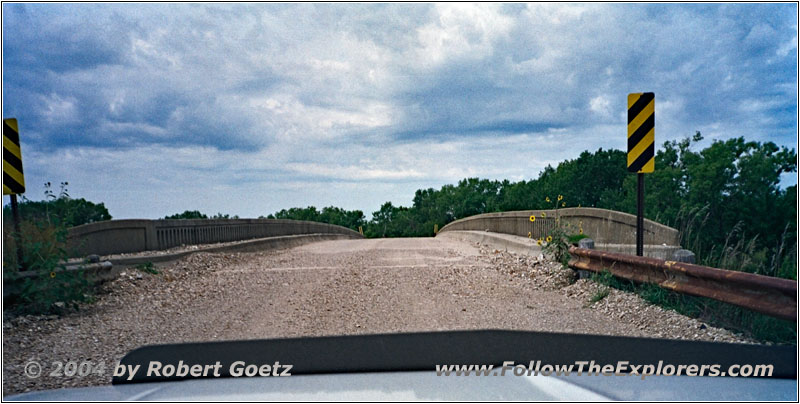 50 Rd over I–35, KS
Then I continue my journey and reach the Interstate at the planned waypoint. There is no possibility to enter or exit the Interstate. Only a bridge takes you over the Interstate to the other side. But there is a gate, which blocks entering the Interstate.
But I planned to stay on the gravel road at the other side to Matfield Green anyway.
Then I drive on numerous other backroads to the northeast up to Cedar Point. On Highway 50 I finally reach Florence. There I turn onto Highway 77 in northern direction.
After a couple of miles I turn onto some nice backroads again, which follow the Cottonwood River up to Marion.
On Highway 256 and 56 I continue west until I reach the branch to the north at the western end of the Marion Reservoir.
After I crossed the reservoir I continue west along the nature preserve area. After another couple of miles I turn north again.
Now I drive almost 12 miles straight along nice fields, all on gravel roads.
Then I turn to the west again. I follow the backroads many miles to the west until I turn north again, just before I reach Highway 4.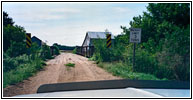 E Lapsley Rd over Gypsum Creek, KS
On these backroads are some real adventurous wooden bridges. When you see that the maximum weight is 3 tons, you really start thinking — especially when your own truck has almost 2 tons…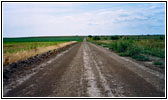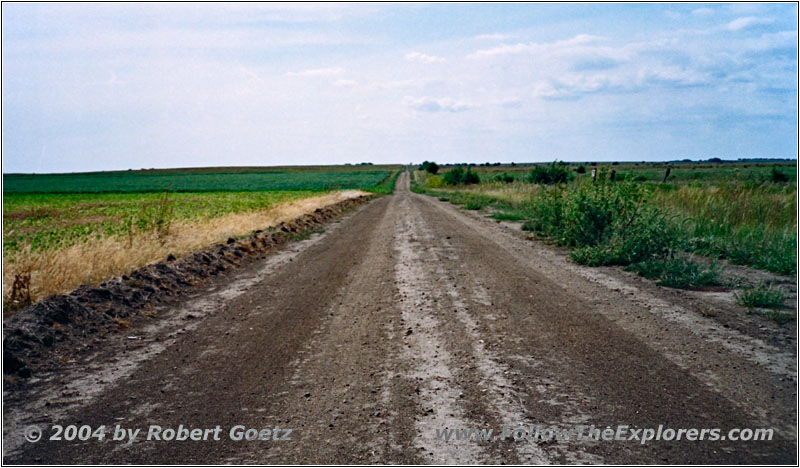 S Ohio St, KS
But for now I drive another 7 miles to the north.
Then 6 miles west and another 5 miles to the north until a road closure stops me once again. The high water has taken out a bridge. Therefore I am forced to return to Highway 140 now.
But I am almost at my destination of today, the Motel 6 in Salina. Taking the Interstate I reach my destination at around a quarter to five. Also today it was very warm. The temperatures were even in the 100s!
First I check my video taping of today, then I feed my GPS. Around 7pm I start my search for a nice dinner restaurant. I drive the main street down south through Salina. But beside a Mexican Restaurant I only see an Applebee's. As I don't want to have Mexican food today, I choose the Applebee's. Also today I try another variation of chicken breasts and it really tastes great again. Just before eight I pay and drive back to my motel at the other end of town.
When I arrive at my room, I see a mosquito flying through the room. This one must die. But when I have been able to kill this one and look around, I encounter a whole bunch of them. All in all I am killing 10 mosquitoes, before I am safe again. I am really glad, that I have found them. Otherwise I would have been looking pretty bad tomorrow…
General
Breakfast: Village Inn, Emporia
Dinner: Applebee's, Salina
Motel: Motel 6, Salina
Distance: 198 miles