Zebulon Montgomery Pike Trail to Red River, Arkansas Journey 1806 — 1807
Day 17: August 31st, 2004 Salina — Belleville
A bit to the north of my motel is the Bayard's Cafe, a typical American cafe. The breakfast is really big. At a quarter to nine I am at the gas station and then back on the road. Currently we have pleasant 70 degrees. Let's see, how hot it will be today.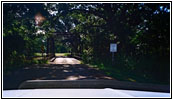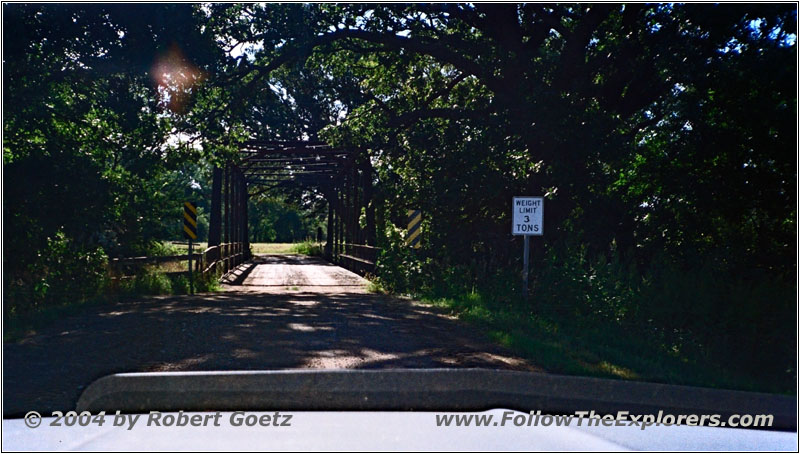 N 110th Rd, Saline River, KS
First I take the backroads northwest to Minneapolis. There is the "Rock City Park" located. They have some rounded rocks in interesting shapes and which are nice climbing rocks for kids.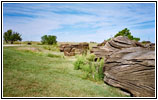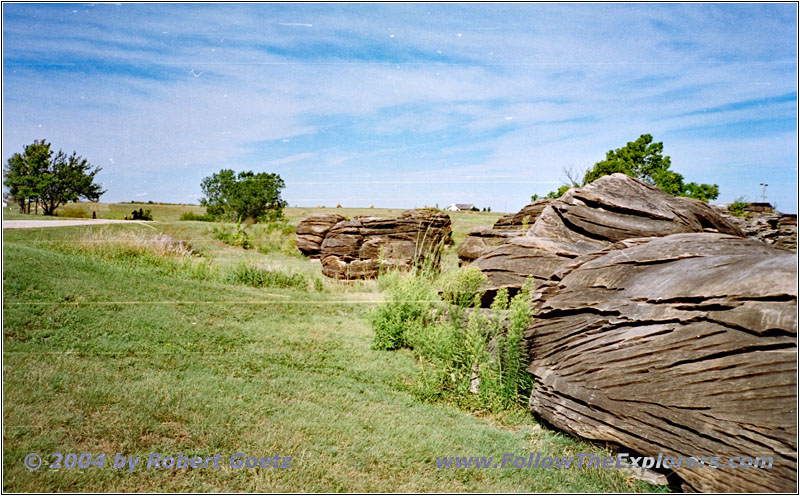 Rock City Park, KS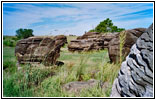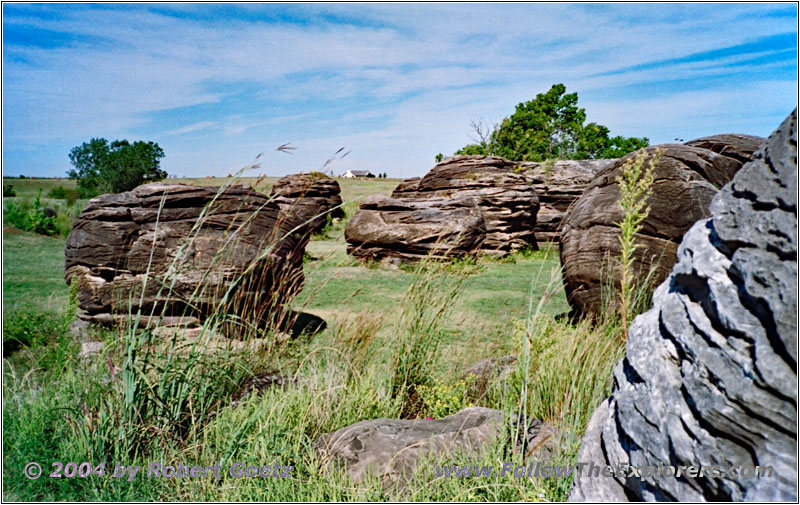 Rock City Park, KS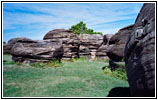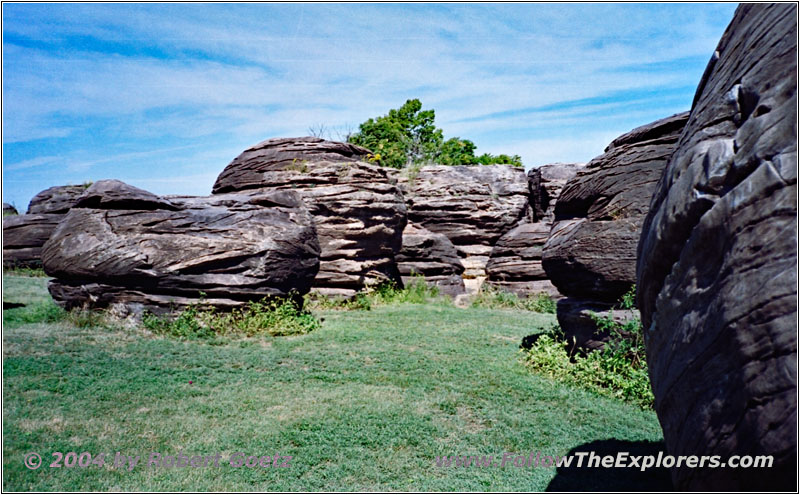 Rock City Park, KS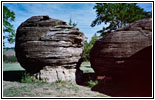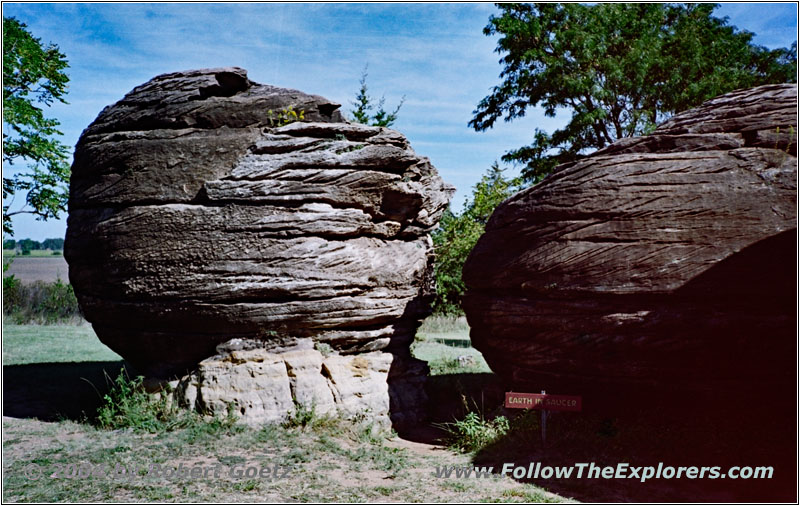 Rock City Park, KS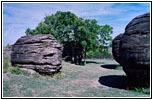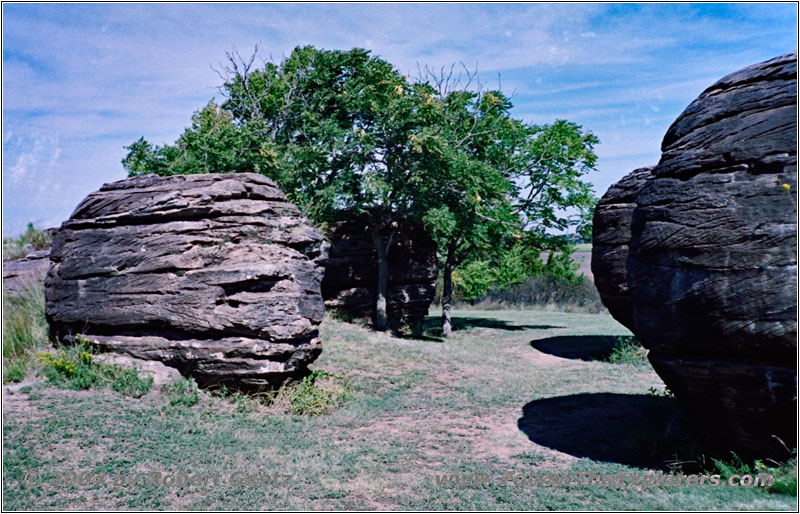 Rock City Park, KS
In the visitor center is an elderly guy, who has been stationed in Augsburg from 1952 — 1960. He tells me, that they had around 4000 visitors last year. And he works here since 2 years. But in these two years he had read more than the last 20 years…
The weather is great, which gives me the opportunity for some nice shots of these really special rock formations. Unfortunately my camera has a different idea and causes major issues. Something is not working with the film transport. But there is nothing I can do here and I have to wait until I am back in my motel…
On backroads I drive on the northwest and through Simpson further on north. Between the bushes the temperature rises to almost 120 degrees!
Finally I reach Highway 36, which takes me to Belleville to the east to reach my destination of today, the Super 8 motel. I already check in around half past three. Now I have enough time to check my video taping of today. I also try to fix my film problem by opening the photo in the dark restroom.
Then I start my search for a restaurant. The motel guide shows cafes in the city. But even when driving the city up and down for three times, I am not able to find them. Therefore I end up in a Pizza Hut, which is close to my motel. Since 1999 nothing like this happened to me again…
After dinner I drive back to my motel and go immediately to bed. But before I take another look into the motel guide. There I see that the Best Western motel should also have a restaurant. But this one I can try tomorrow for breakfast.
Sights
Rock City Park (Fee $3)
General
Breakfast: Bayard's Cafe, Salina
Dinner: Pizza Hut, Salina
Motel: Super 8, Belleville
Distance: 115 miles