Zebulon Montgomery Pike Trail to Red River, Arkansas Journey 1806 — 1807
Day 18: September 1st, 2004 Belleville — Concordia
I try my luck at the Best Western, but the restaurant is closed! So I have no other choice than to search again for these two restaurants, which I already was not able to find yesterday. But this time I have more luck: The AJ's Cafe is to the right in one of the side roads. There I have not been looking for yesterday.
Also this restaurant is one of these typical American restaurant with good and plenty breakfast. Then I drive over to the next gas station and around half past nine I am back on the road again.
First I drive Highway 36 back to the west, until I reach the northern branch of my backroad.
Finally I reach the Pawnee Indian Museum State Historic Site on gravel roads. First I get an exclusive introduction, because I am the only guest around. Just past that, another couple arrives, which leaves pretty soon again.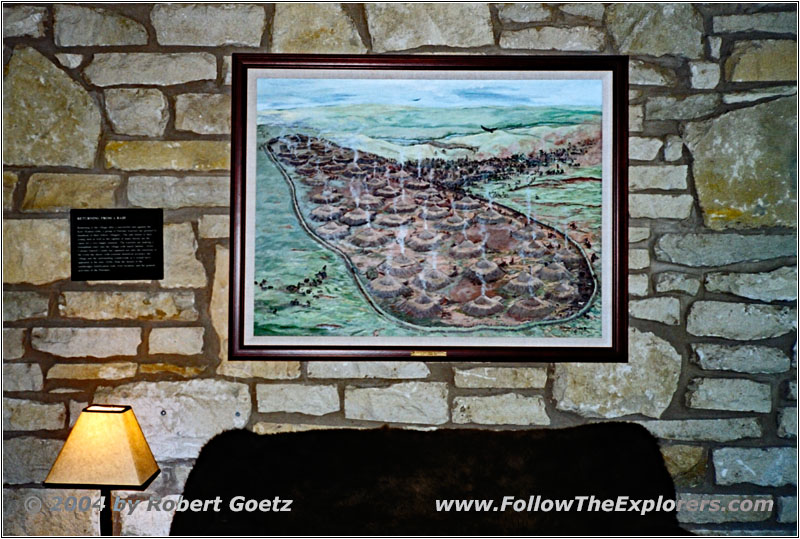 Pawnee Indian Museum, Village Drawing, KS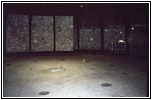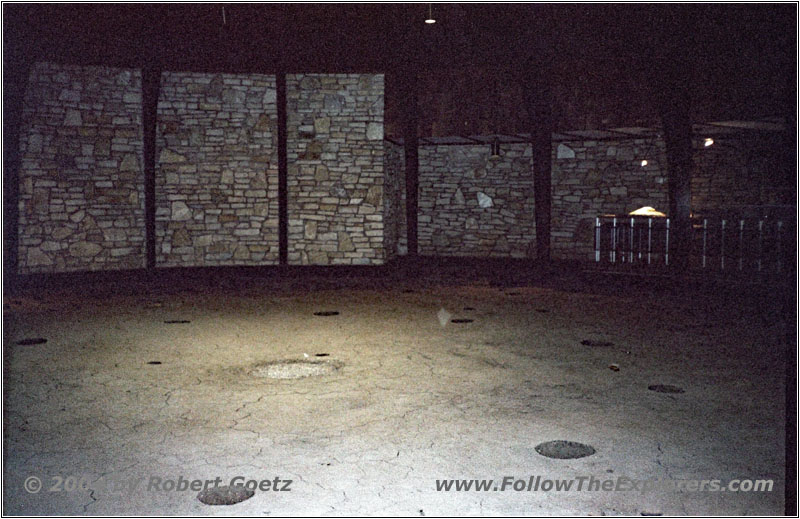 Pawnee Indian Museum, KS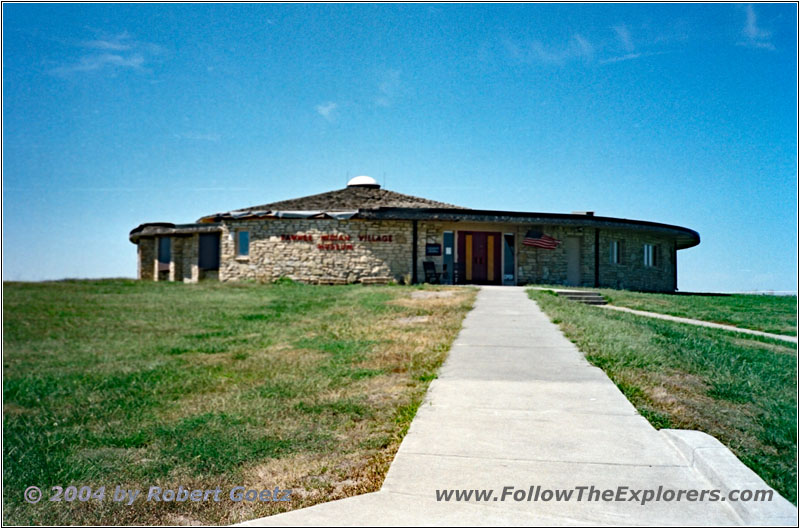 Pawnee Indian Museum, KS
I am almost leaving, when I ask Richard, the site administrator, why there is nothing to see from Pike. All in all he was at this place in 1806. But he corrects me and tells me, that the real Pawnee village was around 30 miles north, just past the state line to Nebraska. Here, where the museum is, was once a village. But it was not the one, where Pike came through back then! Now I understand, why I had this much trouble, when I was trying to map out the trail in this area — after all I assumed the village to be 30 miles to the south at the location of the nowadays museum!
There was also a lot of discussion between Kansas and Nebraska, who really had this historical place. Kansas won this dispute, but only, because they had already established this place.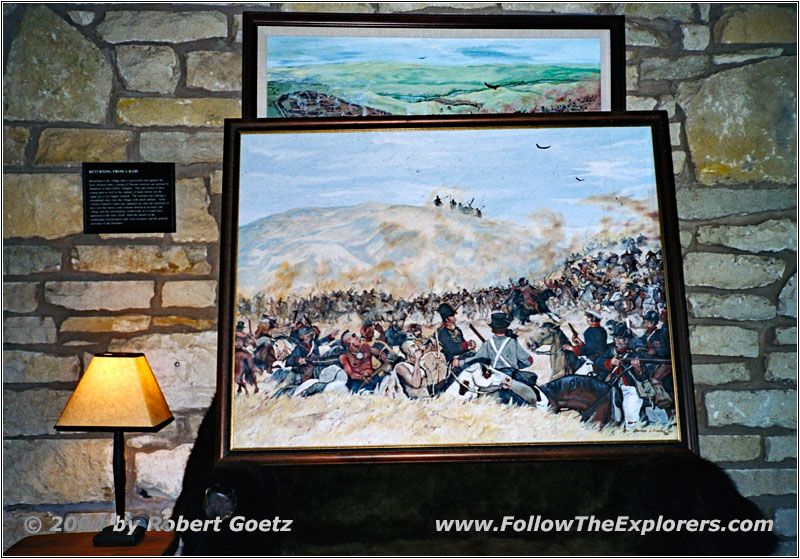 Pawnee Indian Museum, Pike Drawing, KS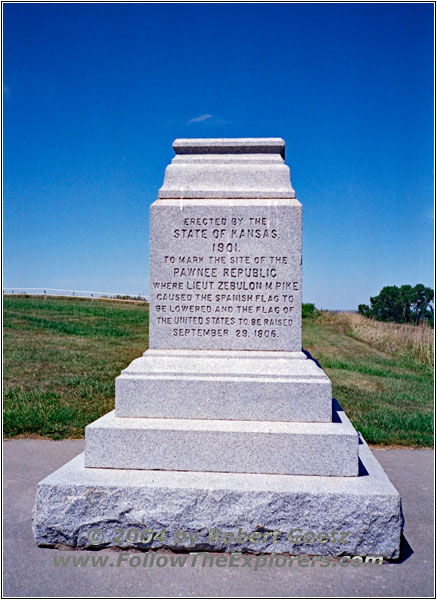 Pawnee Indian Museum, Pike Monument, KS
This year a Tornado had destroyed the monument, which states, that Pike was here — and also a part of the roof of this museum! Richard was at home during that time. But he was fine. Only the painting, which showed Pike when he met the Pawnee Indians, has been slightly damaged by the rain. Therefore it is no longer at his place. But because I am following Pikes footsteps, he picks it out of his room, located inside the museum. Just for me he shows me the painting.
I ask him, if he would like to give me the introduction part again in front of my camera and maybe if he wants also tell something about Pikes story in this area. He really loves this idea. I quickly get my microphones out of my car. If someone is really willing to speak in front of my camera, then I would like to have a good sound quality. It is really fun to work with him. You can get the impression, as if he is not doing this for the first time in his life!
After I got all the shooting done, I take some video and photos from the museum area outside. Then I return to the museum and we chat on. In the meantime, he already has copied a hand drawn map for me, that I have a chance to find the place, which Pike really has visited back then.
When I show him my tour book he is absolutely hooked. He says, my mapping is really excellent. When it's time to say good bye, he asks me, if he could have a copy of this shooting for a fee. I tell him, that he could receive one free DVD copy of this shooting, if he would be patient enough to wait until I am back in the US next year (when being on my next trail). He is so happy about my offer, that he gives me a Pawnee Indian Village T–Shirt as a gift. This is really great!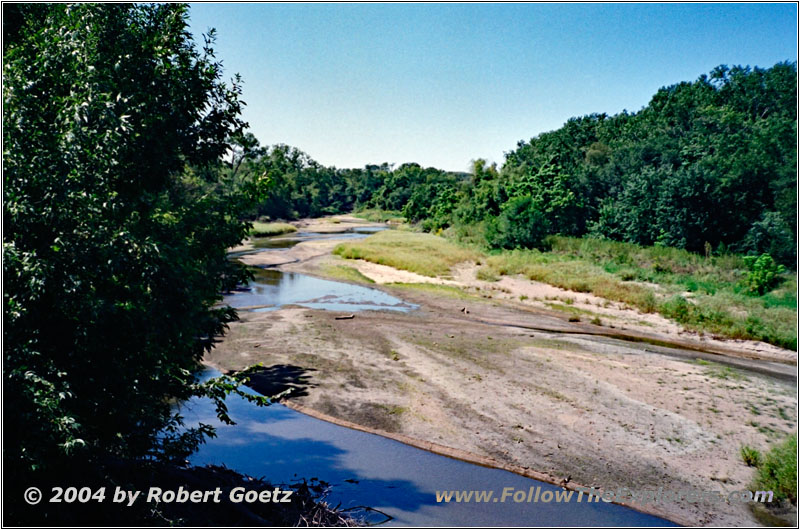 Co Rd 6, Republican River, KS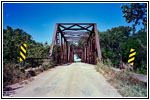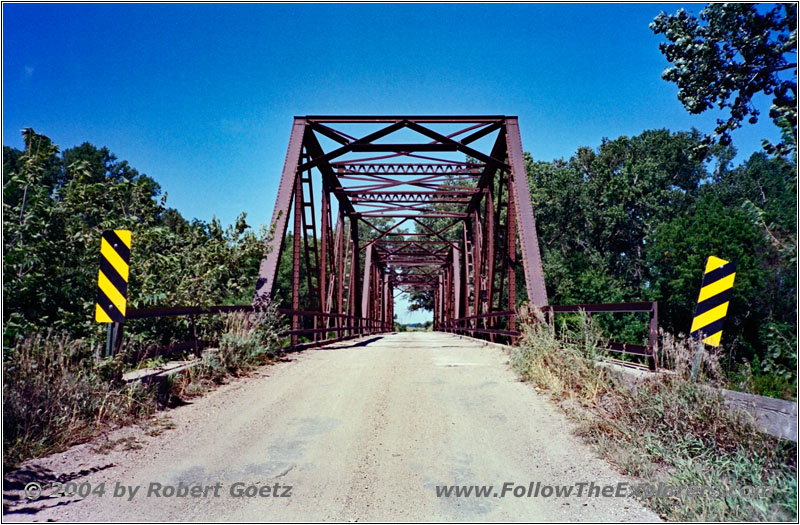 Co Rd 6, Bridge over Republican River, KS
All in all I completely lost time, while talking to Richard, so it's already noon when I leave the museum. I follow his way description to the real Pawnee Village and the Guiding Rock.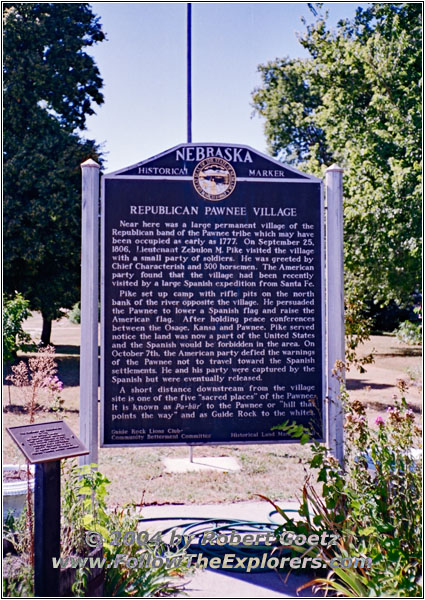 Pawnee Village Sign, Guide Rock, NE
On my way I pass the village Guiding Rock, where they have a historical marker for the real Pawnee Village.


Guide Rock Sign, NE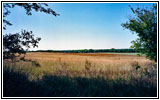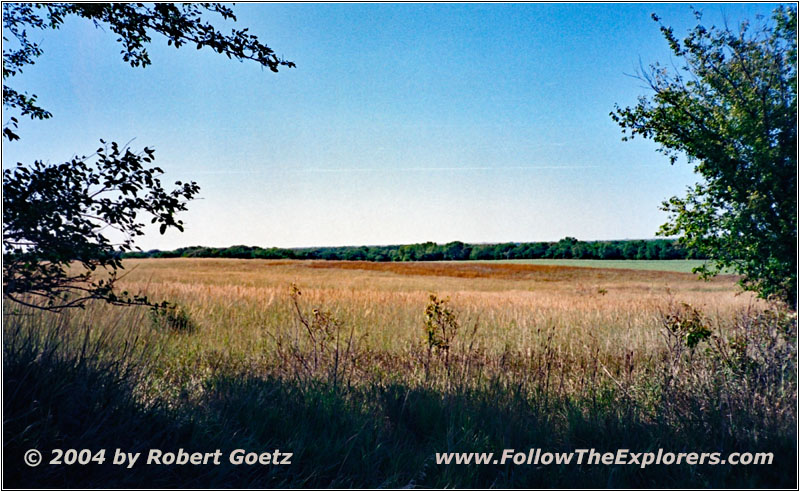 Pawnee Village, NE
Driving the highway further on south I reach east to the road Guiding Rock and to the west the real Pawnee Village. There is also a small, but well hidden historical marker. The original location of the village had to made room for a crop field, as described by Richard. Through the middle of the old village runs now a gravel road.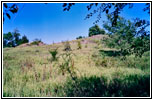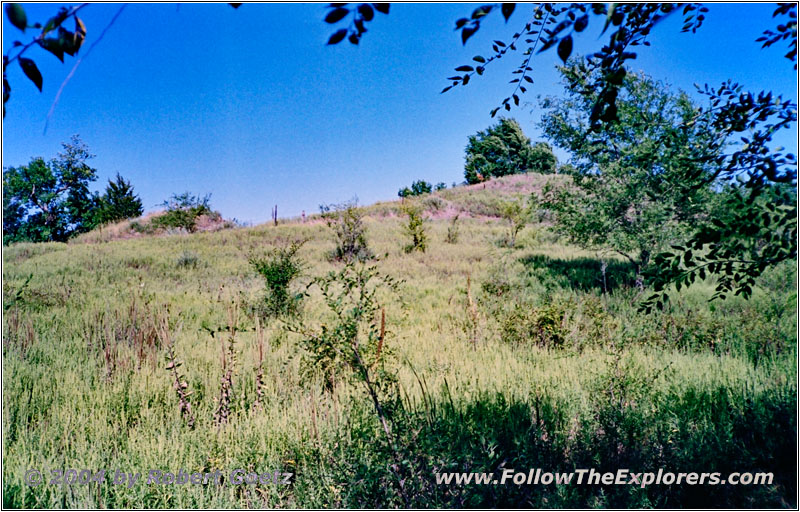 Pikes Camp near Pawnee Village, NE
As there is a bridge out I cannot directly reach the location of Pikes stockade. But driving a detour to the other side brings me to that place. This one is on private property and enclosed by thick bushes. But I find a small opening, where I have the chance to do some video taping and take pictures.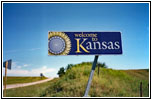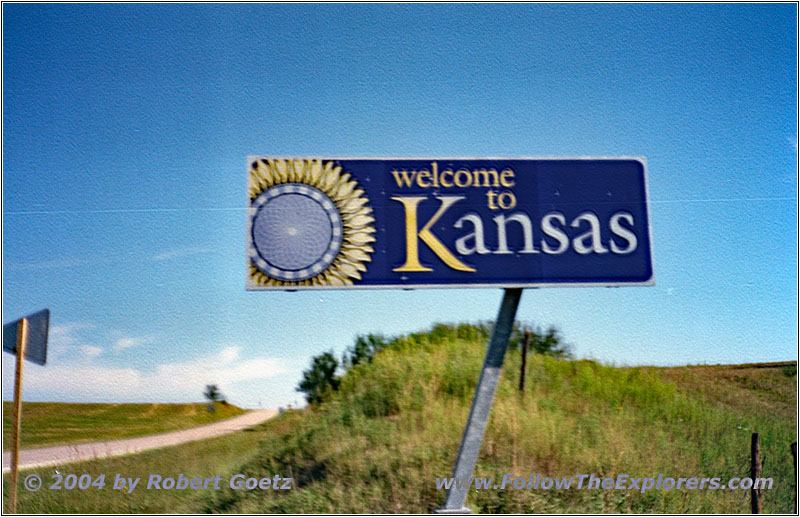 Highway 78, State Line NE and KS
Then I start my way back to get back on my original planned route. First I have to cross the state line to Kansas on Highway 78.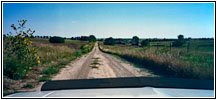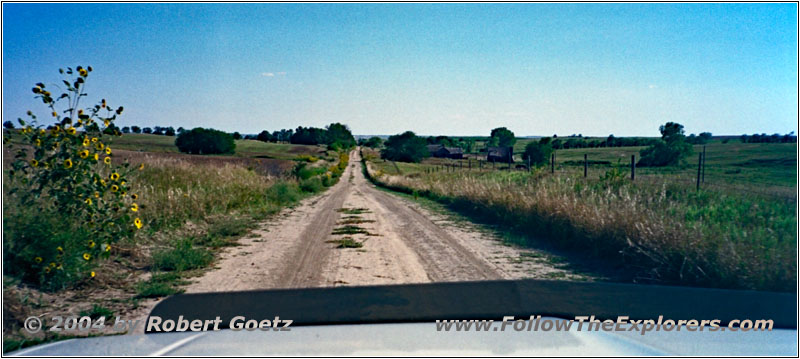 140 Rd, KS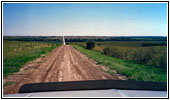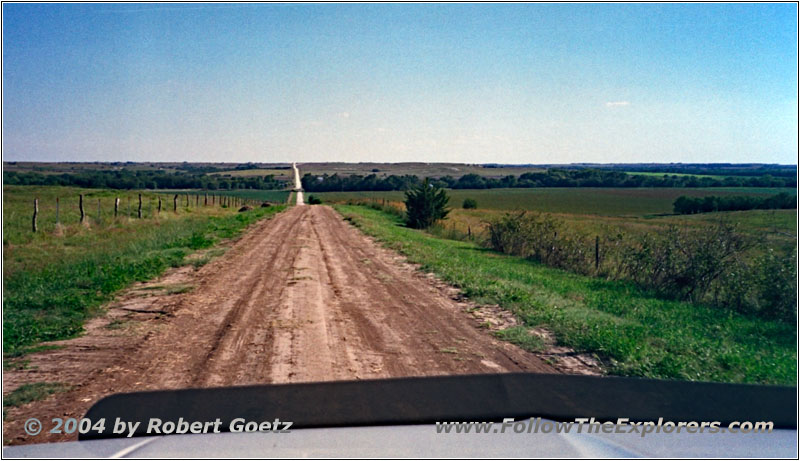 140 Rd, KS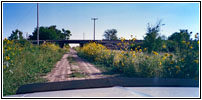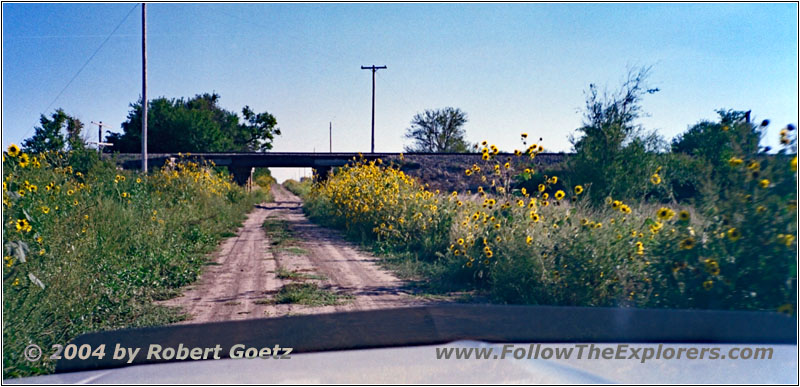 140 Rd, KS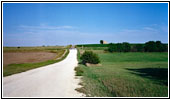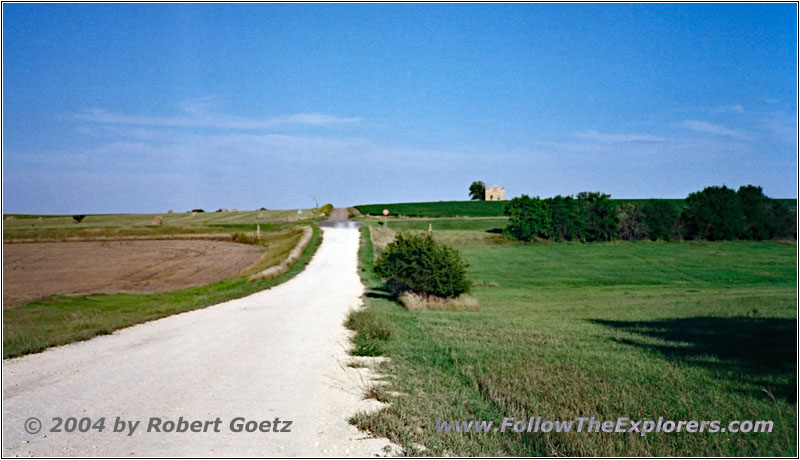 F Rd, KS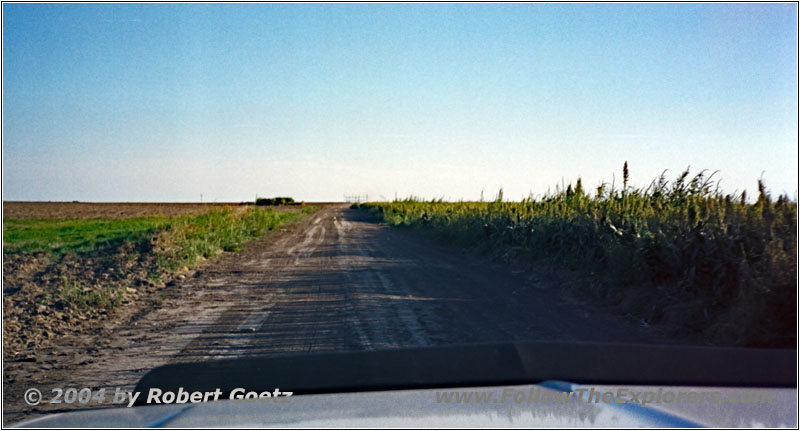 220 Rd, KS
Finally I am on backroads again. The 140 Rd is really a wonderful drive for many miles.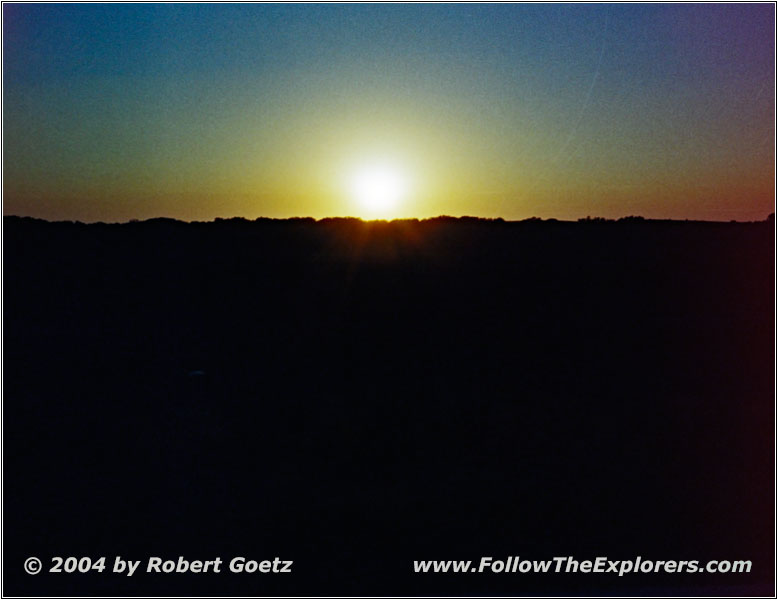 Sunset Backroad, KS
But I have lost now a lot of time with this detour. Therefore I decide to stay at Beloit for tonight, where is also a Super 8 located. I arrive around a quarter past seven. But directly in front of me, the couple had taken the last available room. The only other motel is occupied by hunters, who plan to drink and party the whole night. Even the guy at the reception recommends not to stay here and to look for another place.
He suggest to drive north to Concordia. I arrive at the local Super 8 at a quarter to eight — but there is also no room left. But they recommend to go to the Econo Lodge motel, just a little bit back the road. There they still have plenty of rooms left and the rooms are flawless. The reception lady recommends to go to the Jammers Sports Bar & Grill for some good steaks.
After a brief search I find it and I am even able to order something for dinner at half past eight — although there is only one other guest, who had almost finished his dinner. Around a quarter past nine I pay. Just to be sure to have a place for breakfast tomorrow, I ask them, if they also serve breakfast. My server, who is also the owner, explains me that they will only offer in their new restaurant breakfast.
But she recommends the Katy's as a place for breakfast tomorrow. I say thank you and drive back to my motel. Then I still must review the video taping of today. As it is already approaching midnight, I skip entering new GPS coordinates, because I can hardly keep my eyes open…
Sights
Pawnee Indian Museum (Donation)
General
Breakfast: AJ's Cafe, Belleville
Dinner: Jammers Sports Bar & Grill, Concordia
Motel: Econo Lodge, Concordia
Distance: 157 miles