Zebulon Montgomery Pike Trail to Red River, Arkansas Journey 1806 — 1807
Day 26: September 9th, 2004 Colorado Springs (Pikes Peak)
Like the Outback Steakhouse yesterday, I find the Cracker Barrel without any big searching around. As the gas station at my motel is the cheapest one and I will pass it anyway, I will have at this Shell gas station my usual fill up,
Around half past nine I depart in direction of Pikes Peak, first on I–25, then Highway 24.
The directions are pretty good signposted and I arrive at the entrance fee station around 10am. The entrance fee is $10 and the ranger is pretty much fascinated by my huge CB antenna — he almost assumes that this is amateur radio. But I have to disappoint him: It is really only a CB antenna…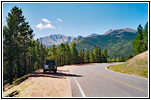 88 S10 Blazer, Pikes Peak Toll Road, CO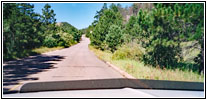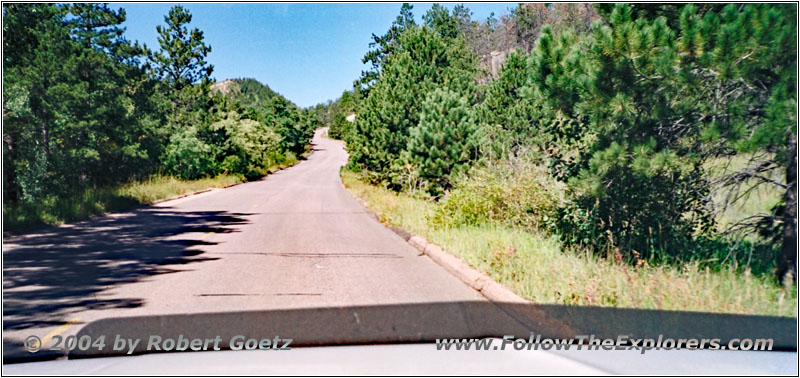 Pikes Peak Toll Road, CO
Then I start my way up Pikes Peak. First the roads are all paved. There are great views from the road and I use one exit, to video tape one of these fantastic views. Then I drive on. Soon pavement ends and my well known gravel road starts. You can see on the road signs, how far you are away from the summit and also which altitude you have already reached.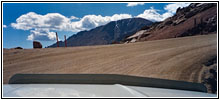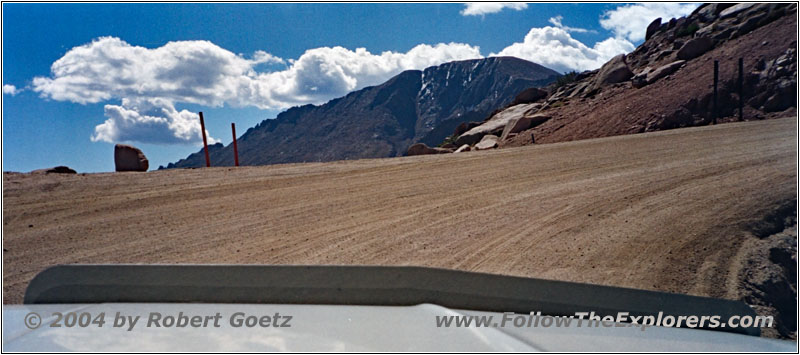 Pikes Peak Toll Road, CO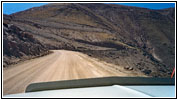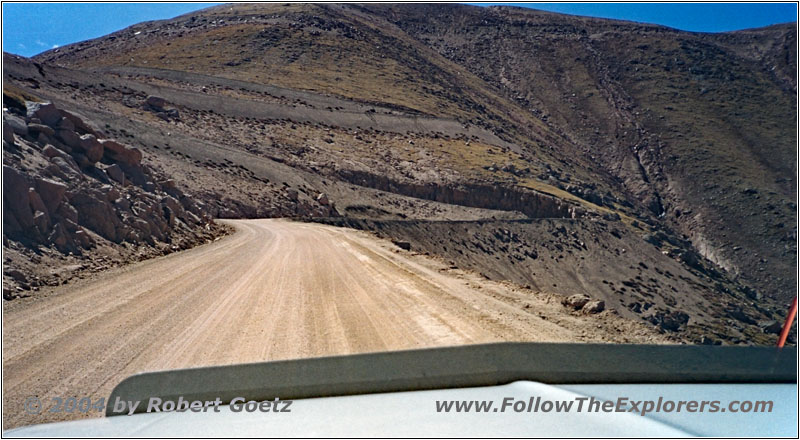 Pikes Peak Toll Road, CO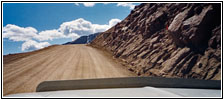 Pikes Peak Toll Road, CO
One of the very special funny signs is "Bigfoot Crossing" along the way. There is also one sign that tells you, that you are now exactly one mile below the summit. After a while another sign tells you, that now all vegetation ends. And a short distance past this sign there are no trees anymore and the bare rocks and debris appear. But therefore the views are getting even more fantastic!
Around 11am I reach the summit. First I do a brief round trip to explore the area. Then I take some video and pictures from a Pike memorial tablet.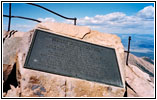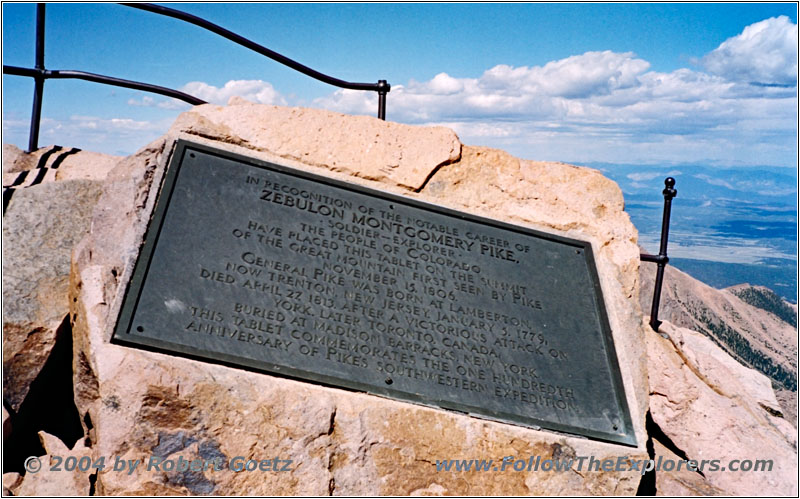 Pikes Peak Summit, CO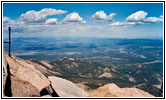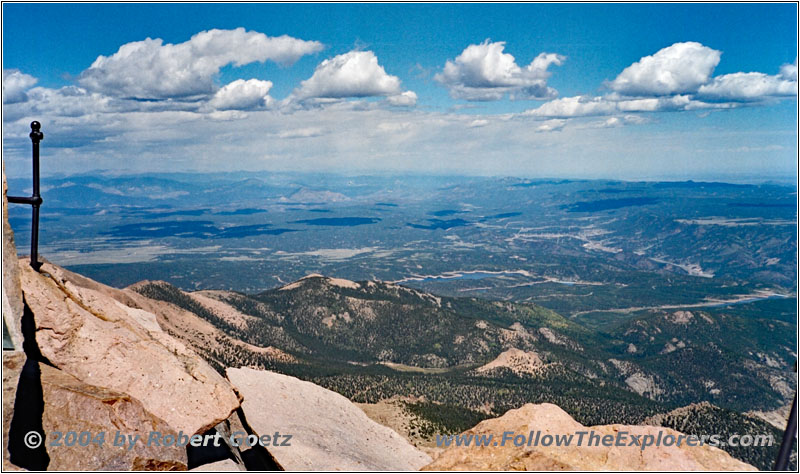 Pikes Peak Summit, CO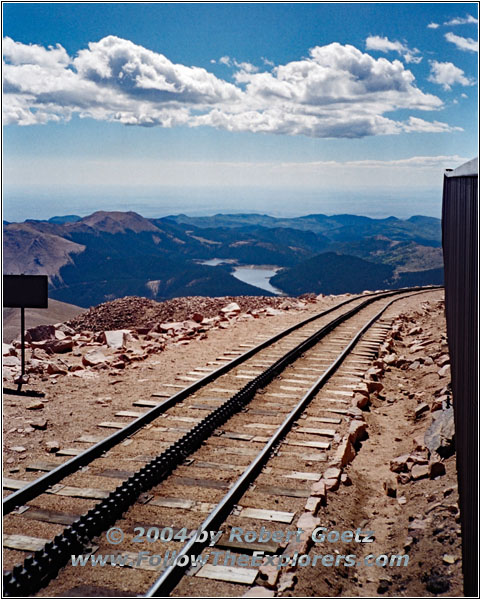 Pikes Peak Cog Railway, CO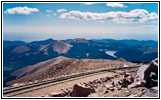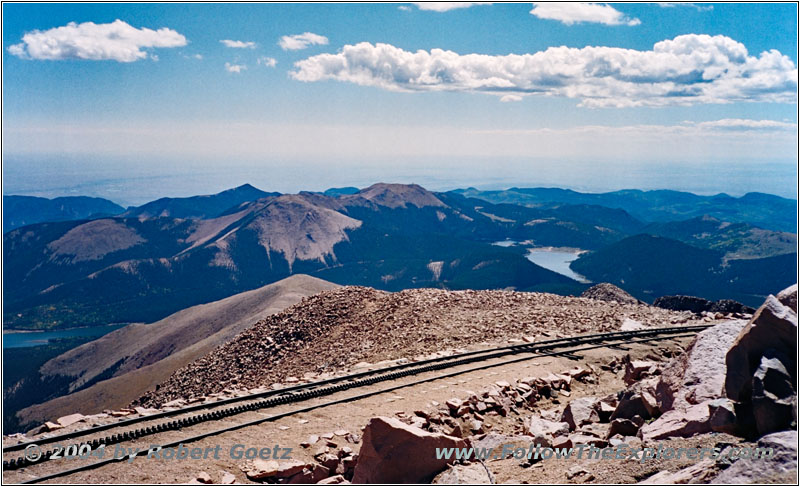 Pikes Peak Cog Railway, CO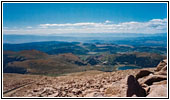 Pikes Peak Cog Railway, CO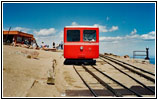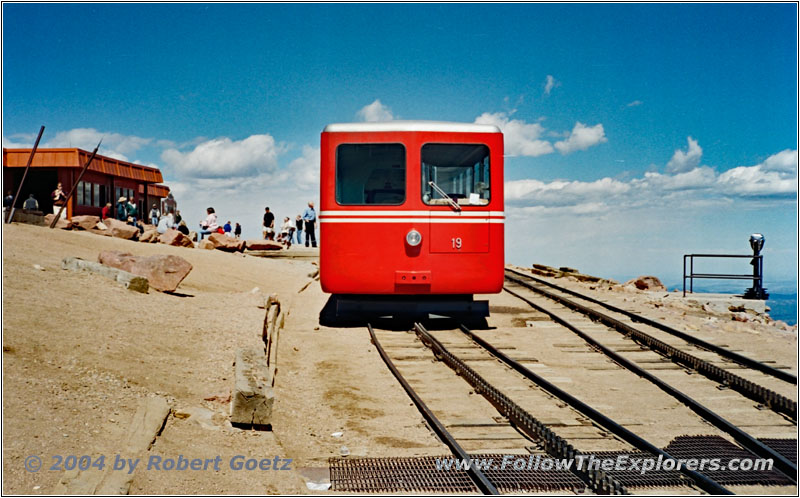 Pikes Peak Cog Railway, CO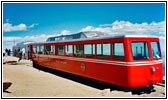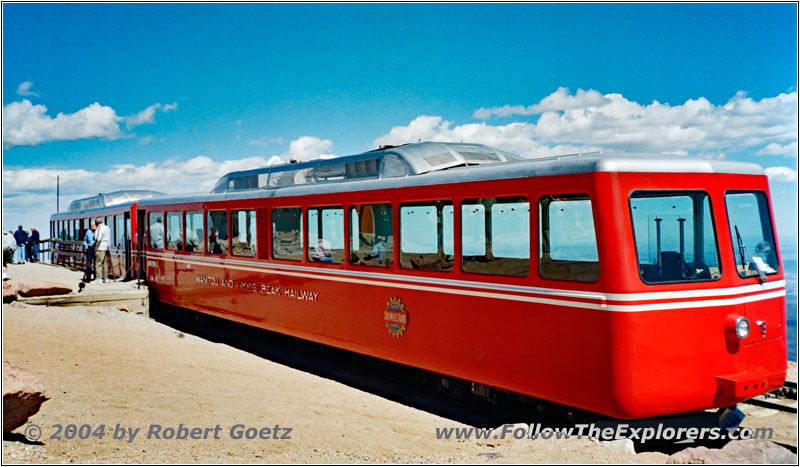 Pikes Peak Cog Railway, CO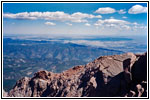 Pikes Peak Summit, CO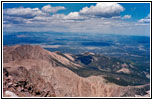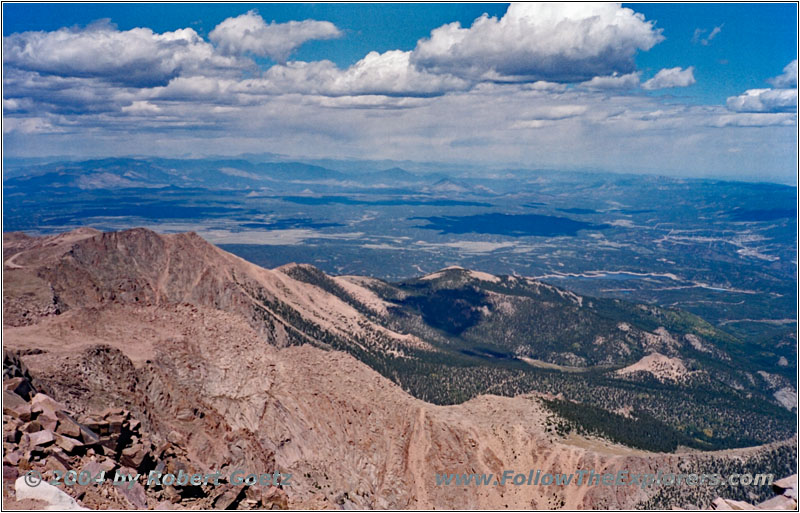 Pikes Peak Summit, CO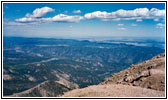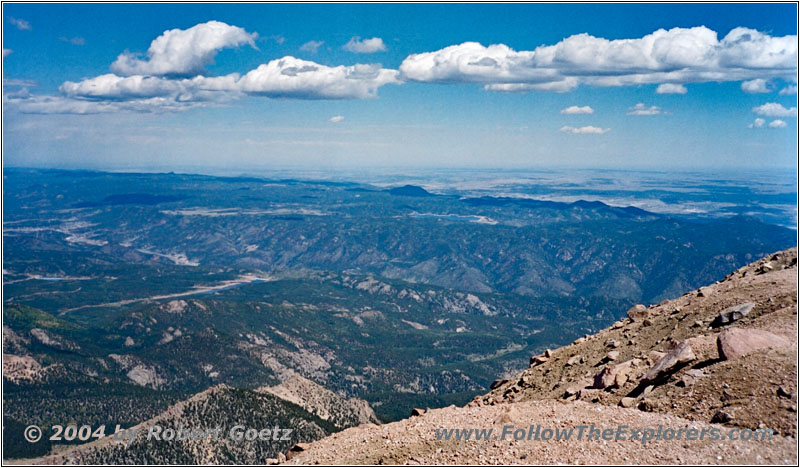 Pikes Peak Summit, CO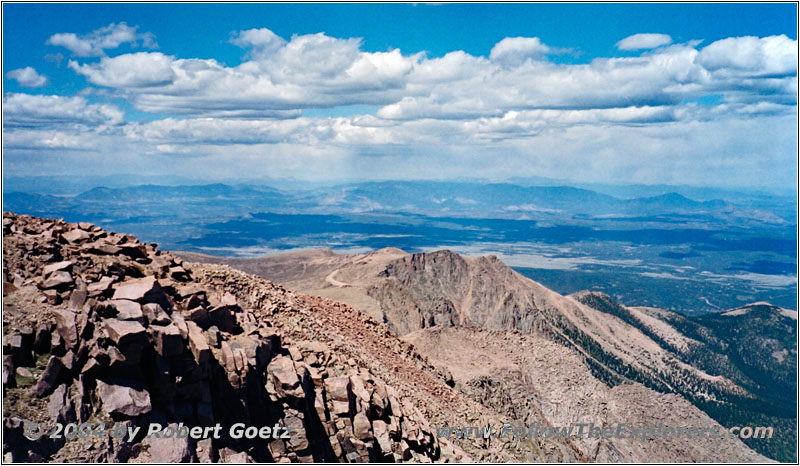 Pikes Peak Summit, CO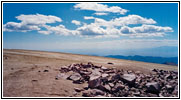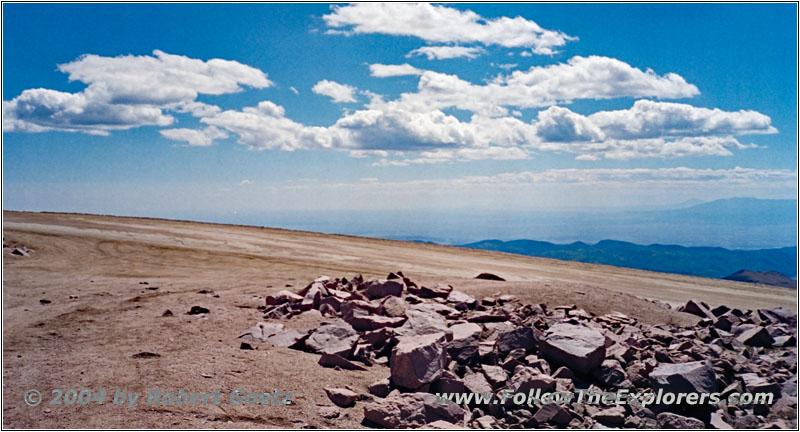 Pikes Peak Summit, CO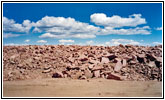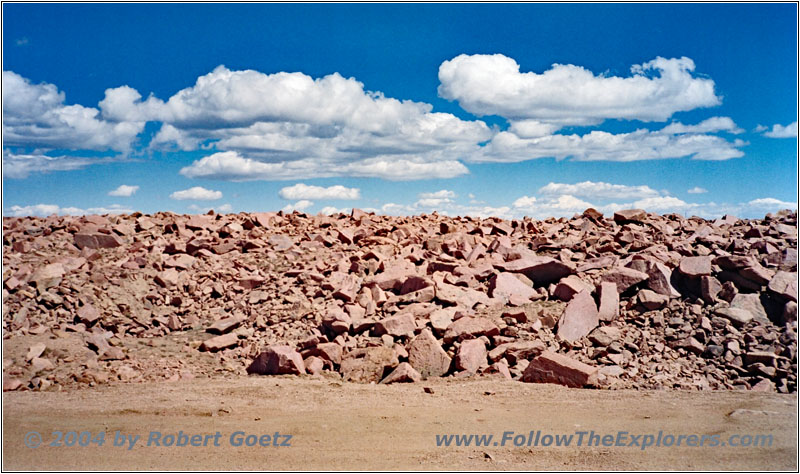 Pikes Peak Summit, CO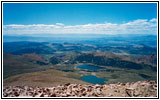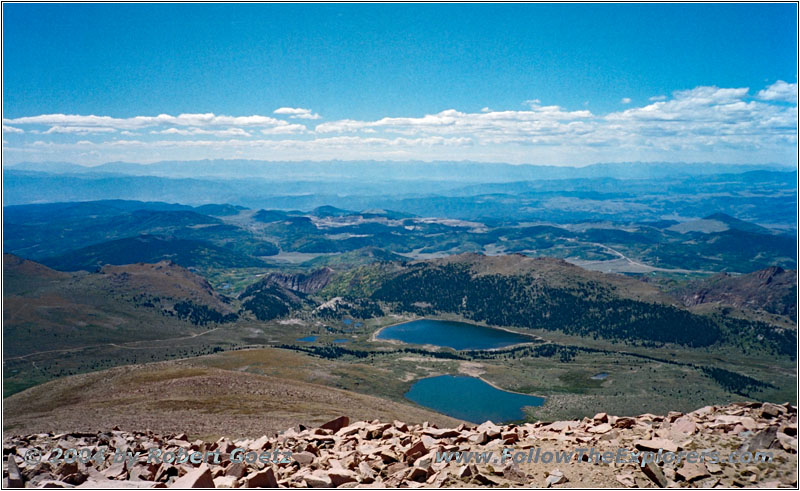 Pikes Peak Summit, CO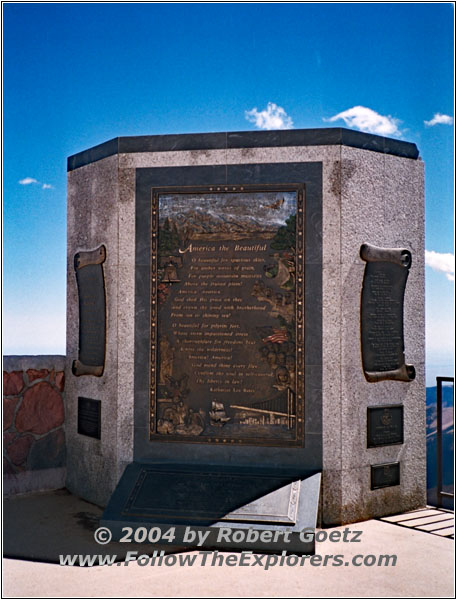 Pikes Peak America The Beautiful, CO
Finally I take some pictures and video from the cog railway, which is running there since the late 18 hundreds. The views are so awesome, that I am running around for almost two hours to enjoy and video tape the views.
I also have a chat with a ranger, who assumed the railway started in 1885. But my book says something from 1891. We say good–bye and I continue to take pictures and do video taping. Finally I walk over to the visitor center to buy some picture post cards.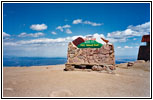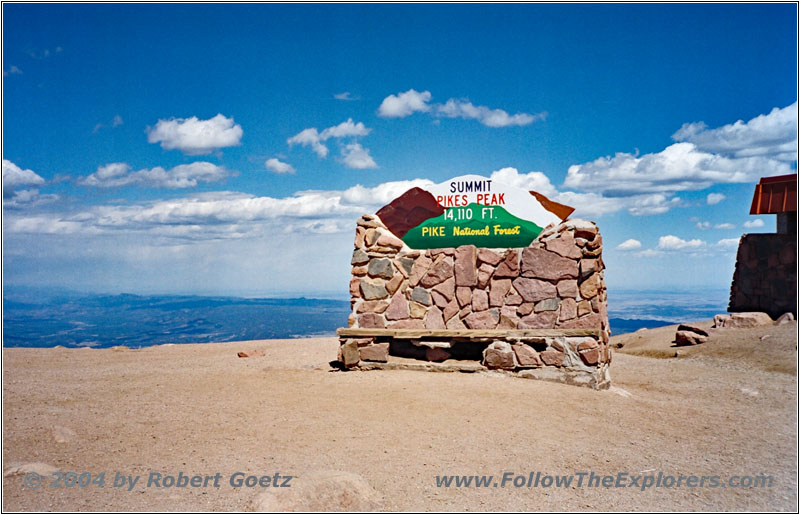 Pikes Peak Summit Sign, CO
Unfortunately the altitude is starting to kill me and I urgently have to get down in lower regions. I am feeling dizzy and I have terrible headaches. But first I have an apple and try to work against it by filling up my body fluid level with plenty of water. But all that does not really help.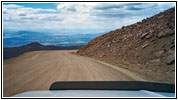 Pikes Peak Toll Road, CO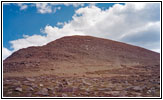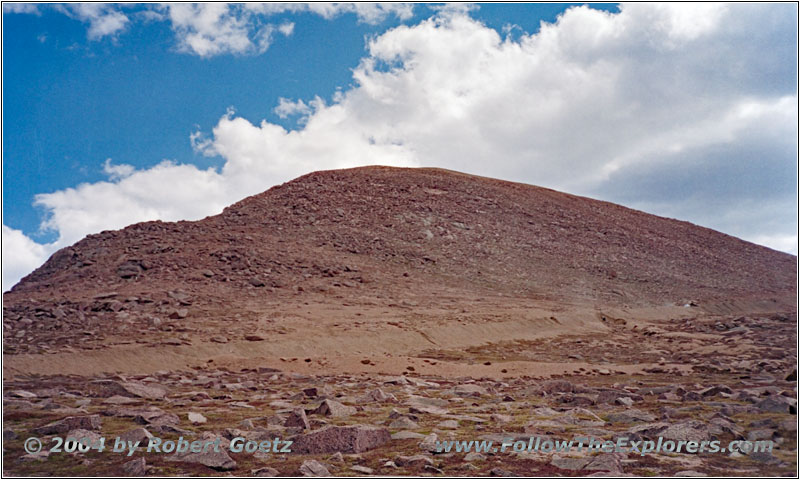 Pikes Peak Toll Road, CO
So I start my downhill drive. On my way down are again great views from the area. Finally I reach the brake check station. By chance I meet here the very same ranger, which I have already talked to at the summit. I ask him, if he would be so kind to do the brake check again for my video camera. He agrees and I set up my camera on the tripod. Then I take another turn at the brake check.
Afterwards I drive over to the parking lot and stop my camera. We start a very nice conversation about all kind of topics. First we have the topic brakes. The record of today was 850 degrees, around 450°C! The limit is 300 degrees, around 150°C. This limit is given by car manufacturers like GM. At that temperature the dangerous brake fading can start. Also the car manufacturers are testing their brakes at this mountain road.
Then he tells me, that he is also giving training in cardiac massage and first aid. He also shows me his defibrillator in his ranger truck, which every ranger now carries. Every month they have around ten cases, where they need this utility. In the past he worked for search and rescue and saved extreme skier who had an accident.
In fact he is now retired, but his wife is still working. Therefore he was looking for another job — so he ended up here as park ranger. In the past he also played football and broke his nose four times.
All in all we chat for almost two hours, despite my headaches and dizziness. Then his relief shows up. His name is Duck and he has German ancestors. But now I really have to depart to reach lower regions, because slowly my head is starting to explode…
I exchanged email addresses with Harv, the first Ranger I talked to and I am really excited about future conversations with him. Then I continue my downhill drive. Still his stories are in my head about these two girls, who had been killed in an accident, because they did not listen to the rangers warnings about their brakes. Or about that guy, who did not make the last curve before the brake checkpoint, because the brakes completely failed. He made a rollover and landed upside down on the picnic tables next to the ranger station — luckily no one was sitting at these tables at that time.
The drive back is without any issues and I arrive at my motel around 6pm. There I first take something against my headaches and lay down for a while. Around 7pm things are getting better, but still not doing great. Nevertheless I still drive to my Outback Steakhouse to have my 9 ounce Outback Special.
Around 8pm I drive back to my motel and check the video taping. Then I go to bed as early as possible. Unfortunately my sleep gets disrupted because some people think, they have to talk loudly in the aisle at 2am. As they are after half an hour still not quiet, I beat against the door. Eventually they are getting more quiet and finally disappear. This recklessness of the people is getting worse and worse over time…
General
Breakfast: Cracker Barrel, Colorado Springs
Dinner: Outback Steakhouse, Colorado Springs
Motel: Motel 6, Colorado Springs
Distance: 124 miles