Zebulon Montgomery Pike Trail to Red River, Arkansas Journey 1806 — 1807
Day 28: September 11th, 2004 Colorado Springs — Cripple Creek
Also on my last day I have breakfast at Cracker Barrel again. You can definitely tell that today is Saturday, because the restaurant is completely full and the people are already waiting again. Due to being alone, I receive a small table at the side within only one minute of waiting time. But my server is heavily overloaded. Therefore the coffee service is not that good today. They should really have more servers on weekends…
After breakfast it is time for an oil change. Because of my not very positive experiences with the big oil change chains, I am looking for a smaller and local company. Close to the Cracker Barrel is an Econo–Lube. After a short waiting, it's my turn.
I ask, if I would be allowed to video tape the guys for my web page while they are doing the oil change. They look a bit amazed, but they have no problem with that. So I set up my camera in front. I chat for a while with Jerry, who took my order. He is half Navajo and moved to this region because of the mountains. His daily driver is a modified S10 Pickup.
But then they have again trouble with my oil drain plug. I tell him, that once a Jiffy Lube guy had overtightened it. They try for a while to get the old one sealed. But at the end they put in an oversize one and cut with that a new thread. All that without any extra costs for me!
Jerry even apologizes, that it took longer than expected. But honestly I appreciate more, when it takes longer, but everything is done right. Therefore there is no reason to apologize for anything from my point of view!
Then I drive back in direction of my motel to have a stop at my usual Shell gas station. Next I am driving on the same roads to Old Stage Road as when I arrived.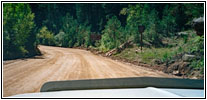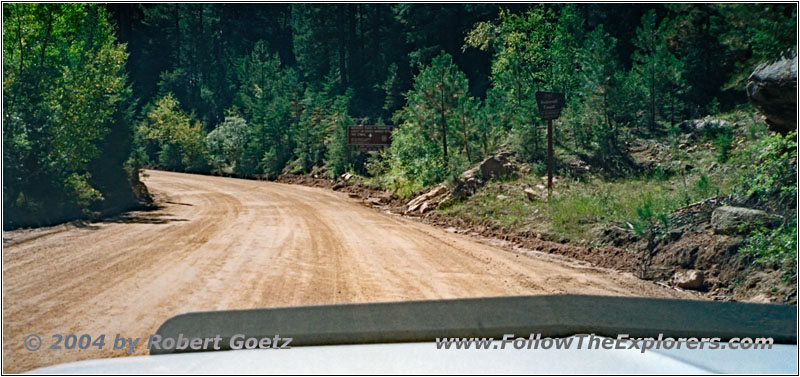 Old Stage Road, CO
Then I drive on from Old Stage Road to Gold Camp Road. The beginning is pretty steep. But due my possibility to manually lock up the torque converter my transmission stays in reasonable temperature regions–— even when she is a bit warming up because of switching down to first gear plenty of times. But I also don't want to switch to 4LO here…
Suddenly a black squirrel runs in front of my car while driving up the road. I remember that Harv told me, these squirrels have not been living here in the past. They have been abandoned. All in all I have never seen one like that.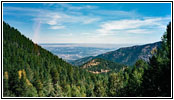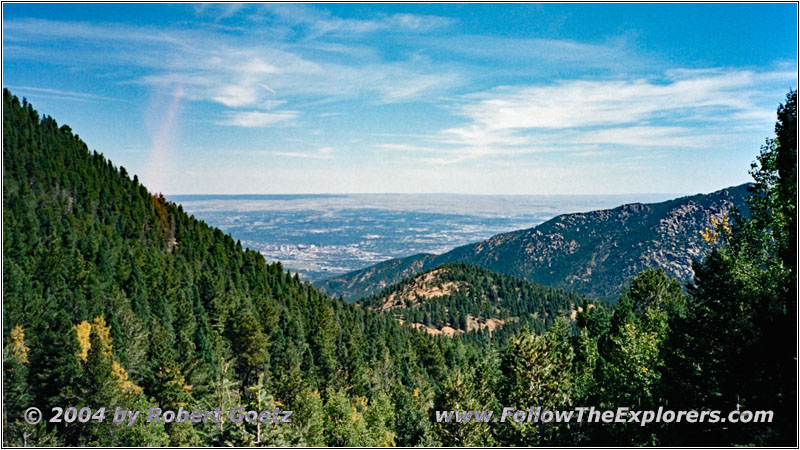 Gold Camp Road, CO
I drive on and stop at a nice view point, where you have great views down to Colorado Springs. Just past my arrival a full size Pickup arrives and parks directly next to me. The guys leave their truck and go away, while leaving their Diesel engine running — thank you guys, I like to stay in your exhaust fumes…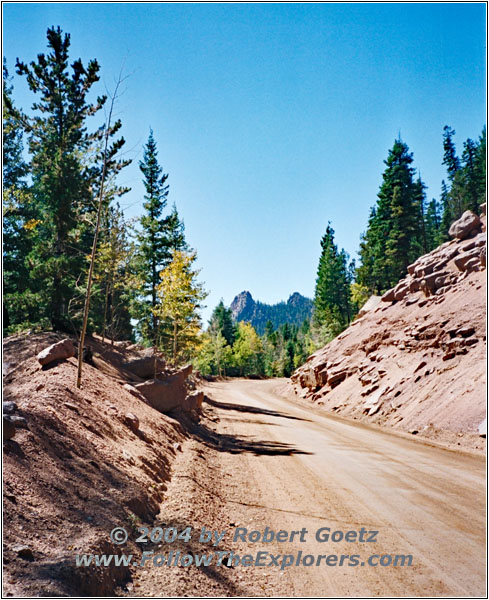 Gold Camp Road, CO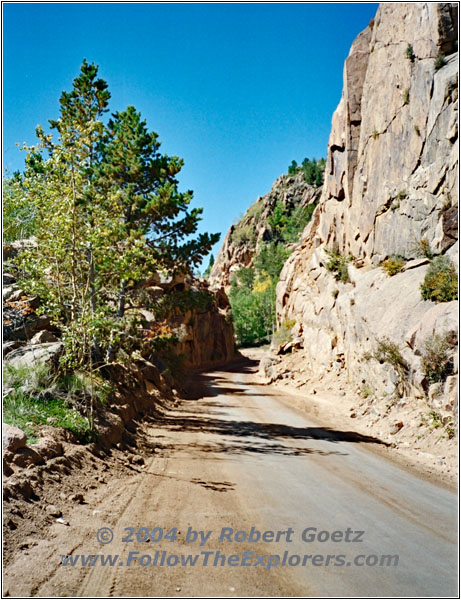 Gold Camp Road, CO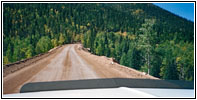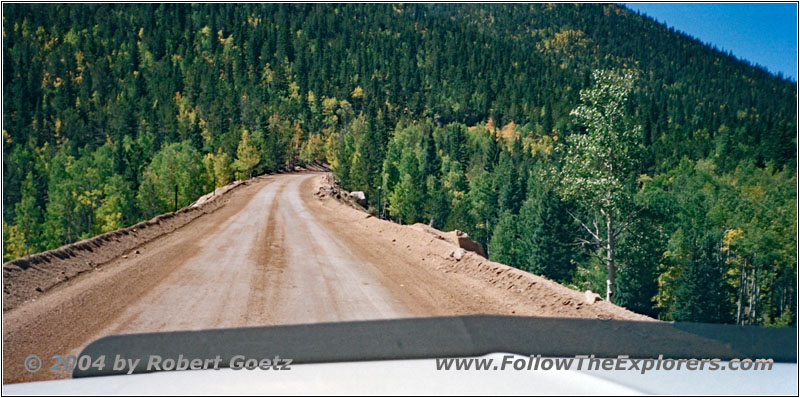 Gold Camp Road, CO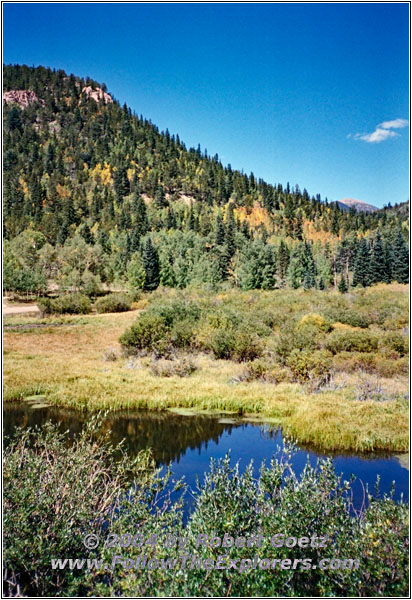 Gold Camp Road, CO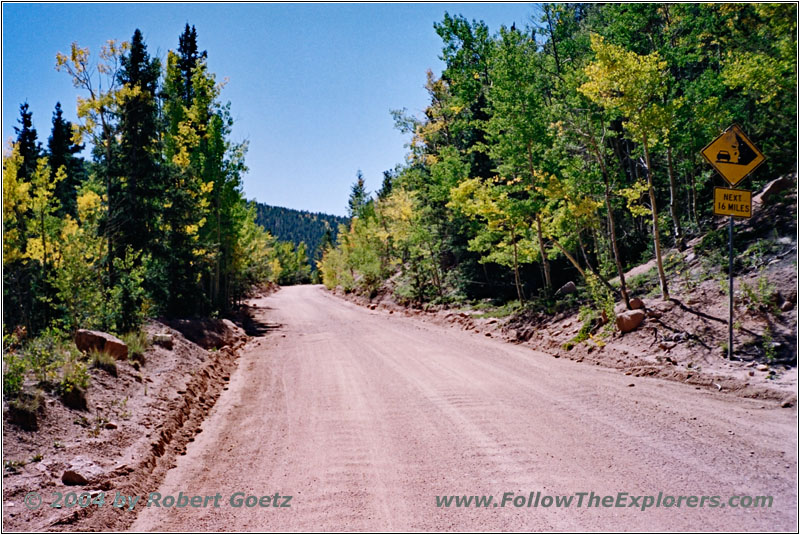 Gold Camp Road, CO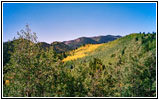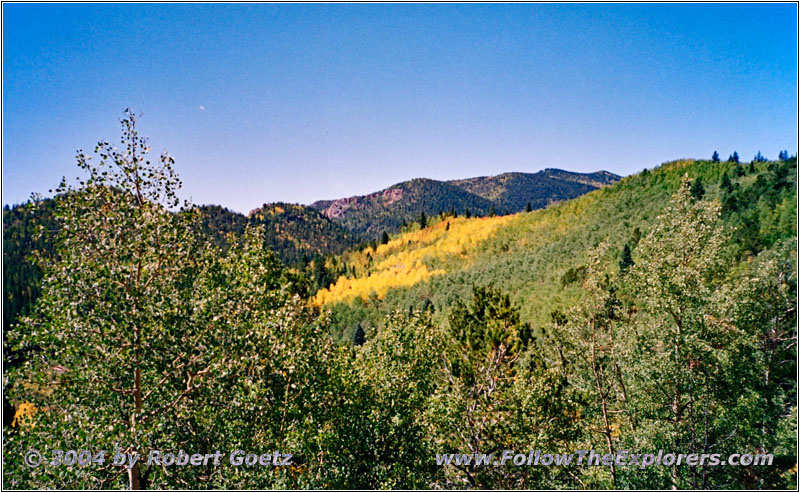 Gold Camp Road, CO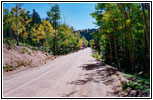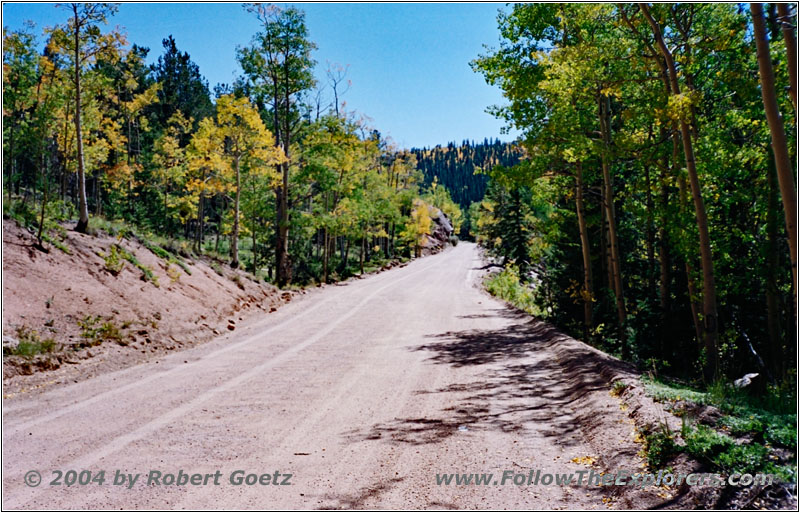 Gold Camp Road, CO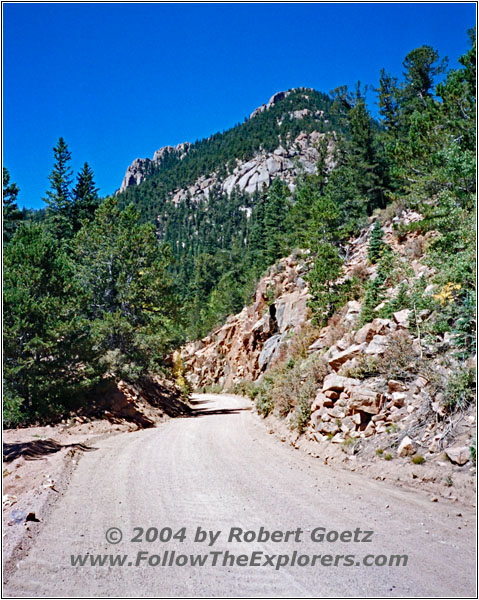 Gold Camp Road, CO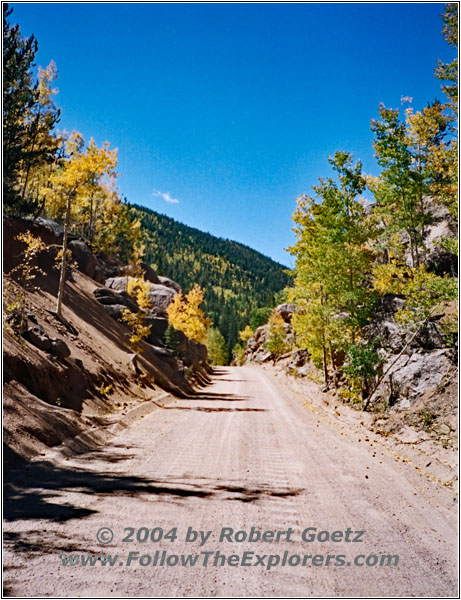 Gold Camp Road, CO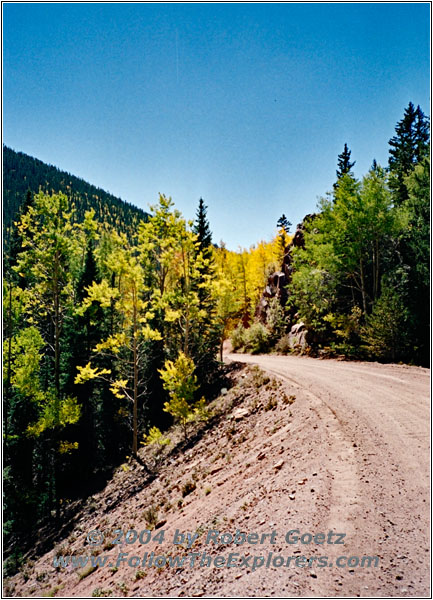 Gold Camp Road, CO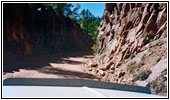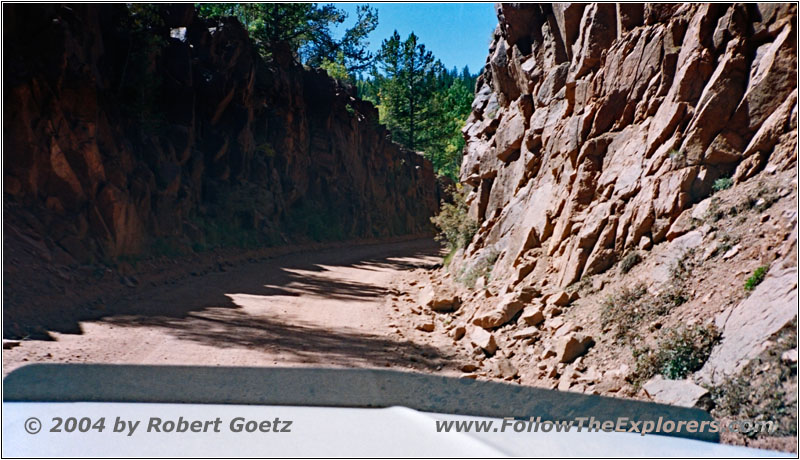 Gold Camp Road, CO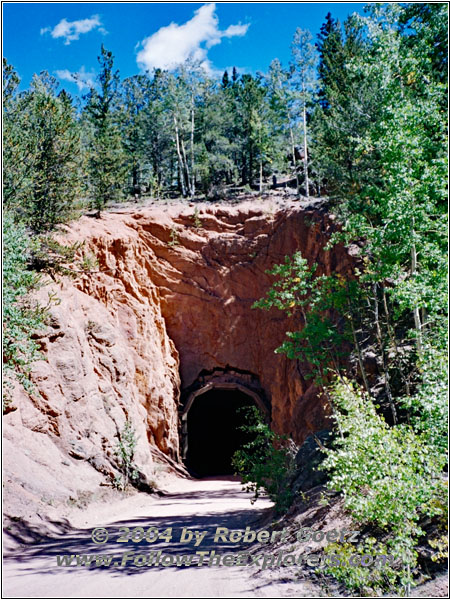 Gold Camp Road, CO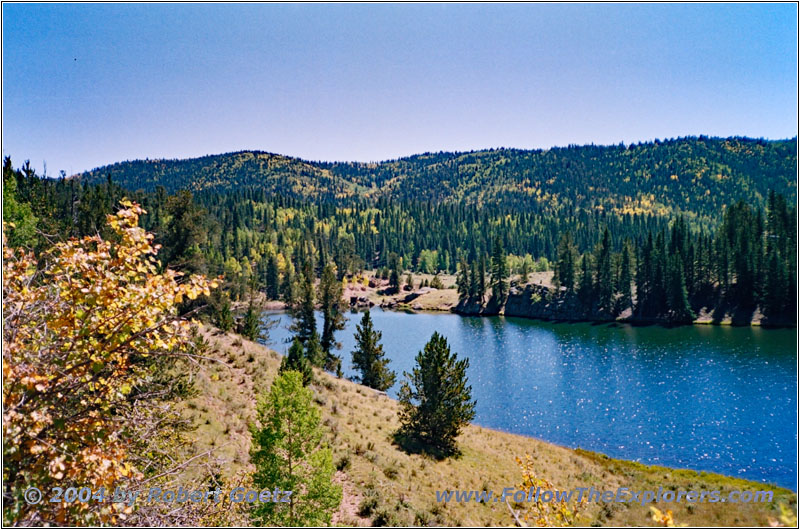 Gold Camp Road, CO
Therefore my stop here will be shorter than expected and I hurry up to drive on. Again and again there are plenty of opportunities for a picturesque photo stop. Because the aspen are in full fall foilage, there is no chance to avoid taking pictures. In my book is also an interesting 4WD Trail mentioned, which could get me closer to Pike's footsteps. But when I reach the branch, I decide to not got for it. The rocks along the trail are pretty big. Additionally there are extreme deep potholes. As my manual winch is not really working, the risk is too high for me to get stuck somewhere.
Therefore I just do a brief lunch stop here and have one of my apples. In the meantime a group of four Jeeps slowly descends the trail. All of them have big offroad tires. This would have been indeed an interesting side trip. But I still stick to my original planned better route. I also don't want to run too late in Cripple Creek, to still get a nice room.
I drive on and the landscape is still fantastic. Unfortunately I have to drive very slow due to all the longitudinal ribs. Otherwise it would rattle my little truck apart.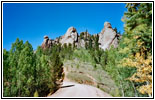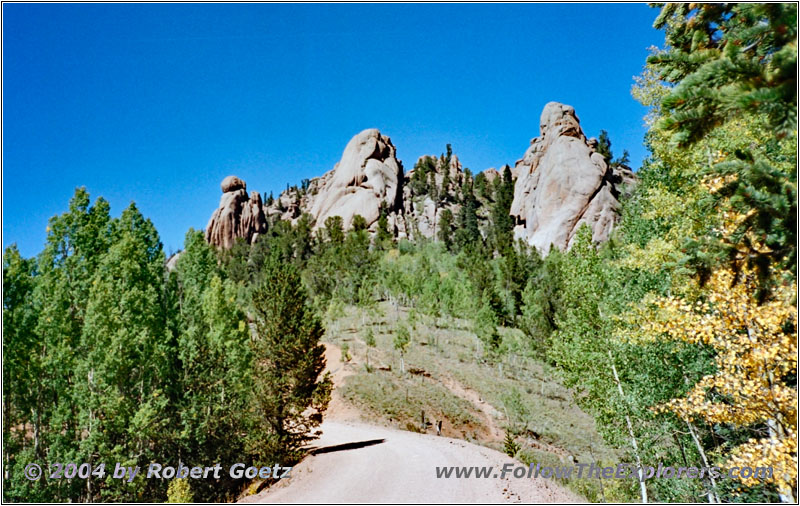 Cathedral Park, Gold Camp Road, CO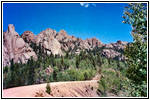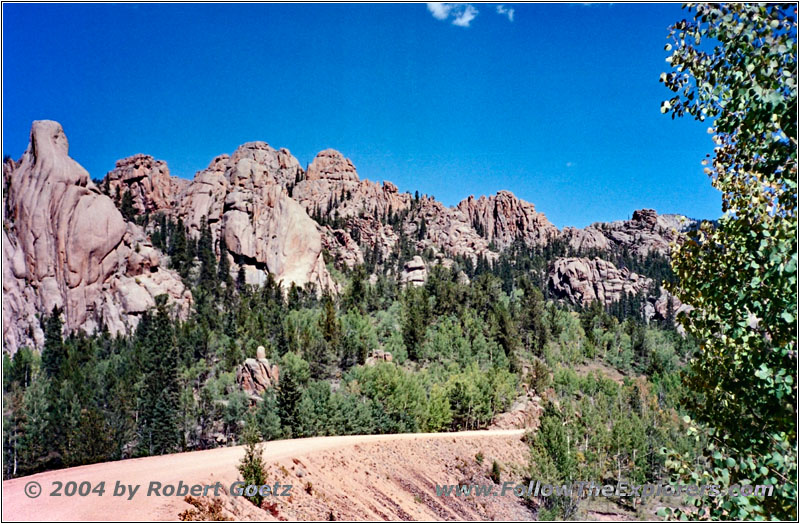 Cathedral Park, Gold Camp Road, CO
After all I arrive at Cathedral Park. These are rock formations, which look like cathedrals pointing to the sky. Sadly everything lays on private property and I am only able to get some pictures and videos from the road. Then I drive on. I still have trouble with the altitude. All in all I am above 9000ft all the time!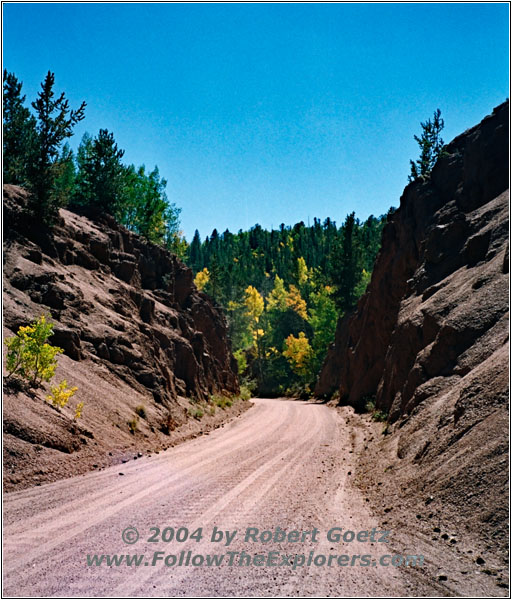 Gold Camp Road, CO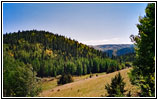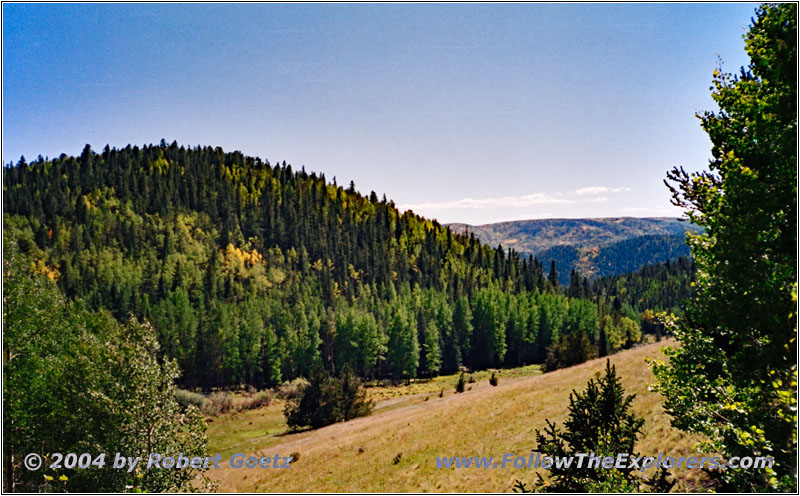 Gold Camp Road, CO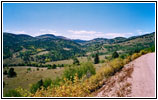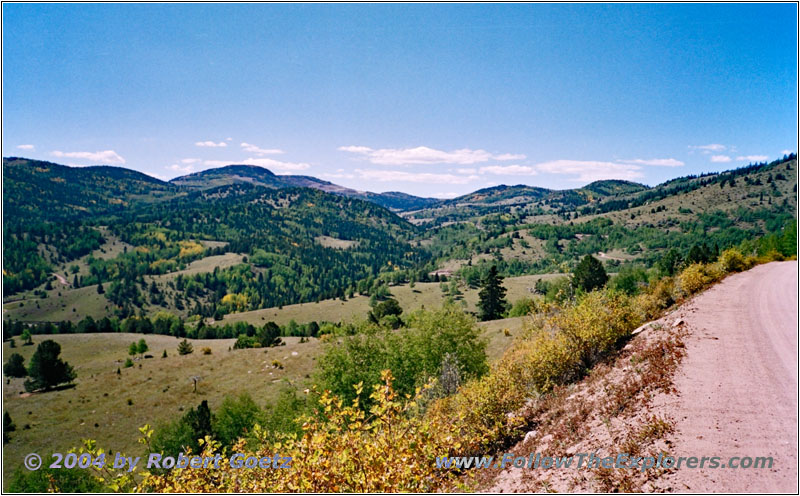 Gold Camp Road, CO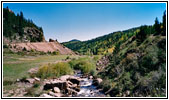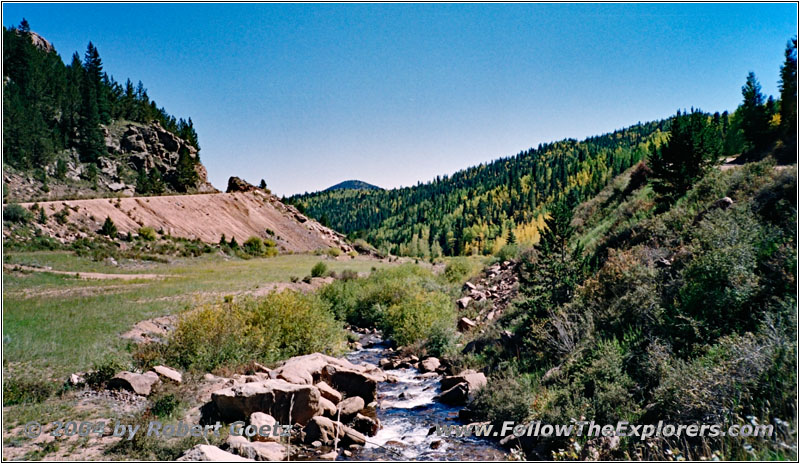 Gold Camp Road, CO
But the views are unbelievable. Only the traffic is pretty bad, maybe because it is Saturday. One special thing is the tunnel along the road, which is just dig out from the bare rock without any lighting or covers inside. Only at the entrance are some wooden protectors installed.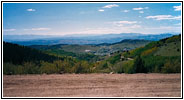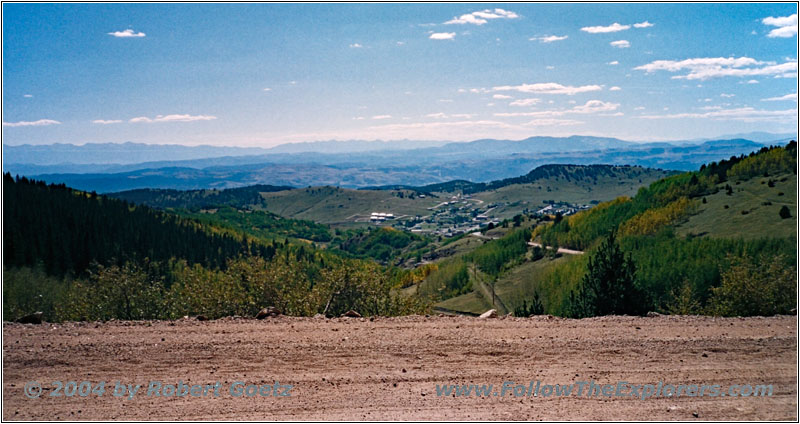 Highway 82, CO
Way too fast I reach the end of this road and the Highway 67 down to Cripple Creek. First I drive into the city to get an overview. At the city limits is a promising motel, the Gold King Mountain Inn. But I first want to drive through the whole city to see, which alternatives are available.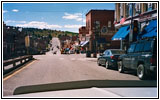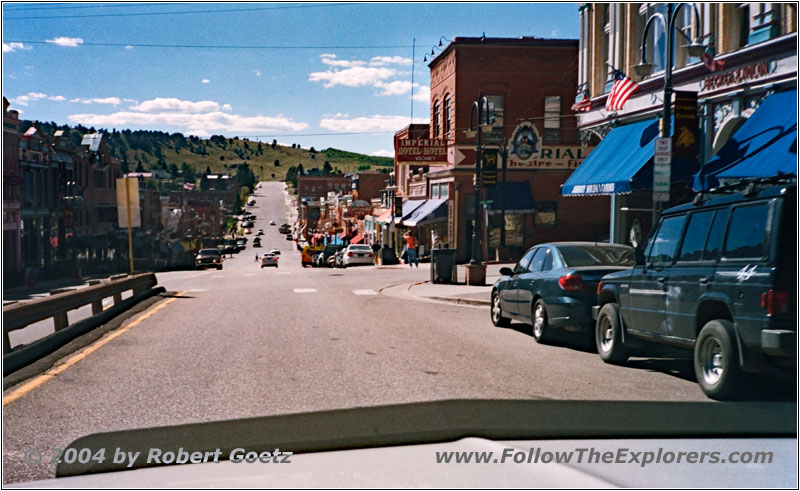 Highway 67, Cripple Creek, CO
It is a nice small wild west town, which is pretty busy. A lot of tourists are running on the main street around and there are numerous little cafes, where you can enjoy the day. At the city limits I turn around and drive back. My destination is still the motel at the other side of town.
It is located on a small hill, from where you have a great view of the city. I arrive around half past three at the reception. Unfortunately there is no non–smoking room available anymore. But maybe one of the smoking rooms left is not too smelly. She has four rooms available, which we all take a look at. She would like to give me one of the rooms, which has views of the city. But they are smelling heavily. Only the one to the rear is some sort of okay.
So I take this one. She tells me, that I am really lucky here. Usually they are always completely booked over the weekends. But today, a bunch of people have canceled their reservations. That's why this room is free. I put my stuff into the room and check the video taping of today. Then I get ready for dinner.
She also told me, that there is a free shuttle running from the hotel down to the city. Well, not completely free, because it is expected that you put one Dollar in the drivers tip box. But therefore I am exceptionally allowed to have a wine for dinner.
The employee at the reception recommended Maggie's inside the Colorado Grande Casino for dinner. The entry is from a side road and you can easily miss it. The hostess does not give me a nice table. It is in the middle of the restaurant, even when other tables are still free.
But my server is really nice. She only struggles with my question about which wine is recommended. So I chose a Merlot by myself, which tastes really great. Because I am not able to find a Sirloin on the menu, I take a New York Strip. After the dinner I go back to the hotel shuttle. On my way I realize, that almost every building has been changed to a casino here. It seems like this is almost a little Las Vegas.
However, I am able to resist the wish to gamble and drive back to my motel. Again, the usual Dollar is expected upon arrival. My room is on third floor this time. But this motel has an elevator. So it was no issue getting my luggage into the room. I watch a bit TV, before I go to bed very early. After all I want to leave early tomorrow morning…
General
Breakfast: Cracker Barrel, Colorado Springs
Dinner: Maggie's, Colorado Grande Casino, Cripple Creek
Motel: Gold King Mountain Inn, Cripple Creek
Distance: 88 miles