Zebulon Montgomery Pike Trail to Red River, Arkansas Journey 1806 — 1807
Day 29: September 12th, 2004 Cripple Creek — Cañon City
Due to being in bed early yesterday, I am also waking up early today. Around half past eight I have everything stored in my truck and I am able to check out. The lady at the reception recommends the Bronco Billy's for breakfast. There is a cafe inside the casino, where you can have breakfast for 49 Cents. And as a motel guest, you also receive a voucher for the breakfast. The food is not really this much, but it is okay. Just in case you can always order two, which her husband usually does. Parking is also possible behind the casino. There is a parking lot.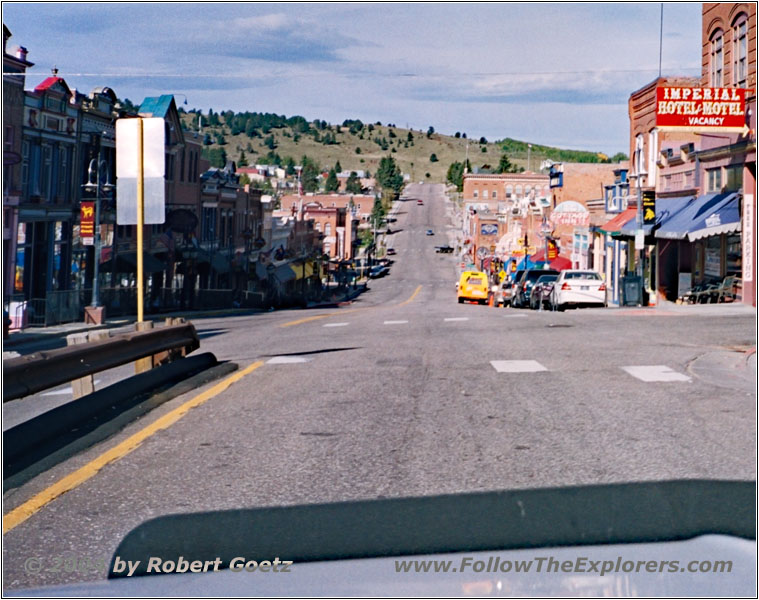 Highway 67, Cripple Creek, CO
I say thank you for all the information and drive to the city. Indeed I find the parking lot without any searching around. When I exit my truck, I see a parking lot attendant at the entrance, which just directs another one to a free spot. Ooops, I completely missed that guy, when driving into this parking lot. But he waves to me very friendly, which seems to me, that he is fine with me.
I enter the casino through the backdoor. There I almost get lost with all this clutter of stairs and rooms. Finally I ask an employee, where I can find the cafe. He easily shows me the way. Then I have to wait a little while, because all tables are currently occupied. They hand me out a buzzer, like in the Outback and I use the time to stroll through the casino.
The house is completely emptied out and everything is full with slot machines. They are standing all in endless lines side by side. There are also machines for Black Jack and Poker. At the bar they have these machines even integrated in the counter. An old grandma is already running around with big pots and it looks like she is loosing her retirement money here…
While strolling through the building, my buzzer starts to alarm and I walk back to the cafe. There I receive my table and order the free breakfast. But I don't want to miss the bacon with the eggs. This is just 75 Cents extra costs. The breakfast also includes coffee and a small bowl with fruits. The size is not really giant, but still enough — and a slice of toast is also included.
I pay my 75 Cents at the cashier and walk through all this angled setup back to the parking lot — even without getting lost. I mount my camera on the car pod and get myself ready to depart, when suddenly the parking lot attendant shows up. I apologize, that I have been just driving by him before. But I really missed him.
That was not a problem for him and he starts to tell. Two to three weeks ago they had a biker meeting with approximately 4000 bikers! That was a view — the whole main street was full with bikes. All tourists have been on the street to watch the event — which was horrible for the casino owners, because they had no income.
Also the bikers did not really help to increase revenue. In fact, they drink a lot, but they do not gamble. So this event was absolutely great for the tourists, but the casino owners have probably lost money. Speaking of money: Last week someone won $73000!
He then gave the bar keeper $1000 and the server $2000 tip. The rest of $70000 was handed out in cash — the parking lot attendant thinks, that was because of tax reason. Otherwise this guy would have to pay half of it in tax.
Fed with all this inside knowledge I say good–bye and start my trip of today.
First I drive over to Victor, which is another gold mining town a couple of miles away.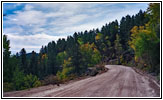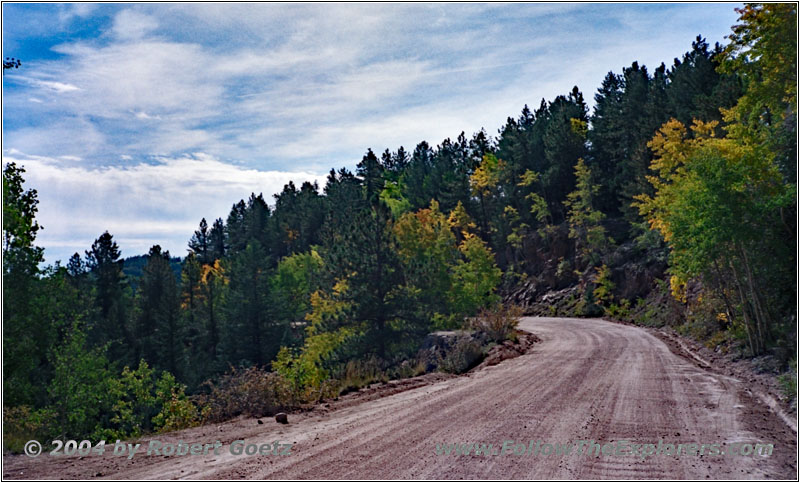 Phantom Canyon Road, CO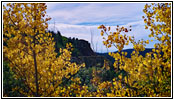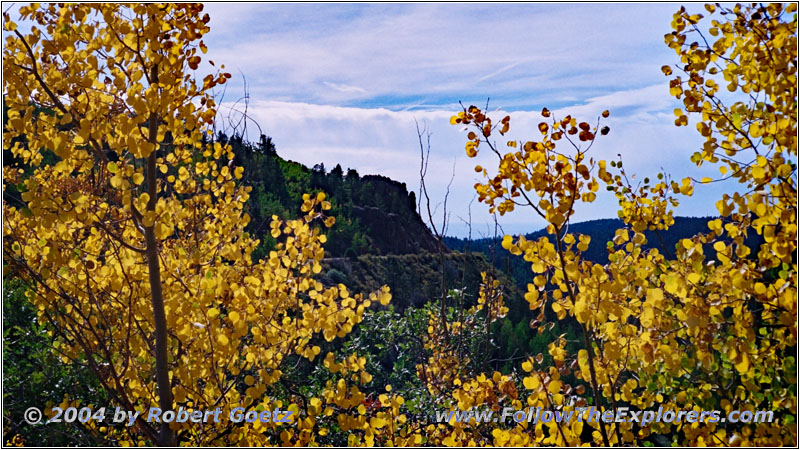 Phantom Canyon Road, CO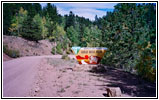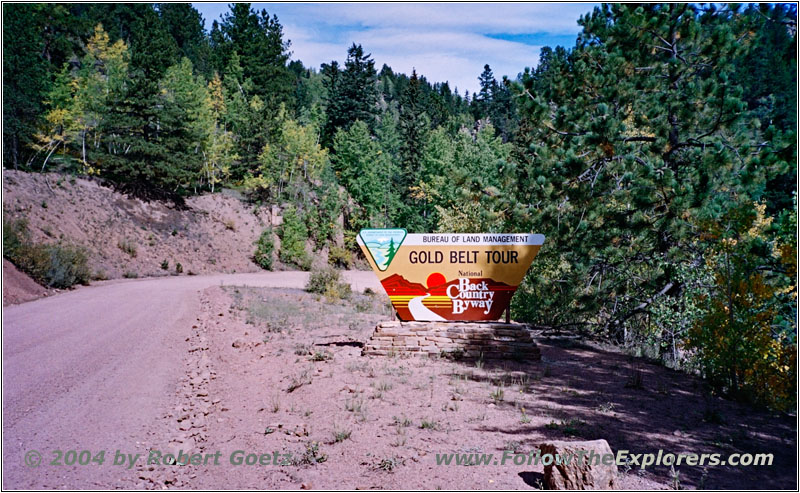 Phantom Canyon Road, CO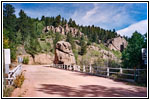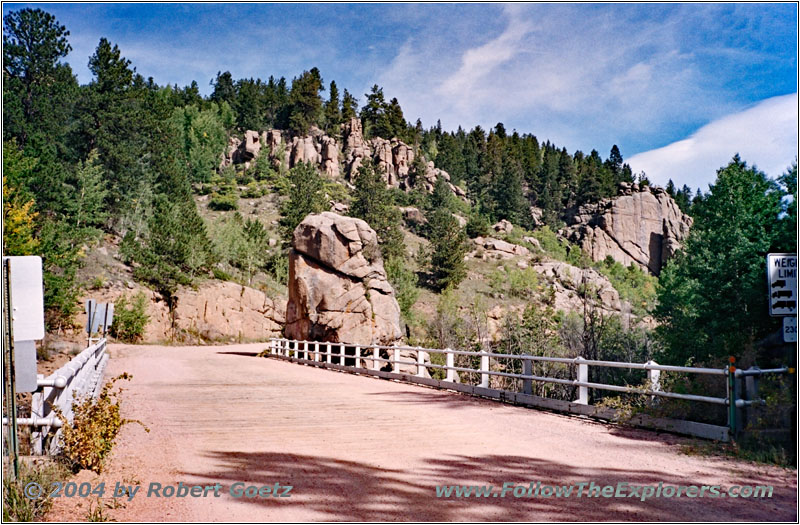 Phantom Canyon Road, CO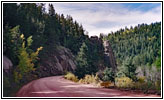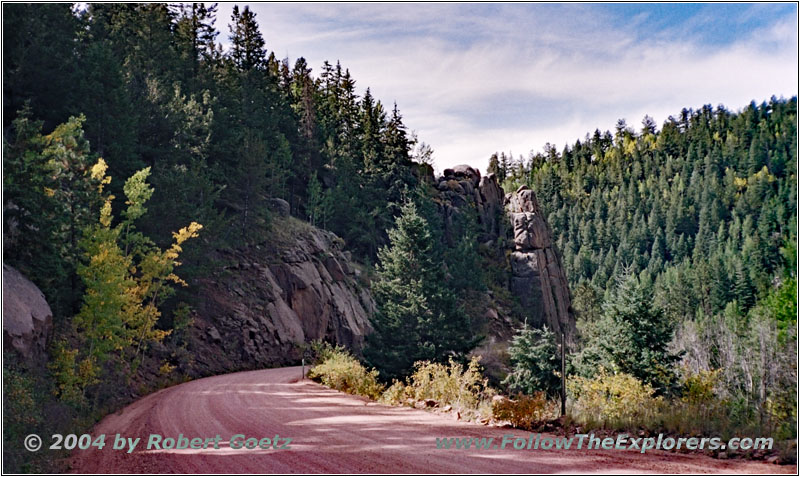 Phantom Canyon Road, CO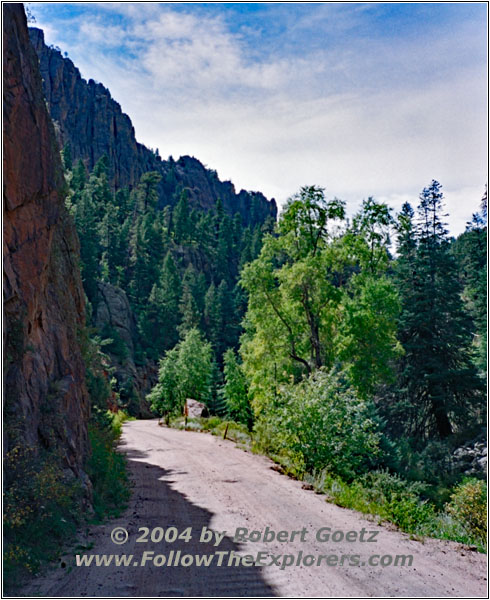 Phantom Canyon Road, CO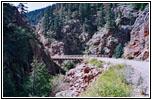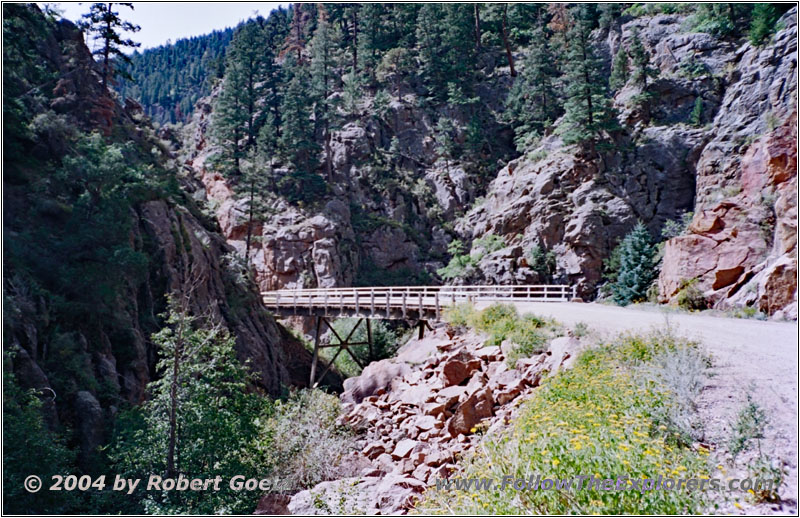 Phantom Canyon Road, CO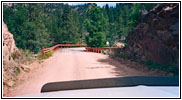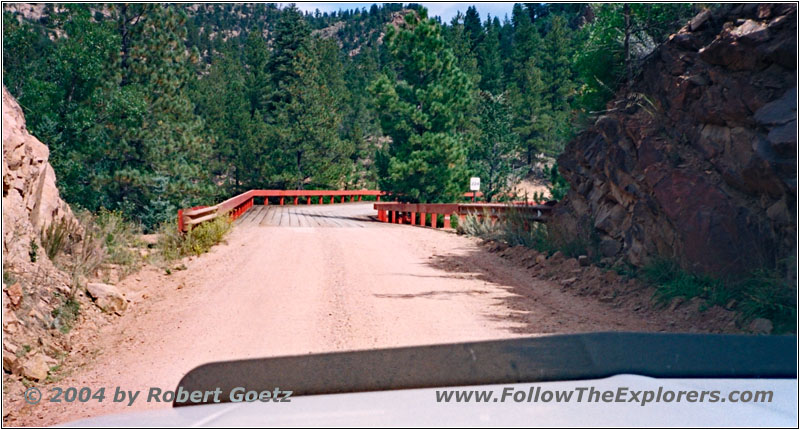 Phantom Canyon Road, CO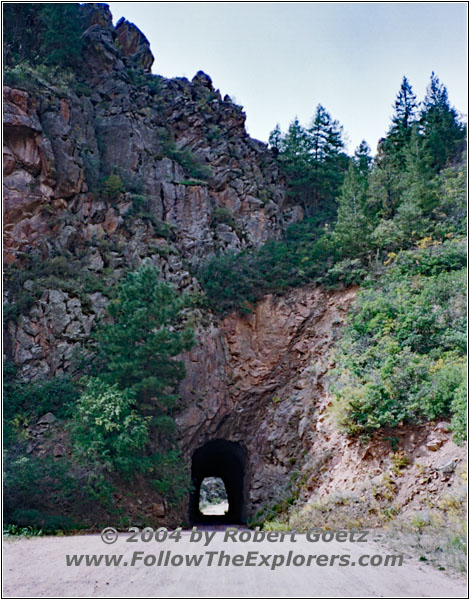 Phantom Canyon Road, CO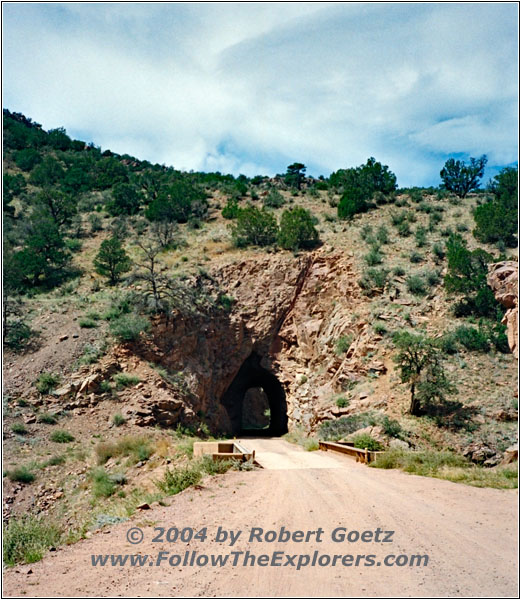 Phantom Canyon Road, CO
Just past the city, the Phantom Canyon Road begins. The quality of this road is comparable to the Gold Camp Road. You don't need 4WD, but due to the longitudinal rips you cannot really drive fast.
You also drive here through narrow canyons and another three of these rustic tunnels. The traffic is way more worse today compared to yesterday, probably because of being Sunday today. But I am still able to enjoy the great views and have sufficient opportunities for nice video shots. But this washboard road…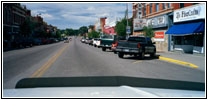 Highway 115, Florence, CO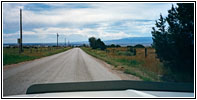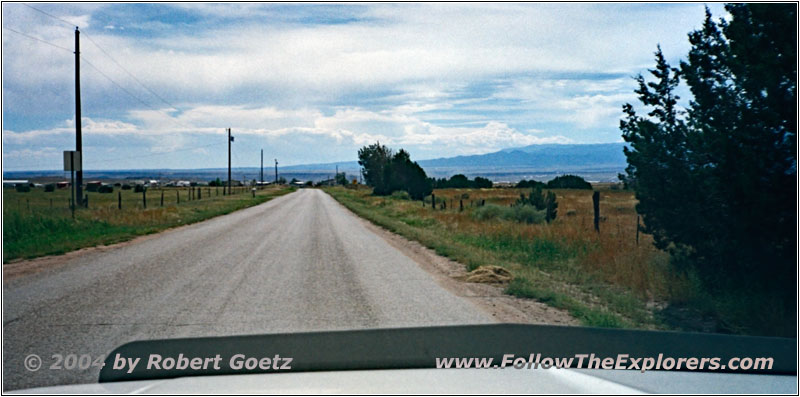 Highway 67, CO
Finally I have a paved road under my tires again. And it also seems, that my little truck still has all its parts collected. I drive on Highway 67 to Florence and then following the Arkansas River on Highway 115 to Cañon City.
Around a quarter past twelve I arrive at the Super 8 and check in. At that time of day I still receive a room on first floor. I unload my truck and put my stuff into the room. Then I drive on to the Royal Gorge Bridge. There the Arkansas River runs through an extreme deep and narrow canyon, which also forced Pike to give up. There was absolutely no chance for him to proceed on horses.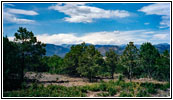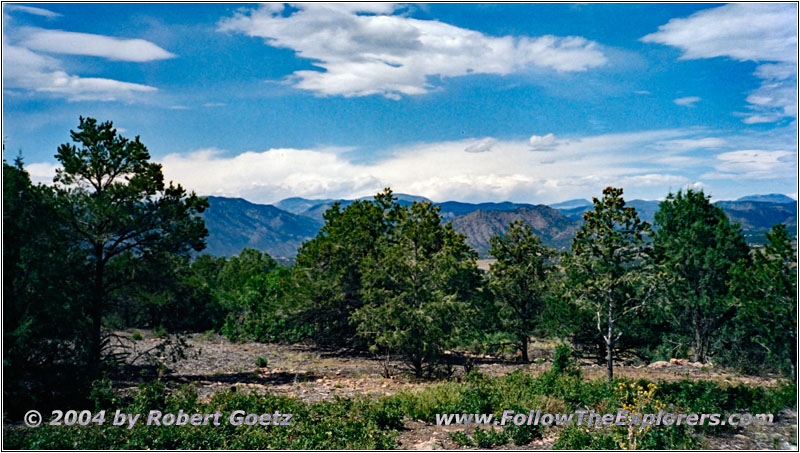 Highway 3A, CO
Today you drive on Highway 50 to the plateau of this canyon. From there Highway 3A takes you to the entrance of Royal Gorge. However the entrance fee of $20 ($18 for AAA) is quite expensive. But therefore you are allowed to join and visit every highlight in the park. I pay and walk through the entrance.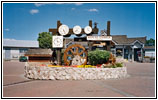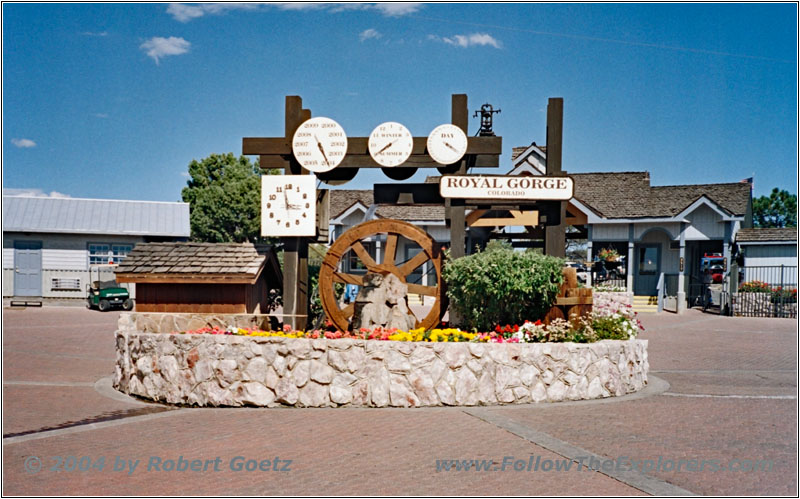 Water Clock Royal Gorge, CO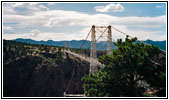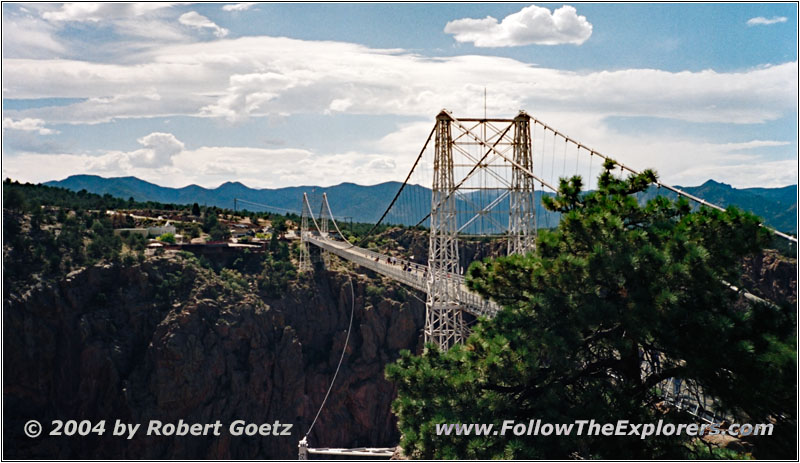 Royal Gorge, CO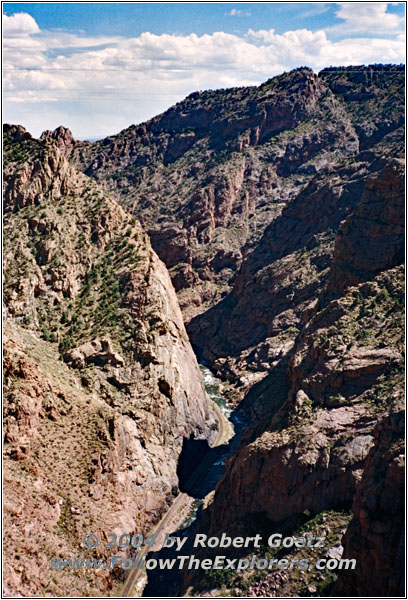 Royal Gorge, CO


Royal Gorge Bridge, CO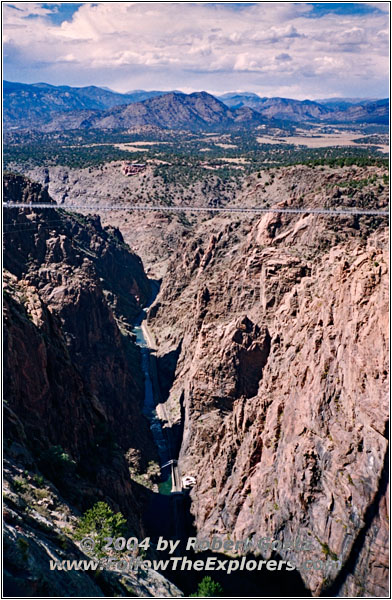 Royal Gorge, CO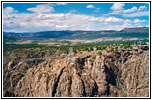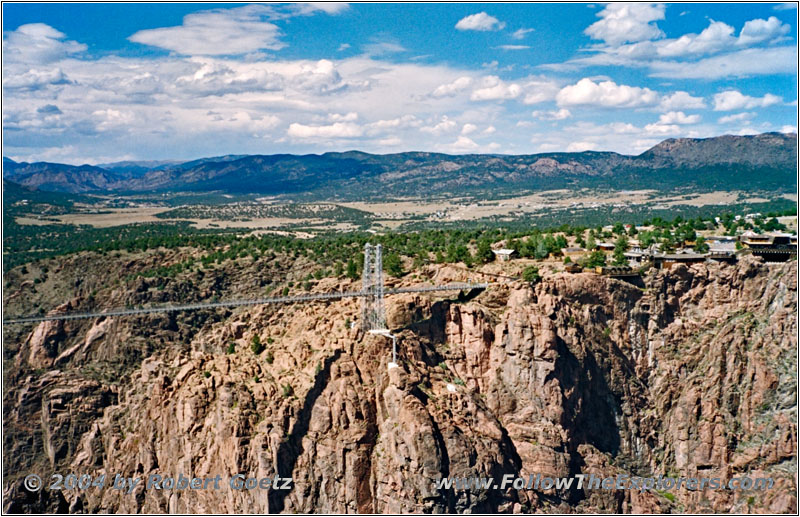 Royal Gorge Bridge, CO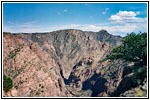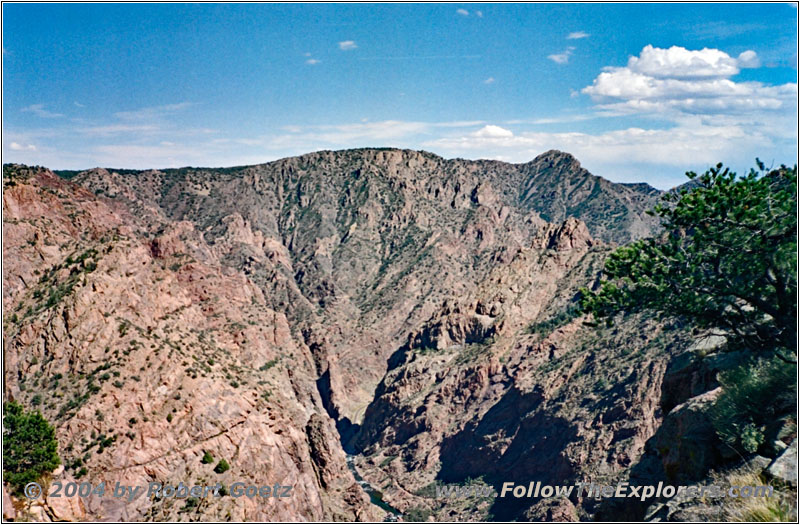 Royal Gorge, CO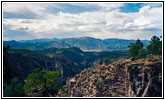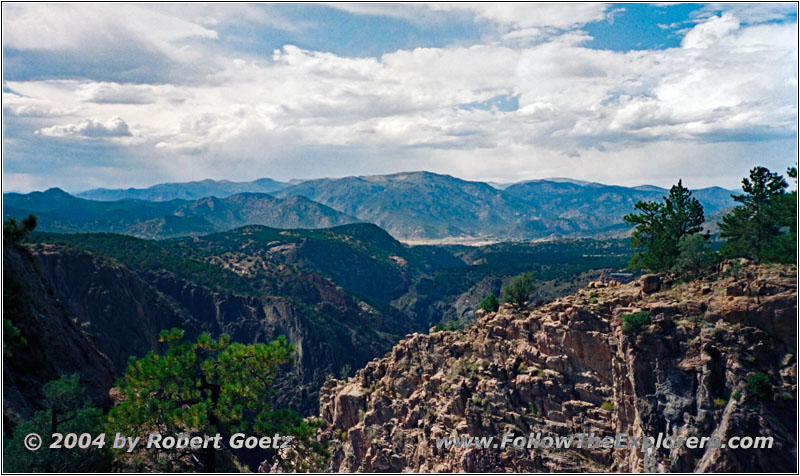 Royal Gorge, CO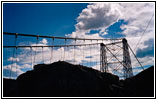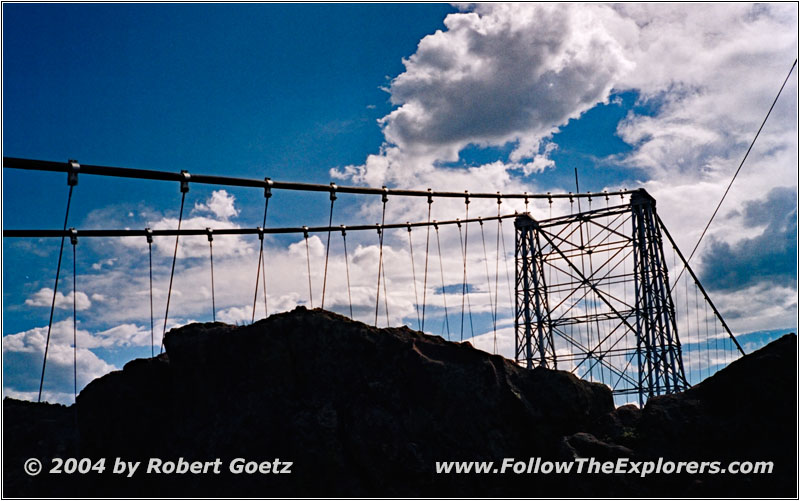 Royal Gorge Bridge, CO
First you are greeted by one of the rare world wide existing water clocks. From there I walk over to the bridge and enjoy the fantastic views into the deep canyon, which ends almost 1000ft below me. The bridge itself is a suspension bridge on steel ropes with planks to walk on. If a car drives over the bridge, it rumbles heavily — almost like on my backroads…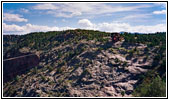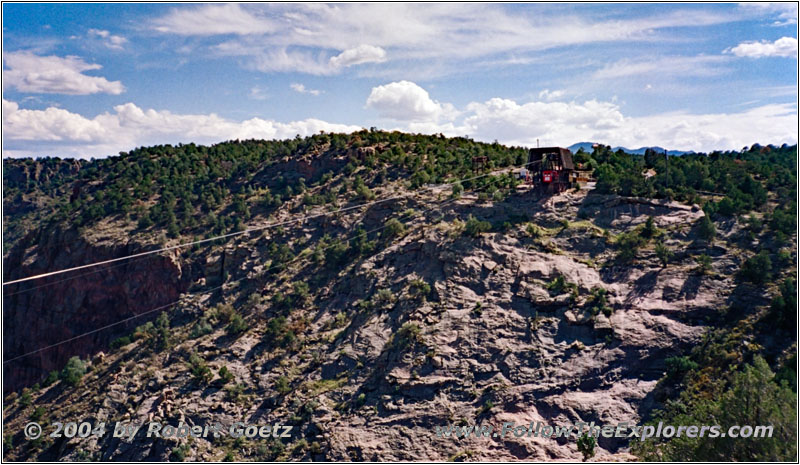 Aerial Gondola Royal Gorge, CO
After my arrival on the other side I walk over to the Aerial Gondola, which is an aerial railway spanning the widest distance between to supporting points. In fact, it is only at the beginning and the end supported. The whole distance over the canyon is free hanging. If you travel with this gondola, you should not be afraid of heights or you should look for a spot in the middle of this big gondola.
After the gondola has reached its destination, I walk over to the cog railway, which runs down to the bottom of the canyon. You get really squeezed into the small railway cabins. They are only made with a small mesh as barrier, so you cannot fall out. But this way you have great views.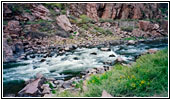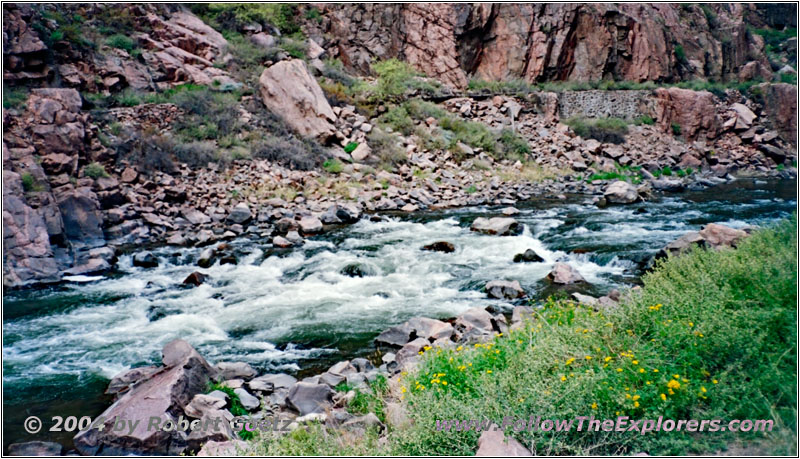 Arkansas River, Royal Gorge, CO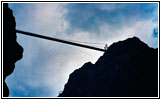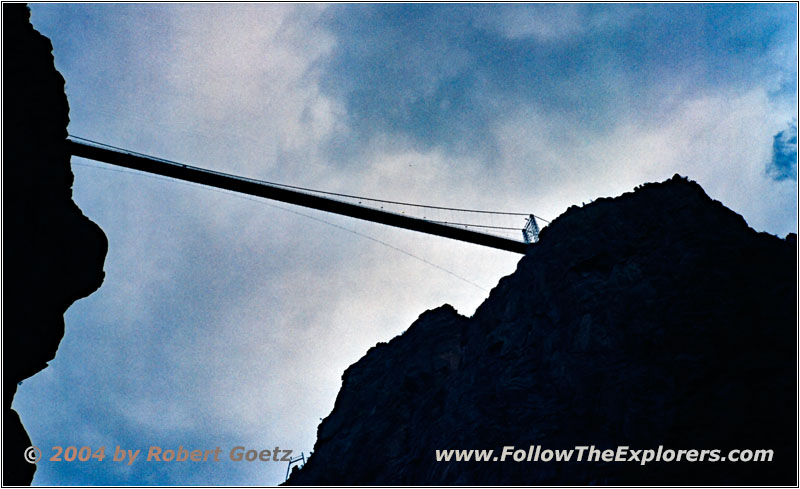 Royal Gorge Bridge, CO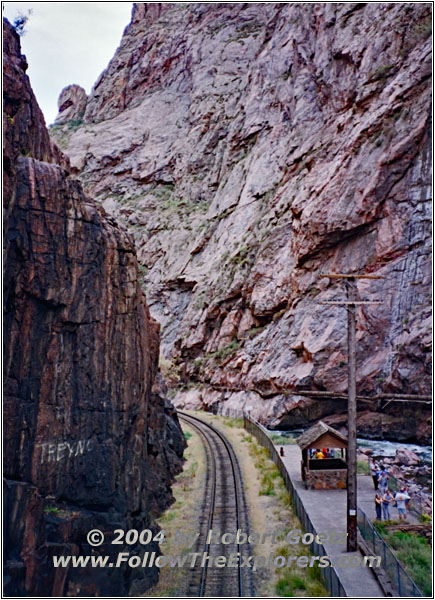 Arkansas River, Royal Gorge, CO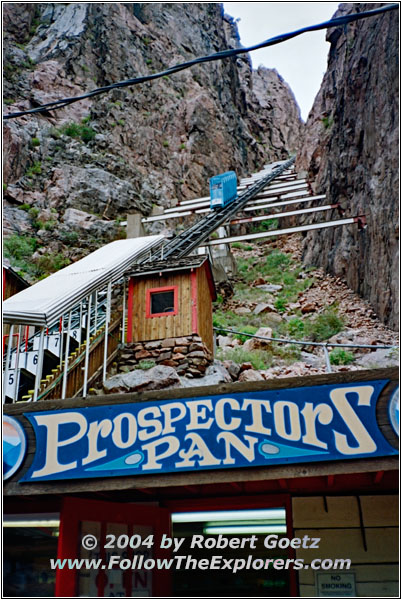 Cog Railway Royal Gorge, CO
There are two of these railways, who always run at the same time — while one is going up, the other goes down. As a special gag the uphill running people try to frighten the new group running down by screaming at them — which usually works out.
After my arrival at the bottom I have the chance to take impressive pictures of the bridge and the whole canyon. The bridge really looks like a toy from this distance.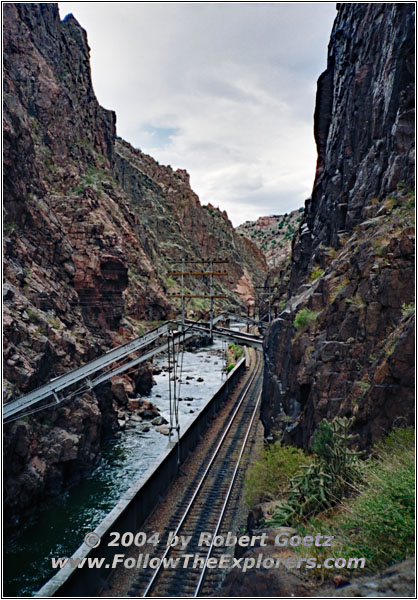 Arkansas River, Royal Gorge, CO
There is also another very special unique construction: Because there is no solid ground for the railway, some genius people have figured out a special construction at the end of the 19th century. The rails are mounted to carriers, which are formed like a roof and anchored in the rock to the left and right. This construction is unchanged up to today and is still carrying the train, which still runs through this canyon as special attraction. But you should plan half of a day for the train ride. That's why I have to skip this.
After I have visited everything I take the railway back up. At the top I leave the park. But before leaving I ask the cashier, if it is allowed to drive over the bridge with your own car. All in all I have seen a bunch of cars running over the bridge. She confirms this and also that drive is included in the entrance fee. That is something I definitely must do. I hurry up, because they shut down the park at 5pm and it is already way past four. Time really flies here…
The guy at the gate immediately recognizes me and opens the barrier without taking a look at my entrance card. I drive slowly over the bridge and enjoy once again the views. After my arrival at the other side I decide to also watch the introduction movie. Unfortunately I am too late for the last movie. But the employees are so nice to let me in anyway.
After watching the movie I walk back to my car. Unfortunately I must take the same way back as the one I arrived, because the south entrance is already closed in past season. So I have the chance to enjoy the views for a third time. But behind me the Trolley already approaches, which forces me to drive faster than I really wanted to. Two bikers have placed their bikes pretty cheeky in the middle of the driveway and forced another driver to really squeeze his car by. But when they see the approaching Trolley, they hurry up to move one of their bikes to the side — why not from the beginning?
I reach the other side again and drive out of the park. On my way back I do another brief stop to enjoy the fantastic cloud setup. Then I drive back to my motel. There I check as usual my video taping of today. In the phone book I found a K–Bob Steakhouse. I remember this chain from my last years trip and it was pretty good. So I decide to also have dinner there.
Just past seven I leave the motel. But despite thoroughly searching around, I am not able to find it. At the place where it should be is only a pizzeria. After one hour of searching I give up bugged out and drive back to my motel. There I ask for a way description and they tell me, that the K–Bob does no longer exist, already for a long period of time. Now an Italian restaurant is at this place — wonderful!
But the Wild West should be a real good steakhouse, which is not that much farther away. I had already seen it, but it didn't looked that good. There was a lot of neon lights and a Chinese restaurant was next door. It almost looked like being the same restaurant. But it is already late and I am hungry. Therefore I give it a try.
The first impression was totally wrong. The interior is pretty rustic with thick wooden tables. As a special they have peanuts with their shell, which you can open and eat while waiting for dinner. Then you throw the shells just to the floor…
I order again my usual Sirloin. The steak is really one of the best I had on my whole trail this year. Also the salad tastes really fresh and not like the prepared salads as in some other restaurants. Highly satisfied I pay around half past eight and drive back to my motel. After my arrival I enter the next GPS coordinates. Then I go to bed.
Sights
Royal Gorge (Fee $20, AAA $18)
General
Breakfast: Bronco Billy's, Cripple Creek
Dinner: Wild West, Cañon City
Motel: Super 8, Cañon City
Distance: 93 miles