Zebulon Montgomery Pike Trail to Red River, Arkansas Journey 1806 — 1807
Day 34: September 17th, 2004 Alamosa — North Platte
When checking out I ask at my motel for a post office. But the employee is not really helpful. At least he has some of these tourist maps, which he hands me over. There I am able to find a post office. But first I drive again over to the Monterey Cafe. Unfortunately this time the restaurant is completely full. There is only one empty table in the middle, where still are some dishes on top. As I am not sure, if this table is really free, I wait for the server. Sure I can have a seat, she says. Therefore I sit down and take a look at my route of today. The breakfast is then again as great as yesterday.
Around nine I pay and drive over to the next gas station. There I also check my tire pressure. To my surprise all of my tires almost still have the perfect pressure. Then I drive over to the post office. There is no one before me and I buy a complete set of twenty stamps. After I have put all my stamps on the picture post cards, I am eventually able to hit the road.
It's almost a quarter to ten and I have a long distance to drive today. Additionally I will loose another hour due to driving over the next time zone.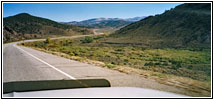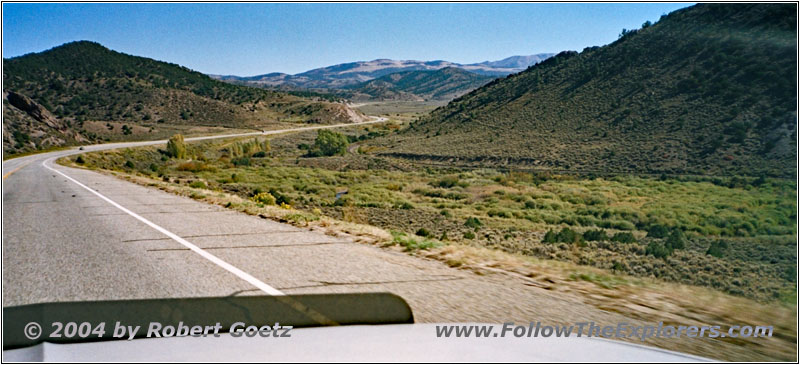 Highway 160, CO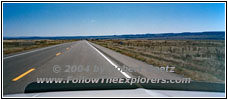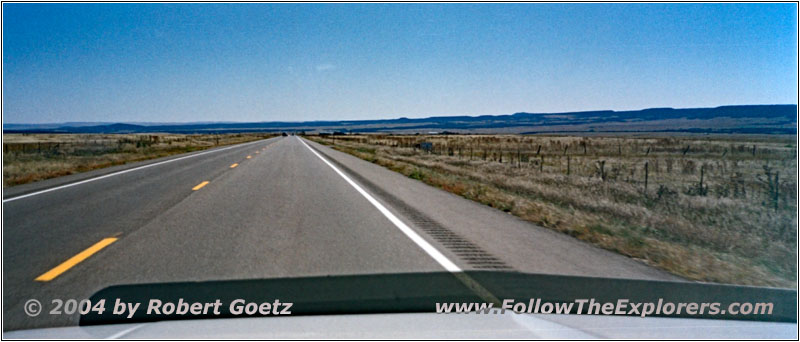 Highway 160, CO
Highway 160 East takes me over La Veta Pass.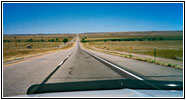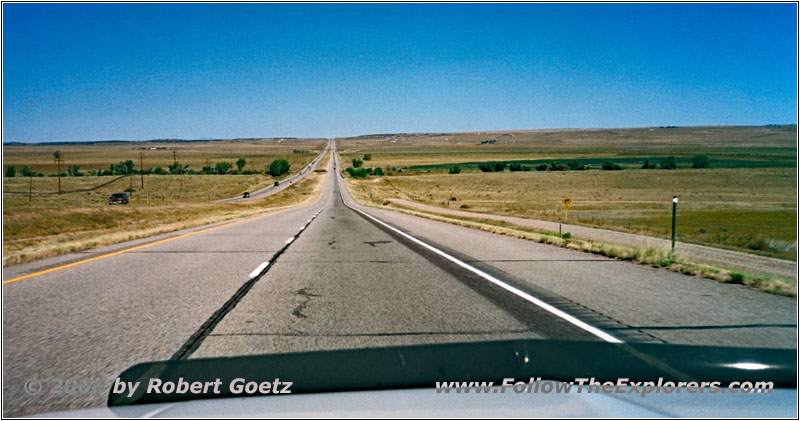 I–25, CO
At Walsenburg I reach I‐25 to the north. To my surprise, this Interstate is getting extremely busy the more I get to the north. The traffic is almost like on the Interstates in the east. When I reach Colorado Springs, I got stuck once again in a traffic jam. But it does not take this long, until I am able to proceed.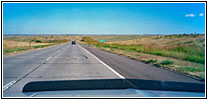 I–76, CO
The next traffic jam is then happening at Denver. It takes until the exit of I–76, before things are getting better. After passing the city limits of Denver, the traffic reduces significantly. Also the temperatures have changed rapidly after crossing La Veta Pass. In Alamosa temperatures were around pleasant 70 to 75 degrees, while around here temperatures are almost in the hundreds.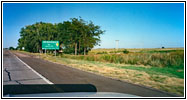 I–76, State Line CO and NE
When I cross the state line to Nebraska, the humidity rises tremendously. On the Interstate I finally make good miles and I reach my Motel 6 at North Platte around 7pm. Unfortunately there are no rooms left on first floor. But they give me a discount as compensation.
I take a look at the phone book. Unfortunately they don't have an Outback Steakhouse here. But during checking in I overheard, that there is an Applebee's just across the bridge. This is where I go for dinner. But the restaurant is completely full and I am only able to get a seat at the bar. After I have ordered my dinner, a table would be now available. But I have already settled in comfortably at the bar and would like to stay there.
My server at the bar once took a class in literature. That's why she knows the name Elliott Couse, who had put in all the footnotes in Pikes diaries. She asks me about my book, because she has seen his name on the title page. But I assume she has not seen Pikes diaries before, but the Lewis & Clark Trail.
Around half past eight I pay and drive back to my motel. There I check the video taping of today before I finally go to bed.
General
Breakfast: Monterey Cafe, Alamosa
Dinner: Applebee's, North Platte
Motel: Motel 6, North Platte
Distance: 96 miles