Zebulon Montgomery Pike Trail to Red River, Arkansas Journey 1806 — 1807
Day 35: September 18th, 2004 North Platte — Sioux Falls
Next to the Applebee's is a Village Inn. This is where I go for breakfast to today. Lucky me I already have seen it yesterday, because today we have very heavy fog. Unfortunately my hostess forgets to hand me over some silverware. The same does my server, when she hands me over my coffee. Sadly she is gone so fast, that I am not able to tell her about this problem. And then she never returns and never looks in my direction. I almost have the impression, she tries to completely ignore me. Eventually I am so annoyed that I just walk over to the kitchen, where I find a way more friendly server, who hand me over some silverware happily. When my server brings me my breakfast she is again gone so fast, that I am not able to tell her something — great service around here!
After this negative experience I drive over to the next gas station. Then I check oil and tire pressure. Finally I am ready to roll around half past nine. I must be careful not to be too late in Sioux Falls. Otherwise I might not be able to get a ticket for the concert…
When leaving the gas station I have the next negative experience. Although I am already waiting for two sets of red lights, no one gives me the chance to exit. Everyone closes up completely, when the light turns to red — what kind of idiots are around here!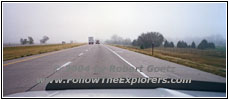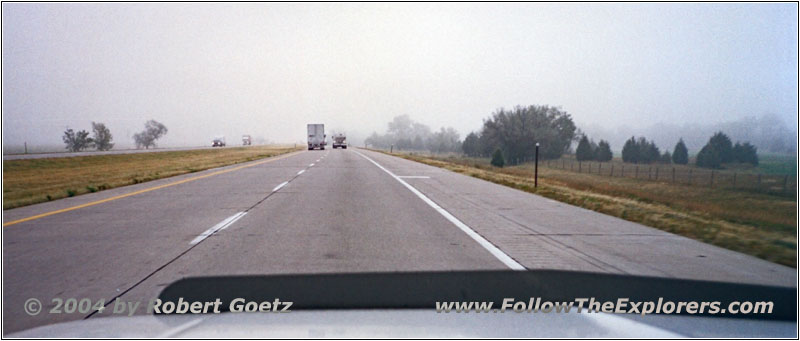 I–80, NE
But finally there is a gap in the traffic, before the light turns to red again. Now I am able to reach the main road. Then I am back on I–80 East. At the entry of the Interstate I have the next experience: Instead of hitting the gas on the acceleration lane, the lady in front of me hit the breaks! I almost rear end here, because I didn't assume, someone could be such an idiot! It seems like everyone around here is a total jerk!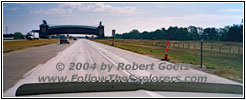 I–80, Archway Monument, Kearney, NE
I am glad, that I am now on my way east. The rest of the drive is without any difficulties.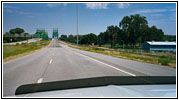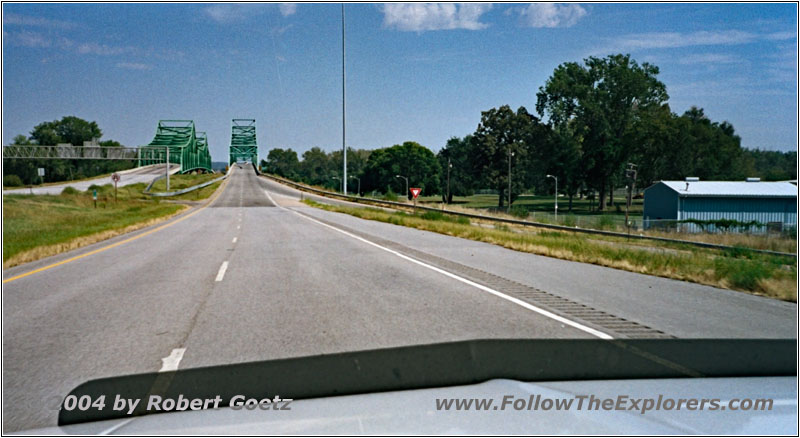 I–680, Missouri River, NE
At Omaha, I take i–29 North. Now I am following again the Lewis & Clark Trail, which I followed in 1999.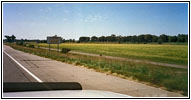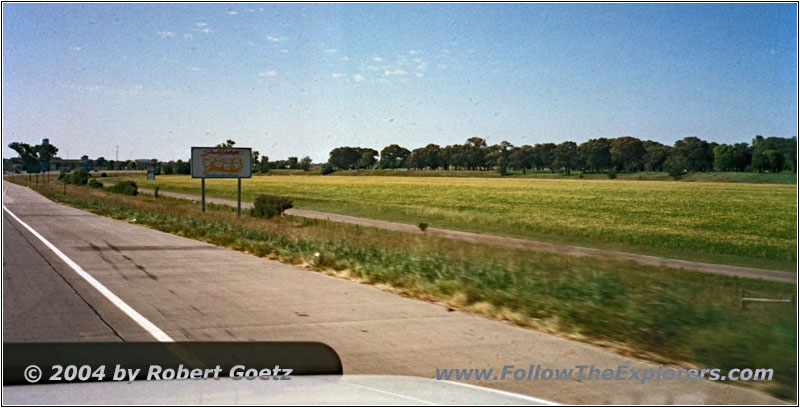 I–29, State Line IA and SD
Memories are coming back when I see Sergeant Floyds Monument. But I must drive on to be on time in Sioux Falls.
Just past five I check in. Because it is possible to enter the concert at half past six, I drive over to the Outback Steakhouse already at six. But the restaurant is extremely busy and I must wait for a table. Just before seven I am finished and pay my bill. I also ask my server, where is the best place to park at the Washington Pavilion. Unfortunately she has no idea. But she asks a colleague, who is able to tell me very precisely, where I can park.
Thanks to this prefect description I am able to find the spot without any searching around. But all the parking lots are already filled up. Just a few blocks further, I am able to find a parking spot and I follow the crowds to the Washington Pavilion. I would have never thought, that there are so many people.
Just before half past seven I am at the counter. Lucky me I am able to secure one of the last tickets, which is pretty expensive with $20. The cashier is looking for a decent seat at the balcony, where I will have a great overview. I thank her for all the work she put in for me. She was almost looking for five minutes to find the perfect spot for me.
Then I walk to my seat. Next to me is a couple from the city. They know the Red Willow Band from the past and they would like to just see them again. We have a nice chat until the show starts. However I let Christine and Chris know, that Robert from Germany is here via the hostess. She says, usually I should receive a message back from them.
The show starts and it is really great! I have never seen such a big audience with them both. During the break I still have no message back from them. But the hostess gives me hopes, that I have a chance to see them past the show. If I hear nothing, I can still come to their autograph session. At least something…
Also the second half of the show is great! The Red Willow Band is really able to motivate the crowd to party. At the end of the concert are standing ovations of 1700 people! The Pavilion is almost fully booked. A maximum of 1800 people is possible.
After the show I walk down and indeed, there is the whole band occupied by autograph hunters. Christine is currently talking with someone on the side and I place myself at a position, where she is able to see me. When she has finished her conversation, she can almost not believe, that I am here. We chat a little bit, then Chris has seen me and says Hi. But he is suddenly occupied again by other people and also Christine suddenly disappeared.
So I wait a little while, until the crowds are gone. Then I have the chance to chat a bit with Chris. Unfortunately Christine doesn't show up again and also Chris terminated the conversation in a way, that I have the impression it is time for me to leave — what a pity. I hoped that I will be able to sit down with them somewhere, like we always did in Germany after their concerts. But probably they want to be with their former band alone.
A bit disappointed I return to my car. Then I drive back to my motel. There I check the video taping of today. Then I go to bed way past 1am…
Sights
Albert and Gage, Washington Pavilion (Fee $20)
General
Breakfast: Village Inn, North Platte
Dinner: Outback Steakhouse, Sioux Falls
Motel: Motel 6, Sioux Falls
Distance: 478 miles