Zebulon Montgomery Pike Trail to Red River, Mexico Journey 1807
Day 11: October 8th, 2003 Alamosa — Taos
Thanks to my not yet adjusted internal clock I am awake pretty early. I have breakfast at the Monterey Café, where I only see locals having breakfast. It's a very nice little restaurant with only a couple of seating areas. But here you really get good home cooking meals. After breakfast I drive over to the gas station and around half past eight I start the Zebulon Montgomery Pike Trail of this year.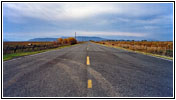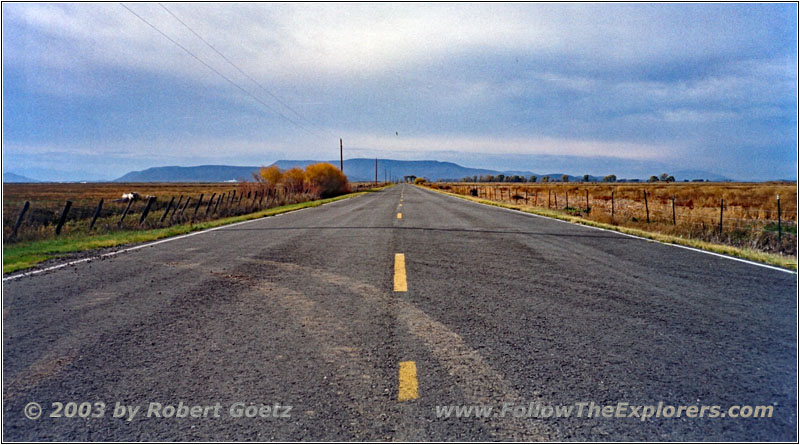 Rd S 112, CO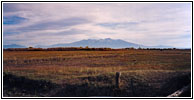 Rd 24, CO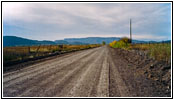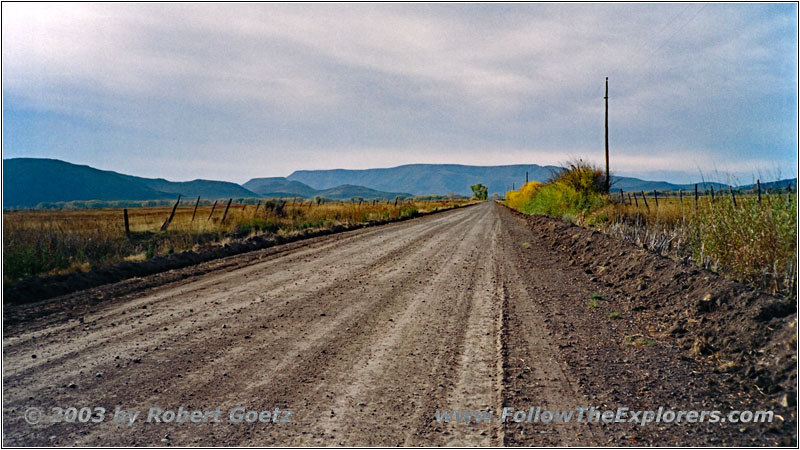 Rd 24, CO
My first destination is Pike's Stockade, which he erected in 1807. This is the place, where he was captured by Spanish Dragoons and where his long journey with them started down into Mexico and back up to Louisiana.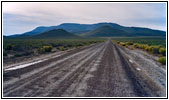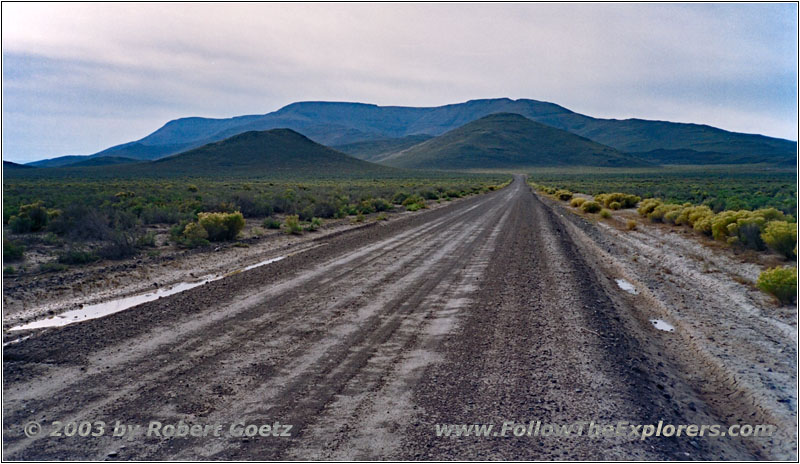 Rd V, CO
I reach this place on Rd Y, but the gate is locked. So I can only pass this historic place. Hopefully I will have more luck, when I do the first part of this trail next year and which ends around here. Now I follow the trail, which Pike had to took with the Spaniards.
I follow the Conejos down to Conejos. At this part of the road I have the first opportunity to use my 4WD. They recently graded the dirt road and along the road side are almost 2ft high banks. And my backroad leaves exactly over one of these banks!
Some other vehicles have already smoothed out the banks a bit. But I am still afraid to get stuck in the middle. So I hope the best and give it a try. Surprisingly it goes really easy. But now I have to first drive through a dump place. It looks like the locals use this area to dump all kind of old stuff like refrigerators, couches and closets — not really a great view.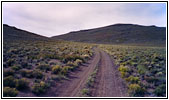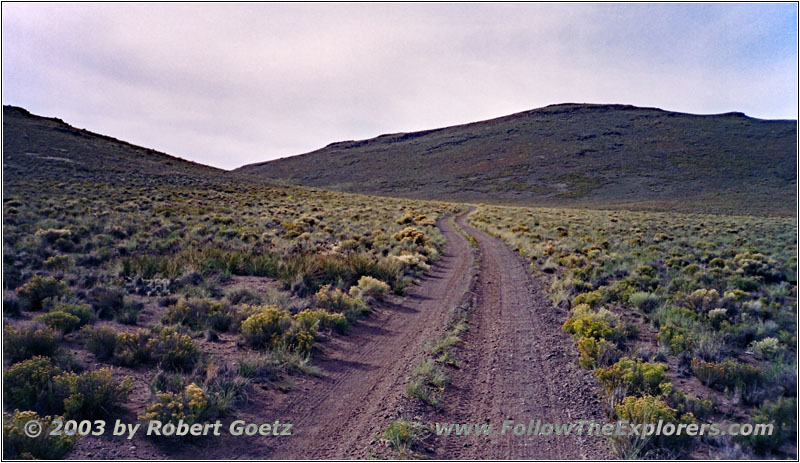 Backroad, CO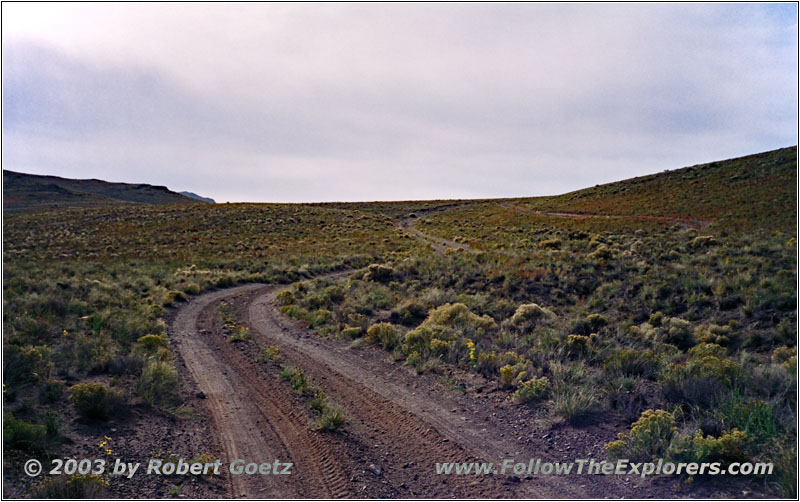 Backroad, CO
But I only have to drive a short distance through this trashy area. Then I am back in nature. You can tell, that you are here in a desert like area. You see a lot of dry soil and prickly bushes in between. But due to the recent rain, everything looks pretty green at the moment.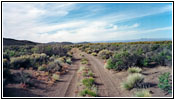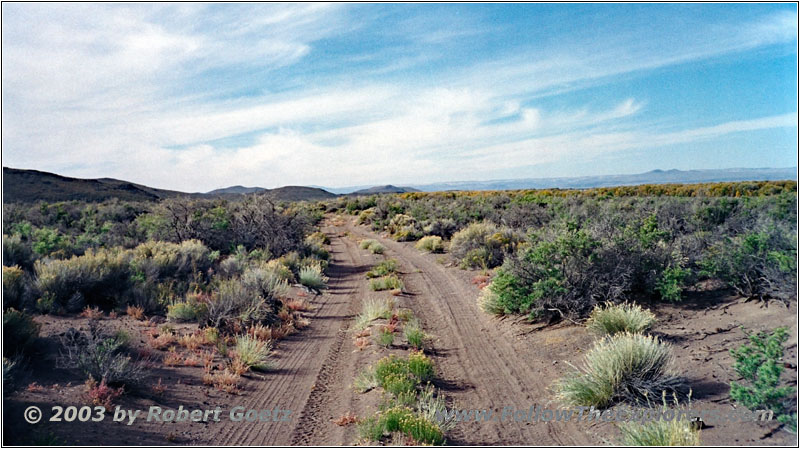 Backroad, CO
After a bit more than an hour drive, I see a small farm in the distance, where my backroad directly runs to. I start to wonder, if I have missed one of these "Private Property" signs…
But when I come closer, I realize, that this farm is already abandoned. Most of the houses are already half rotten. Otherwise I would have ended up directly in the middle of the farm area. After a short distance further I reach Highway 142, which I follow not for long.
I try to follow backroads again at Manassa. But suddenly I am at the graveyard and this is also the end of my backroad. So I have to turn around and look for a different road to Conejos.
Finally I arrive there and drive on to Antonito, where I follow the next backroads. But there is again some private property, which blocks the way I wanna take. So I have to follow the current road further, until I am able to turn south again.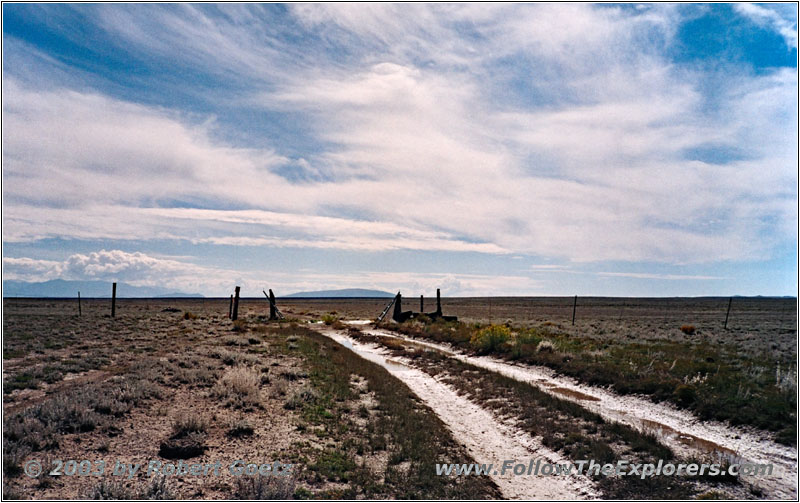 Muddy Backroad, CO
There is also a fence, but without any sign, which prohibits to continue traveling. But there is still a lot of water on the road and I put in 4WD, just to be safe and not to get stuck in the mud. With a little bit of momentum I easily make it through, but my truck receives some muddy splashes. But that's part of driving on backroads.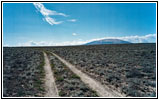 Backroad, NM
After this piece of little adventure, the trail continues fairly easy and crosses the state line to New Mexico. Sure there are no signs for the actual border. You can only tell by the GPS coordinates. But I am not on my originally planned route. So I can only guess where it might be.
From time to time there are some sharp edged lava stones, which I pass very slowly and carefully. This lowers my average speed dramatically. But I don't want to end up with a damaged tire in the middle of nowhere…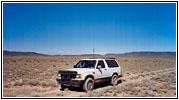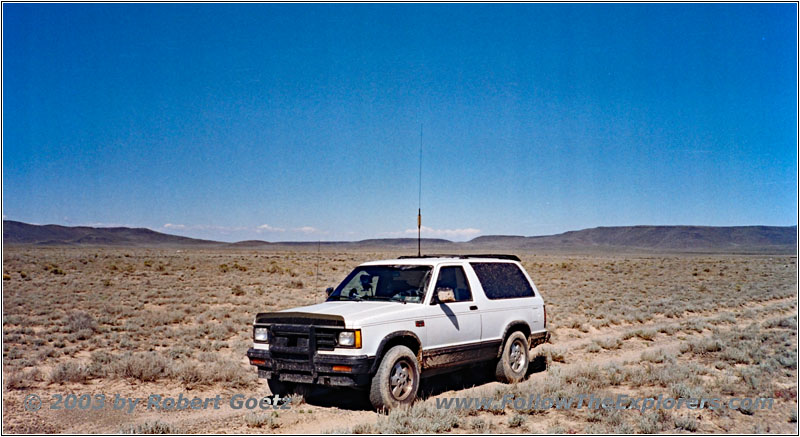 Muddy 88 S10 Blazer on Backroad, NM
After half an hour I reach another muddy section. This one looks way more critical and I take more momentum to get through. My plan is, to drive more on the right side, close to the rocks on the side. But the soil is so slippery, that the left side of my truck eventually ends up in the deep muddy water. Now I have to dig through this muddy section, which is only on my left side. This would be a good time to have some lockers!
It almost looks like I get stuck and have the opportunity to use my portable winch for the first time. But lucky me I made it. Indeed my truck is now covered on the left side up to the roof with mud. I get out and clean as good as possible my windows to have a chance to video tape and take pictures again. Unfortunately my video camera was not able to capture the chaos on my left side, because it resides on the passenger side and is directed to the front. But when you watch the video, you can see that the truck is slightly moving sideways through the muddy area.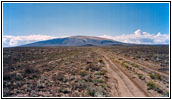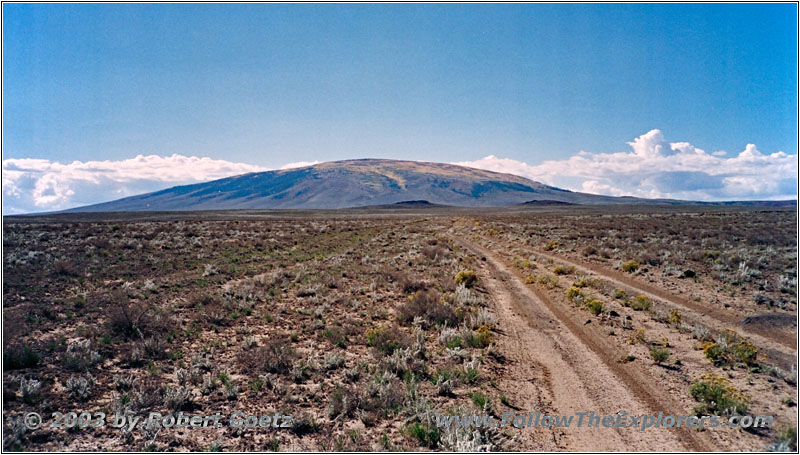 Backroad, NM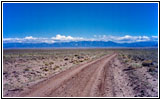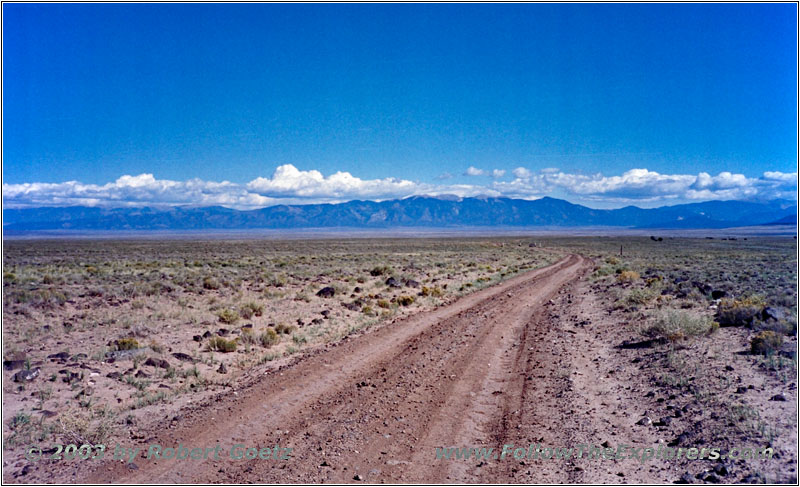 Backroad, NM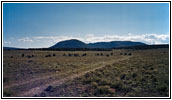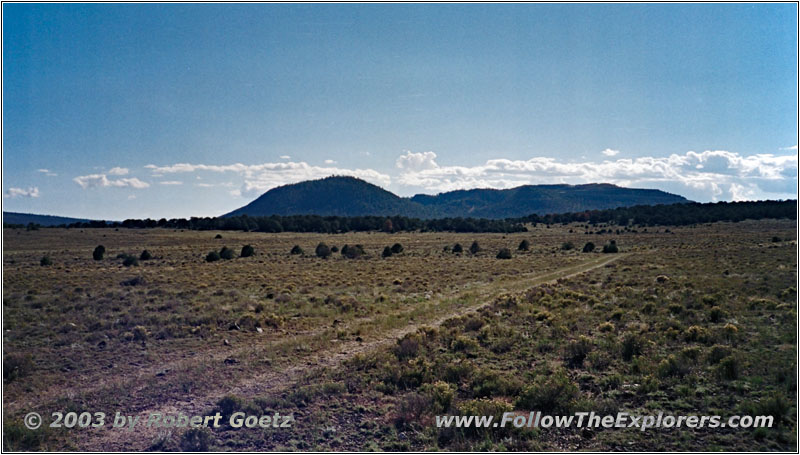 Backroad, NM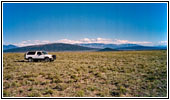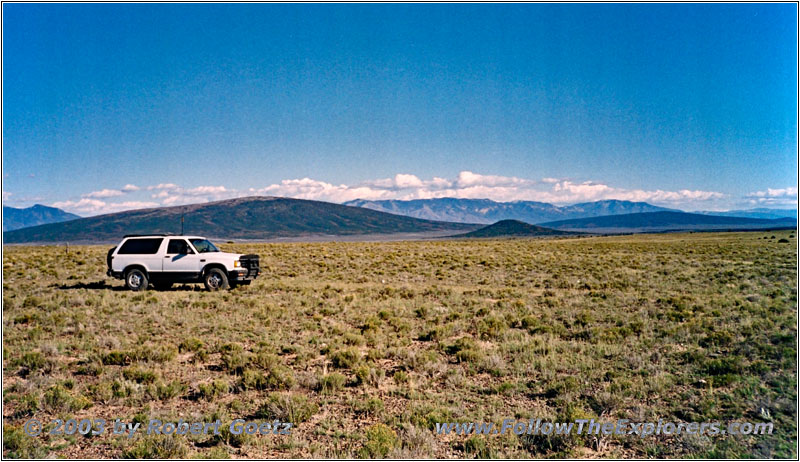 Backroad, NM
After this adventures, things continue very easy. Although the elevation is pretty high, there are no real mountains around. They are all far away. There are only small hills along my way. But I can climb them only very slowly, because there are a lot of sharp edged stones in the road. To avoid my transmission is running hot, I put in low gear, just to be safe.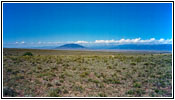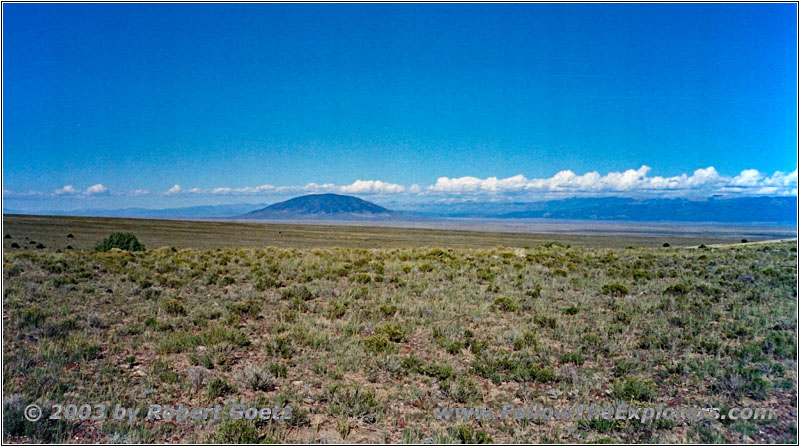 Backroad, NM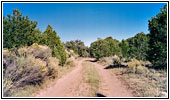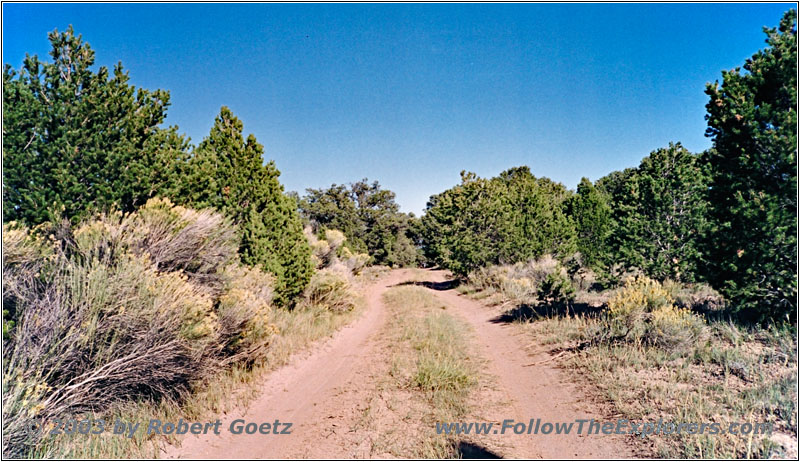 Backroad, NM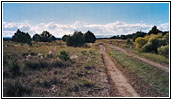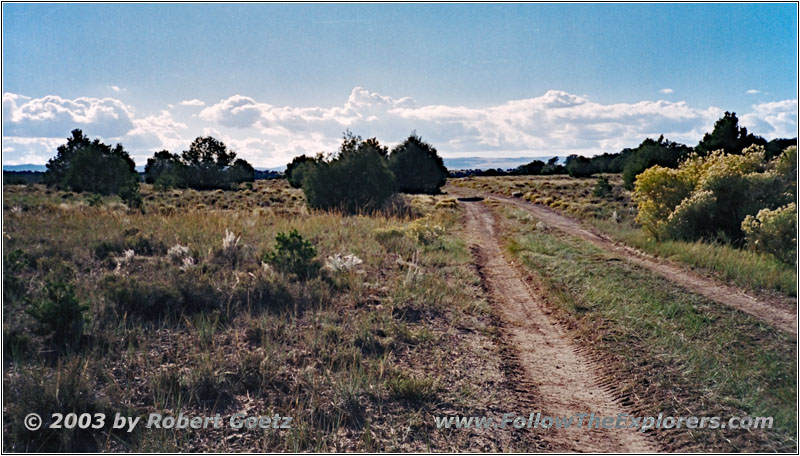 Backroad, NM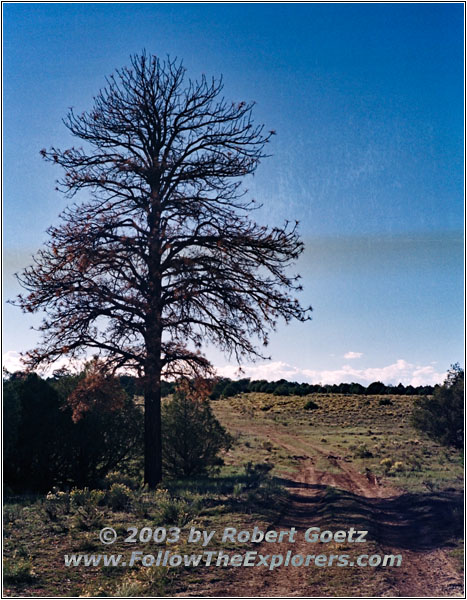 Backroad, NM
Now I continue in kind of a zigzag route until I am close to Highway 285. I check the time and realize, that I needed way more time for this part as planned. But for another trip on the backroads, the time should be still sufficient. So I continue on my backroads, which I can only drive very slowly due to the sharp edged stones. Usually there are only prickly bushes along the road, but in some areas are even small pine trees in the landscape. Beside me I see no one on the roads during the whole day. If I have an issue here, I have to solve it on my own…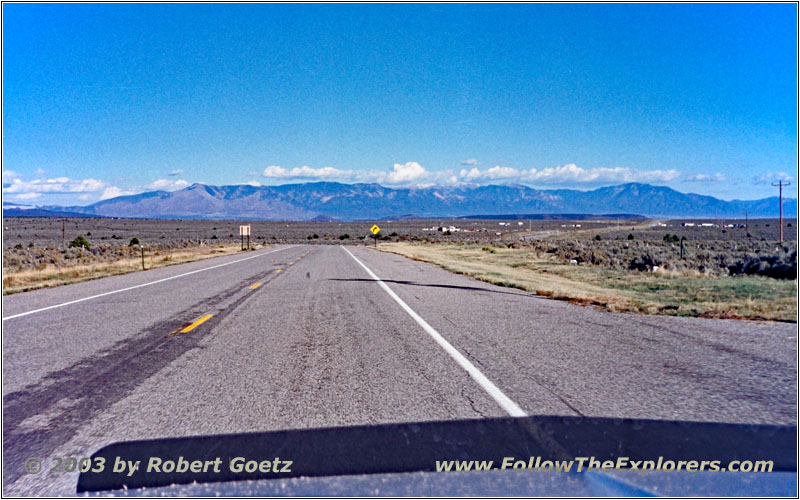 Highway 285, NM
I reach the next possibility to get back on the highway. A brief view at my watch tells me, that it is now time to take highways, to not arrive in the middle of the night in Taos. So I turn to the east to get back on Highway 285 and follow this one to Tres Piedras.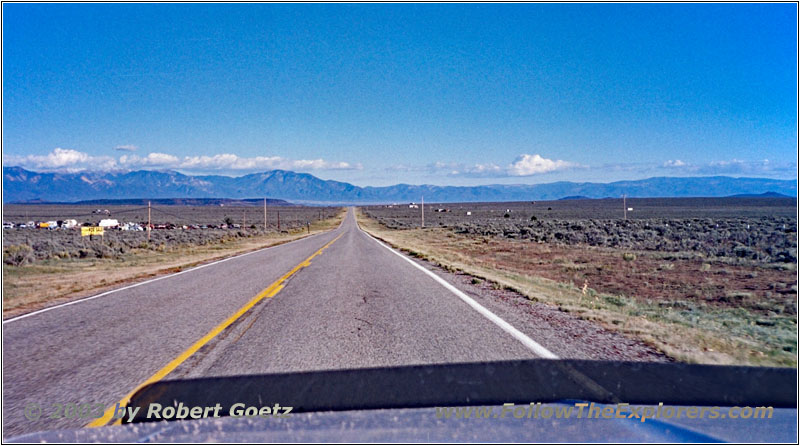 Highway 64, NM
From there I take Highway 64 over the Rio Grande canyon to Taos. I make good progress on the highway, but reach a small traffic jam in Taos. It's just past five and it seems, I am exactly in the evening rush hour. It takes almost half an hour until I have passed the traffic lights in downtown. From there it's only a couple of minutes to my Super 8. However I almost missed it, because there are not the usual big signs. Also the building itself is not in Super 8 colors, but in the typical adobe style of that area.
I check in at a quarter to six and receive a nice room on first floor and far away from the street. For dinner I chose the El Taoseño. Beside Mexican food they also have steaks. But as I am here now in Mew Mexico, I chose something Mexican. They have a platter, which is a mixture of all kind of Mexican food and which is plenty enough. Also the price is absolutely reasonable, like most of the Mexican restaurants. Around a quarter past eight I drive back to my motel.
General
Breakfast: Monterey Café, Alamosa
Dinner: El Taoseño, Taos
Motel: Super 8, Taos
Distance: 131 miles