Zebulon Montgomery Pike Trail to Red River, Mexico Journey 1807
Day 12: October 9th, 2003 Taos — Santa Fé
Breakfast is again at the El Taoseño. Beside Mexican breakfast there is also the typical American bacon and eggs breakfast available, which I take. Then I drive over to the gas station. Around 9am I am ready to hit the road and drive first back to Taos downtown.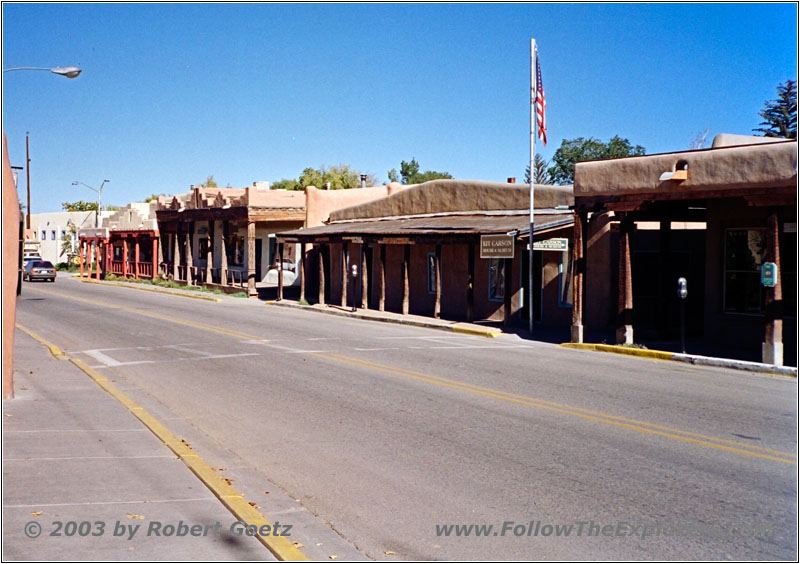 Highway 64, Taos, NM
There is the Kit Carson Museum, which also should open by 9am. I follow the signs, but cannot locate it. It takes me three times to drive up and down the road until I see the sign. The museum is not far from the main street crossing. Just a short distance in direction out of town is a public parking lot, where you can park your car. It's only a couple of yards to the museum from there and you can save the money for the meter.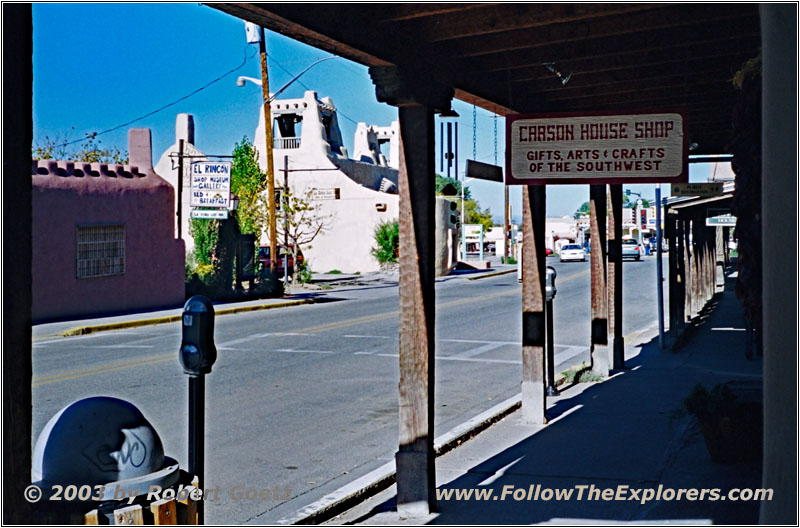 Highway 64, Taos, NM
First I do some video taping of this old town area in adobe style. Then I walk over to the museum. They look really bad at my camera, when I enter the museum. I shall leave it here at the entrance! And I have to sign a statement, that I will not use the pictures from my foto and camera commercially — they are really friendly around here…
Also the entrance fee of $5 is pretty high. When I sign the statement, I read, that it is also allowed to do video taping. So I take my camera and leave only my tripod. Then I start my museum tour. You learn a lot about life of Kit Carson and about the history of this house and also the whole city of Taos.
When I reach the second room, a school class conquers the museum. Now the peace is over. I wait until they are in the next room. Then I start the visit of the other rooms. All in all it is interesting, but not really worth the high entrance fee. There I have seen cheaper museums, which were more interesting…
Around half past ten I drive back west to reach Pikes Trail again. Pike stayed at that time on the west banks of the Rio Grande. Therefore he most likely never saw Taos and this region. Originally I planned to drive back on Highway 64 to follow Pikes path on some backroads. But I already saw yesterday, that all exits, which would bring me on Pikes path, are blocked by private property.
Therefore I reworked my planned route and drive now Highway 68 out of Taos to the southwest down to Pilar. Then I plan to follow Highway 570 along the Rio Grande to the north. But a sign at the main highway worries me: It says that Highway 570 is closed, but Highway 567 open. On my map Highway 570 ends where Highway 567 begins.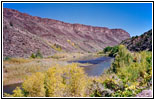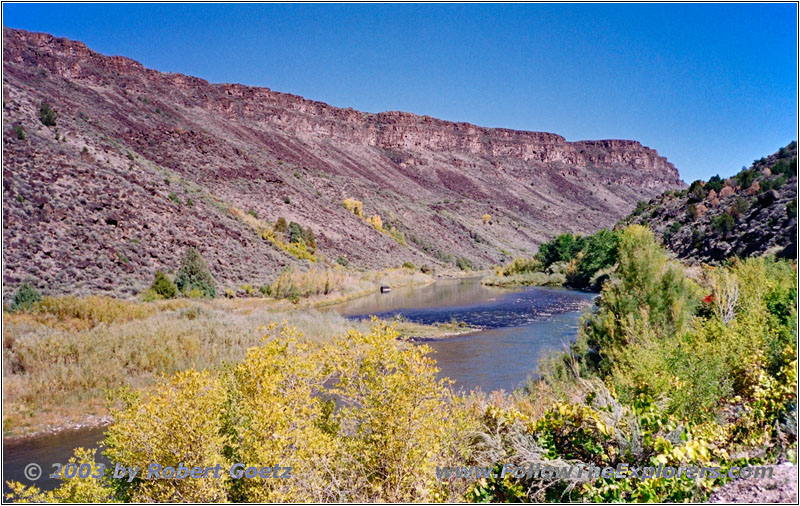 Highway 570, Rio Grande, NM
Anyways, I give it a try. Worst case I have to turn around once again. I reach the entrance to a park and see a small building, where it seems to be a map attached. I leave my car and realize, that there is no map. At this moment, someone leaves the building, which is just a restroom. He asks me, if I have found everything what I am looking for.
I tell him about the sign on the main highway. But he says, he has seen nothing here. As far as he knows, the road is completely open. But it is possible, that they close the road in the night, because of crime in this area! Ooops, where I am here?!
He tells me, that they have quite often shot on campers here. Just two months ago a group of young people, who were totally stoned, drove through this area and shot on the campers with their shotguns. He called the police at that time. He tells me, that I shall be really carefully around here in northern New Mexico. There are still many cities around, where "Gringos" are not welcome — period!
He survived in cities like that, but this was really tough! I say thank you to Ted, who is not a park ranger, what I thought first. He is a local. His grandfather once had a big property here up to the Rio Grande canyon.
I continue my journey with mixed feelings, due to these warnings. Just to be safe I skip recordings, where I have to pull out my tripod. The rest is video taped only out of my car. The landscape around here is absolutely gorgeous. I am able to follow Highway 570 to the beginning of Highway 567. Now I cross the Rio Grande on the Taos Junction Bridge.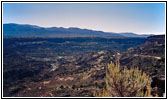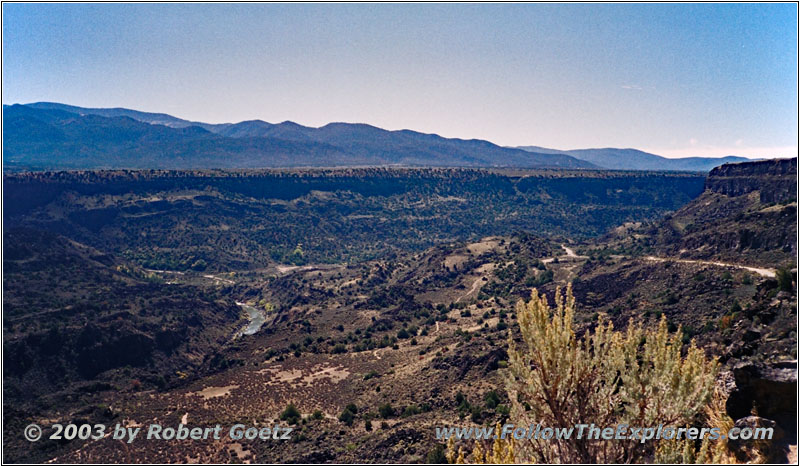 Highway 567, Rio Grande, NM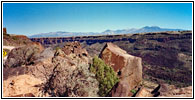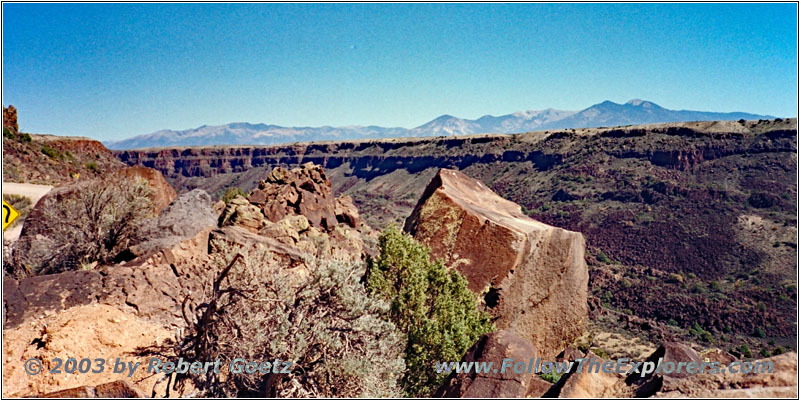 Highway 567, Rio Grande, NM
Like Ted told me, a dirt road starts here to the top of the canyon. There are also great views down into the canyon from this road. But I cannot really enjoy it. I still here his words and story, where someone shot on the campers with a shotgun…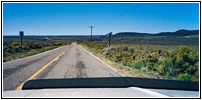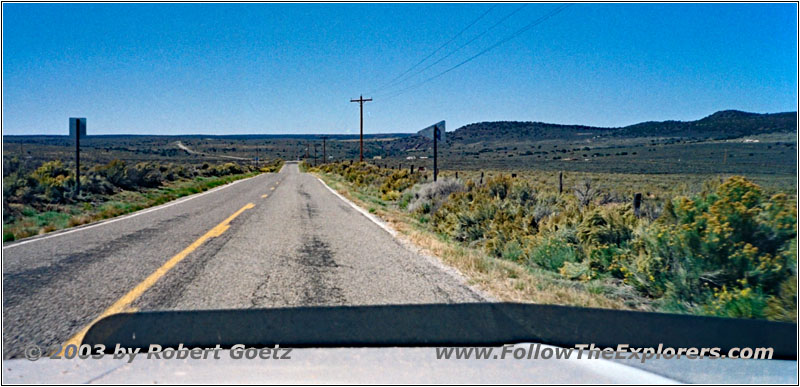 Highway 567, NM
At the top I am back on pavement. Because of Teds warnings I stay now on paved roads. Anyways, I would have not been able to be on backroads, because all exits would run on private property. So I reach Highway 285 on Highway 567.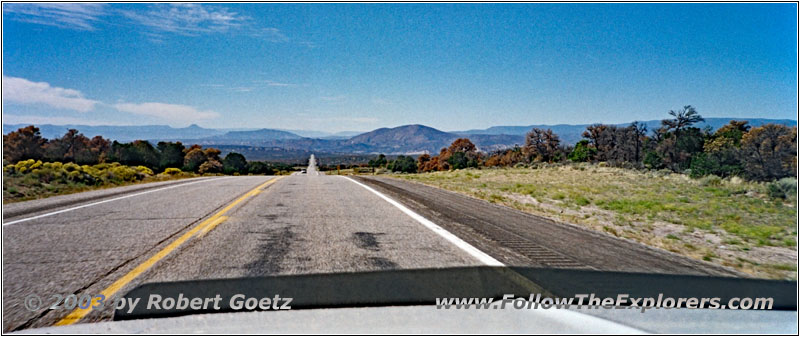 Highway 285, NM
I pass Ojo Caliente on Highway 567. Pike spent the night here on March 1st, 1807. Suddenly I hear a grinding noise which gets louder and aggressive over time. It looks like my fan is starting to die! First I get him back quiet by switching off and on. But very soon this also doesn't help. So I have to drive to Santa Cruz with a very loud grinding fan.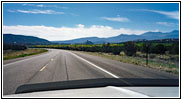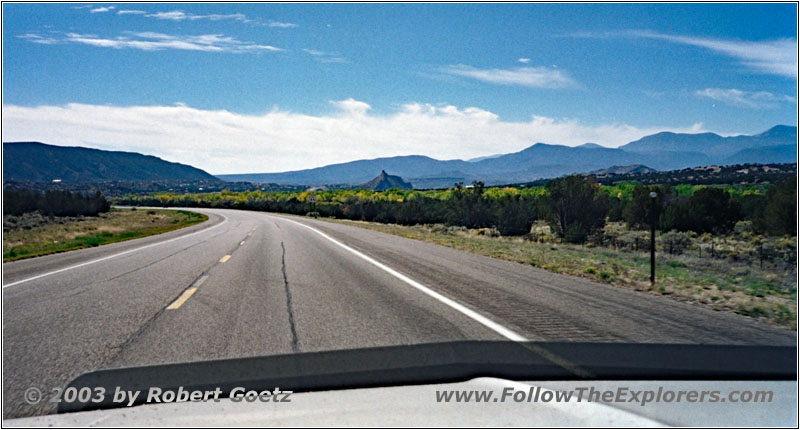 Highway 285, NM
From there I take Highway 285 all the way to Santa Fé. I arrive at the city already around half past two, because I am most of the time on main highways. It is not a problem to get a room on first floor at the Motel 6 at this time of day.
I am able to find an Outback Steakhouse in the phone book. Hence it is quite clear, where I will have dinner tonight. But first I drive to Wal–Mart to look for some CDs. Then I drive on to the Outback Steakhouse, where I take my usual 12 ounce Outback Special steak. I am already on my way back to the motel around 7pm. Looks like I will be not too late tomorrow, when I arrive in Albuquerque. I am just wondering, if my fan will make it…
Sights
Kit Carson Home & Museum (Fee $5)
General
Breakfast: El Taoseño, Taos
Dinner: Outback Steakhouse, Santa Fé
Motel: Motel 6, Santa Fé
Distance: 110 miles