Zebulon Montgomery Pike Trail to Red River, Mexico Journey 1807
Day 19: October 16th, 2003 Las Cruces — El Paso
This day will be way more easy going and is more than necessary for me to kind of compensate the long day yesterday. First I drive over to Cracker Barrel for my breakfast. Then I take Highway 478 southbound. The road construction around my motel forces me to drive a little detour. But finally I reach Highway 478. Unfortunately there is now no gas station around. But the distance to El Paso is not this much, so I skip the gas station this time.
I cross the state line to Texas at Anthony. I assume to see a Welcome sign to Texas, but nothing is around here. So I turn off the camera just before I leave the city. And there it is. But my camera needs a while to start the tape again, so I don't have the Texas sign on my tape. But I don't want to turn around again. So I follow Highway 20 on to El Paso. Later I will see on my movie, that there was already a small sign at the state line…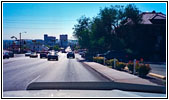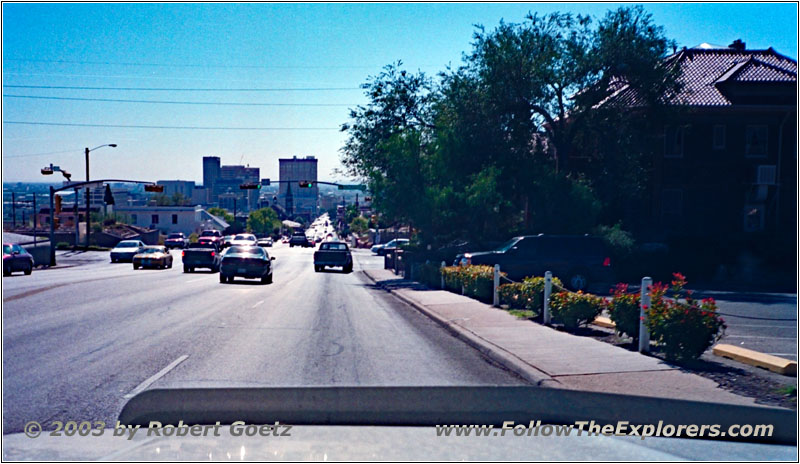 Highway 20, El Paso, TX
After a while it goes up a mountain. According to my GPS there are still 50 miles to go. But this looks pretty much like "El Paso", the pass this city got its name from. And I really end up in the center of El Paso. It seems like I completely calculated my coordinates wrong.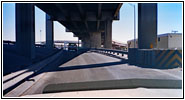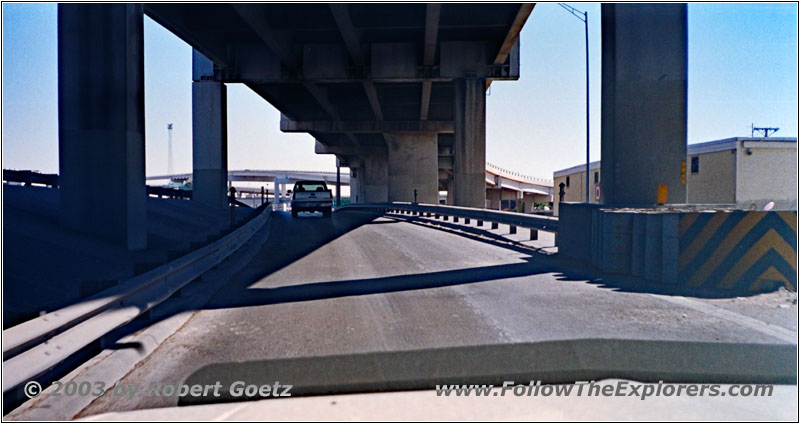 I–10, El Paso, TX
Unfortunately the signs to my two sights are so badly, that I am not able to find them and end up in a very dangerous looking area. I try my best to get back on the Interstate and follow this road to my destination of today, the Motel 6.
I am already checking in at half past eleven. Again I receive a room on first floor. But this lays once more to the inner courtyard and I am not able to park in front of my room. Anyways, it's only a few steps from my parking spot. So I first gather all my stuff together.
Suddenly a passenger car shows up with a younger guy who asks me, if I am familiar with CB stuff, because I have this huge antenna on my roof. I tell him, that I know a little bit and we chat a while about CB stuff. In the past he had been driving trucks and he still has a CB radio. But like me, he does not want to drill a hole in his roof. Therefore he looks for a good antenna with a magnetic mount.
He originally came from former Yugoslavia and he entered the States with his parents as small child. We say good–bye and I walk into my room. The door looks pretty wide. And in the bath room are huge massive rails to hold on. Now I realize, that she has given me the handicapped room. It seems like she doesn't know her own rooms…
First I check the videos of today. Then I take a look at the phone book. There is also an Outback Steakhouse in the area — excellent!
I decide to also do an oil change here, because I already traveled around 2700 miles since Pittsburgh. Who knows if I will find an oil change station in these small villages I will pass the next couple of thousand miles. I am not able to find a Jiffy Lube in the phone book, but a Pep Boys. Because I had some good experiences with my fan when going to them, I give them also a try around here.
First they have issues to find my Mobile 1 motor oil in the computer. But when I say "Synthetic" that rings a bell with him: He had looked up the regular oil. Then I have to wait once again. I placed the order around half past twelve and I am able to pay around half past one. They are not as fast as Jiffy Lube, but it is still ok.
With fresh oil and a little bit of headaches (is there a weather change rolling in?) I start my shopping tour. 5 years ago I was here on my very first US journey with my friend Franky. At that time I bought a Wrangler Jeans in a store around here, which I have worn all my journeys since then — and in the meantime it really looks like that…
First I try to find the great shops from back then. But the area has dramatically changed. Were there was a desert in the past are now big shopping malls. Were I bought a nice vest in a ran down wooden shop back then is now a nice new store — but it is still the same shop!
After I have visited all the other stores I buy in this store, the Starr Western Wear, my jeans and a belt as souvenir. I pay at a quarter to four and drive on to Wal–Mart. There I fill up my supplies of apples and drinking water. The Aberfoyle from a Texas spring does not taste as good, so I try the "Ozark" water.
Then I drive back to my motel. There I correct all my GPS coordinates. I have done a huge mistake in calculating the coordinates at one page. After I have recalculated the wrong coordinates I put them in the GPS memory and fill in the rest of the memory.
Then I take a brief rest to hopefully calm down my headaches. Around eight I depart to reach the Outback Steakhouse. There I have — as usual — my 12 ounce Outback Special. This really get me back going. Around nine I pay and drive back to my motel.
General
Breakfast: Cracker Barrel, Las Cruces
Dinner: Outback Steakhouse, El Paso
Motel: Motel 6, El Paso
Distance: 80 miles