Zebulon Montgomery Pike Trail to Red River, Mexico Journey 1807
Day 20: October 17th, 2003 El Paso — Sierra Blanca
Just a couple of yards from my motel is a Denny's, where I have breakfast today. Then I drive over to the next gas station and around a quarter past nine I am ready to hit the road again. First I have to turn around to drive back south. This is absolutely well done in Texas: There are two turning lanes below the Interstate. One is to turn onto the actual road, the other to make a U–turn without the need to pass the traffic lights.
I continue to the branch of Loop 375, which starts in southwestern direction, then turns northwest and eventually north.
Highway 180 takes me further north to the exit for Hueco Tanks State Park.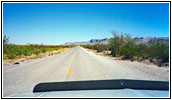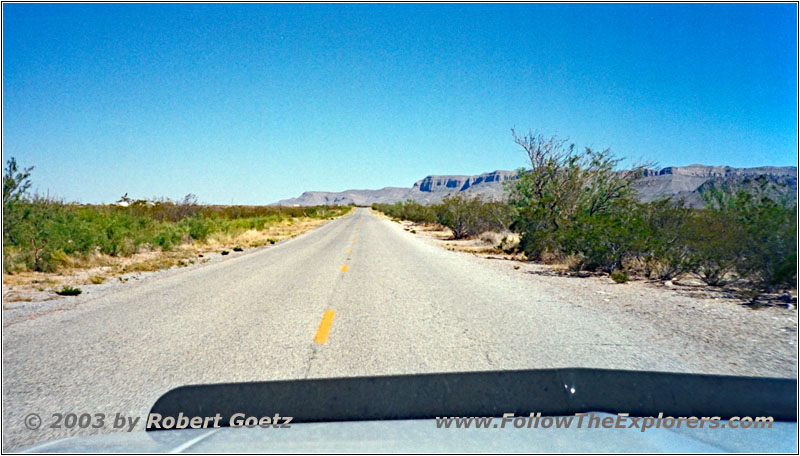 Highway 68, TX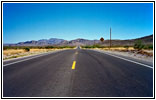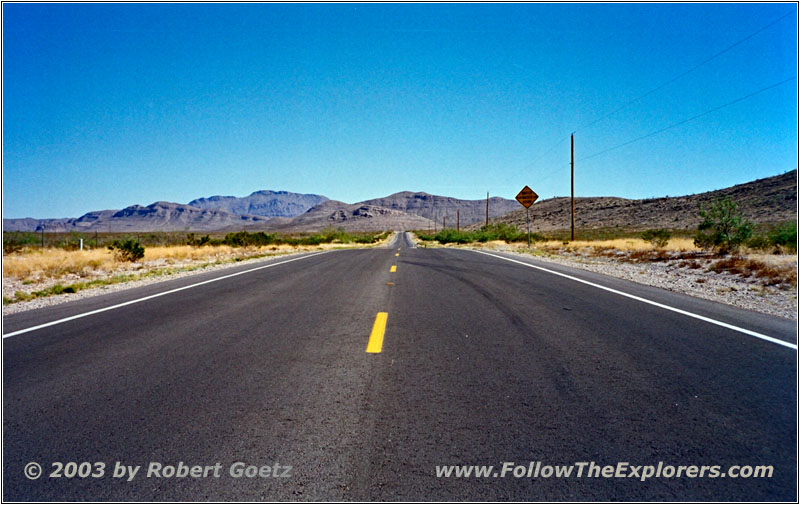 Highway 2775, TX
I have to drive on Highway 2775 several miles, until I reach the park entrance.
Once you enter the park you must watch an introduction movie, which tells you a lot about the history of this region and also some general rules on what you are allowed to do here. There are a lot of rocks, where you are allowed to climb on as free climber. But there is also a huge area, where you are only allowed to enter with an official park guide.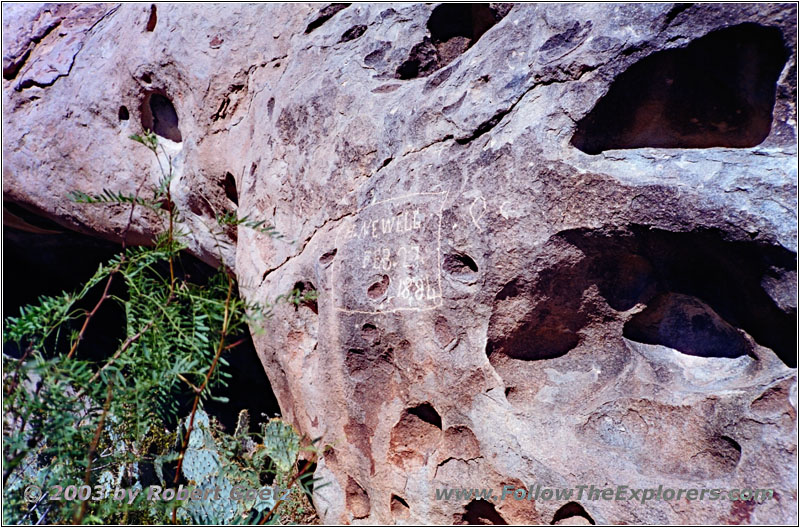 Hueco Tanks State Park, TX
My hiking starts on a wide gravel trail, which is also wheelchair accessible. From there some smaller trails leave to Indian paintings on the rocks. But they are really hard to see. Anyways, I am able to get some nice shots, even from a small lizard.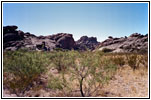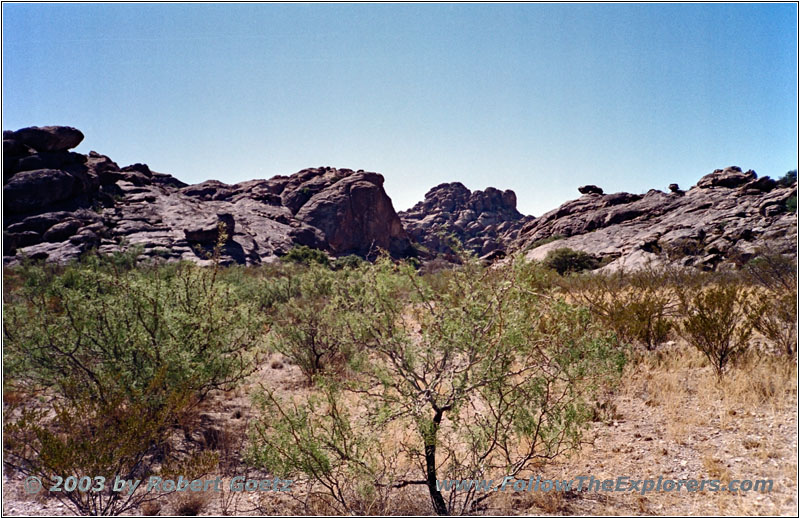 Hueco Tanks State Park, TX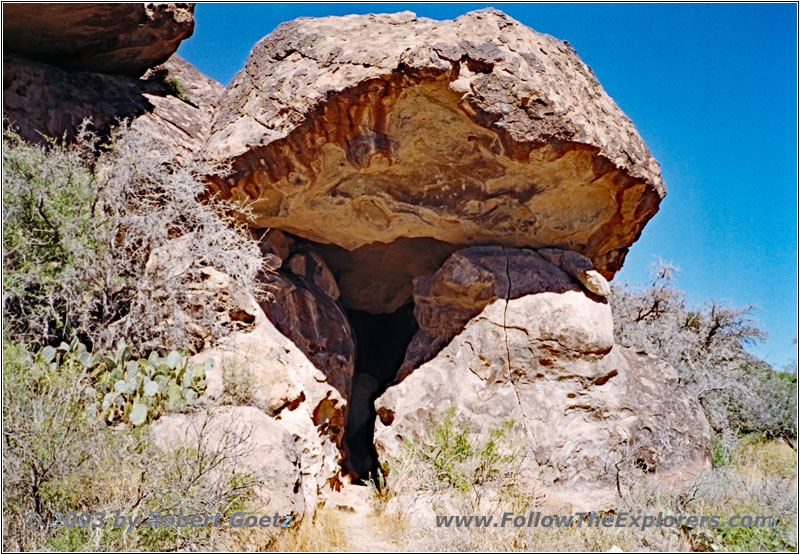 Hueco Tanks State Park, TX
At the end of this hiking trail is a small restroom, which I thankfully use. There I also encounter another hiking trail, which runs up the rocks. I give it a try with my tripod and all my camera equipment under my arm. There are some spots, which are pretty difficult, if you have only one free arm. But it works out.


Hueco Tanks State Park, TX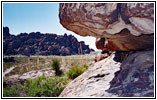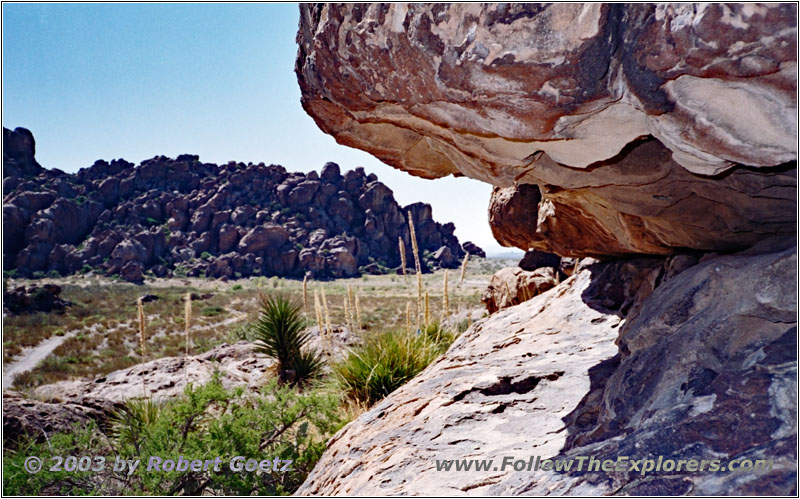 Hueco Tanks State Park, TX
Once you reach the upper plateau, you have nice views of the surrounding area. I have the chance to get some nice pictures and videos of this landscape. Only the trail is sometimes hard to find. It's marked by small blue ribbons, which are tied to cacti and bushes. But sometimes they are so covered, that you really have to search for them until you find the trail again. Obviously there are also no footprints to follow on these rocks…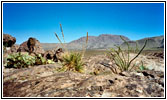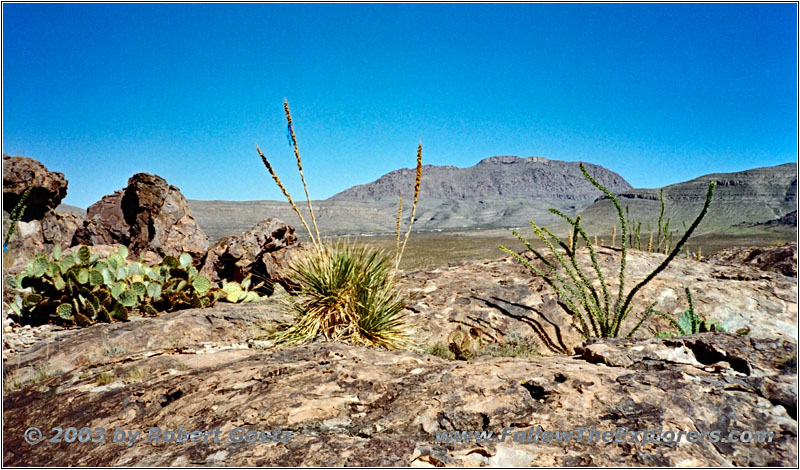 Hueco Tanks State Park, TX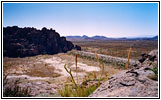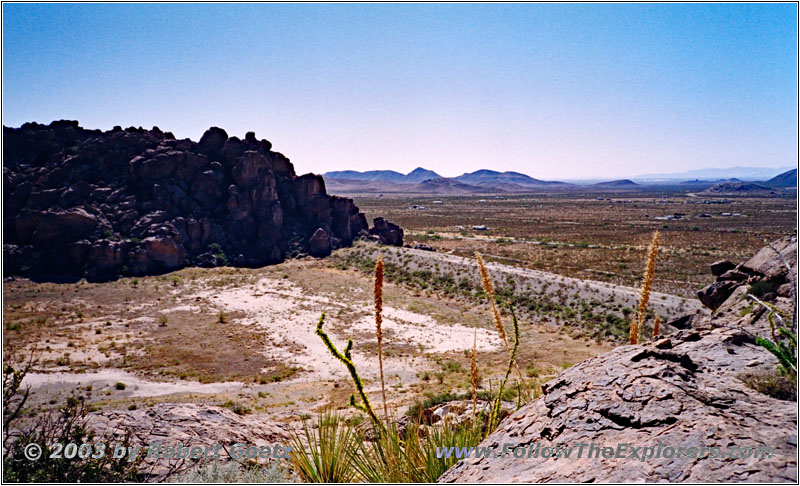 Hueco Tanks State Park, TX
After an hour of hiking I run into a small group of free climbers. They tell me, that this is a great area for climbing and people love to be here. They ask me to take some cool pictures of them. Then I hike on. At the end of this trail is a section secured by a steel wire rope running down a very slippery rock.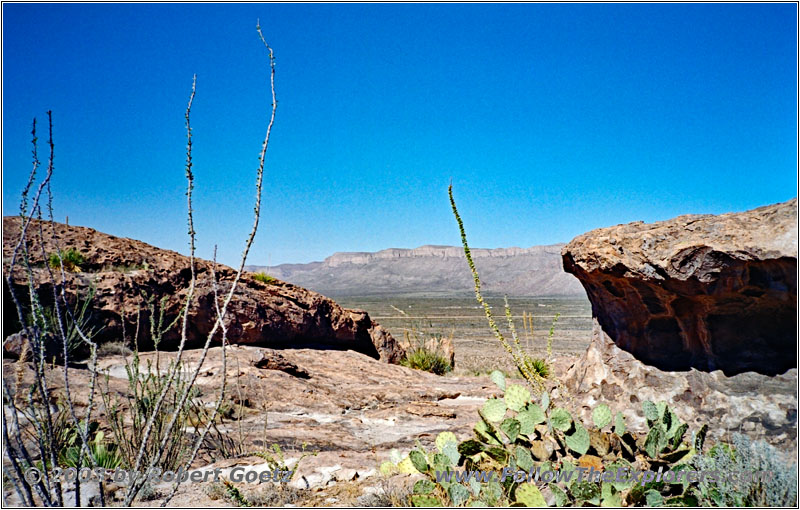 Hueco Tanks State Park, TX
There I see another group, who are also here for climbing. Finally I am back at my car and first I have two of my apples as lunch. Then I drive to the park exit and give the rangers a notice of my departure. I arrived an hour earlier as planned at the park. But now I am half an hour later than planned with my departure. I spent a total of five hours in the park, which were well worth it.
First I drive back to Highway 180, then further on to Loop 375 and finally to Highway 20 along the Rio Grande. I left Pikes footsteps at El Paso, because here starts his departure deep into Mexico. As I am traveling alone, this was too risky for me. So I follow now the Rio Grande, which is the boundary between Mexico and the US here, until I reach the area, where Pike reenters nowadays Texas.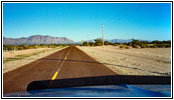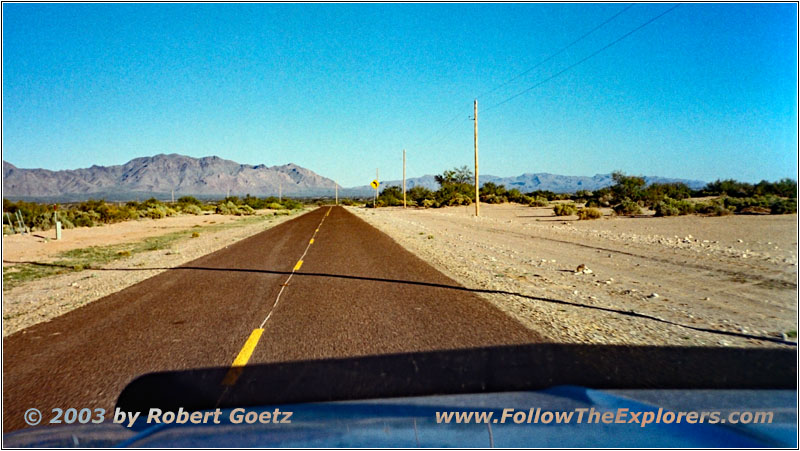 Highway 192, TX
First I drive a long distance on Highway 20 all the way up to McNary. There I turn onto Highway 192, which follows the Rio Grande further. Unfortunately the road runs in quite a distance away from the river, so I have no view of the Rio Grande. Only the massive mountain range on the Mexican side tells me that there must be the Rio Grande flowing along their foots.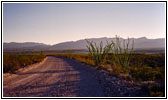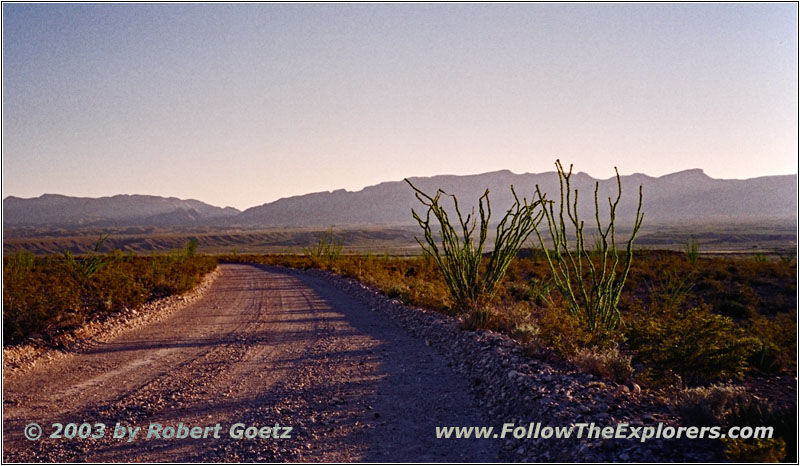 Quitman Pass Road, TX
At the end of Highway 192 the Quitman Canyon takes me back up north. As there is no town or village and obviously no motel in this area, I plan to drive up to Sierra Blanca through this canyon. There was also the last fight between the Apache and the US army in this canyon.
In the meantime it is already past five. I like to arrive by day light at Sierra Blanca, because I don't know, if there is a motel available in that area. So I try to speed up a bit on the gravel road. When another car approaches me, I slow down a bit and greet, like it is common on these backroads. When passing him, I see that he is saying something and I stop. We are just a couple of car lengths apart, but he doesn't seem to exit his car. So I assume it is not this important and I continue. Also he continues.
After a couple of minutes I realize, what he must have meant. I am again in front of private property, just 15 miles before I reach the highway again. This means, that I have to drive now a detour of at least 50 miles!
So I have to drive back the whole canyon. The views are really nice, but now the sunset approaches. On Highway 192 I drive back in northeastern direction. Just before the sunset starts I look for a decent spot to have at least a nice sunset on my tape and some pictures.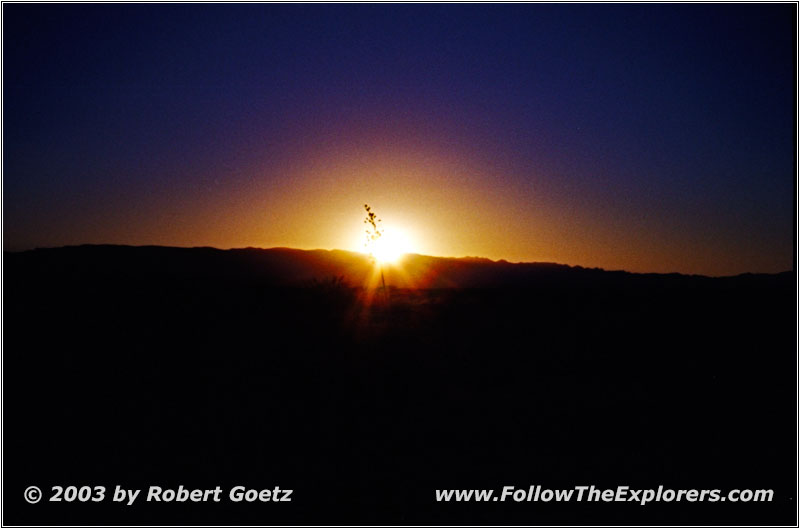 Sunset Highway 34, TX
A farmer passes me with his cattle truck and probably asks himself, what I am video taping here. After the sun has vanished behind the Mexican mountain range I pack my stuff together and try to flee from all the mosquitoes into my car.
Then I continue on Highway 34 to short cut a couple of miles to Interstate 10. On this road I drive to Sierra Blanca, while it is getting dark. When I reach the pass over the Malone Mountains, I arrive at a checkpoint, which I already heard of via my CB radio. But they all wave us slowly through and they don't even want to see a passport. Also the truckers on CB ask themselves, what they are currently searching for. They agree that they are searching for drugs with their dogs.
Just before seven I reach the first exit to Sierra Blanca, which is closed. But I can leave on the second exit. I have already seen signs for the Sierra Blanca Motel on the Interstate. This is my first destination, whereas I also take a look at the two main streets. But it looks like this is the only motel in this little town.
So I stop there. The lobby is also in the middle of the living room of this house. But the guy at the reception has really caught a bad cold. He tells me, that he drove his wife this morning at three o'clock to the hospital, only dressed with a shirt. Looks like he got his cold from there.
I offer him some of my medications. But he is already fine with what he has. I check in and receive a room close to the street. The motel rooms are like small houses with a front porch. In front is also a small garden. I am sure this is really nice for spending your vacation.
When asking for a nice restaurant, he tells me that the Iron Steakhouse across the street is really good, which I have already seen when entering the city. I am a bit worried about the opening times. But he says, "They are open at least until ten!".
This really amazes me. After all I have seen everything closes at half past eight or nine in small towns like this and there is no chance to get anything past that. But I don't want to dare my luck and I only put my stuff into the motel room. I can always take a look at my video tapes later.
The restaurant is very small and has only a few tables. The smallest one is already occupied, so I take the next bigger one, which would be enough for 4–5 people. I order a steak and a beer. The steak is not a problem, but they don't serve beer here. Great, when I have not to drive this time…
So I have a Coke again. During my meal some locals enter the restaurant, who know the server and the cook pretty well. Out in the country everyone knows everyone. The cook is also a true comedian. You can really laugh a lot with him. After my dinner I wait for my check. But the server does not show up. When the other locals have left I saw, that they also have not received any check, but they went up to the cash register and payed there. It seems like they are doing it here the Mexican way.
I pay and give the cook a compliment about his great steak. We start to chat and he tells me, that the motel owner, who also owns this restaurant (very smart!), is collecting old stuff.
This is something I have already thought of, because there is also an old saddle in my room which is used for your cloths. There are also old wooden boxes and old bedside tables. There are also some gypsum lizards mounted on the ceiling. The owner also knows a lot about historic trails in this area. But the guy at the reception is only a helper. But maybe I have a chance to meet the owner in the morning when I check out.
I say good–bye around half past nine and walk back to my motel. Now I have to check my video taping of today. Just before ten I hear the approaching train. Already at the restaurant I heard that the train is blowing his horn and is very noisy here. Let's see, if I am really able to sleep here. Just before midnight I am eventually ready to go to bed — and just on time I hear again the approaching train…
Sights
Hueco Tanks State Park (Fee $4)
General
Breakfast: Denny's, El Paso
Dinner: Iron Steakhouse, Sierra Blanca
Motel: Sierra Blanca Motel, Sierra Blanca
Distance: 153 miles