Zebulon Montgomery Pike Trail to the sources of the Mississippi 1805 — 1806
Day 30: September 9th, 2002 Grand Rapids — Bemidji
Today is my last day in Zebulon Montgomery Pike's footsteps. He had the order to find the sources of the Mississippi. But due to high snow and frozen lakes and rivers he missed the real source. Tomorrow I will continue my journey to the real sources. But for now I will start my day with checking the engine oil. In the meantime I developed a daily routine which includes a brief look under the hood to check for any defects or low liquids. Nothing would be worse than to break down in the middle of nowhere and hope, that someone will stop by. I empty now the rest of my oil into the engine. Unfortunately I forgot to buy some more yesterday. So I have to drive to Wal Mart today again.
But first I will have breakfast. Yesterday I saw a Country Kitchen close to my motel. This looks quite reasonable to me. The breakfast is good and I pay around half past nine. Then I drive over to Wal Mart to buy some engine oil and a phone card. After paying I drive over to the next gas station.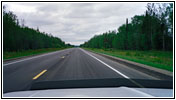 Highway 2, MN
At a quarter past ten I eventually start to my last leg of Pike's expedition. First I drive on the well developed Highway 2 out of town in northwestern direction. The weather is quite mixed, sometimes it even starts to drizzle. Hopefully I will have no trouble on my backroads.
But first I pass Cohasset on pavement, which Pike passed on January 29th, 1806. Just a couple of miles further there should be my first branch to a backroad. But there is no chance to make a turn, so I have to continue to Highway 6.
This highway comes now closer to the Mississippi, which I follow to the branch of County Road 162. This road takes me back along the Mississippi north to Highway 3. There should be the next turn off for another backroad. It looks good at the beginning. But then the road ends at another private property. So I have to turn around again and drive back to the highway.
After all there should be another possibility to reach my backroad. Also this one looks promising at the beginning. But I also end up at private property — this time so suddenly, that I really enter before I realize it. When I see my mistake I am already in front of a barn, where the owner works on his truck.
His dog approaches me barking. I get out of my truck and apologize for ending up at his property. I explain him, where I wanted to go to. He shows me how I might reach this point. All in all he is really very nice and helpful. I thank him for the directions and drive back once again to Highway 3.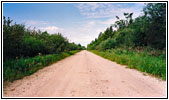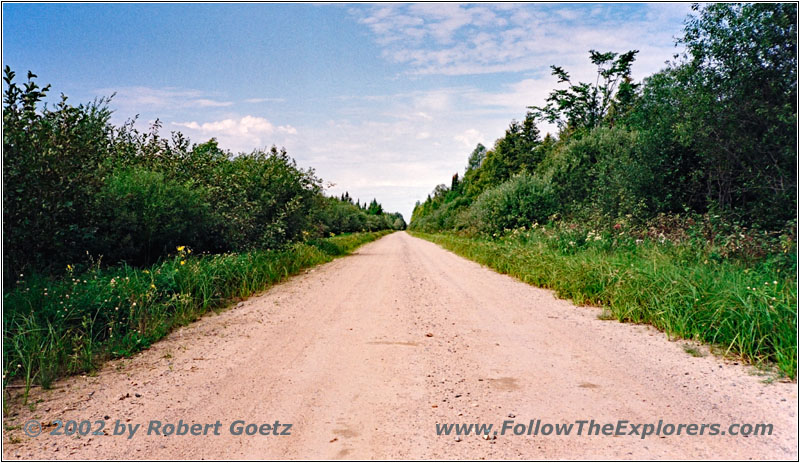 CR139, MN
I follow this highway to the turnoff of County Road 139. This is the spot where I should have arrived when traveling my original planned route. So I drive this stretch now backwards. The county road follows Leech Lake River, which Pike accidentally interpreted as the source of the Mississippi River. Today, farmers grow rice cutgrass here.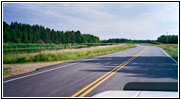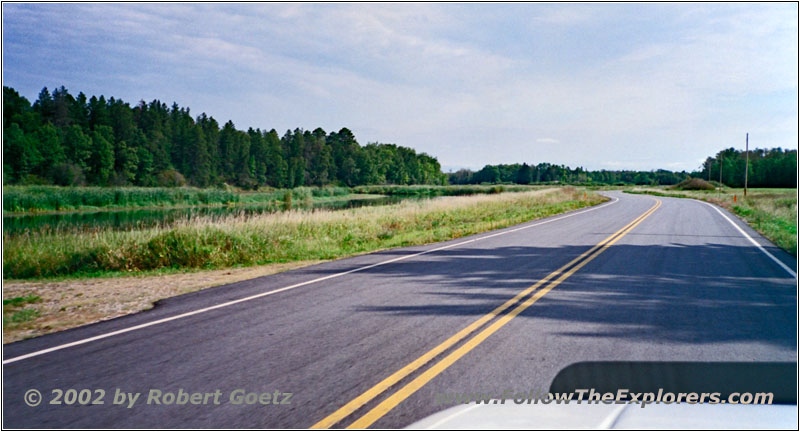 Mississippi River, CR28, MN
At the spot where I planned to cross the river is no bridge or hiking path across. So I must drive on until I am back on Highway 3 and the Mississippi River confluence. This may give me the chance to reach Gambler Points Campground, which I failed to reach now two times.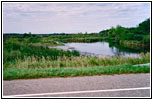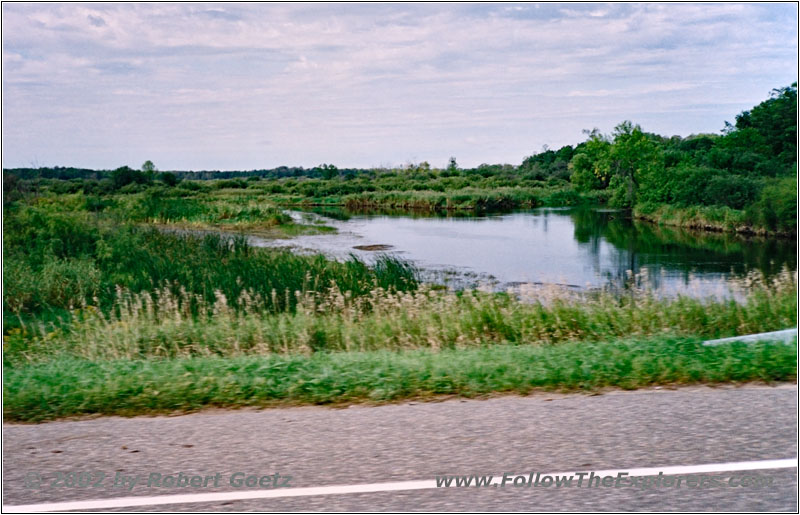 Mississippi River, CR18, MN
I follow now the backroad upstream. The gravel road really runs along the river banks very close which gives me a lot of opportunities for nice river pictures and videos. But I am also stopped here abruptly by a private property sign. This is weird, because I have no clue, how you can reach the campground, which is drawn in my map…
So I must turn around once again and drive back to Highway 3. I cross the Mississippi River on Highway 3 and must continue on this highway north to Highway 2. Then I follow Highway 2 West to the crossing where I would have arrived, if I would have been able to travel on my original route.
I try another time to follow the river in opposition direction of my original planned route. But I have again no chance to reach the forest roads, which I originally planned to drive on. When the road feels to be too long I determine my position with my GPS coordinates in my map. Much to my surprise I must realize that I have driven way too far. But the landscape here is really interesting. The forest road runs to a swamp area, which draws a bizarre picture with all the dead trees.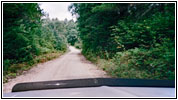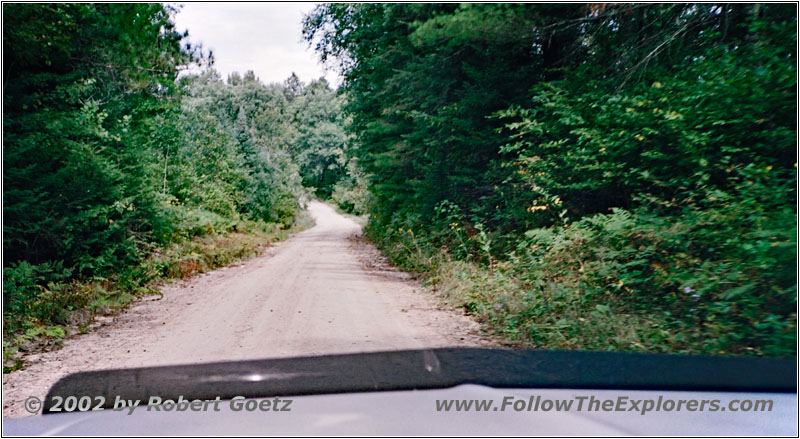 FR2162, MN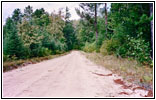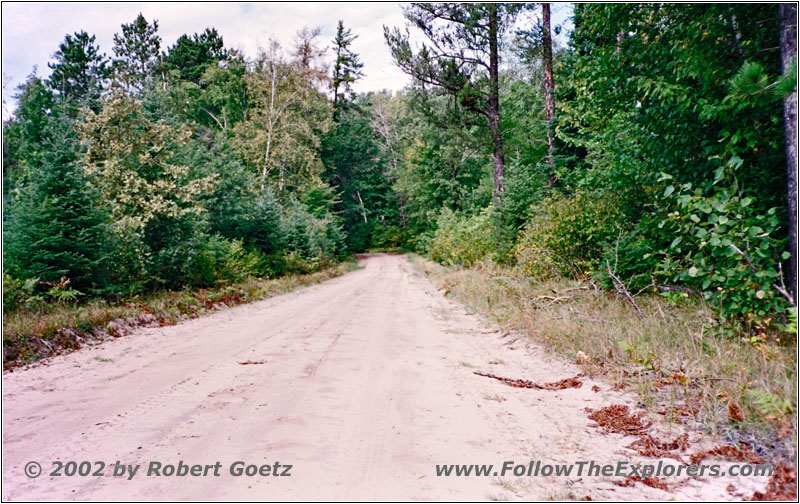 FR2162, MN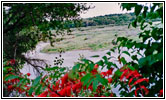 Mississippi River, FR2162, MN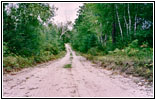 FR2162, MN
I drive back the same road where I came from. Traveling continues for a short stretch on Highway 2 until I reach the branch to FR2162 north. This time I am really allowed to drive on this road. But the road is very sandy and I hope it will not start to rain. Anyway the great river views and the road itself compensates for this risk.
Eventually I reach pavement on Highway 9. Also Pike was in this area on January 31st, 1806, when he visited the merchants living in this area. Now I am following the south shores of Lake Winnibigoshish, where the Mississippi River flows through.
Highway 9 unites with Highway 2, which I follow further west. According to my map there is another attraction in this area, Boulder Hill. This is a natural elevation and I hope to have some nice views from there.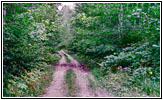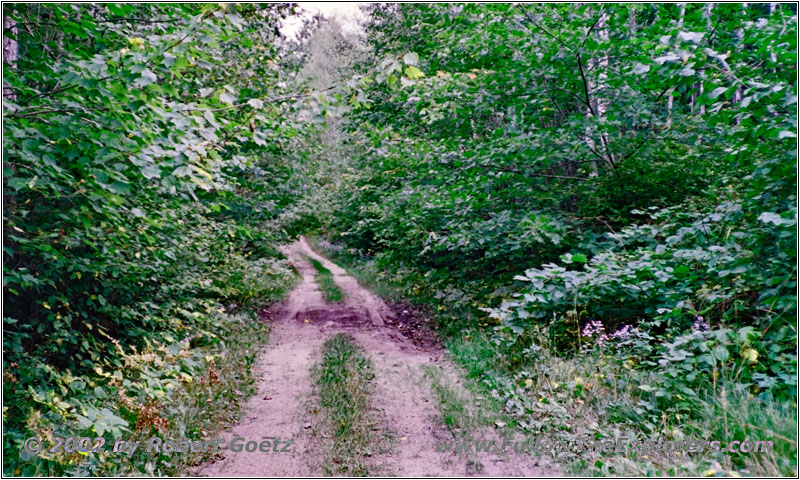 FR2129, MN
The crossing is easy to find thanks to my GPS. But then the trail doesn't look really promising. The road is so much grown over that I unmount my CB antenna, because I am getting worried to brake it while traveling there. Then I travel on. It feels like no one has traveled this road for years. The further I go, the less the road really looks like a road.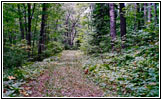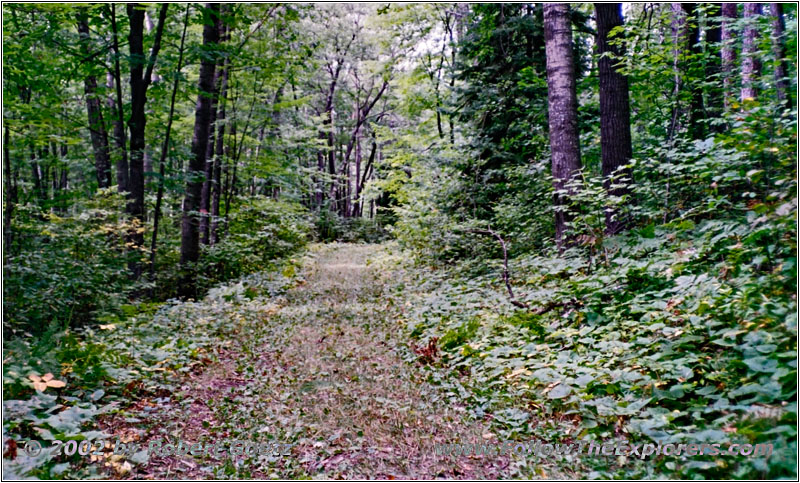 FR2129, MN
In the woods I directly drive over mossy ground. Some of the trees even hang half into the road. And at the end you drive a circle without a chance to look down from this hill. So I am driving back a little bit disappointed.
One spot really looked good on my way up. Therefore I put up my camera there on my drive back. The road has deep washouts with some rocks and I think, this might look good on my video. As I don't expect someone traveling up here, I have plenty of time to set up my camera equipment. Then I pass this spot and pack my camera back in my truck. I am really anxious to see how the recording turned out.
Originally I planned to travel back on another road. But this even looks less promising than the one, I am currently on. Therefore I don't give it a try, especially when looking at the dark clouds. Without any damage I reach Highway 2 again. I continue on this highway for a short distance until I reach the branch to Winnie Road. This one takes me to the mouth where the Mississippi flows into the lake. Then the road continues along the Mississippi until it leaves the river by going south.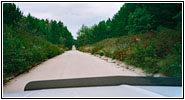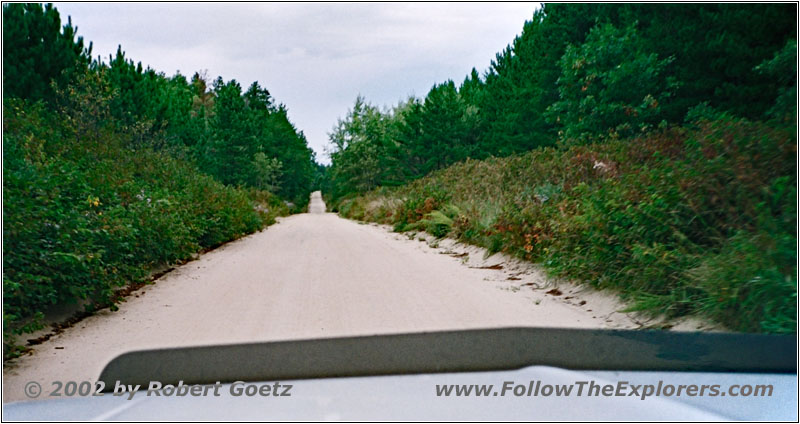 FR2366, MN
By the help of FR2366 I reach the river again and also Cass Lake. Pike was also in this area around mid February when visiting the merchants. I reach County Road 39 and have most likely left behind the last gravel road for this year.
County Road 39 takes me up north until County Road 12 leaves west. I take a small detour along County Road 33 south and County Road 8 north to still follow the Mississippi River. But have no chance to catch a good view of the river again. Only when I cross the river I see how small it turned out to be in the meantime.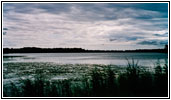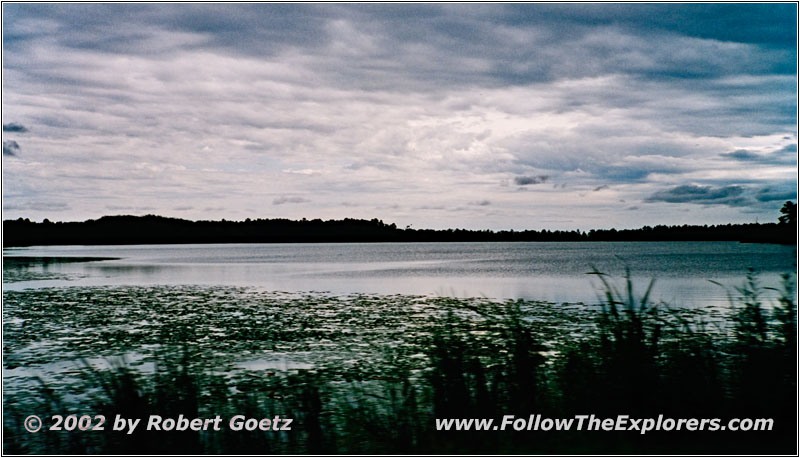 Lake Bemidji, MN
Finally I reach County Road 12 again and continue west. At Lake Bemidji I turn onto County Road 19 which I follow north. Actually this is a detour to reach the city of Bemidji on the western shore. But County Road 19 crosses the Mississippi River at the outlet of Lake Bemidji.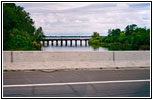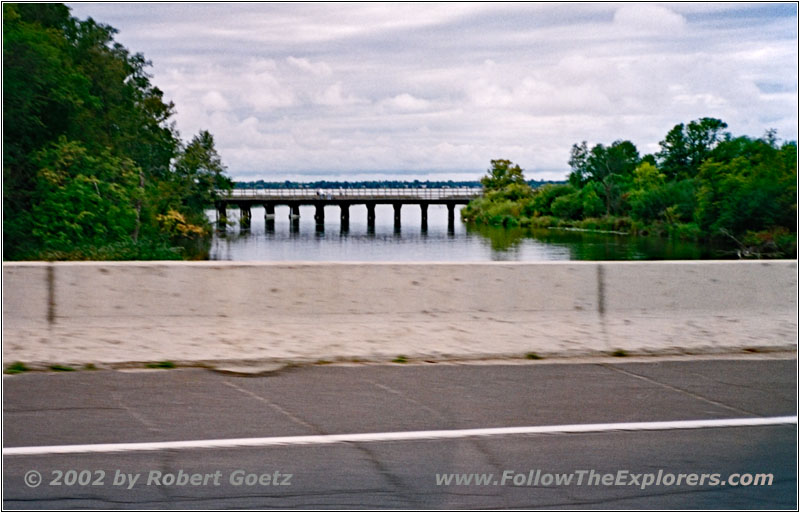 CR19, Mississippi River, Lake Bemidji, MN
So I drive north to County Road 20. There I turn west onto Old US71. From there I have some nice views of the lake. Old US71 is well developed and gets me fast into town. I follow this highway down to Highway 197 which takes me out of town to the west.
Almost at the city limits I see the Super 8 where I plan to stay for two nights. Tomorrow I plan to do some hiking at Lake Itasca, which is the real source of the Mississippi River. I already check in at a quarter past three. Then I check the video taping of today. After finishing this it is already time for dinner.
Next to my motel is the restaurant Peppercorn. I assume that it is really expensive, because it is at the same location as my motel. When I enter I see this assumption confirmed. The servers are all dressed up. I am getting concerned that they will not allow me to enter with my old jeans. But in the US this is not a problem.
Even at 8pm it is still crowded. But they immediately prepare a table for me. They have a good selection of wine here. Unfortunately I have some headaches from the weather change. So I have to skip the wine and order my usual coke no ice. Sure I choose a big steak again. This is really great and absolutely one of the best I ever had on all my travels.
But this also has its price. Including tip and drinks I pay $24 for this dinner. But it was so great that I decide to also show up there tomorrow. Maybe I have the chance to also get some wine then. Around a quarter to nine I pay and walk back to my motel.
Sights
Boulder Hill Lookout Tower
General
Breakfast: Country Kitchen, Grand Rapids
Dinner: Peppercorn, Bemidji
Motel: Super 8, Bemidji
Distance: 152 miles